Lectric XP 2.0 Review
The Lectric XP 2.0 is the product of Lectric eBikes, which began in Phoenix, Arizona when two lifelong friends Levi Conlow and Robby Deziel decided to bring an affordable electric bike to market.
Sensing a gap in the market for affordable & high-quality e-bikes, they designed their first bike, the Lectric XP. It won them awards and garnered positive Lectric XP bike reviews thanks to its ingenious portable folding design and high-quality craftsmanship.
Lectric XP was named the Best Folding Electric Fat Tire Bike of 2020 by the Electric Bike Review Top Choice Awards.
In addition to selling affordable and high-quality e-bikes, the brand focuses on customer service as one of its main priorities. The entire team is based in the United States, and they offer free shipping across the country.
MSRP $1,099 $999
---
Table of Contents
2. Lectric XP 2.0 Review
2.1 – Tech Specs
2.2 – Electronics
2.3 – Gearing and Braking
2.4 – Frame and Geometry
3. Accessories
4. Lectric vs Radmini vs Engwe
5. Safety  + FAQ & Alternatives
6. Conclusion
---
1

. Upgrades – Lectric XP vs XP 2.0

After the success of the original Lectric XP, Lectric eBikes decided to take what they'd learned and create the XP 2.0.

The Lectric XP upgrades signify the company's willingness to learn and create the best product possible for their consumers, rather than focus on profit or popularity. The first edition of the Lectric XP was a fat bike, with super-wide tires. This was changed for the 2.0 upgrade, as the company realized the extra width created more rolling resistance. Additionally, the type of use a folding bike gets probably won't require fat bike tires.

Additionally, the brand introduced more storage space on the bike, including the ability to mount front racks, baskets, and bike locks to the frame. Additional mounting points increase the bike's usability and make them, more attractive to urban or commuting riders.

The other main upgrades are listed below.
Lectric XP 2.0 vs Lectric XP
Front oil suspension
– A great upgrade for the previous rigid fork
Narrower tires – 3″ instead of the previous 4″
– Narrow tires are faster and easier to ride on faster speeds
Front basket mounts
– To make it one of the most versatile bikes around
Wider handlebar
– For increased manuverability and comfort
Greater water-resistance (IP65)
– For all weather riding
---
2

. Lectric XP 2.0 Review

The Lectric XP 2.0 is the American brand's second iteration of their flagship bike.

The XP 1.0 was a folding fat tire electric bike, whereas the 2.0 has undergone several upgrades to make it the portable and impressive little bike we have today. The 2.0 is perfect for urban riders, commuters, or those who need to be space conscious when storing their bikes. Several Lectric eBike reviews have commented on how well it rides considering its affordability.

It features a 500W rear hub motor with five assistance levels, and tops out at a max speed of ether 20mph or 28mph depending on the class option selected. It's easy to fold, making it ideal for journeys on public transport or stowing away in your office or apartment.

The company has released two versions of its 2.0 model. These are the XP 2.0 Black, with a 'regular' frame, and a step-thru frame version, available in either black or white. Both are advertised at around the $1,000 mark, making good on the brand's promise to keep their bikes affordable.

Let's dive into the tech specs and intricacies of the Lectric XP 2.0 below.
2.1 Tech Specs
---
500W Brushless Geared Hub Motor
The Lectric eBike XP 2.0 comes equipped with a 500W brushless geared hub motor to power the assistance.
It includes five levels of assistance which can be controlled from the head unit. Hub motors are ultra-low maintenance options usually found on less expensive models of e-bikes. Alternatively, they are great weight savers compared to mid-drive motors.
Importantly, using a geared hub motor is better for riding up hills and is more efficient than gearless hub motors.
Top Speed 20mph or 28mph
The beauty of the Lectric XP eBike is the ability to choose which e-bike class it fits under.
The classification is dependent on the size of the motor and the maximum speed it will help you reach. Whereas, a Class 2 e-bike can assist speeds up to 20mph. A Class 3 e-bike can assist up to 28mph.
Make sure you check your local legislation to determine which class you can use legally on the roads.
Related: EBike Four Classes Explained
How to change the speed limit of Lectric XP eBike?
Press the plus and minus buttons simultaneously on the control pad until "P1" appears on the screen
Using plus or minus buttons, go to setting "P08"
Change the value from 20 to 28
Press plus and minus buttons until the main screen appears again
Power off the bike by holding the power button to save the changes
Range up to 45 miles
The Lectric eBike XP 2.0 boasts a long range of up to 45 miles on a single battery charge depending on use.
Weight and Payload Capacity
The total Lectric XP 2.0

weight is 63lbs

.
Rack weight capacity: 75lbs.
Max weight capacity: 330lbs.
This number includes the 7lbs battery and the fully built bike. Lectric has advised that the maximum weight capacity is 330lbs, and this includes the rider and any luggage they may carry. The rear rack itself can accommodate 75lbs of weight, making it a sturdy option for those who want to carry a large amount on their bike.
Lectric XP 2.0 Specs
| | |
| --- | --- |
| Brand | Lectric Bikes |
| Model | XP 2.0 |
| Type | Folding, Electric, Fat |
| Model Year | 2021 |
| Price (USD) | 1,099 |
| Designed For | Urban, City, Commuting, Traveling |
| Frame Types | Step-over, Step-through |
| Frame Sizes | Standard – 5'4″ – 6'2″ / Step-thru – 5'2″ – 6'2″ |
| Folded Size | 37″ x 18″ x 27″ |
| Unfolded Size | 67″ x 18″ x 47″ |
| Wheel Size | 20″ |
| E-Bike Class | Class 2, Class 3 |
| Max Speed | 28mph |
| Range | Up to 45mi |
| Motor | 500W (Peak 800W) |
| Motor Type | Hub motor |
| Battery | 48V 9.6Ah, 460Wh |
| Display | LCD – Charge indicator, speedometer, odometer, trip odometer, pedal-assist level, headlight |
| Controller | 48V, 750W frame-integrated |
| Modes | 5 Pedal-assist levels |
| Derailleur | 7-speed Shimano Tourney |
| Frame Material | 6061 aluminum alloy |
| Front Suspension | 60mm, Oil Suspension |
| Rear Suspension | – |
| Brakes | Tektro Mechanical |
| Rotors (mm) | 160mm |
| Tires | 20″ x 3″ Chaoyang / CST |
| Saddle | Comfort saddle with elastomer bumper |
| Weight | 63 |
| Max weight (lbs) | 330 |
| Warranty | 14-day trial, 1-Year warranty |
↓
2.2 Electronics
---
48V 9.6Ah Lithium-Ion Battery
The Lectric XP 2.0 battery is a 48V 9.6Ah Lithium-Ion unit, capable of a range up to 45 miles.
48 x 9.6 = 461Wh
Additionally, the charge time (from a dead battery) takes between 4-6 hours to reach full charge. The battery is situated inside the bike's frame, which makes the bike look sleek and aesthetically pleasing from afar.
LCD Display
The Lectric XP 2.0 comes equipped with an LCD and head unit. LCD is situated on the handlebars so you can control the motor with ease. You can also use the display to control the following:
Speed – Average, Current, Top
Assistance level
Ride telemetry
Battery level
Brightness
& more
Front and Rear Lights
The Lectric XP 2.0 comes equipped with integrated front and rear lights.
These can be controlled through the display pad, by pressing and holding the plus button. Using them is strongly advised in low light or dark conditions. Check the regulations in your area as some regions deem it a legal requirement to have them activated.
↓
2.3 Gearing and Braking
---
Tektro Mechanical Disc Brakes
The XP 2.0 comes equipped with 160mm Tektro mechanical disc brakes.
Disc brakes can provide easier modulation than rim brakes and are often the best choice given the extra weight of an e-bike. Mechanical disc brakes can be a little more fiddly to adjust than hydraulics but one benefit is the lack of fluid and hydraulic system maintenance to do!
Shimano 7-Speed Gearing
Lectric have chosen to use a Shimano 7-speed group set for the XP 2.0
The gears are easily controlled using the shifter attached to the handlebars, promoting a one-hand operation. The seven-speed gears are easy to use and require regular maintenance as with any other bike. Having seven gears gives you plenty of options for use on varied terrain.
↓
2.4 Frame and Geometry
---
3 Frame Options
XP 2.0 Black
The original frame features a regular top tube design.
XP Step-Thru 2.0 White
A step-thru e-bike from Lectric, features the same benefits as the 2.0 but in an easier to mount form, and in a choice of black or white.
XP Step-Thru 2.0 Black
A step-thru e-bike from Lectric, features the same benefits as the 2.0 but in an easier to mount form, and in a choice of black or white.
Lectric XP 2.0 – Folding Fat Tire eBike
The XP 2.0 Lectric folding bike can be folded in a few simple steps.
The bike folds in both the center of the frame and the handlebars. In addition, the pedals can be folded in to create an even more streamlined appearance.
Unfolded the bike dimensions are: 67″ x 18″ x 47″.
And folded, the bike is incredibly compact with the dimensions 37″ x 18″ x 27″. It's small enough to fit into car trunks (although check your individual dimensions before purchasing).
Lectric XP is a great space-saving bike for those who live in apartments or travel on public transport.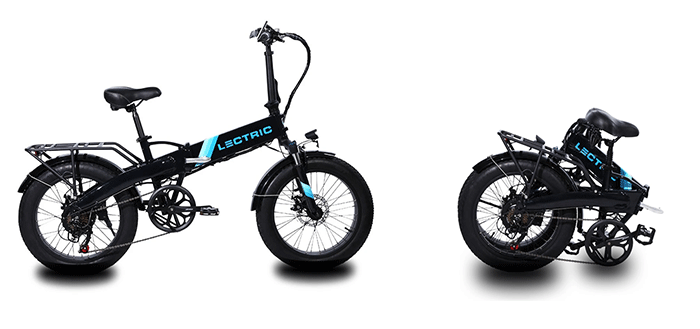 Unfolded dimensions: 67 x 18 x 47 inches
Folded dimensions: 37 x 18 x 27 inches
Wheels and Tires
The Lectric XP fat tire e-bike uses Chaoyang or CST 3″ x 20″ Fat tires and inner tubes.
The original version used even wider tires (4″) but as part of the upgrade to the XP 2.0, the brand has changed to a slightly narrower profile tire. The width is still wide enough to absorb much of the road buzz but without the added rolling resistance of really wide tires.
Lectric claims the new tires increase the agility of the bike, by improving the handling and lowering the rolling resistance while riding.
---
3

. Lectric XP Accessories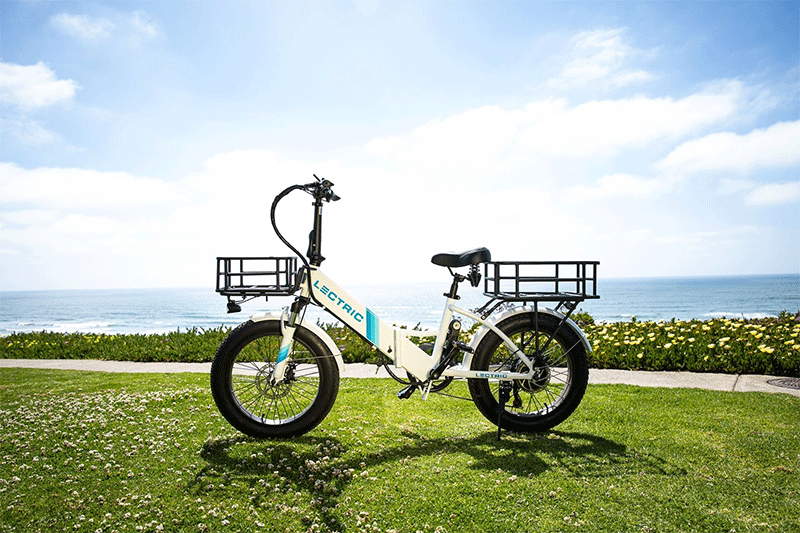 In addition to the fantastic XP 2.0, there are also several specific to the Lectric XP bike accessories available to buy.
These work in conjunction with the XP 2.0, and either the original frame or step-thru frame models. Lectric offers packages that can enhance your cycling experience, as well as parts and merchandise so you can rep the brand off the bike as well.
We've listed some of the accessories you can purchase below:
Comfort Package
For those that want to put plenty of miles on their bike, the comfort package includes a Lectric XP suspension seat post. It has 40mm of travel to soak up the bumps in the road and comes with a giant seat for extra comfort.
Cargo Package
The cargo package is ideal for those looking to carry more on their XP 2.0. It includes a front rack, a small, and a large basket for all your transporting needs.
Bike Lock
Their extra strong lock is ideal for locking your bike up at the store or whenever it's out of sight. Simply mount it to the side of the seat tube facing the rear fender when not in use.
Water-Resistant Pannier Bags
The Lectric water-resistant pannier bags are perfect for those who need more luggage on their bikes. Whether you're using them for your groceries or your tools, know they'll be protected from the elements with these hard-wearing bags.
---
4

. Engwe EP 2 Pro vs Lectric XP 2.0 vs RadMini 4
The Lectric XP folding bike isn't alone in its quest to be an affordable yet high-quality folding e-bike.
Other competition includes that of the RadMini 4, and the Engwe EP 2 Pro. The Lectric XP 2.0 sits between the two in price point but equals if not outperforms on technical aspects. The Lectric XP 2.0 equals the range of the more expensive RadMini 4, and all three bikes include 7-speed Shimano groupsets.
The RadMini 4 offers much higher torque as well as a more powerful motor at 750W versus 500W. This may mean the RadMini can get up to speed quicker than the Lectric XP 2.0 and the EP 2 Pro, but it doesn't mean the ride quality is preferable.
There are plenty of points to compare and contrast between these three market-leading bikes. Each bike has its benefits and each has its weaknesses. Make an informed decision and help the facts guide your purchase decision with our handy comparison table below.
---
5

. Safety & Precautions

Write down the serial number on the top frame in case for a warranty request.
Maintaining tips of Lectric XP 2.0
Keep your bike clean and dry to avoid rust.
Keep bike components tightened to the torque specifications.
Regularly lubricate moving parts.
Ensure the bike tires are always inflated to a pressure shown on the side of the tire.
Keep the battery charged when not in use for longer period (Charging once a month is fine).
Your bike needs to be serviced at regular intervals.
Take your bike to the first service after the wear-in period:
Break-in period & service
Lectric XP 2.0 is expected to be serviced after the first 100 miles or 5 full battery charge cycles (whichever comes first).
– This can be done at any certified bike shops or by a reputable mechanic.
See the rest of the tips from the Lectric XP manual.
FAQs
---
How to increase Lectric XP range?
Use a lower pedal-assist level
Pedal when starting from a standstill
Set the maximum speed lower than 20mph
Is Lectric XP 2.0 waterproof?
The Lectric XP 2.0 is IP-65 rated, which means it is water-resistant. Therefore, it is perfectly fine to ride in the rain, but should not be submerged or kept outside in the rain uncovered for extended periods of time.
How fast does Lectric XP go?
The factory-set speed limit of Lectric XP is set to 20mph. You can change the speed limit to 28mph from the LCD display.
---
6

. Conclusion – Is the Lectric XP a Good eBike?

The Lectric XP was developed to be an affordable but high-quality folding e-bike.

Lectric has certainly achieved this. The XP 2.0 sits around the $1,000 mark and offers some excellent specifications, including a range of up to 45 miles. Its second iteration, the 2.0 is the best one yet and shows just how the company listens to customer feedback to produce the best bike possible.

Whether you're a commuter, a leisure rider, or looking for a better way to get around town, the Lectric XP 2.0 is a fantastic little bike that can be folded away when not in use.

Lectric XP Step-Thru 2.0 White

Lectric XP Step-Thru 2.0 Black
---
RELATED