Best Fat Tire Electric Bikes [of 2022]
Fat tire electric bike is a new sub-trend inspired by both electric and fat bikes.
In essence, a fat tire eBike offers an extra boost which is useful when riding on snow, sand, or mountain trails. Unlike non-electric fat bikes, electric fat bikes are convenient for longer routes and hilly areas. Many riders also use e-fat bikes as a comfortable way to commute.
In 2021, the fat electric bike industry has gone through its first phase of trial & error, and what we have left is a selection of the best available bikes you can order online. Have a look at the nice bikes we've listed below. If you think there's something else that should be on the list, leave us a comment below!
---
Best Electic Fat Tire Bikes
---
1

. Rad Power Bikes RadRover 6 Plus 2021

Clear Winner – One of the Latest & Greatest 🏆
MSRP: $1,999
Rad Power Bikes
Rad Power Bikes' RadRover 6 Plus is the result of hard work and dedication to improvement from the e-bike brand.
Rad Power Bikes have taken their flagship e-bike to the next level, improving climbing performance, optimizing geometry, boosting the motor, and upgrading various other components to deliver a supreme riding experience at unbeatable Rad Power Bikes' value.
Beginning with the frame, the geometry on the RadRover 6 Plus is ergonomically designed to reduce rider fatigue and can be adjusted for riders at the smallest end of the height range for better handling a smoother riding.
The 14Ah battery is now semi-integrated, featuring a carrying handle, a 10 LED charge display, and easy one-handed removal or installation. The LCD control panel on the 6 Plus also received an update and is now more user-friendly with bigger buttons. Additionally, the LED headlight and taillight with brake light activation automatically switch on with the bike.
The hub motor on the bike has 750W of power and has been fine-tuned for improved power output and smooth transfer on steep gradients.
Finally, all-new hydraulic disc brakes greatly improve stopping power over the previous mechanical versions. This is combined with RST spring 60mm fork suspension, Kenda Juggernaut grippy 4″ tires with a K-Shield puncture-resistant liner, and a 7-speed drivetrain which allow this bike to perform well in varied terrains and conditions.
FRAME RECOMMENDATIONS
Step over – 5'4″ – 6'2″
Step-thru – 5'2″ – 6'2″
2

. Norco – Bigfoot VLT
MSRP: $5,799
Norco
Number one on this list is one of the most capable fat tire electric bikes around – the Bigfoot VLT.
Norco is a large bike brand, well-favored both in America and globally. They've been around since 1964 and the success of their bike sales is largely due to the high quality and exceptional design standards the brand prioritizes.
The VLT 1 is a more advanced model of the VLT 2, rocking a 100mm e-bike specific air suspension, a lightweight 6061 aluminum frame, SRAM SX & NX drivetrain, dropper seat post, and SRAM Guide Hydro disc brakes. The 630Wh battery provides a long-range powered by the Shimano STEPS E8000 e-bike motor.
12-speed
26×4.6″
100mm fork
This is a high-quality fat e-bike with mid-level components that is suitable for anyone who likes to have the best quality product on the market.
>>> Related – 4 Best 26×4″ Fat eBikes Comparison
Frame sizes from XS to XL
5'1″ to 6'3″
3

. QuietKat – Jeep

A mid-drive, full-suspension fat tire electric bike for hunting & fishing

MSRP: $6,699
QuietKat

A bulky hunting e-bike by QuietKat – the Jeep is a full-suspension fat tire electric bike designed to conquer even the roughest and most technical trails to allow you to travel further in your outdoor pursuits.

Equipped with either a 750W or 1,000W mid-drive motor (that can be upgraded to a 1,500W!!), the Jeep is a powerful electric fat bike. QuietKat has produced a large variety of extras and accessories compatible with their bikes, including the Jeep. The bike is a true workhorse with a solid build, but if you are looking for a fat bike to ride for fun, this might be a slight overkill.
Weight: 70lbs
Tires: 26×4.8″
26x.48″ wheels, 160Nm of torque (with the 1,500W motor), the engineering behind the bike has pushed the norms of durability within the electric fat bike market.
S, M, L
5'6″ to 6′ & over
4

. Himiway – Cruiser

A fat-tire commuter bike built for comfort


Weight – 72 lbs
Battery – 48V 17.5Ah (840Wh)
Motor – 750W
Range – 35-60mi

Price: $1,699
Himiway

Himiway's Cruiser is, without doubt, one of the best value fat tire e-bikes on the market with great power and range that easily competes with the more expensive competition.

The Cruiser's motor has a 750W/80Nm of power and torque which pairs nicely with a 17.5Ah battery to give riders ranges between 35 and 60 miles. Additionally, you have support from Shimano Altus 7-speed gearing so you can always find that perfect gear.
MechanicalDisc Brakes with 180mm Rotors
Half-Twist Throttle
Alloy Front Suspension Fork with Lockout and Adjustment
750W Brushless Geared Rear-Hub Motor
Integrated LED Lights
26×4″ Kenda Puncture-Resistant Tires
7-Speed Shimano Altus Drivetrain
Max Payload Capacity: 300 lbs
Other great features of this e-bike are the Aries 180mm rotor mechanical disc brakes, plush 4″ Kenda fat tires, lockable fork suspension, and a soft saddle. Finally, commuting is made easy with the inclusion of integrated lights, fenders, and a rear rack.
Fits riders: 5'3″ to 6'4″
5

. Rambo Bikes – The Cruiser

Cheapest fat-tire eBike by Rambo
MSRP: $1,999
Rambo Electric Bikes
The Cruiser by Rambo Bikes is the hunting e-bike company's most affordable model. Despite its low price, this fat tire e-bike has tons of power and performance, especially for a new e-biker.
For power, you have a mid-drive 500W Truckrun motor. This delivers smooth power transfer packs enough punch to tackle off-road trails with steep inclines. This motor pairs nicely with a 7-speed drivetrain and a 10.4Ah battery to provide modest ranges of up to 35 miles.
Weight: 59 lbs
26×4″
500W hub motor
500Wh battery
Finally, to function well off-road the Cruiser has high-traction Kenda 4″ puncture-resistant fat tires and all-weather Tektro disc brakes which, along with soft touch points, make for a very comfortable and controlled ride.
19″ frame
6

. Juiced Bikes – RipCurrent

Affordable high-power hardtail fat bike

MSRP: $1,999
Juiced Bikes
Juiced Bikes' RipCurrent is the companies flagship model. This fat tire e-bike is a great entry-level choice with lots of versatility.
The electronics on this bike are a carefully selected combination of a 15Ah battery and 750W motor. This motor has notably smooth power transfer for a rear-hub motor because of dual cadence and torque sensing. Additionally, a 9-Speed Shimano drivetrain supports the battery so you can achieve 45+ miles on a single charge.
Weight: 70 lbs
26×4″ tires
750W hub motor
Other features of this bike include Kenda 4″ fat tires with puncture resistance, as well as coil fork suspension and powerful hydraulic disc brakes by Tektro so you can ride confidently on or off-road.
Frame sizes M, L, XL
5'4″ to 6'4″
7

. Aventon – Aventure

Comfortable and versatile fat tire e-bike
MSRP: $1,999
Aventon
The Aventon Aventure fat-tire e-bike is a versatile and powerful model with some of the highest specs you'll find for $2,000.
This bike has been clearly optimized for comfort on diverse terrain with the inclusion of shock-absorbent 4″ tires, 80mm travel front fork suspension, a padded Velo saddle, and upright geometry.
Aside from comfort, this bike is not lacking in power. It has a large 750W motor supported by a 720Wh battery giving riders average ranges of 45 miles and top speeds of 28mph. Additionally, there is an 8-speed drivetrain to help you get the most from your motor and battery.
Weight: 73 lbs
26×4″ tires
750W hub motor
720Wh battery
Finally, LED integrated lights, full fenders, Aventon app connectivity, and mounts for a rack mean that this bike is ready for anything you throw at it.
Step Through
S/M fits 4'11" to 5'7″
M/L fits 5'8″ to 6'2″
Step-over
S – 5'1″ to 5'7″
M – 5'7″ – 5'11"
L – 5'11" – 6'4″
8

. Lectric – XP 2.0

Folding fat tire electric bike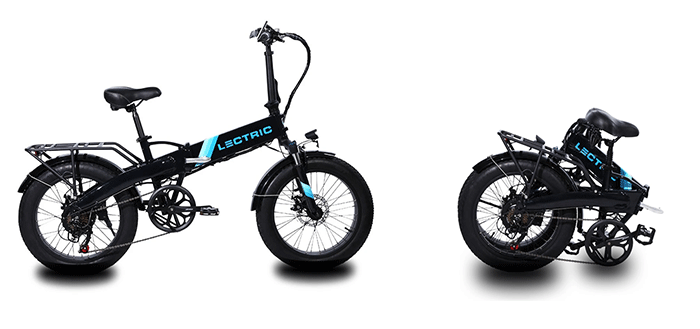 MSRP: $1,099 $999
Lectric eBikes
The Lectric XP is considered to be one of the best-selling fat tire folding electric bike brands on the market. Their bikes are well-priced, beautifully designed, and obviously – portable! The concept of the Lectric has seen an increase in popularity in recent years as more commuters embrace travel with a folding bike.
This 20-inch fat tire electric bike is designed for recreational users who value space and freedom in their everyday lives. It arrives fully assembled (because it is a folding bike), and the 500W motor has a max output of 750W which is more than enough power, especially if you haven't ridden an electric bike before. Lectric has a total max capacity of 275lbs and 55lbs for the rear rack. There are five pedal-assist options for you to choose from.
Range – Up to 45mi
Folded dimensions: 37″x18″x27″
Weight: 63 lbs / 20×4″
>>> Related:  Comparison – Lectric XP 2.0 vs Radmini 4 vs Engwe EP 2 Pro
One downside is the entry-level components and rear-hub motor, but for $999, this is a great entry-level electric bike.
9

. Pedego – Trail Tracker [Gorilla Edition]

MSRP: $3,785
Pedego

Pedego is a well-known electric bike brand, and their Tracker Gorilla Edition e-Bike is a perfect example of why.

Featuring a seven-speed Shimano Tourney groupset with mechanical disc brakes, the components are at the cheaper end of the scale. The aluminum frame on the Pedego Tracker Gorilla Edition is cruiser-inspired, which means it is best for casual and recreational rides around paved roads.

The double-spring saddle, rear hub motor with a massive battery should be considered for anyone who prefers comfort as their number one factor.

Range: Up to 56mi | 500W

Purchase from PedegoElectricBikes.com
10

. Ecotric Fat Tire Electric Bike

Best under $1,000 fat tire electric bike
MSRP: $900
Ecotric
The Ecotric Fat Tire Electric Bike is a budget electric fat bike with all the essentials needed for a recreational rider. Cheaper e-bike motors typically have a slight 'kick' to the power, as the torque is not as powerful as pricier models, which means they are not as smooth. However, they still perform in hilly areas as an eBike should!
Equipped with two batteries, a large double-spring saddle, and mechanical disc brakes, this bike is well-suited to fit its price range. Available with either blue or orange wheels, this is a great entry-level fat electric bike for a rider on a low budget.
Weight: 60lbs | 26×4″
11

. QuietKat – Ranger

Best Electric Fat Bike

MSRP: from $2,799
QuietKat

Available with a 750W or 1,000W rear-hub motor, the QuietKat Ranger is a solid beast to consider for your next fat eBike.

With a front suspension, an integrated rear rack, and a side stand, it is more than just any other electric fat bike. QuietKat's Ranger feels at home on light trails and forests. Initially designed to be used by hunters, there are a lot of extras you can add to the bike to make it a convenient 'tool' for your outdoor pursuits.

You'll also find chunky tires, mechanical disc brakes, and a coil suspension fork. The camo paint job also makes the bike stand out (although not in the wild).

Range: Up to 48mi | Weight: 65lbs | 26×4.5″ | Load Capacity: 325lbs
12

. SixThreeZero – EvryJourney

MSRP: $2,399
SixThreeZero

If you are looking for one of the most comfortable electric bikes of all time – here you have it, a fat tire beach cruiser e-bike by a famous cruiser bike brand, the SixThreeZero.

With a 500-watt rear hub motor, it provides a generous 20 miles of ride time using the throttle only, and up to 40miles using the pedal-assist mode. Although the motor is not the most powerful and the battery, not the largest, we know that cruiser bikes have a different purpose for riding and you're unlikely to be riding particularly long distances on them.

The componentry level is on par with what you'd expect from a bike at this price. Comfortable leather grips, double-spring saddle, integrated rear rack, and mechanical disc brakes  – what else do you need for a laid-back cruiser ride by the sea, or why not use it to explore urban areas as well?

Range: 20-40mi | 26x.4″ | Weight: 62.4lbs | 7-Speed Shimano Tourney
13

. Ancheer
Ancheer Ebikes are mainly found on the Amazon market. All of their bikes come with a rear hub motor, and this particular model comes with a front suspension, fenders, a double-spring saddle for ultimate comfort, front light, and mechanical disc brakes.
It rolls on massive 26″ x 4″ tires, which means it is suitable for year-round riding on all the different surfaces you can find in your area.
If you're brave enough to commute on snow, this Ancheer model can be used for that purpose as well. The fact that it features a bright headlight, fenders, and a kickstand means you can ride it come rain or shine, at any time of the day.
Weight: 60lbs | 26×4″ | Range: 22-40mi
14

. Ecotric Fat Tire Folding Bike

Cheap fat tire electric bike
Here is another well-priced and comfortable electric fat bike, this time by Ecotric. Folding electric bikes, in general, have become in high demand due to their sheer fun factor, convenience, and portability.
Ecotric has been producing a wide range of e-Bikes for recreational cyclists, and this is their fully-equipped mini fat bike with fenders and a super-low step-through frame. The 500W rear hub motor, fold-down handlebar, and mechanical disc brakes are nice additions to a basic model.
In addition to a max load capacity of 200lbs and top-speed limited to 20mp/h, the bike has been positively reviewed online by owners.
Range: 18-23mi | 20×4″ | 500W | 7-Speed
15

. QuietKat – Voyager

MSRP: from $2,799
QuietKat
Here we have another Quietkat electric fat bike, but this time the Voyager takes its place on our list. The bike itself resembles the popular Lectric while having higher-level components and a more durable overall build.
The Voyager has a 7-speed SRAM derailleur, Class 2 throttle-assist motor, and a 750W rear hub motor. The higher price comes from the adaptability of the bike, which can be folded to a compact size of 40″ x 34″ x 16″.
At 54lbs, it is a great choice for anyone who needs a folding fat e-bike with a high max load capacity of 325lbs. There are also lots of accessories that can be added to the bike such as the Anglers, Overland, and Hunting kits which are accessories and extras sold by QuietKat and designed specifically for their range of bikes.
Weight: 54lbs | Class 2 | SRAM 7-speed | 20×4″ | Load Capacity: 325lbs
16

. Rad Power Bikes – RadMini 4

MSRP: $1,499
Rad Power Bikes

Finally, here is another 750W rear-hub folding e-Bike by Rad Power Bikes. Their RadMini rolls on 3″ wide tires, and has a fold-in handlebar, integrated lights, and fenders. The componentry level at this price range is pretty much on point, and Rad Power Bikes have a ton of positive feedback to rely on for potential customers.

The one-size frame fits most riders and makes it a highly versatile folding fat tire e-bike. At the sub-$1,500 mark, there are no competitors to RadMini's fourth, updated version.

Weight: 67lbs | Max Weight Capacity: 275lbs | 20×3″ | Range: Up to 45mi+
How to Choose a Fat E-Bike – Brief Guide
Understanding the E-Bike Classes
Class 1 E-Bike – Pedal-assist only with no throttle. Max speed of 20mp/h, motor power up to 750W
Class 2 E-Bike – Throttle-assist only (Optional pedal-assist mode) Max speed limited to 20mp/h, motor power up to 750W.
Class 3 E-Bike – Pedal-assist up to 28mp/h (Some bikes come with a throttle, assisted to 20mp/h). Wearing a helmet is compulsory. Motor power up to 750W.
Class 4 E-Bike – Motor wattage over 750W, max speed 28mp/h and over. Considered a motor vehicle so licenses may apply. An electric bike with the highest max speed.
Choosing the Right Tire Width
x2.8" – Often known as a plus-size tire (not a fat tire). Usually found on 27.5″ wheel mountain bikes.
x3.5" – Anything above that width is considered a fat bike tire.
x4.0" – A standard fat bike tire size.
x4.5" – Standard fat bike tire width.
x4.8" – Another standard size
x5.0"The maximum width we've seen so far.
Different Wheel Sizes
Although most fat bikes are equipped with 26″ wheels and a rigid fork, there are a number of wheel sizes to choose from.
20" – Found on folding fat eBikes.
26" – Most common wheel size among fat bikes.
27.5" – Available on rare occasions among hybrid or mountain fat bikes.
*29er fat bikes are not around, although a 26″ and 27.5″ with the fat tire make up the size of an original 29″ MTB wheel!
Rigid vs. Suspension Fork on a Fat Bike?
There's no need for suspension on a fat bike as the large-volume tires offer plenty of comfort for the ride. Besides, suspension consumes a fair amount of energy, and the good part about having a rigid frame is that the bike keeps a better momentum compared to suspension bikes as well. Some e-Fat Bikes come equipped with front suspension, but you shouldn't worry about the momentum since the bike is powered by an electric motor.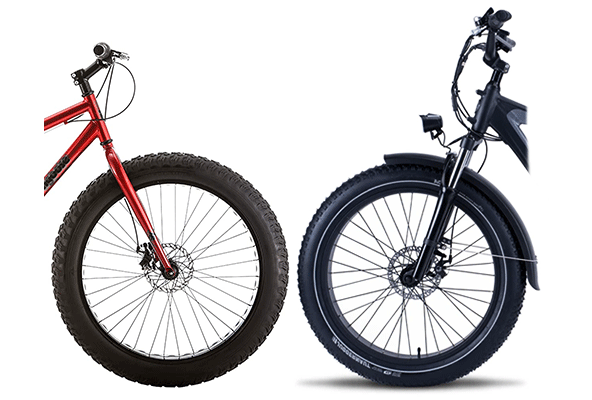 A Common Misconception
Are fat bikes slow and hard to ride?
Riding a fat bike might seems like a lot of work due to the extra rolling resistance of a wider tire, but the majority of non-electric fat bikes are quite lightweight and nimble on the right surfaces. They perform best on soft surfaces like snow and sand (the reason they were originally built). Now add an electric motor and it takes away most of the effort needed to pedal the bike through soft surfaces.
Another common misconception is that fat bikes are slow and sluggish. But that's not really true. The fastest fat tire electric bikes out there (Class 4 and Class 3) run at a max speed of 28mi and over. That's not really slow, isn't it?