A Complete Guide to Electric Bicycle Batteries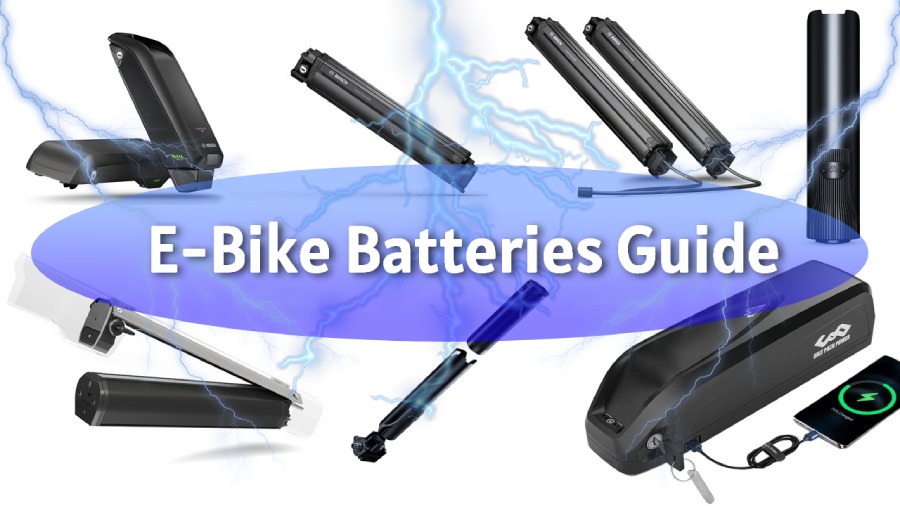 An electric bicycle battery is one of the most influential components of an e-bike. It provides power to the motor, determines range, and impacts handling, weight, and frame design.
We believe current and aspiring e-bike owners should understand the different e-bike batteries on the market and the associated terminology.
By understanding the different terminology, capacities, mounting options, and factors affecting range, you can maximize your battery's lifespan and range and make an informed decision the next time you buy an eBike.
We also recommend reading our detailed guide to what an e-bike is and how it works for a complete understanding of the topic.
E-Bike Battery and Motor Terminology
Ah = Amp hour. A measure of the capacity of a battery: More Ah = better range.
Average range: 8-14ah
V = Volts. Determines the force of the electric flow from the battery to the motor: more volts = more power for longer.
Average range: 36-52V
Wh = Watt-hour. Ebike battery energy capacity or total power stored (Wh = V x Ah). 750Wh = 0,75KWh.
Average range: 250Wh – 1000Wh
W = Watts. The eBike motor power.
Average range: 250W to 1000W.
Nm = Torque (Newton-meters). Higher torque leads to more noticeable acceleration and efficiency on steep hills.
Average range: 40-100Nm
Popular Types of E-Bike Batteries
The most common battery technologies on the market are lithium-ion (Li-ion) and lead-acid batteries.
Lead-acid – This technology used to be found in cheap electric bikes in the past, but now you rarely come across it in the e-bike world. These are inexpensive to produce because lead is a very abundant metal. However, they rapidly deteriorate, meaning they have short lifespans. In addition, they are much heavier than Li-ion and require intensive care to extend their lifespan.
Li-ion – Almost all bike manufacturers nowadays use lithium eBike battery technology. Lithium is less abundant and harder to process and refine, making these batteries significantly more expensive.
Li-ion batteries hold far more power, last longer, charge faster, and require minor care to prolong their lifespan.
E-Bike Battery Capacity: Understanding Volts, Watt-Hours, & Amp-Hours
Volts
Volts measure the force of the electric flow from the battery to the motor. The more volts a battery has, the more power it provides to the motor. Most e-bike manufacturers use a 36V, 48V, or 52V eBike battery.
Amp-Hours
The other important measurement is the Amp-hour rating, indicating the battery's total capacity and thus affecting the max range. The batteries on modern e-bikes typically have up to around 20 Ah, but 10-14 Ah is the most common number.
Watt-Hours
Again, Watt-hours stand for the total power stored in a battery, factoring voltage and energy capacity. The best eBike battery will undoubtedly have a high Wh rating. Find the Watt-hours by multiplying Amp-hour with voltage, as seen below.
| | | | | |
| --- | --- | --- | --- | --- |
| Volts (V) | | Amp-Hours (Ah) | | Watt-Hours (Wh) |
| 36 | x | 7 | = | 252 |
| 36 | x | 8 | = | 288 |
| 36 | x | 10 | = | 360 |
| 36 | x | 11 | = | 396 |
| 36 | x | 14 | = | 504 |
| 36 | x | 16 | = | 576 |
| 36 | x | 18 | = | 648 |
| 48 | x | 8 | = | 384 |
| 48 | x | 10 | = | 480 |
| 48 | x | 12 | = | 576 |
| 48 | x | 14 | = | 672 |
| 48 | x | 16 | = | 768 |
| 48 | x | 18 | = | 864 |
| 52 | x | 10 | = | 520 |
| 52 | x | 12 | = | 624 |
| 52 | x | 15 | = | 780 |
| 52 | x | 20 | = | 1040 |
How to Compare E-Bike Batteries?
Watt-hour (Wh) is the best measurement to use for comparing batteries. Batteries can have different combinations of Volts and Amp-hours, but they can equal similar a Watt-hour rating.
For example, a 36V 16Ah battery has the same capacity as a 48V 12Ah battery (576 Wh), even though someone might think one stores more power than the other.
Factors Affecting the Range
Several factors impact the range of an electric bike battery. As mentioned above, a small capacity battery can achieve longer ranges than a large capacity battery if the conditions are favorable.
Rider and Bike Weight
There is a direct relationship between weight and the power required to move that weight; lower weight requires less energy to move. Therefore, a lighter rider and bike need less energy to move at a given speed, using less power and extending the range.
Battery Capacity (Wh)
A higher Watt-hour rating always equals more range as long as the other factors stay the same.
For example, an e-bike has a 250Wh battery with a max range of 20 miles. Swap that battery for a 320Wh bicycle battery, and the range increases to 25 miles, and so on.
Motor Power
A high-power electric bicycle motor allows higher max speeds but dramatically increases the rate of energy consumption. The higher the Watt rating of a motor, the more battery voltage is required to reach full power. A higher voltage (e.g., 48V eBike battery) requires fewer Amp-hours to achieve the same total Watt-hour output, as illustrated in the table above.
Bike Design and Wheel Choice
Good aerodynamics and low rolling resistance can significantly improve battery range. For example, an electric road bike with an endurance riding position and fast-rolling 700c x 32mm tires can achieve high max ranges (over 60 miles) with low Watt-hour batteries.
Conversely, a heavy fat-tire e-bike with an upright riding position and slow 26″ x 4″ tires typically have much higher Wh batteries yet lower max ranges (40 miles).
Terrain
Riding on bumpy, technical, and soft-surface terrain uses more energy than doing so on smooth, consistent, and hard-surface terrain. High rolling resistance and loss of momentum from frequent stopping and starting increase the rate of energy use.
Weather
Wind – As most cyclists know, wind can make riding much easier or a lot more painful. When riding into a headwind on an e-bike, you can maintain a high speed using pedal assistance, but the motor will be working harder and draining energy faster.
Temperature – Cold temperatures reduce total energy capacity (Wh) by slowing the force of the power flow from the battery to the motor (V). Remember, Ah x V = Wh. Thus, a lower voltage lowers the Watt-hour rating.
Gradient
The higher the gradient, the more energy is required to ride at a given speed as gravity is working against you. Therefore, more altitude gain equals a shorter expected range.
Pedal Assistance & Throttle
Higher pedal assistance or more throttle use will drain a battery faster and decrease total range. To extend your battery range, use lower pedal assistance and contribute your power to achieve the desired speed.
Gearing
Efficient use of gearing to maintain a high cadence drastically increases battery range. Always use the full range of gearing as you would on a regular bike.
What Capacity Battery Do I Need?
A large battery provides more range and requires less frequent charging but a considerable weight trade-off.
In general, the more range an electric bike has, the better. However, some riders or manufacturers prefer a smaller battery with a lower capacity to keep weight down. As a rule of thumb, you want the biggest, highest-quality battery available up to the weight you're comfortable with.
Some popular sizes based on the type of electric bike:
Folding – 180Wh, 250Wh, 500Wh,
Hunting – 672Wh, 720Wh, 840Wh
City/commuter – 480Wh, 500Wh, 672Wh
Road – 252Wh, 320Wh, 500Wh
MTB – 250Wh, 418Wh, 500Wh
A lightweight, road-style e-bike such as Trek's Domane+ LT uses a 250Wh eBike battery pack because low weight is essential. This bike is designed for speed, not raw power. Weighing 32lbs and using an efficient 250W mid-drive motor, this small battery can provide excellent ranges over 60 miles.
In contrast, a hunting e-bike like the Rambo Roamer uses a sizeable 672Wh battery because weight isn't an issue, but high power is required. This bike has a max range of only 35 miles because of its high weight (63lbs), powerful 750W motor, and geometry.
These two examples show that the battery you need depends on the type of bike, how and where you plan to ride it, and what maximum range you want.
Does Battery Position on the Bike Matter?

There are three common mounting positions for e-bike batteries — on or under the rear rack, mounted on the frame, or integrated into the frame. Each position has its advantages and disadvantages in convenience, aesthetics, and handling.
Rear Rack Mounted
The rear rack position is the worst because of its impact on weight distribution. Batteries are heavy, usually weighing 5 to 10lbs, meaning the extra weight over or behind the rear axle can cause handling issues, especially when riding at high speeds. However, this positioning is normal for larger lead-acid batteries and for Li-ion batteries on less expensive electric city bikes.
Frame Mounted
Mounting on the top tube is not aesthetic but allows for convenient access and is ideal for handling. In addition, the low, central positioning of the battery's weight has a minimal impact on handling. This position is typical for entry-level e-bikes and dual battery eBikes.
Frame-Integrated
This position is undoubtedly the most aesthetic. A small battery can be stylishly integrated into the frame, barely changing the geometry or size of the down tube. Again, the low, central positioning (typically in the downtube) is ideal, minimally impacting handling. Unfortunately, these batteries can be challenging to remove or replace if the design is poor. Most e-bikes above entry-level have frame-integrated batteries.
How to Increase Battery Life
Increasing battery life and prolonging optimal function is possible with the appropriate care.
All e-bike batteries have a charge cycle rating which indicates the expected lifespan. One charge cycle is emptying and fully charging your battery.
If a 500Wh battery has a 500 charge cycle rating, after 500 charge cycles, a full charge should provide 60%-80% (300-400Wh) of the original 500Wh.
Cell quality and battery care also impact how fast this degradation occurs.
Under and Over-Charging
Most Li-ion batteries have a battery management system (BMS) that cuts off charging once complete. This system helps prolong the battery life.
However, all batteries benefit from the following charging practices:
Re-charge your battery before it dies fully
Unplug it once charging is complete
Charging to 80-90% may extend battery life further
Temperature
Fluctuations in temperature negatively impact battery lifespan. The ideal temperature for a battery is between 50 to 100f. Thus:
Avoid leaving your e-bike battery outside in temperatures below 50f (10 Celcius) or direct sunlight
Start riding immediately once the bike is outside in cold weather
Purchase a battery sleeve to keep it warm in the winter
In hot weather, maintain a high cadence to reduce strain on the battery
Impacts
Repeated impacts to the battery can degrade the quality or damage the cells in Li-ion batteries. Ebike battery repair isn't easy, so limiting damage is essential.
Storage
Always store your battery indoors at room temperature and out of direct sunlight. Additionally, maintain 30 to 70% charge if storing long term.
Cadence
Use a cadence between 70 to 100rpm when possible. Using high gears with a low cadence significantly strains your battery, reducing your range and speeding up wear.
People Also Ask
How long does an eBike battery last?
On average, an eBike battery lasts 2 to 5 years. Modern Li-ion batteries are rated by charge cycles (400-1000), so the higher this number, the longer the battery should last without significantly impacting the Watt-hour rating. Increase battery lifespan by following the guidelines in the previous section.
How much does an eBike battery cost?
Ebike batteries cost anywhere from $200 to $1000. High-quality, branded Li-ion batteries cost a minimum of $500. For example, popular manufacturers like Shimano and Bosch have various sizes (Wh), priced from $500 to $925. Off-brand, lower-quality batteries can cost as low as $200.
Does a battery come with an eBike kit?
Most eBike kits come with a battery. Depending on your needs, you can buy an eBike conversion kit with a battery or without one. The advantage of purchasing the kit with everything together is it guarantees the compatibility of the various parts.
How long to charge an eBike battery?
An eBike battery takes from 2 to 9 hours to charge. In general, the larger the battery capacity, the more time it takes to fill up. Additionally, it won't take as long to reach 100% if it has a partial charge. Some manufacturers have rapid-charge battery technology.
Are eBike batteries interchangeable?
No, eBike batteries are not interchangeable. Each battery has a specific Amp-hour and voltage rating. In addition, batteries come in various shapes and sizes. Therefore, it probably won't fit a different base or work with the controller. Secondly, the unmatched voltage could cause damage to the motor and battery.
Why are eBike batteries so expensive?
Electric bike batteries are expensive because the metals used to make them are in limited supply. Lithium-ion batteries use lithium, manganese, cobalt, and nickel in various quantities, all of which are finite resources. Additionally, processing and refining these metals requires costly technology.