11 Best Folding Electric Bikes — Top Models to Consider in 2023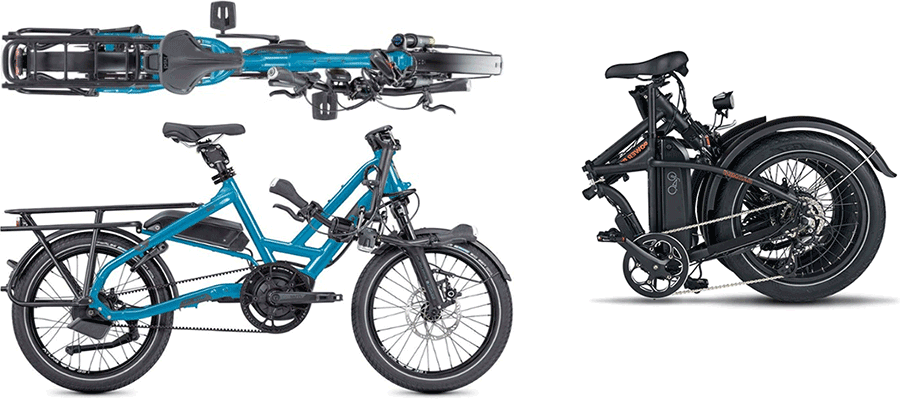 Folding bikes have long been the go-to choice of cyclists who often use alternative transport, such as city commuters, cycle tourists, or motorists who like to drive to their cycle spots.
With the recent rise of electric bikes, many of these same cyclists are now pondering upgrading to something offering motorized assistance.
That's where folding electric bikes come into the picture.
Electric folding bikes help you ride longer, climb hills with ease, and then easily fold them and take them on public transport, or store them inside your apartment.
Here are the 11 best folding electric bikes we recommend!
Getting Familiar with the Electric Folding Bike
---
Why consider an electric folding bicycle?
Folding electric bikes combine the ease of portability with the additional convenience of motor assistance. This makes them the ideal bikes for city commuters who need a sweat-free trip to work and may also need to use the train occasionally. Superb maneuverability is what makes this type of bike very convenient to use. You can easily ride through tight city streets, or push the bike to an elevator.
Price vs. Value?
Foldable electric bikes come in a wide range of prices, from as little as $800 up to $4,000 or more. The quality and components also vary greatly, with a big difference in battery life and motor strength. Depending on how you plan on using the bike, it's important to select one that is suitable for your needs.
---
---
#1

. Tern GSD S10

Electric folding cargo bike with a compact design

MSRP: $5,399
The Tern GSD S10 is a high-end folding electric cargo bike with impressive electronics and a massive 440lb payload capacity.

Range: 26-53 miles | Weight: 74 lbs | Payload Capacity: 440 lbs
For power, you have a 250W, 85Nm Bosch Cargo Line motor which allows you to tackle steep hills and utilize the carrying capacity. This motor is combined with a 400Wh battery which delivers 26-53 miles of range.
The GSD S10 is very convenient to use and folds down fast, ready for storage. However, only the handlebars and stem fold and the seatpost telescopes all the way dow. While folded, the locking mechanism stays secure.
For tires. you have a front Schwalbe Big Ben Plus 2.15″ and a Super Moto-X 2.4″ rear. In addition, you get 20″ wheels, GreenGuard puncture protection, and a Shimano Deore 10-speed drivetrain to make this bike very enjoyable to ride.
Electronics
Motor: 250W, 85Nm mid-drive motor
Battery: 400Wh
---
#2

. Aventon Sinch

Folds quickly, equipped with 1″ travel rear suspension
MSRP: $1,599
Aventon
Aventon makes various affordable electric bikes, including the Sinch folding eBike. This modern, attractive-looking bike folds up quickly and easily for hopping on trains or buses or storing at home.
Powerful electronics, versatile fat tires, and fork suspension make the Sinch an excellent option for taking on off-road camping adventures.
Range: 40 miles | Weight: 68 lbs
Unfortunately, this is one of the heaviest foldable bikes on this list, making it a little harder to carry and lift.
Electronics
Motor: 500W front hub motor
Battery: 772Wh removable lithium-ion
Display: Backlit color with application sync
The Sinch's aluminum frame has an integrated and removable 672Wh battery and a 500W hub motor.
This bike goes up to 20 mph (32kph) with an average range of 40 miles. The tires are 20×4″ with mechanical disc brakes on the front and rear.
Fits payloads up to 300lb
---
#3

. Lectric XP 3.0
MSRP: $999
Lectric eBikes
This foldable e-bike from Lectric is a steal at only $999 and comes in both a standard and step-through model. The bike has a strong, chunky frame that folds down to 37 "x18″ x28", making it small enough for easy transportation and storage.
It weighs a rather hefty 64lbs though, so keep that in mind if you think you'll need to lug it upstairs.
Electronics
Motor: 500W, 55Nm
Battery: 500Wh, 48V
Lectric XP 3.0 comes equipped with 4″ x 20″ fat bike tires for all-terrain riding. It also comes fully assembled (folded) and ready to be ridden.
Go up to 45 miles on a single charge of the 48v battery, with the 500W motor reaching speeds of 28mph. It comes fully assembled with fenders, a rack, and front and rear lights. The basic 7-speed drivetrain and Tektro mechanical disc brakes aren't great but acceptable on a bike in this price range.
Recommended for riders: 4'10 to 6'5″ / Maximum rider weight: 330lbs / Maximum load on rear rack: 150 lbs
---
#4

. Rad Power Bikes RadExpand 5
MSRP: $1,499
Rad Power Bikes
Rad Power Bikes' RadExpand 5 is one of our top value-for-money portable electric bikes due to its tough design and quality components. It has 20″ x 4" puncture-resistant fat tires combined with upright geometry for extra comfort and safety while riding.
Range: 25-45 miles | Weight: 62.5 lbs | Payload Capacity: 275 lbs
The robust aluminum frame and handlebars both fold up so the bike collapses to the size of a large suitcase. For a foldable e-bike, the RadExpand 5 is surprisingly powerful, providing plenty of power from its 750W motor and taking you up to 45 miles on a single charge of the 672Wh battery.
Electronics
Motor: 750W
Battery: 672Wh
It has a twist-grip throttle and comes fully equipped with fenders, lights, a rack, and a detailed display panel showing speed, battery life, and other information. On the drivetrain, you'll find 7-speed gearing and mechanical disc brakes with 180mm rotors.
RadExpand Size Recommendations
4'10″ – 5'10″
---
#5

. Lectric XPremium

An affordable mid-drive cargo bike with dual batteries
MSRP: $1,599
Lectric Bikes
Range: 100mi | Folded: 40 x 22 x 32″ | Weight: 75 lbs | Max Weight: 330 lbs
Not only is the XPremium a high-quality mid-drive electric bike, but it's also foldable. Electric assistance, portable, and able to carry heavy loads give this bike a broad appeal. In addition, it's on the lower end of the price scale.
The XPremium's electronics are the most impressive features of the bike. These include a dual battery setup with a 100-mile max range and a smooth mid-drive motor with 500W of power.
The Lectric XPremium has five different assist levels and the capability to be a Class 2 or Class 3 e-bike. The drivetrain used is a 7-speed with powerful hydraulic disc brakes. Finally, comfort and off-road capability are provided by the 4″ fat tires, 80mm fork suspension, and upright, stable geometry.
Electronics
Motor: 500W mid-drive
Battery: 1000Wh (2x500Wh)
Charge period: 4-6hrs
---
#6

. Engwe EP 2 Pro

Folding fat tire electric bike – A solid beast! 🏆

MSRP: $1,099
Engwe-bikes

Motor: 750W | Torque: 80Nm | Battery: 48V 12.8Ah | Charge time: 5-7 hours | Weight Capacity: 330lbs

Engwe's EP-2 Pro is a unique e-bike because of its versatility, excellent price, and quality construction.

This 20-inch fat-tire electric bike boasts a 10-second fold down, resulting in a small, secure package to transport or store.

For power, you can rely on a 7-speed drivetrain to support the 750W peak power motor and 48V – 12.8Ah battery. This combination can achieve max speeds of 28mph and has a max range of 45 miles.

EP-2 Pro comes fully equipped for commuting needs with a rear rack, fenders, and integrated lights. Finally, when you're ready to go off-road, you can count on the 4″ vibration-reducing fat tires, lockable 60mm fork suspension, and mechanical disc brakes.
Features
3 riding modes
5 power levels
20 4.0″ tires
Mechanical disc brakes, 160mm rotors
Weight: 70lbs (32kg)
---
#7

. Buzz Charter F
MSRP: $999
Buzz Bikes
Motor – 250W hub | Weight – 35lbs | Range – Up to 40mi
The Buzz Bikes Charter F is a unique portable eBike designed for urban areas, as an everyday rider. It has a small and compact aluminum frame design with a simple middle pivot to fold the bike in half.
The Charter F is a lightweight option that tips the scales at under 40 lbs. Therefore, it's a great choice for those who need to carry their beloved two-wheeler up and down stairs or occasionally load it into the car trunk.
Battery – 36V
Tires – 20×1.75″
Drivetrain – 7 speed
This bike offers 3 levels of pedal assist powered by a 250W rear hub motor. Plus, it comes with a 7-speed drivetrain, which will surely make any climbs in your area that much easier.
The only downside that needs to be addressed is the lack of disc brakes, which have become somewhat expected on electric folding bikes. However, considering the price tag, we can't complain too much. You'll get decent braking power with these V-brakes, and they also reduce the weight.
To sum, don't hesitate to get the Buzz Charter F foldable e-bike if you're in the market for a lightweight and affordable daily beater.
---
#8

. Brompton C Line

A mid-range folding bike pedal-powered light that is built to be super long-lasting
MSRP: $4,050
REI
The Brompton C Line folding bike is a tough and versatile choice that demonstrates the best of Brompton's experience in designing quality bicycles. This bike is convenient and for any use, such as a daily work commute. To do this, it has a simple and tidy folding design to make transport and storage a breeze.
Frame: Hand-brazened Chromoly steel | Drivetrain: 6-speed | Weight:38.5lbs
The C Line incorporates a 6-speed drivetrain with Brompton rim brakes. Additionally, life is made easier with tough Schwalbe Marathon Racer tires with extra puncture protection. The electronics include a hub motor paired with a 312Wh battery that delivers up to 45 miles of range.
---
#9

. Ecotric

Best under $1,000 foldable fat tire e-bike on Amazon
At only $840, the Ecotric is your best option for a cheap folding electric bike. Ecotric offers a 30-day free trial and 18 months warranty to address any concerns you may have about the quality. Despite the low price, the aluminum frame feels as solid as any other, with a strong clamp design that locks in tightly when unfolding it. There's no front suspension here but with wide 20″ x 4″ fat tires, it'll swallow up most vibrations.
Range: Up to 45 miles | Weight: 52 lbs | Weight Capacity: 200 lbs
Admittedly, the 7-speed Shimano gears are quite basic and the mechanical disc brakes are squeaky, but the small 500W motor runs well and the battery will take you up to 24 miles on one charge. At 52lbs (23.5kg), it's fairly heavy for a foldable bike and doesn't pack down quite as small as some others. The bike is also not as comfortable for riders above 6 feet tall.
Electronics
Motor: 500W, Rear-hub
Battery: 48V 13Ah (624Wh)
Charge time: 5-8 hours (1000 charging cycles)
Recommended for riders 4'8″ – 5'10
---
#10

. Engwe C20 Pro
MSRP: $900
Engwe Bikes
For city dwellers desiring an e-bike with superior portability and performance, the Engwe C20 Pro folding bike is a promising option loaded with valuable features.
The C20 Pro is an electric city bike that folds up for easy transportation. Unlike many other folding bikes that sacrifice comfort in order to be more portable, this bike uses plush 2.4″ tires and fork suspension to retain a good amount of vibration dampening and off-road capability.
Electronics
Motor: 250W
Battery: 691Wh
Charge time: 6 hours approx.
With a punchy 250W Bafang motor, this Engwe e-bike is more than a city bike, it will happily pack up in the back of the car and power you through country rides on camping trips.
Range: 95 miles | Weight: 52lbs | Payload Capacity: 331 lbs
---
#11

. Swagtron Swagcycle EB-5

Affordable foldable electric bike with great ratings
MSRP: Check on Amazon
The Swagtron Swagcycle EB-5 is a modern-looking, versatile fold-up electric bike that will turn heads on the street. It has a 15mph pedal-assist motor with a 15-mile electric-only range on the throttle. However, you can significantly extend the range by pedaling a bit and relying on pedal assistance instead.
The bike has a single-speed drivetrain, a rear hub 250W motor, and weighs just 37 lbs, so it's incredibly easy to carry it around or store it under your desk or in the car trunk.
Get it if you want an affordable option that packs down really small and can carry you around town with ease. The Swagtron is much smaller than average when folded so it's one of the most portable bikes. This bike looks great and is fun for zipping around town, running errands, or commuting to work.
---
Main Features to Consider When Buying a Folding Electric Bike
---
Buying a folding electric bike is no easy task. In addition to thinking about all the standard components such as the drivetrain, wheels, and brakes, you also need to consider the folding mechanism and the electric parts.
Here are some of the main aspects to consider to ensure you end up with the right folding e-bike for your needs!
Mid-Drive vs. Hub-Drive Motors
Both mid-drive and hub-drive motors have advantages and disadvantages. Still, each type excels in specific environments.
Mid-drive – Mainly used on mid/high-end bicycles. The transitional torque is known to be smoother, also the weight is more balanced because the center of gravity is closer to the ground.
Hub-drive – Cheaper to make. Compared to riding a standard bicycle, it might take some time to get used to the center of gravity. Though this is still an excellent choice for commutes and daily use.
Foldable eBike wheels & tires
In the past, most foldable bicycles had skinny tires on small diameter wheels that served the purpose of saving as much space as possible. Today, you'll see many folding electric bikes with chunky fat bike tires, which are the complete opposite. Fat bike tires allow you to ride on multiple terrains with ease, whereas skinny tires limit you to riding on smooth paved roads only.
Fat bike tires – Multi-surface riding, better comfort. Generally 20″ diameter wheels, 3″ to 4″ wide.
Skinny tires – Faster and smoother on paved roads, better mileage due to less friction
Do you need puncture-resistant tires?
A folding eBike is not your typical bicycle. The market for folding electric bicycles is rather limited, and most people expect a hustle-free ride – that's why most folding e-bikes are equipped with puncture-resistant tires.
Most bikes in this review are using a rear-hub motor, which makes removing a bike tire rather complicated. You might have to cut some zip-ties and use provided wrenches that come with the bike – to entirely remove the rear wheel but that's the case with most hub-drive eBikes. That's why puncture-resistant tires are a great addition to consider.
Spoke vs. Cast wheels
Almost all bicycles these days come with wheels that use spokes instead of a solid alloy or steel rim. The main purpose of spokes being used on bicycle wheels is to evenly absorb vibration. Alloy wheels on the other hand are better used on paved roads only. 'Cast' wheels are mainly made from alloy, which makes them quite durable, especially when used with fat tire sizes.
Understanding E-Bike Classes
Class 1: eBikes – Pedal-assist only, with no throttle, maximum assisted speed of 20 mph
Class 2: eBikes – Throttle-assisted with a maximum speed of 20 mph
Class 3: eBikes – Pedal-assist only, with or without a throttle. Maximum assisted speed of 28 mph