Mid-Drive Electric Bike Selection: 12 Models to Consider in 2023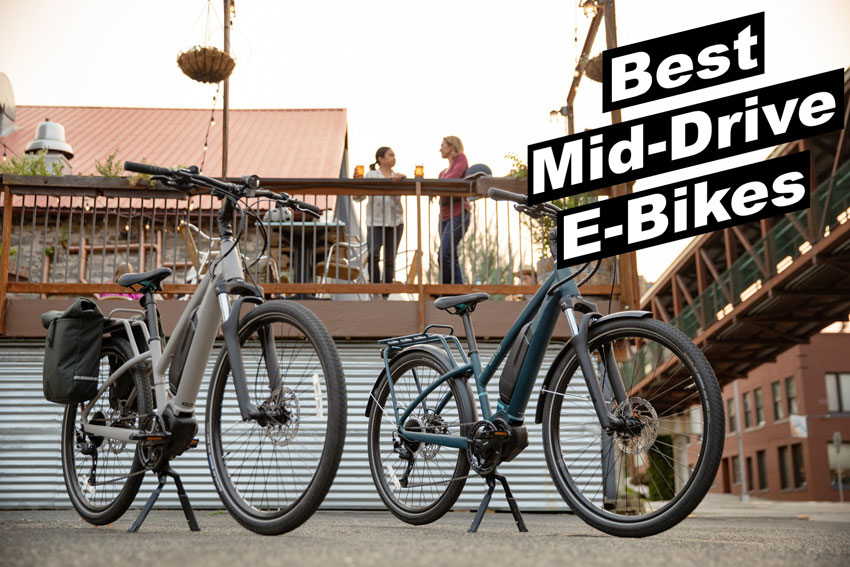 Mid-drive e-bike motors are the go-to choice for premium electric bikes. They are the most powerful, efficient, lightweight, and durable type of motor.
A mid-drive eBike has a ride quality that is more natural-feeling than cheaper hub drives. However, you must utilize the full range of gears to get the most out of it. With torque sensors, mid-drives can deliver a proportionate amount of assistance that feels smooth when pedaling.
The article below will answer some frequently asked questions about mid-drives and review 12 of the best mid-drive electric bikes for 2023, so you can find the perfect one for your needs.
A mid-drive electric bike has a motor located at the bottom bracket instead of the wheel hub. So any non-hub-drive electric bike is considered a mid-drive.
The primary characteristic of Ebike mid-drive motors is that they connect to the drivetrain, transferring power through the cranks to turn the wheel instead of directly powering it.
Yes, mid-drive eBikes are better than rear-hub eBikes in most metrics.
But why is mid-drive better than hub? Well, mid-drive motors are more efficient, lighter, and more powerful (at the same wattage rating). In addition, they provide a more natural-feeling, smooth ride quality as the pedal assistance is delivered through the drivetrain instead of directly at the wheel.
You can also read our Hub Motor vs. Mid-Drive E-Bikes guide for more information.
No, you don't have to pedal a mid-drive eBike with a throttle. However, most mid-drives don't have a throttle, meaning they only provide assistance through pedaling.
Some high-power models like QuietKat's e-bikes use mid-drive motors that include a throttle for extreme off-road riding.
Mid-drive eBike motors should last over 10,000 miles with proper care and appropriate use. However, many factors can affect longevity. Examples include how often you use the bike, the amount of stress you put the motor under (regularly using too high of a gear), or riding in very hot or wet climates can influence lifespan.
Best Mid-Drive E-Bikes
---
1. Co-op Cycles CTY e2.2
MSRP: $2,699
Motor: Shimano E6100 250W, 60Nm
Battery: 504Wh Shimano
Range: 50 miles
Drivetrain: 9-speed Shimano Altus/Alivio
Reasons to buy:
Fully-equipped
Solid max range
Lightweight for the price
Integrated ABUS battery lock
Reasons to avoid:
Underwhelming motor
Sizing runs small
The Co-op Cycles CTY e2.2 is the higher-end choice of the two CTY models. This mid-drive e-bike is a full-equipped city commuter designed to make your life convenient.
Co-op Cycles chose a Shimano drive system comprised of an E6100 250W, 60Nm motor, and a 504Wh battery. This setup provides max ranges of 50 miles and buttery-smooth power transfer from Shimano's premium sensors.
The CTY e2.2 is a Class 1 e-bike with a 20mph max speed and no throttle. To maximize the range, you can take advantage of a 9-speed drivetrain with Rapidfire Plus shifters and an 11-34t cassette.
An impressive addition to this bike is the pre-installed ABUS battery lock that gives you peace of mind when leaving your bike locked outside. The battery is also removable and takes just four hours to charge.
Co-op Cycles designed this bike for comfort with a 75mm travel fork, upright geometry, shock-absorbent 1.95″ Schwalbe Big Ben tires, and a Comfort Plus memory foam saddle.
Add the Co-op Cycles CTY e2.2 to your shortlist if you want an affordable urban e-bike with all the bells and whistles for commuting and running errands.
---
2. Trek Verve+ 2 Lowstep
MSRP: $2,850
Motor: Bosch Active Line 250W, 40 Nm
Battery: 400 Wh
Range: 60 miles max
Drivetrain: 9-speed Shimano Alivio
Reasons to buy:
Excellent maximum range
Great accessories
Reliable Bosch electronics
Shimano brakes and drivetrain
Reasons to avoid:
External battery
No bottle cage bosses
Trek Verve+ 2 Lowstep is an attractive mid-drive ebike and one of our personal favorites. It looks modern, comes fully equipped, and has reliable electronics and components.
Its Bosch Active Line 250W (40 Nm) motor will assist you up to 20 mph, and the 400 Wh battery should last for up to 60 miles if you use low pedal assist levels.
But that won't be a problem thanks to a wide-range Shimano Alivio 9-speed drivetrain that will let you pedal efficiently up most hills. Shimano hydraulic disc brakes will take care of the descent.
The Verve+ 2 rolls on 700c x 45 mm tires that are quite versatile. Even though there is no front fork, you should feel quite comfortable.
If you plan to use this ebike for commuting, you'll be particularly happy about the fenders, rear rack, kickstand, and lights. Therefore, you don't need to make any further investments, you can ride the Verve+ 2 out of the box.
---
3. Ride1UP Prodigy
MSRP: $2,295 – $2,395
Motor: Brose TF Sprinter 90Nm, 380% assistance
Battery: 504Wh
Range: 30-50 miles
Drivetrain: 9-speed Shimano Alivio
Reasons to buy:
Solid max range
Off-road and urban models available
Urban model is fully-equipped
Tektro hydraulic discs
Reasons to avoid:
Pedal assist only
Limited gearing
The Ride1UP Prodigy is an affordable mid-drive eBike with plenty of quality and versatility from the three design choices; the XC off-roader and the ST and XR urban bikes.
Each model uses a German-made Brose TF Sprinter mid-drive eBike motor with 380% assistance and 90Nm of torque. This motor pairs with a decent 504Wh Samsung cell battery that delivers up to 50 miles of range when used on Eco mode.
The rest of the drive system is from Brose, including a frame-integrated controller and 1.5″ color display. Shimano provides the drivetrain with a 9-speed Alivio setup. The cassette is an 11-34t, paired with trigger shifters and a 42t narrow-wide chainring (XC) or a 46t standard chainring (XR and ST).
All three models also use 180mm rotor Tektro hydraulic discs, which provide adequate stopping power for the urban bikes but are slightly underpowered for the off-road model.
The XR and ST use rigid forks and Maxxis Re-Fuse 2″ tires to maximize efficiency on pavement, while the Prodigy XC has 2.4″ Forekaster tires, MTB bars, and a 120mm travel air fork.
Overall, this is an excellent choice for any urban or off-road rider with a limited budget looking for solid performance and reliable components.
---
4. Lectric XPremium
MSRP: $1,599
Motor: 500W
Battery: 2x 500Wh (1000Wh total)
Range: 100 miles
Drivetrain: 7-speed
Reasons to buy:
100-mile max range
Fully-equipped
Folding frame
Hydraulic discs
Reasons to avoid:
Heavy
Uncomfortable saddle
The Lectric XPremium is the company's newest addition to the lineup and a response to the growing demand for powerful and affordable mid-drive electric bikes.
This model utilizes a 500W motor with two 500Wh batteries to deliver huge max ranges of 100 miles. The XPremium also has a throttle and a top speed of 28mph with electrical assistance.
The rest of the features are impressive for a sub-$2,000 bike. You have a smooth folding mechanism for easy storage and transport and a fully-equipped setup for convenient commuting.
The XPremium is super comfortable thanks to the 80mm travel fork, 4″ Chaoyang fat tires, and upright geometry. Additionally, you have hydraulic disc brakes for all-weather stopping and a massive 330lb payload capacity for carrying all the gear you need.
Choose the XPremium if you want a long-range mid-drive electric folding bike with the versatility to tackle almost any job.
---
5. QuietKat Apex
MSRP: $4,999 – $5,599
Motor: Bafang 750W or 1000W
Battery: 768Wh
Range: 24-48 miles
Drivetrain: 9-speed SRAM X5
Reasons to buy:
Hugely powerful motor
Excellent carrying capacity
Quiet motor for hunting
Large-travel fork
Reasons to avoid:
Poor range for price
No headlight
The QuietKat Apex is the high-end hardtail on the brand's lineup and the most powerful on this list.
The Apex can be a 750W or 1000W mid-drive eBike. If you choose the smaller motor, the bike will fall into the Class 1 or 2 categories of electric bikes (remove the throttle for Class 1). However, the larger one makes it an unclassified bike, meaning you can only ride it in remote areas or on private land without a license.
The battery has 768Wh of juice to provide modest ranges of 24 to 48 miles on one charge. You also have a sleek color LCD computer with all ride metrics and power and battery levels displayed clearly.
The rest of the build kit allows you to maximize the motor power to tackle extreme off-road terrain. You have a 150mm inverted air fork that is stable and supportive under big hits. The 4.5″ all-terrain Kenda Juggernaut fat tires open up any trail surface or conditions, and powerful four-piston Tektro hydraulic disc brakes ensure you can stop on a dime.
Other notable features include a slightly disappointing entry-level SRAM X5 9-speed drivetrain, a 325lb payload capacity, and a 100lb-capacity integrated rear rack so you can carry huge loads to remote areas.
All things considered, the QuietKat Apex is a premium Bafang mid-drive hunting e-bike with all the features you need for extreme terrain. Choose it if you want a high-power hardtail and have the budget to match.
---
6. Gazelle Medeo T10 Plus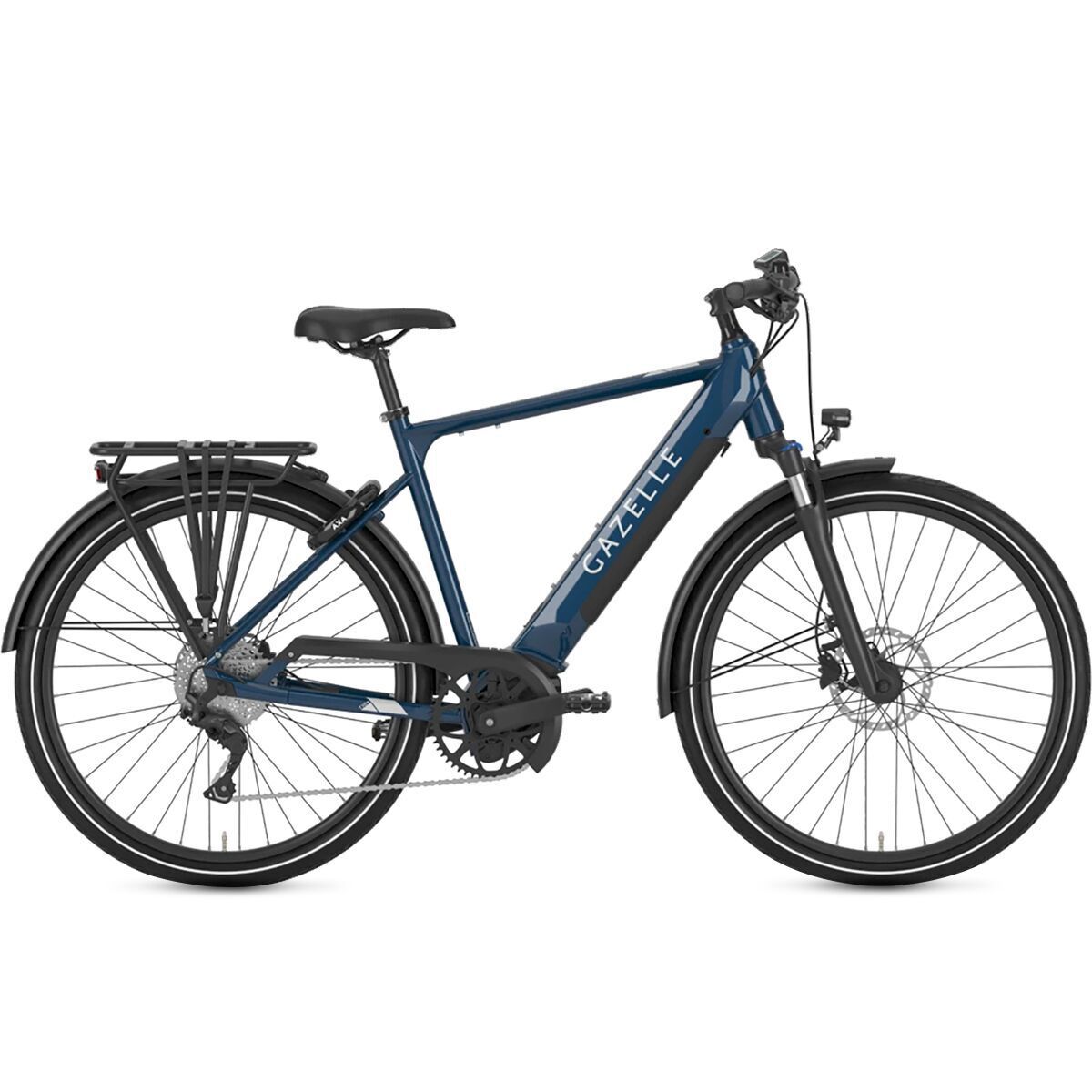 MSRP: $3,799
Motor: Bosch's Performance Line Speed 85Nm, 340% assistance
Battery: 500Wh Powerpack
Range: 55 miles
Drivetrain: 10-speed Shimano Deore
Reasons to buy:
Fast and torquey
Full-equipped
Plenty of range
Gazelle's Medeo T10 Plus is a Bosch mid-drive eBike and the highest-performing of the four Medeo builds.
This bike is perfect for commuters and active riders who enjoy the sporty performance and ride position. The Medeo T10 Plus comes fully equipped with all of the accessories needed for convenient urban riding and the choice for a more comfortable step-through frame.
Gazelle chose a Bosch e-bike system for this bike. The motor is a Performance Line Speed model with 85Nm of torque and 340% assistance, allowing you to tackle city hills with a loaded rear rack. This motor pairs with a 500Wh integrated battery to provide a maximum range of 55 miles.
The Medeo T10+ has a Shimano Deore drivetrain with an 11-42t 10-speed cassette and reliable Shimano BR-MT420 hydraulic disc brakes. The tires are 2″ Schwalbe Big Apples with fast-rolling performance and Raceguard puncture protection. Additionally, you have a 63mm Suntour Mobie fork and Mach1 ER-10 wheels.
All things considered, the Gazelle Medeo T10 Plus is an excellent choice for riders with a reasonable budget who want a fast and comfortable mid-motor eBike.
---
7. Vvolt Sirius
MSRP: $2,799
Motor: MPF 250W, 80Nm, 350% support
Battery: 375Wh Celxpert
Range: 20-40 miles
Drivetrain: Eviolo TR CVT hub, 380% range
Reasons to buy:
Low-maintenance
Extra-durable drivetrain
Plenty of accessory mounts
Reasons to avoid:
Low range
Rechargeable lights
The Vvolt Sirius is the only belt-drive e-bike on this list, giving it a unique draw compared to standard drivetrain bikes.
A Gates Carbon CDX drive pairs with Enviolo's TR CVT 380% range hub to provide a virtually maintenance-free owner experience. Additionally, this system is quiet, clean, and highly durable.
The electronics are from lesser-known brands, including an Austrian MPF 250W, 80Nm motor, and a Celxpertt 375Wh battery. This punchy motor makes light work of hills but only has a 20 to 40-mile range.
Vvolt uses a typical aluminum frame and fork. However, instead of including commuter accessories, they opt for a streamlined design with additional mounts so you can personalize the Sirius to your requirements. Other notable features on this mid-drive eBike include hydraulic disc brakes, a kickstand, and rechargeable LED lights.
Choose the Vvolt Sirius if you want a light mid-drive eBike with the convenience and durability of a belt drive system.
---
8. Electra Townie Go! 5i Step-Through
MSRP: $2,950
Motor: Bosch Active Line Plus 250W, 50Nm
Battery: 400Wh Bosch Powerpack
Range: 20-70 miles
Drivetrain: 5-speed Shimano Nexus hub
Reasons to buy:
Super comfy
Excellent max range
Low-maintenance drivetrain
Integrated rear wheel lock
The Electra Townie Go! 5i Step-Through is a mid-drive eBike cruiser designed for comfort and convenience.
Electra chose Bosch electronics, including an Active Line Plus 250W, 50Nm motor, 400Wh battery, and a simple handlebar display. This setup will return a maximum of 70 miles of range, which is quite impressive.
This Townie Go! has a Shimano Nexus 5-speed internally geared hub. The Nexus is specifically designed to handle the extra stresses of mid-drive e-bikes and allows you to switch gears without pedaling.
The Townie Go! 5i uses Tektro hydraulic disc brakes for reliable stopping and plush 2.35″ puncture-resistant tires on 26″ rims for their shock-absorbent characteristics.
Additionally, upright geometry, swept-back handlebars, and an ergonomic saddle ensure a relaxed and luxurious ride feel. Other notable components include the integrated wheel lock, LED lights, kickstand, and rack and fenders.
Don't miss out on this mid-drive cruiser e-bike if you're looking for unbeatable comfort for your leisurely rides or commutes.
---
9. Cannondale Topstone Neo 5
MSRP: $5,550
Motor: Bosch Performance Line Speed, 85Nm
Battery: 500Wh PowerTube
Range: 70 miles
Drivetrain: 11-speed Shimano GRX 600
Reasons to buy:
Powerful motor
Smooth and durable GRX drivetrain
Stable geometry for off-roading
42mm tire clearance
Reasons to avoid:
Aluminum frame is disappointing at this price
The Topstone Neo 5 is the best mid-drive e-bike for gravel riding and long-distance commutes.
Cannonade is a big-name brand, and the Topstone electric gravel bike demonstrates why. The aluminum frame comes with sleek internal cable routing, plenty of mounts for bikepacking, and clearance for 42mm tires.
The motor is Bosch's premium Performance Line Speed 250W, 85Nm model. This powerful mid-drive pairs with a large 500Wh integrated battery to deliver up to 70 miles of range.
Diamondback uses Shimano's GRX drivetrain for its gravel-specific performance. It includes an 11-speed 11-42t cassette and 42t chainring for plenty of climbing range. The Shimano hydraulic disc brakes are reliable, but the small 160mm rotors are slightly small for a 28mphh off-road e-bike.
Finally, you have 700c x 36mm WTB Exposure tires to ensure traction and durability on chunky gravel trails. Don't look past the Cannondale Topstone Neo 5 if you want a high-performance electric gravel bike to open up your local trails.
---
10. Rambo Savage
MSRP: $2,000
Motor: Bafang 750W, 120Nm
Battery: 672Wh
Range: 35 miles
Drivetrain: 8-speed Shimano Altus
Reasons to buy:
Huge motor power
Sleek LCD display
Versatile fat tires
High payload capacity
Lots of accessory compatibility
Reasons to avoid:
Poor range
Mechanical disc brakes
No lights
The Rambo Savage mid-drive eBike with 750W is an affordable hunting bike designed for tackling hard-to-reach backcountry terrain, steep gradients, or leisurely urban rides.
The Savage's powerful motor is unique at this price range. The 120Nm of torque makes it easy to tackle steep climbs with a fully loaded bike. In addition, you can add a range of accessories like racks, trailers, or bags to maximize the 300lb carrying capacity and make your next hunting, angling, or camping trip a breeze. Unfortunately, the 672Wh battery is pretty limited with a max 35-mile range.
Rambo equipped the Savage with 4″ Kenda Krusade tires on 80mm double wall rims to provide traction and stability on soft surfaces like snow, sand, and mud. These tires also add plenty of cushion for bumpy terrain, making up for the lack of suspension.
The drivetrain on the Savage is an 8-speed Shimano Altus with Tektro mechanical disc brakes. Other features include a kickstand and USB charging. Consider The Savage if you want huge power and off-road capability without breaking the bank.
---
11. Cannondale Tesoro Neo X Speed
MSRP: $3,999
Motor: Bosch Performance Line Speed, 85Nm
Battery: 625Wh
Range: 73 miles
Drivetrain: 12-speed Shimano Deore
Reasons to buy:
Bosch high-torque e-bike system
Integrated wheel sensor included
Suspension seatpost
Fully equipped
High-quality drivetrain
The Cannondale Tesoro Neo X Speed is a versatile touring e-bike, perfect for running errands, commuting, or tackling long-distance tours.
This bike gets its comfort character from Schwalbe Big Ben Plus 2.15″ puncture-resistant tires, comfortable touchpoints, air fork suspension, and seatpost suspension.
The tires roll relatively fast and absorb plenty of vibrations on roads and light gravel, and Magura MT5 hydraulic disc brakes with 203mm rotors keep you in control on varied terrains and in wet conditions.
Cannondale chose a Bosch Performance Line Speed system, including a large 500Wh integrated battery. With this pairing, you can expect buttery-smooth power transfer and a solid max range for up to 73 miles.
Other notable components include the Shimano Deore 12-speed drivetrain with a 10-51t cassette. All things considered, the Tesoro Neo X Speed is a solid choice for e-bike riders who want a speed and versatility with guaranteed reliability.
---
12. Specialized Turbo Como SL 4.0
MSRP: $4,000
Motor: SL 1.1, 240W, 35Nm
Battery: 320Wh
Range: 120 miles (with range extender)
Drivetrain: Shimano Nexus 5-speed
Reasons to buy:
Solid max range
Shimano hub system
Front basket
Lightweight
The Specialized Turbo Como SL 4.0 is a lightweight urban e-bike with a front basket. This bike has a bespoke Specialized drive system with a 240W motor that provides 180% assistance, enough for fast urban riding and short hills. The battery is a 320Wh model that provides plenty of range for a long day of riding.
The E5 aluminum frame is lightweight and stiff. The simple spec and the lightweight frame and electronics mean this bike is easy to lift and carry. The wheelset includes 650b double wall rims and Nimbus 2 Sport Reflect 2.3″ tires. For gearing, you have a reliable Shimano Nexus 5-speed drivetrain. Additionally, Specialized chose TRP Flow Set Control hydraulic disc brakes to ensure stopping power in wet conditions.
Overall, this is a unique mid-drive e-bike that rides almost like a normal bike. Choose the Turbo Como SL 4.0 if you want a reliable and versatile companion to handle your urban commute and leisurely mixed-terrain rides.