Hub Motor vs. Mid-Drive E-Bikes — Which One to Choose?
When electric bikes began being mass-produced, manufacturers used an electric motor placed in the hub of the rear wheel to power the bike, this is known as a hub motor. Even today, many electric bikes are equipped with hub motors, particularly at the lower end of the price scale.
However, with advances in research and technology, many bike manufacturers now choose to use mid-drive motors, in some of their higher-priced bikes. These are placed in the center of the bike, usually hidden away in the downtube or above the bottom bracket.
Hub motor vs mid-drive motor — the biggest debate in the e-Bike world!
In this article we'll be discussing the key differences between the two main eBike motor types, so you can make an informed decision on which motor type might best suit you and your riding needs.
What Are Hub and Mid-Drive Motors?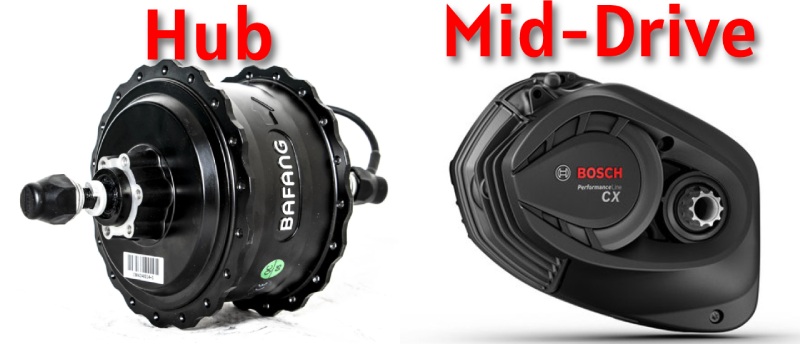 Also known as direct-drive, geared motors are preferred by those requiring more torque, and a more affordable price tag. More weight on the rear wheel means better torque conversion. The downside to rear hub motors is the difficulty of removing the wheel from the bike, and the uneven weight distribution.
Commonly found on: Commuter, folding, hunting, entry-level, throttle eBikes.
Also known as center-driven a.k.a mid-drive motors are found on many mid-to-high-end electric bikes due to their lightweight and optimized, smooth power transition. Aesthetically, mid-drive bikes have generally no visible battery placed outside of the frame.
Commonly found on: Mid-to-high end eBikes. eMountain, eRoad, eGravel, eHybrid, etc.
Hub Motor vs. Mid Drive Motors Explained
---
Hub Motors PROs
Affordable.
Plenty of torque.
Can be retrofitted to most bikes.
Throttle-assist is widely available.
Can be retrofitted to some carbon frames.
Power-throttle can still be used in case the chain brakes.
Suitable for beginner cyclists as there's the throttle option.
Bike starts rolling from 0mph when its got an throttle option.
Pedal-assist sensor needs the crank to spin in order for the motor to work (In case the chain snaps).
Hub Motors CONs
Heavy.
Consumes more power than mid-drives.
Cases of motor failures due to excessive torque.
Need for a visible controller and a pedal-assist sensor.
Removing the rear wheel for a tire change can be complicated.
Weight distribution is not as great as most of the weight of the bike is at the rear wheel.
Hub-motor bikes are generally cheaper, therefore the bike spec is often built to match and save money.
Wheel spokes can work themselves loose over time as the power transition goes straight to the rear wheel.
---
Mid-Drive Motors PROs
Quiet.
Lightweight.
Long-lasting.
Better gear ratio.
Suitable for towing.
Stronger components.
Better torque at slower speeds.
More torque at the same wattage.
Better optimized power efficiency.
Easier maintenance on moving parts.
Torque sensors instead of pedal-assist sensors.
Operate efficiently at a natural pedaling cadence.
Easier to remove the rear wheel for a tire change.
Smooth power transition – natural ride experience.
Better aesthetics as the motor is integrated into the frame.
Improved weight distribution as the weight is at the center of the bike.
Mid-Drive Motors CONs
Throttle options are uncommon.
Not as powerful kick to the ride (lower torque).
Expensive since the whole bike frame is built around the mid-drive motor.
In case of the chain snaps, there is no throttle-assist rendering the drivetrain useless.
Suitable for experienced cyclists as you'll have to pedal more to get efficient speed for optimized pedal-assisted range.
---
Hub vs. Mid-Drive: Main Factors to Consider When Choosing
Besides the two main differences in design and price, these two main motor types offer different ride qualities as well.
When choosing an electric bike, there are a handful of main features you'll want to look at in order to directly compare different models, and make an informed decision on your purchase.
1. Motor
2. Range
3. Price
1

. Motor Type

One of the most important factors when choosing an electric bike is the type of motor they are built around.
Rear hub motors = Generally more affordable, good torque levels, but not as economical.
Mid-drive motors = Start from around $2,000 (Exception – $1,500 BUZZ eBikes). More optimized power output, better weight distribution through the bike.
1

.

1

Power & Torque

The electric bike motor power determines the amount of torque, maximum speed, and optimized power output – i.e. economic mode vs high torque available for the bike. Higher-end motors are better optimized for certain riding modes, while cheaper motors provide the torque in a more "wide-open" style which results in a shorter range.
Expensive hunting e-bikes (Like the QuietKat Ranger at the top) use a rear hub motor as they have more torque at lower speeds and steep climbs. Also the more weight on the rear equals to more traction going up the hills.
Snapping a chain on an eBike is more likely on a mid-drive motor as the stress & tension of the chain is not as optimized all around the drivetrain as it is on a hub drive motor.
On the other hand, the majority of the best ebikes for hills come with mid-drive motors because they make climbing easier and more intuitive.
1.2

Batteries & Motor Power

A. 48V, 14 ah – (672Wh) battery, 750W motor (100Nm Torque)
B. 48V, 11.6 ah – (557Wh) battery, 750W motor (80Nm Torque)
C. 48V, 14 ah – (672Wh) battery, 750W motor (80Nm Torque)

This means that the battery (say, 14Ah) provides power at 14amps for one hour, or at 7amps for two hours.

A. 48V x 14ah = 672Wh (Battery Capacity) + 750W (Motor Power) + 100Nm (Determined by the motor model and configuration) = Most powerful, best torque.
B. 48V x 11.6ah = 557Wh + 750W + Nm = Most economical, while weakest of the bunch. Great for lower spec for better longevity.
C. 48V x 14ah = 672Wh + 750W + 100Nm = Second best in terms of power and range.

The ratio between quality of bicycle drivetrain components and motor power are important factors. Lower quality wheels and drivetrain with a powerful motor wears out the parts faster (spokes, derailleur, chain) than a lower-spec motor with the same groupset, due to the extra torque, wear and tear, it places more power on the drivetrain.

Battery usage is also determined by the weight of the rider, wind, terrain, pedaling effort, how much power is used, and the efficiency of the motor, as well as what mode you use on the bike i.e. eco mode.
1

.

3

Throttle vs. Pedal-Assist

There are two main types of electric bike assist – throttle and pedal-assist.

Check out the E-Bike classes to find out more:
Class 1 E-Bike – Pedal-assist only with no throttle.
Assists to a max speed of 20mp/h.
Motor wattage limited to 750W.
Class 2 E-Bike – Throttle assisted ebike with an optional pedal-assist.
Assists up to 20mp/h.
Motor power limited to 750W.
Class 3 E-Bike – Pedal-assist only. Throttle option available as an extra on some bikes.
Max speed of 28mp/h.
Motor power limited to 750W.
Class 4 E-Bike – An electric bike with the highest maximum speed of 28mp/h and over. Motor wattage over 750W. Considered a motor vehicle under the legislation.
>>> Related – Electric Bike Classes
2

. Range

The range is the amount of time or mileage you'll get out of one battery charge on your e-bike and is often one of the most important points for buyers when comparing e-Bike models.

Depending on the e-Bike class, the bike's range can vary a lot.

For some bikes, the stated 20-45miles range means that a 20-mile trip can be reached by using the throttle-only assist, and the maximum of 45mi using the pedal-assist. Other times, 20mi is reached by a heavy rider using the motor on steep hills, etc. 45mi is when the motor is used in ideal conditions, on flat grounds.
A 500Wh hub motor has a range of around 30 miles, whereas a mid-drive motor can take you up to 40-50 miles due to the increased efficiency.
Let's compare two very different electric bikes below and see how their unique characteristics affect the range.
Cannondale SuperSix EVO Neo 3 (Rear Hub Electric Road Bike)
Bike weight: 28lbs
36V 6.9Ah – 250Wh Battery – 250W
*Provides 36V at 6.9V of power for one hour, or 18V at 3.5V for two hours.
The SuperSix EVO has a longer advertised range than the RadRover. The pedal-assist works until the rider reach a max speed of 28mph. Additionally, the constant power output is helped by efficient and constant pedal-power with the motor.
Smoother transitioning = longer range.
Rad Power Bikes – RadRover (Rear Motor Electric Fat Bike)
Bike weight: 69lbs
48V 14Ah – 672Wh – 750W
*Provides 48V at 14Ah of power for one hour, or 24V at 7V for two hours.
Conclusion: A lighter bike (Cannondale) with a smaller motor provides a better estimate range due to different aspects. It is not only the power of the motor, but also the weight of the bike, usage of throttle, tire width, and much more.
Other factors that determine the e-bike range:
Weight of the rider
Wind
Terrain
Pedaling effort
How much power is used
Motor efficiency and mode used while riding
Weight of the bike, wheel size, tire width, tire pressure
3

. Price

While rear hub motors are typically seen on lower-cost e-bikes, some high-end bikes are equipped with a rear hub motor too.
Why are hub motors less expensive than mid-drives?
Hub motors are generally cheaper because the build is less complex compared to center-driven electric bike motors (Which includes creating a specific frame around the bike frame).
*That doesn't mean hub motors are not as durable.
Many expensive eBikes brands, such as the Stromer, have produced a series of eBikes that cost up to $8,000 that are equipped with a rear hub motor.
The electric bike price range (On average) is divided into:
Rear hub – $1,000 – $3,000
Mid-drive – $2,000 – $8,000
$500-$1,000 – Entry level eBikes with rear hub motor
$1,000 – $1,500 – Entry/mid-range eBikes with rear hub motor
$1,500 – Mid-range rear hub motor eBikes
$2,000 – Mid range rear hub, entry level mid-drive eBikes
$2,500 – High-end rear hub, mid-range mid-drive eBikes
$3,000 – High-end rear hub, mid-range mid-drive eBikes
$4,000 – Mid-range full-suspension electric mountain bikes
$5,000 – High quality mid-drives on almost all e-bike disciplines
People Also Ask
---
Why are so many electric bikes fat bikes?
Many electric bike brands have released at least one or more models in their range that can be classified as fat tire electric bikes.
Is it a trend or is there a special purpose behind it?
The reason is that fat tire bikes are ideal to travel on light trails, sand, mud, city parks, and many mixed terrains with great comfort. Fat tires are mainly used with a rigid fork which means there is no need for extra suspension as the thick tires absorb the bumps well by not losing any energy through the front fork.
Fat tire eBikes give the rider a feel like they are riding a motorcycle.
*Fat and wide tires on a bicycle also forgive many mistakes for beginner cyclists. "Mistakes" such as choosing a wrong lane on a tight trail, or riding over a rain gutter where thinner tires can fall into, and create a hazard in the traffic.
>>> Related: 4 Best Sub-$2,000 Fat eBike Comparison
What to avoid doing with eBike motors?
For the best life expectancy of your eBike, always use the electric bike according to the manufacturer's recommended use.
Instead of going full throttle all the time, try using a smoother approach so that the motor engages smoothly, not by overusing the engine
Overloading the max capacity
Avoid going over sharp edges with a mid-drive eBike (or any other bicycle) as the motor is placed at the lowest point of the downtube.
How much does it cost to maintain an e-bike?
Getting a new electric bike means you'll get a warranty, which means any motor or electronic failures when the bike is under manufacturer recommended use should be covered for a specified amount of time.
However, if you're out of warranty and there is a motor failure, mid-drive motors are more expensive to repair or replace compared to hub motors.
Are mid-drive electric bikes the future?
At the increasing rate at which the electric bike industry is progressing, the convenience of mid-drive electric bikes is most likely going to continue. Similar to groupset technology, the motor technology should trickle down into lower-spec models in the future, so you'll be able to buy quality for less.
Who knows what will be next?
Right now, there are three electric bike motors: front hub, hub motor, and mid-drive eBike motors.
Are the mid-drive electric bikes going to get cheaper?
As mid-drive (center-driven) electric bikes are considerably more expensive than the hub-motor eBikes for obvious reasons, we shouldn't predict a big price drop anytime soon. However, the affordability rates are increasing due to the mass-production and availability of mid-drive motors.
Which electric bike brand do we recommend?
Here at Bikexchange, we are well aware of the eBike-specific bike brands: Rad Power Bikes, Ride1Up, and QuietKat. From our experience, these are the most trusted brands to buy electric bikes from.