Best Bikes for College Students to Ride Around the Campus
Bicycles offer a fast and efficient solution to get around in urban environments, whether commuting to and from college, running errands, or visiting friends in the evening.
If you're attending college, you likely live on or within cycling distance of the campus. Using a bike instead of walking or driving can save time finding parking and waiting in frustrating city traffic. In addition, you save money on gas, upkeep, and parking fees, as well as keep fit and healthy.
The best bikes for college students should be affordable, durable, comfortable, and versatile. This article includes a short guide on choosing the best bike for a college student and our pick of ten bicycles with different characteristics to suit a range of students.
What to Look for in Best Bikes for College Students
---
What Gearing and Brakes Do You Need?
The best bikes for college students will have enough gearing for handling the range of gradients you would find in an urban environment. However, it's preferable to have a low-maintenance setup like a 1x drivetrain that keeps things simple for inexperienced riders. A belt drive is also a good choice for those who want to minimize maintenance requirements.
The best gearing would be a wide-cassette, single-chainring drivetrain, like the Public C9's 9-speed or the internal gearing of the Priority Classic Plus. Alternatively, a single-speed/fixie bike would be great in an area without hills.
The best bikes for college students are typically cheaper, so you won't always find disc brakes. However, choosing one with disc brakes (mechanical or hydraulic) is ideal, when possible.
This is because disc brakes provide the best stopping power in all conditions and are easier and cheaper to maintain, all of which are important factors for students.
What Accessories Should You Look For?
Cheaper bikes rarely come fully equipped with accessories, as shown in the list below. However, it's essential that the bike you choose has mounts for a rack, fenders, and bottle cages at a minimum, so you can add those components if you need them. Some other valuable accessories to look out for include bright bike lights and a kickstand.
Higher-priced bikes may already have accessories. For example, the Brompton C Line Explore has pre-installed fenders and a front mount for easy-install accessories.
What Frame Materials Are Best?
The frame materials you'll find on cheap bikes for college students are aluminum and steel. Each material has pros and cons, but aluminum is generally favorable for this type of bike.
Aluminum is lighter, more responsive, and pretty durable, making it a faster and more efficient ride. On the other hand, steel is more durable, easier to repair, and more comfortable to ride, but it is significantly heavier than aluminum.
Take Bike Safety Seriously
As soon as you buy a bike, make sure to also invest in a bike lock to keep your bike safe from thieves. Read our guide to the best bike locks to choose a reliable model and learn how to lock your bike the best way.
In addition to keeping your bike safe, you should keep yourself safe as well. Practicing good bike safety habits when you're riding is essential.
As a young rider, it's common to misread traffic situations, resulting in unpredictable riding patterns for other road users.
When cycling in urban environments, ride defensively, give plenty of space to other road users, be predictable, use signaling, and always utilize lighting and reflective clothing in periods of low light.
---
1. Co-op Cycles CTY 1.1
MSRP: $600
Frame: Aluminum
Gears: 3×8-speed
Highlights: Tires with reflective sidewalls, one year of free adjustments from REI
Reasons to buy:
Lightweight

Puncture-resistant tires
Rack and fender compatibility
Powerful disc brakes
Reasons to avoid:
Paint chips easily

Handlebars are too wide for some
The Co-op Cycles CTY 1.1 is among the best hybrid bikes for college students who like a streamlined option without sacrificing the ability to add extra accessories.
This aluminum-framed hybrid has mounts for a rack and fenders and Tektro M300 mechanical disc brakes for all-weather stopping.
The drivetrain blends Shimano Altus and Tourney derailleurs with an 8-speed cassette, Altus trigger shifters, and a triple chainset. You won't lack gears when riding the CTY 1.1, but the extra components add more to its maintenance needs.
The wheelset comprises a set of double-wall aluminum 700c rims wrapped in 40 mm tires. An excellent addition is the K-Shield puncture protection which significantly reduces the chance of a flat.
Overall, this is a solid choice with reliable components, an enjoyable ride quality, and one year of free adjustments from REI.
---
2. Huffy Terrace
MSRP: $430
Frame: Aluminum
Gears: 8-speed
Highlights: Swept-back handlebars, durable and comfortable frame
Reasons to buy:
Mechanical disc brakes

Comfortable mixed-terrain tires

Simple and reliable drivetrain
Great accessories
Reasons to avoid:
Low rear rack load weight (10 lb)

Not very fast
The Huffy Terrace is the best bike for college students who want a do-it-all companion, perfect for exploring bike paths and commuting around the campus.
The Terrace shows off some of Huffy's comfort bike expertise. It has an 8-speed rear derailleur with a wide-range cassette for easier climbing, wide 27.5″ wheels and tires, and powerful mechanical disc brakes.
Its aluminum frame offers a plush, shock-absorbent ride quality with unbeatable durability. In addition, the step-through design makes it easier to mount and dismount. On top of that, the Terrace is ready for year-round commuting right out of the box, as it comes with fenders, a rear rack, and a kickstand.
To sum up, the Huffy Terrace is easily among the most versatile and durable models you'll find in the sub-$500 range. Choose it if this is what you're looking for from your bike for college.
---
3. Tommaso Imola
MSRP: $975
Frame: Aluminum
Gears: 3×8-speed
Highlights: Light, fast, and efficient
Reasons to buy:
Fast

Lightweight (around 24lbs)

Comfortable geometry
Reasons to avoid:
Rim brakes

Tires susceptible to punctures
The Tommaso Imola is an entry-level road bike and the best bike for college students who need to cover long distances quickly.
Tommaso uses a lightweight and responsive aluminum frame and shock-absorbent steel fork with relaxed endurance geometry, providing a more comfortable ride than a traditional road bike.
The groupset is a full Shimano Claris setup, including a 3×8-speed drivetrain and a set of Claris caliper brakes. This setup is reliable and cheap to replace. However, the brakes lack power in wet conditions, and the triple chainset adds additional maintenance requirements.
Finally, own-brand 700c rims and Kenda 25mm tires make up the wheelset and will quickly get you from A to B.
Add the Tommaso Imola road bike to your shortlist if you want a fast and affordable option for longer commutes and fun weekend rides.
---
4. Ride1UP Roadster v2
MSRP: $1,095
Frame: Aluminum
Gears: Single-speed
Highlights: Inconspicuous motor and battery, modern design, fast
Reasons to buy:
Lightweight e-bike

Stylish and looks like a regular bike

30-mile max range
Long-lasting belt drive
Reasons to avoid:
The display isn't great
Rim brakes lack power
The Ride1UP Roadster v2 is a low-cost electric bike with a stealthy design that disguises the motor and battery.
This bike comes with a punchy 350W motor with 40Nm of torque and a small 252Wh battery that returns up to 30 miles of range, plenty for a couple of days of urban riding.
One of the only downsides of regular bikes is the need to perform regular maintenance to keep them running smoothly ...
Ride1UP chose typical fixie geometry, 28mm Kenda Kwest tires on 700c rims, and a lightweight Toptrans belt drive drivetrain. This geometry, wheelset, and light build (33lbs) make for a fast and agile experience navigating the city streets.
Although you have five levels of pedal assistance to choose from, if your battery does run out, the Roadster v2 still rides like a regular bike, thanks to the low weight.
All things considered, if you want a simple and affordable electric bike for city riding, you won't find much better than the Ride1UP Roadster v2.
---
5. State Bicycle Co. x Wu-Tang Clan (Core-Line)
MSRP: $450
Frame: Steel
Gears: Single-speed
Highlights: Flip-flop hub, unique design
Reasons to buy:
Durable steel frame

Low-maintenance drivetrain

Rack and fender mounts

Lightweight for a steel bike (around 24.5lbs)
Reasons to avoid:
Limited gearing

Weak rim brakes
The State Bicycle Co. Core-Line Wu-Tang Clan model is a unique bike with a head-turning design and the best budget bike for college students.
The single-speed drivetrain on the Core-Line is ideal for riders who want a low-maintenance bike to zip around a city without many hills.
With a steel frame, this bike is comfortable to ride and durable. In addition, 700c aluminum wheels and 25mm Kenda tires hold speed well and allow you to quickly get around the city or campus.
Upon purchase, you can customize the Core-Line with components such as drop bars, a range of pedals, lights, and bottle cages. State Bicycle Co. also included a flip-flop hub that allows you to switch between fixed-gear or single-speed riding quickly.
Consider the Wu-Tang Clan Core-Line if you want a cheap yet durable and stylish bike for getting around campus.
---
6. Brompton C-Line Explore
MSRP: $1,750
Frame: Steel (hand-brazed)
Gears: 6-speed
Highlights: Fenders, pump, unique folding design
Reasons to buy:
High-quality handmade steel frame

Front mounting adapter for accessories

Pre-installed fenders

Premium folding mechanism
Puncture-resistant tires
Reasons to avoid:
Expensive
Small-diameter wheels are slow
Brompton is a leading manufacturer of folding bikes and one of the only large brands that still makes its frames by hand.
The Brompton C Line Explore is one of the brand's more affordable options and one of the best folding bikes for college students who value durability, convenience, and style.
The C Line Explore has a 6-speed drivetrain that consists of a 3-speed internally geared hub and two external cogs. This setup has a 300% gearing range which is plenty for tackling the hills in and around the city.
For a full steel frameset, the C Line Explore is relatively light (27lbs). In addition, it comes with durable puncture-resistant 1.35″ Schwalbe Marathon Racer tires on 16″ wheels, fenders with rubberized flaps, and an accessory mount on the front.
The folding mechanism on Brompton bikes is second to none. It folds down in seconds and stays sturdy when folded so that you can transport or store it without worry.
Add the Brompton C Line Explore to your shortlist if you've got a bigger budget and want unbeatable convenience from a reliable and time-tested manufacturer.
---
7. Public Bikes C9 Aluminum
MSRP: $600
Frame: Aluminum
Gears: 9-speed
Highlights: Comfy upright geometry, easy-to-mount step-through frame
Reasons to buy:
Comfort-optimized

Plenty of gearing

Puncture-resistant tires

Lots of mounts
The Public C9 Aluminum is another stylish city cruiser and one of the best bikes for female college students.
Public Bikes chose a low-step frame design for the C9 and paired this with upright geometry, swept-back handlebars, a steel fork, and comfortable touchpoints. All of these characteristics combine for a smooth and enjoyable ride.
The lightweight aluminum frame is compatible with a range of accessories, including a rack, front baskets, a kickstand, and fenders, should you want to make your commute to college more convenient.
A Shimano Altus 9-speed drivetrain provides plenty of gearing and is easier to maintain than one with a front derailleur. In addition, it keeps the weight down to just under 25lbs.
The one issue with this bike is the weak rim brakes which don't perform well in the rain. However, this is still an excellent deal at just $600 and is a solid choice for a college student who wants comfort and versatility on a budget.
---
8. Wing Bikes Freedom 2.2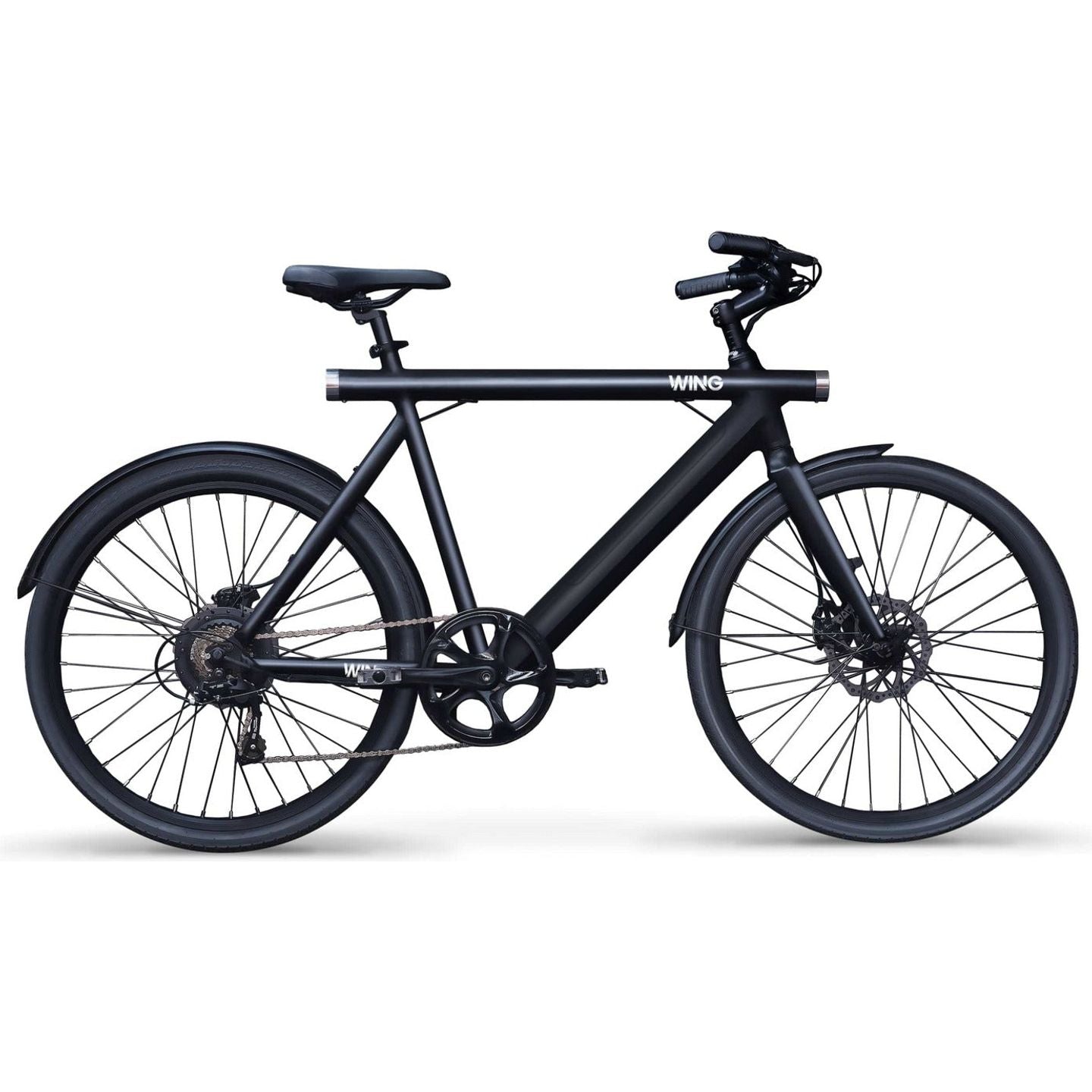 MSRP: $1,798 ($1,098 on sale)
Frame: Aluminum
Gears: 7-speed
Highlights: Integrated lights, tamper detection alarm
Reasons to buy:
Puncture-resistant tires

Sleek design

Lightweight for an e-bike

Frame-integrated lights
Remote lock and tamper detection
Reasons to avoid:
High stepover clearance
Mechanical disc brakes
The Wing Freedom 2.2 is one of the best electric bikes for college students because it's affordable, sleek, and highly functional.
One of the standout characteristics of Wing Bikes is their extra security features. These include remote locking features, similar to a car's, and an ear-bending tamper alarm that sounds if somebody interferes with your bike.
New electric bike companies are popping up yearly across the USA and worldwide. We think this trend is likely to ...
The Freedom 2.2 is a versatile and agile city bike that makes it easy to zip around the city or college campus. The 550W Bafang motor provides plenty of power to save your legs when you're tired and pairs with one of three batteries at checkout that return either 35, 45, or 60 miles max range.
The drivetrain comprises a Shimano Tourney 7-speed cassette and RapidFire shifters for dependable shifting. In addition, Kenda 26″ x 1.75″ puncture-resistant tires provide plenty of traction in wet weather and almost eliminate the chance of a flat, but the mechanical disc brakes lack power.
Overall, this is a solid choice for college students who want a stylish e-bike with all the bells and whistles to turn heads on campus.
---
9. Electra Townie 7D Step-Through
MSRP: $630
Frame: Aluminum
Gears: 7-speed
Highlights: Flat Foot design, comfy saddle
Reasons to buy:
Ultra-comfortable

Puncture-resistant tires
Plenty of mounts
Put a foot down while sitting
Reasons to avoid:
Heavy (34.5lbs)

Twist shifters
The Electra Townie 7D Step-Thru is the best bike for a college student who wants pure comfort.
Electra bikes are well-known for their relaxed, smooth ride feel and the patented Flat Foot design. This design allows riders to sit on the saddle and put both feet flat on the ground while retaining a natural pedaling position.
The other features contributing to this bike's cruiser personality are the upright, relaxed ride position, swept-back mustache handlebars, suspension saddle, and 2″ shock-absorbent Bontrager tires.
The Electra Townie 7D's groupset includes a simple 7-speed Shimano Tourney drivetrain with plenty of gearing for urban riding and linear-pull caliper brakes. Unfortunately, this bike is quite heavy, which makes it best for flat-terrain rides.
Choose the Electra Townie 7D if you want a cheap comfort bike for cruising around campus and taking on relaxed weekend rides.
---
10. Priority Classic Plus
MSRP: $599
Frame: Aluminum
Gears: Shimano Nexus 3-Speed freewheel
Highlights: Comfort geometry, attractive design
Reasons to buy:
Internal gearing

Lightweight design

Relaxed ride position

Attractive brown tires
Reasons to avoid:
No accessories

Rim brakes
The Priority Classic Plus is a comfort-focused hybrid with a reasonable price tag and well-rounded versatility.
A step-through frame, wide brown tires, upright geometry, supportive touchpoints, and gel seat give this bike a smooth and relaxed ride quality.
The drivetrain includes a Shimano Nexus 3-Speed freewheel with integrated gearing and provides enough gearing for riding around the campus. This bike also features a belt drive which greatly reduces maintenance and prolongs the lifespan of the entire drivetrain.
For stopping, you have linear-pull v-brakes. These are expected at this price range and offer decent stopping power in dry conditions, but mechanical disc brakes would have been a much better choice.
Unfortunately, the Priority Classic Plus doesn't come with any accessories (except for a kickstand), so you'll need to retrofit fenders and a rear rack if you want to ride in the rain or carry something on the back.
All things considered, this is a decent hybrid bike for college students who don't want to do maintenance and are looking to minimize upkeep costs.