Best Belt-Drive Ebikes of 2023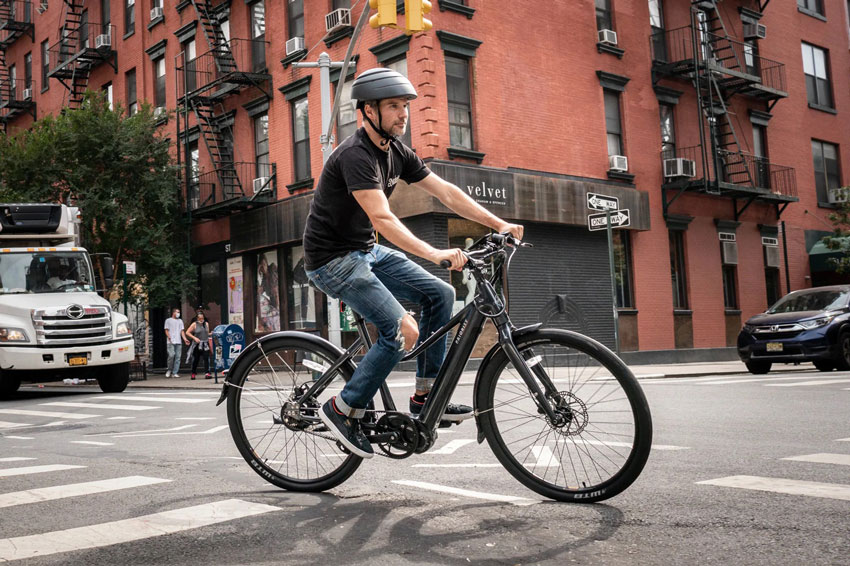 One of the only downsides of regular bikes is the need to perform regular maintenance to keep them running smoothly and get the longest lifespan possible.
That means cleaning and lubricating the chain as well as cleaning and replacing the rest of the drivetrain when worn out, such as the cassette and chainrings.
Thankfully, belt-drive e-bikes are a great solution to this issue. A belt-powered drivetrain makes riding silent, clean, and maintenance-free.
The reason is that there are fewer moving parts, no need for lubrication, and the materials are stronger which greatly reduces wear. Belts have a lifespan of roughly four times that of a standard chain drive, which makes them affordable in the long run.
Well tell you something about the benefits of belt drives below and share the 11 best belt drive ebikes you can buy right now.
Benefits of Chains vs. Belts on Ebikes
The carbon belt vs. chain discussion is quite clear-cut, with clear benefits associated with each system.
Belt drives require almost no maintenance, they run silently, wear slowly (meaning a long lifespan), don't need grease, and riders can usually change gears while stopped. Internally geared hubs also greatly reduce the wear and tear of the gearing system. The downsides of this system are that they are harder and more costly to repair, and they cost significantly more to buy.
Chain drives are cheap and easy to repair or find spare parts for. They are also slightly more efficient at transferring power from your legs to your drivetrain, meaning your pedaling will be more efficient. However, they require regular maintenance, cleaning and lubrication, they wear faster, and they can be noisy.
Gates is the most common manufacturer of belt-drive systems, so if you're sick and tired of dirty chains, consider giving it a try.
---
---
1. Ride1UP Roadster v2
Winner! Best Single-Speed Belt-Drive Ebike
MSRP: $1,095
Motor: 350W/40Nm geared hub motor
Battery: 250 Wh, 30-mile range
Gears: Single-speed
Max speed: 24 mph, Class 3
Tire size: 700C x 28 mm
Weight: 33 lbs
The Ride1UP Roadster v2 is the company's most affordable bike. This belt-drive electric bike provides an exceptionally fast ride with nimble handling and a stealthy finish.
The Roadster V2 comes with a single-speed hub and a Gates Carbon CDX system. The drivetrain is paired with a 350W geared hub motor that generates 40 Nm torque and a 250 Wh battery hidden inside the downtube. The maximum range is 30 miles per charge, which is not too much, but you can prolong the battery's life by using the throttle less and pedaling more.
Additionally, this ebike has rim caliper brakes, but if you want disc brakes, you should consider the Roadster V2 Gravel Edition. The road model rolls on Kenda Kwest 700c x 28 mm tires which are pretty fast on flat sections, but this bike is not ideal on steep climbs due to its single-speed drivetrain.
All things considered, the Ride1UP Roadster V2 offers great value for the money, especially for riders who appreciate simplicity, style, and inconspicuousness.
---
2. Priority Current
Second-best! Belt Drive Ebike with the Best Drivetrain
MSRP: $3,299
Motor: 500W/140 Nm geared hub motor
Battery: 500 Wh, 20-50-mile range
Gears: Shimano Inter-5 internal hub or enviolo Heavy Duty
Max speed: 28 mph, Class 3
Tire size: 650b x 47 mm
Weight: 53 lb
The Priority Current ebike is a sleek and versatile machine that functions well in urban environments or on longer adventures on rural roads.
This Gates belt-drive ebike has a 500W torque-sensing mid-drive motor with 140 Nm of torque that reaches speeds up to 28 mph. Its 500 Wh battery is neatly hidden inside the down tube and provides a 20-50-mile range.
You can choose to buy the Priority Current with a Shimano Inter-5 internal hub or Enviolo's Heavy Duty system, which comes with a $200 surcharge.
This rather small, but successful bicycle company has had one dream — to make cycling as simple as it can be! They are ...
Using 47 mm wide 650B tires, a padded gel seat, and comfort geometry, the Current is very easy to ride over short to medium distances even on bumpy roads.
Finally, this Priority electric bike has five levels of pedal assistance, dual-piston hydraulic disc brakes, USB charging capability, and automatic lights on the front and back to round out an all-around excellent bike.
Get it if you want premium quality at a more than reasonable price.
---
3. Tern HSD S+
Third place! Premium Folding Belt Ebike
MSRP: $5,699
Motor: Bosch Performance Line (Gen 3)
Battery: 500 Wh, 32-74-mile range
Gears: Sport 380 internally geared rear hub
Max speed: 20 mph, Class 1
Tire size: 20″ x 2.2″
Weight: 58.7 lb
Tern is a popular manufacturer of premium folding and cargo electric bikes, many of which are also belt-driven.
The Tern HSD S+ is a premium belt-drive electric bike with several folding features and an extended rear rack that allows you to carry more cargo than a normal bike does.
The HSD S+ boasts a high-end Bosch Performance Line (Gen 3) mid-drive motor with 65 Nm of torque and a 20 mph top speed. It comes paired with a Bosch 500 Wh battery that returns 32-74 miles of range per charge, depending on which pedal assist level you use the most.
The 20″ wheels make this belt ebike compact and easy to mount/dismount, whereas the Magura 4-piston hydraulic disc brakes ensure safe and confident braking. The bike even comes with a 70 mm suspension fork to make your rides that more enjoyable.
Finally, Tern HSD's belt drive is connected to a Sport 380 internally geared rear hub and an enviolo AUTOMATiQ shifter that offer effortless, stepless automatic shifting across a wide gear ratio range of 380%.
All in all, the Tern HSD S+ is one of the best belt-drive electric bikes on this list, especially if you want premium components and cargo-carrying capabilities.
---
4. Gazelle Ultimate C8 HMB
Dutch-Style Belt Electric Bike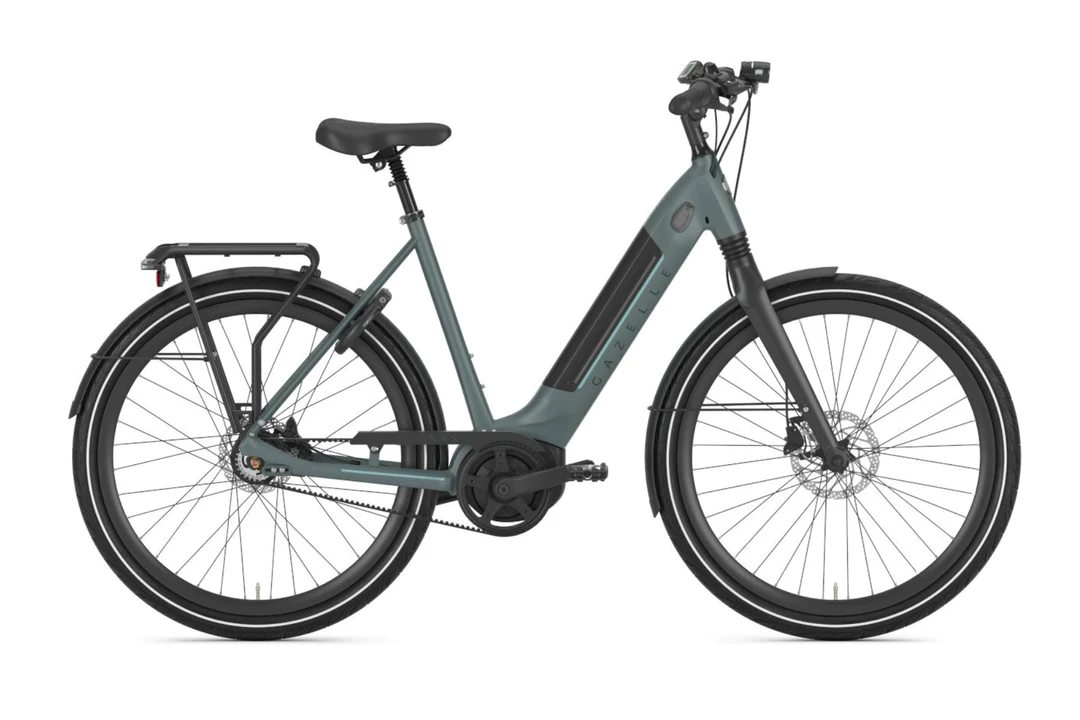 MSRP: $3,749
Motor: Bosch Active Line Plus, 50nm of Torque
Battery: 500 Wh, 25-70-mile range
Gears: 8-speed Shimano Nexus internal gear hub
Max speed: 20 mph, Class 1
Tire size: 28″
Weight: 54.6 lb
Gazelle's Ultimate C8 HMB e-bike is every urban commuter's dream. This bike masterfully balances practicality and innovation using new technology and time-tested components.
The Ultimate C8 HMB features fully integrated electronics, internal suspension with 40 mm of travel, and luxurious touchpoints to deliver an exceptionally comfortable ride.
The electronics are top quality as well—it comes with a whisper-quiet Bosch Active Line Plus mid-drive motor with 50 Nm of torque. Additionally, the 500 Wh battery can last up to 70 miles, if you stay in Eco mode most of the time.
To make commuting comfortable, the Ultimate C8 has comfy upright geometry, a gel Selle Royal Loire saddle, and shock-absorbent Schwalbe Energizer Plus tires. The bike also comes with fenders, a rack, and integrated LED lights.
Finally, the drivetrain combines an 8-speed Shimano Nexus hub and a Gates CDX carbon belt for a low-maintenance, smooth ride. The only other thing you could ask for is a discount, considering that the original $3,750 could be a bit steep for some riders.
---
5. Priority e-Coast
Beach Cruiser-Style Ebike with a Belt
MSRP: $2,000

Motor: 500W rear hub motor
Battery: 576 Wh, 20-60-mile range
Gears: Single-speed
Max speed: 28 mph, Class 3
Tire size: 26″ x 3″
Weight: 56 lb
The Priority E-Coast is one of the only beach cruiser electric bikes with a belt drive on the market. If you want a maintenance-free ebike that looks amazing, this could be the right choice.
The E-Coast bike has a useful integrated rack that holds its 576 Wh battery and relies on a punchy 500W motor to handle steep hills. It ships as a Class 2 ebike with a 20 mph top speed, but you can increase it to 28 mph in the settings if you want to go faster.
Single-speed gearing is combined with a Gates CNX Belt Drive for a silent, smooth, and maintenance-free experience. Other notable features of the E-Coast include its 174HUDSON hydraulic disc brakes, a large saddle with shock absorbers, bright LED lights that double as brake lights, and 3-inch wide CST Big Boat tires.
If you want to cruise by the seaside or explore local bike paths, the Priority E-Coast is a no-brainer.
---
6. Gazelle Ultimate C380+
Mid-Step Dutch-Style Ebike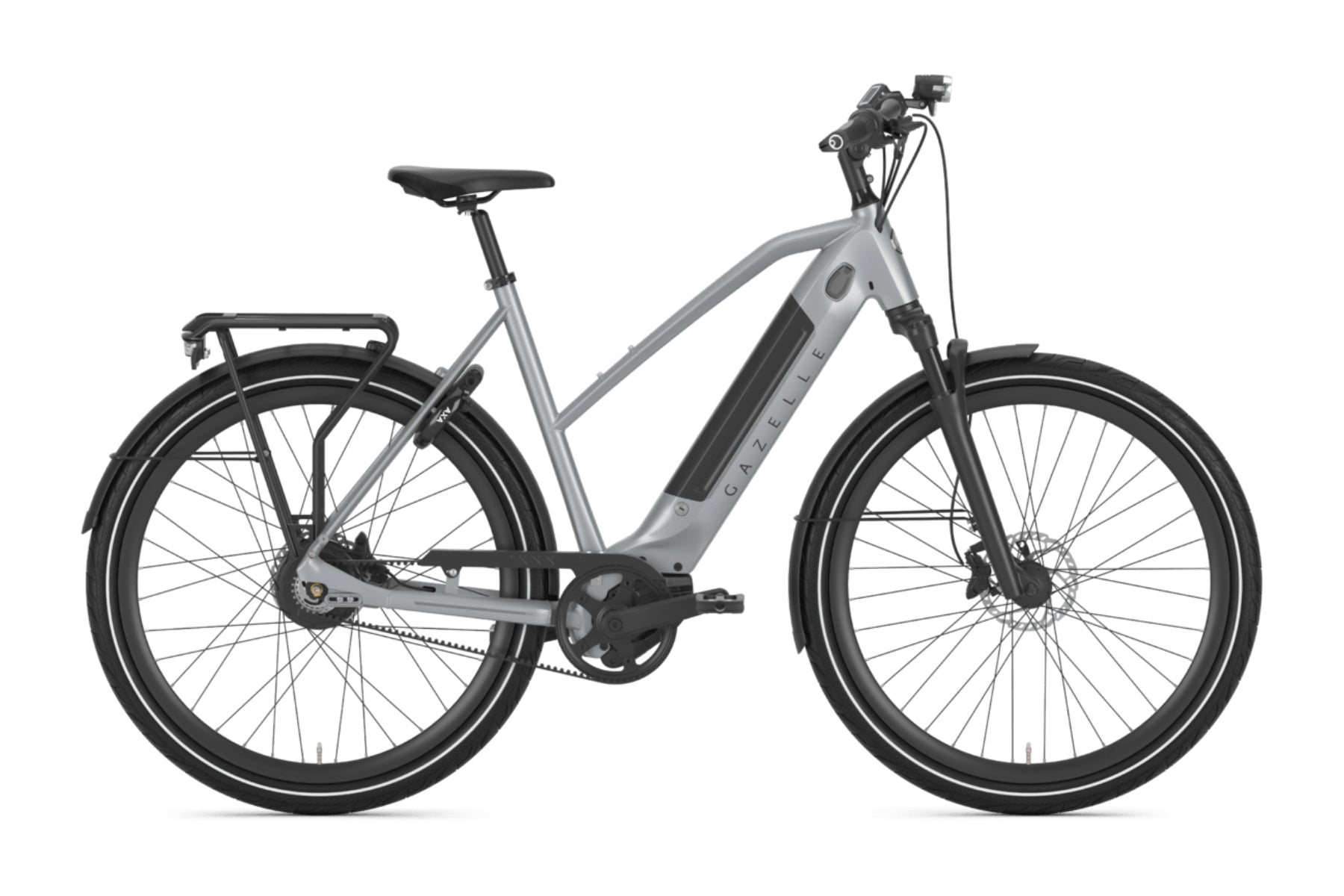 MSRP: $4,499
Motor: Bosch Performance Line Speed (85 Nm)
Battery: 500 Wh, 20-55-mile range
Gears: Enviolo 380
Max speed: 28 mph, Class 3
Tire size: 28″
Weight: 55 lb
Gazelle's Ultimate C380+ belt ebike is a high-end step-through model designed for ultimate comfort and functionality for city rides or longer touring adventures.
The bike uses a lightweight Bosch Performance Line Speed mid-drive motor and a 500 Wh battery for speeds of up to 28 mph covering distances up to 55 miles on eco mode.
The bike comes with premium features such as 4-piston Shimano hydraulic disc brakes, Schwalbe Energizer Plus puncture-resistant tires, and telescopic fork suspension.
Additionally, you get an Enviolo 380 trekking internal gear hub and Gates belt drive for an unbeatable ride feel at all times.
The Gazelle Ultimate C380+ costs a lot, but the price is justified for the most part. It's jam-packed with accessories such as front and rear fenders, lights, a kickstand, a rear rack, and even an Abus wheel lock.
Therefore, this belt-drive electric bike is all you need for year-round urban commuting.
---
7. VVolt Alpha
All-Road Ebike with a Belt Drive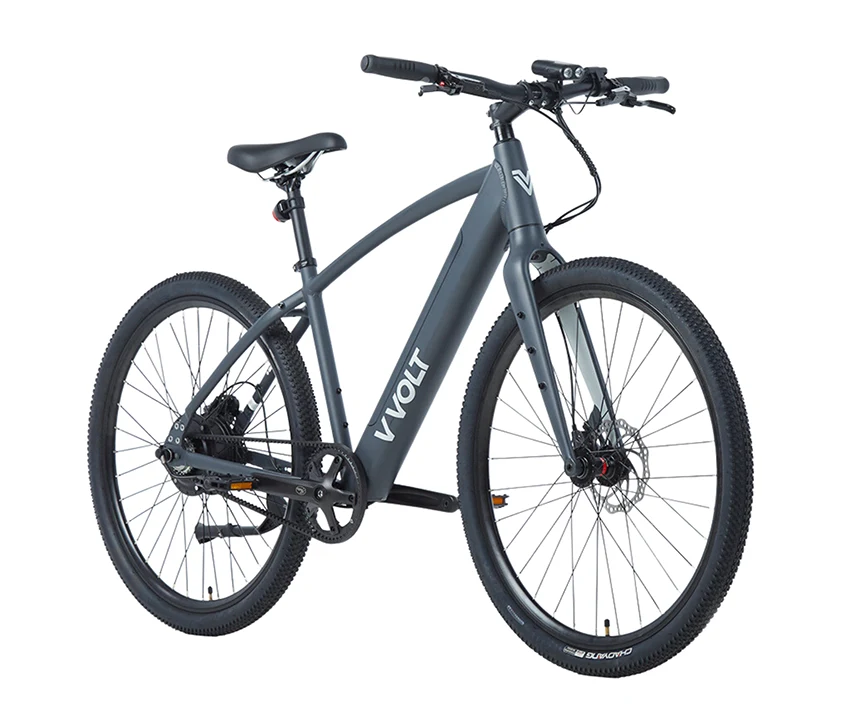 MSRP: from $999
Motor: 350W rear hub motor, 45 Nm
Battery: 375 Wh, 15-40-mile range
Gears: Single-speed
Max speed: 20 mph, Class 1
Tire size: 27.5" x 1.95′
Weight: 43 lb
The Alpha is VVolt's entry-level hub-motor belt-drive e-bike. Compared to their more advanced mid-drive e-bike, it lacks some refinement but comes at a much more affordable price.
Besides the sleek look and matte finish, the Vvolt Alpha has a nice set of features that should meet the needs and expectations of most urban commuters.
This belt ebike boasts a 350W rear hub motor (45 Nm) and a fully integrated 375 Wh battery that offers a 15-40-mile range. That's far from ideal, but it's standard for an ebike that costs around $1,000.
The Alpha also sports a single-speed belt-operated drivetrain combined with powerful hydraulic disc brakes and 27.5″ x 1.95″ multi-surface tires.
Its only drawback is a lack of accessories, which means you'll need to retrofit whatever you need to customize the Alpha for your style of riding, except for lights and a kickstand.
---
8. Asomtom RV2
Budget-Friendly Option
MSRP: Check Price on Amazon

Motor: 350W rear hub motor
Battery: 325 Wh, 30-mile range
Gears: Single-speed
Max speed: 24 mph, Class 3
Tire size: 700C x 32 mm
Weight: N/A
The Asomtom RV2 belt drive electric bike is a sleek hybrid with an all-black finish designed for fast and agile riding in urban environments.
This city bike uses a punchy 350W hub motor combined with a seamlessly integrated 324 Wh battery that provides up to 30 miles of range. The belt drive ensures a smooth, silent ride and pairs with a single-speed hub to boost longevity and further reduce maintenance.
Other notable components on the Asomtom RV2 include mechanical disc brakes, 700x32c puncture-resistant tires, and fully integrated cables and electronics.
Finally, this e-bike is equipped with a stylish stem-integrated display and has a twist throttle, which is a nice surprise at this price. You also get front and rear lights and a kickstand, but you'll need to retrofit fenders and a rear rack if you need them.
Consider buying the Asomtom RV2 if you want an affordable electric bike with decent specs and a modern look.
---
9. Stromer ST2 Sport
Swiss-Made High-End Belt Ebike
MSRP: $5,700
Motor: 570W rear hub motor, 40 Nm
Battery: 618 Wh, 75-mile range
Gears: 5-speed internal gear hub by Sturmey Archer
Max speed: 28 mph, Class 3
Tire size: 27.5″ x 2.25″
Weight: 72 lb
Swiss e-bike manufacturer Stromer designs some of the best, most reliable electric bikes on the market, and their ST2 Sport is a great example of keen attention to detail and the use of premium quality components.
This all-rounder bike has a 570W/40Nm rear hub motor that works with an integrated 618 Wh battery to deliver a range of up to 75 miles (expandable to 110 miles).
The drivetrain on this bike is super smooth and includes a 5-speed internal hub gearing by Sturmey Archer and a carbon fiber belt drive.
The ST2 Sport also has large-volume 27.5″ x 2.25″ tires for better comfort and stability, fully customizable pre-order frame options, and full connectivity with GPS, Smartlock, over-the-air updates, customizable motor settings, statistics, and much more.
Finally, the Stromer ST2 boasts Tektro hydraulic disc brakes and comes fully equipped for all your city riding needs. If you can afford to spend $5,500+ dollars on your next ebike, this should be the one.
---
10. Vvolt Sirius
High-Performance Belt-Drive Hardtail
MSRP: $2,799
Motor: 350W mid-drive, 80 Nm
Battery: 375 Wh, 15-40-mile range
Gears: Enviolo TK Internal Transmission Hub 380%
Max speed: 26 mph, Class 3
Tire size: 27.5″ x 2.1″
Weight: 55 lb
Vvolt belt-drive bikes are some of the best choices in their price range. The Sirius is an affordable trail bike that features a belt drive and doesn't sacrifice performance, comfort, or durability.
The Sirius has a low-maintenance Gates Carbon CDX belt drive and an Enviolo Enviolo TK continuously variable transmission hub that offers a 380% range and never needs adjustment. Another huge benefit of this system is you can change gears when you stop at traffic lights, without turning your pedals.
The 375 Wh battery and 350W/80Nm motor on this bike means you can get up to 40 miles of range reaching speeds of up to 26 mph. This makes the Sirius a Class 3 ebike, but you can reduce the top speed to 20 mph to comply with Class 1 requirements.
All the electronics and cabling are neatly integrated into a super sleek frame design. Additionally, this bike is fully equipped with rechargeable lights, hydraulic disc brakes, and an air spring 100 mm fork.
If you're looking for a belt ebike that you can ride virtually anywhere and never clean or maintain the drivetrain, the Vvolt Sirius is a phenomenal choice.
---
Final Thoughts About Best Belt Drive Ebikes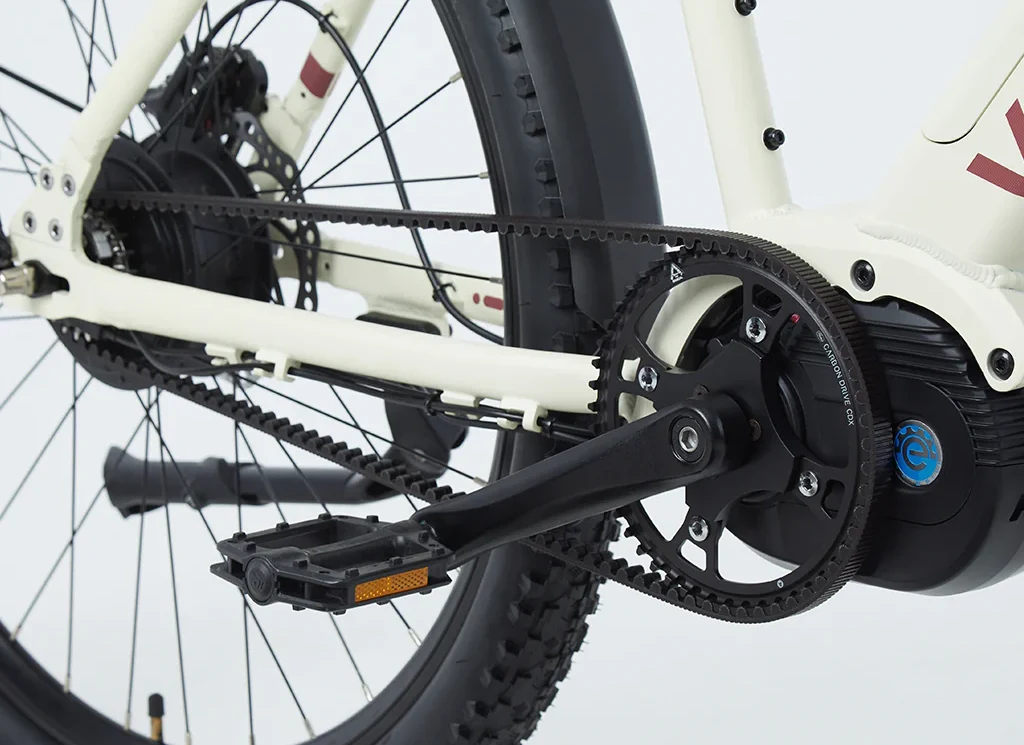 Belt-drive bicycles undoubtedly offer some important advantages over the traditional chain and derailleur drivetrains.
Very limited maintenance, silent operation, long lifespan, no grease, and the ability to change gears while stopped are the most important benefits of this type of system.
Although they are more expensive, savings of time, money on repairs, and overall convenience mean that belt drives will continue to grow in popularity, especially on electric bicycles.
We hope that this review has given you a better understanding of this type of bicycle as well as enough information to help you find the perfect belt-drive eBike for your needs.