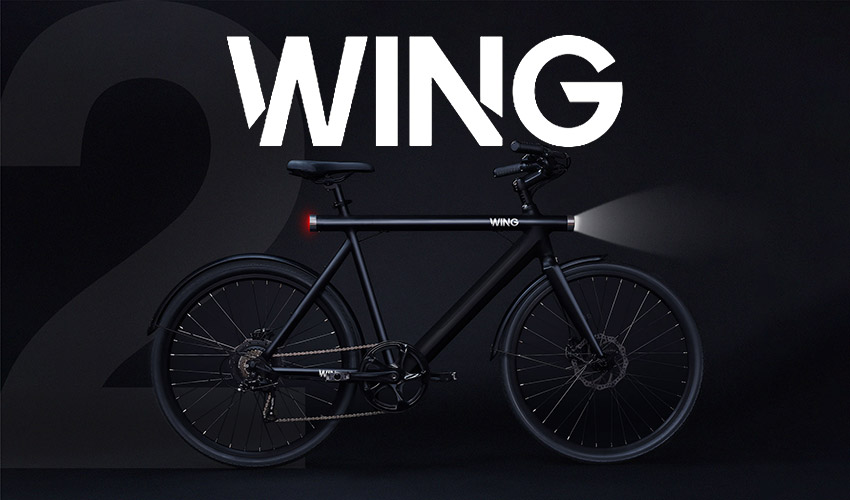 New electric bike companies are popping up yearly across the USA and worldwide. We think this trend is likely to continue due to sustained growth in the popularity of e-bikes since the pandemic.
One of the latest companies to come to market is Wing Bikes. Wing is another US-based electric bike brand that joins e-bike powerhouses like Rad Power Bikes, Ride1UP, and Lectric in making affordable electric bikes available to all riders.
This Wing Bikes review will discuss the brand, the unique features of their bikes, the different models, and finish with our verdict on whether you should choose Wing for your next e-bike.
About Wing Bikes
---
New York resident Seth Miller founded the Wing eBike brand in 2018 and is currently the company's CEO.
Wing Bikes specializes in offering entry-level urban electric bikes at affordable prices. As a New York City-based company, Wing prioritizes three characteristics when it designs its bikes:
Convenience
Security
Style
Wing electric bikes are ideal for urban riders because they are lightweight and easy to use, providing the extra boost you need to take the effort out of riding around the city. Additionally, each Wing bike has additional security features as the brand tries to address one of the most pervasive issues facing urban riders today: theft.
Wing also designs their bikes with an unusual aesthetic that may or may not appeal to you; we'll leave that to you to decide. But, overall, Wing bikes offer something slightly new to the market, and we think they could quickly begin competing with the big players in the US market over the coming years.
Unique Wing Bikes Features We Like
---
As mentioned, each Wing electric bike has a distinct design and spec typical of the brand. These unique features help them stand out amongst the ever-growing crowd of urban e-bikes. So let's continue this Wing electric bike review by looking at these features in more detail.
Design
The style of each Wing bike is unique and draws your attention at first glance. The bikes use a simple yet sleek frame that is relatively consistent across the five models. In addition, each has a removable, lockable battery integrated into the frame.
The top tube is parallel to the ground and protrudes past the seat and head tubes. This unusual design makes space to fit the frame-integrated LED lights but gives the bikes a relatively high standover height and makes them harder to mount and dismount.
A final design feature we appreciate about these bikes is the compatibility with add-ons. For commuters, you have accessories like front and rear racks, kickstands, and fenders. Additionally, Wing sells a throttle which you can add to your bike for fully-electric riding.
Security and Safety
Bike security and road safety are the two most important considerations for urban cyclists. In cities with limited cycling infrastructure, you're constantly engaging with vehicles and pedestrians, trying to stay visible, communicate safely, and avoid incidents and theft.
Wing Bikes help to mitigate these risks by integrating safety and security features as part of the bike's base package, with options for further upgrades.
Firstly, each Wing bike has a unique remote lock and tamper detection alarm system. By using the car-style key fob that comes with the bicycle, you can remotely lock your e-bike with the click of a button (but an additional bike lock is still advised).
Wing Bikes takes bike security seriously, equipping each model with a tamper detection alarm system using an ear-bending alarm.
Then, if a thief attempts to steal the bike, you can activate the integrated 'ear-bending alarm' to draw attention to the stolen bike. All Wing electric bike models are also compatible with a hidden AirTag bike tracker (purchased separately for $75), which you can use to track the bike in real-time in the event of theft. Do keep in mind that this is just a rebranded Apple AirTag, so you save some money by buying it on Amazon.
Finally, as mentioned before, each frame has integrated LED lights powered by the battery when the bike is on, helping keep you safe while navigating the city streets.
Wing Bikes Model Lineup
---
Five distinct Wing models are available as of 2023, the latest being the Wing Bikes Freedom X, an upgrade to the cheaper yet similar Wing Bikes Freedom 2. Additionally, you have the Freedom Fatty fat bike and the mini Freedom S.
This section of the Wing bike review will closely examine the individual models.
Freedom 2
350W/45Nm Bafang motor
Integrated lights, alarm, and lock
Two color choices
This Wing Freedom bike is the brand's flagship model. Each Wing electric bike is available for purchase with multiple battery sizes. You can choose between an 8.8Ah (316Wh), 10.4Ah (375Wh), or14Ah (504Wh) for this model.
Wing Bikes selected a punchy Bafang 350W motor with 45Nm of torque on the Freedom 2. It can reach top speeds of 25mph on pedal assist mode for max ranges of 35, 45, or 60 miles, depending on the battery size.
The frameset material is a typical 6061 aluminum alloy that pairs with alloy bars, seatpost, and rims. This frame helps keep the weight down to approximately 39lbs, an impressive weight for an affordable e-bike like the Freedom 2. The drivetrain used a Shimano Tourney 7-speed setup with RapidFire shifters. The Tourney drivetrain is reliable and cheap to maintain, thanks to its widespread use.
This bike is ready for almost anything the city can offer with puncture-resistant 26×1.75″ Kenda balloon tires that help dampen road vibrations and provide plenty of traction for wet weather riding. In addition, you have 180mm rotor mechanical disc brakes that ensure decent stopping power and reliability in varied conditions.
Overall, the Freedom 2 is a solid option for riders between 5'6″ and 6'4″ who don't need fat tires or the bells and whistles of the upgraded Freedom X.
---
Freedom Fatty 2
20×4″ Kenda Krusader puncture-resistant fat tires
500W/80Nm Bafang motor
28mph max speed
The Wing bike Freedom Fatty e-bike is the brand's most versatile and powerful model. This electric fat bike can tackle many terrains, including light mountain trails, snow, sand, and mud.
With deep-tread puncture-resistant 4″ fat tires like the Kenda Krusaders, you can maintain traction in all weather conditions including on snowy city rides or wet weather commutes. In addition, the 180mm rotor mechanical disc brakes complement these tires by providing strong stopping.
The electronics on the Wing electric bike include a 500W/80Nm Bafang motor and the choice between a 375Wh or 504Wh battery. These batteries have a 35 and 45-mile maximum range, respectively, with a top speed of 28mph.
Because of the extra power and the larger tires, the Freedom Fatty weighs approximately 45lbs. It uses the same aluminum alloy build, Tourney drivetrain, and integrated lights and alarm as the rest of the series. However, this is the only model without swept-back cruiser handlebars.
The Freedom Fatty Wing bike could be best for you if you like to tackle a mix of terrains, ride in all weather conditions, and want the extra power from a larger motor.
---
Freedom S2
Fits riders: 5′ to 6'1″
Lightweight at 37lbs
20″ wheels
The Wing Freedom S2 is the brand's second iteration of their compact, lightweight e-bike. This model is two pounds lighter, cheaper, and much smaller than the Freedom X and Freedom 2.
The 20″ wheels keep the Freedom S2 in a neat package, making it easier to store at home and better for shorter riders. In addition, these wheels accelerate faster and are more maneuverable than larger-diameter wheels. They use the same 1.75″ Kenda puncture-resistant tires to provide plenty of grip and shock-absorption on the city streets.
The Freedom S2 has a 350W/45Nm Bafang motor that pairs with a 316Wh, 375Wh, or 504Wh battery for 35, 45, or 60 miles of range. The top speed of this bike is 22mph.
Consider the Wing Freedom S2 if you're a smaller rider between 5′ to 6'1″ and appreciate the cost and weight savings of a compact urban e-bike.
---
Freedom X
Sleek hidden stem-integrated display
Extra torque sensor
Two color choices
The Wing Freedom X bike review is the second to last release and the most high-tech.
When comparing the Wing Freedom 2 vs. Freedom X, you see the latter adds a torque sensor and a unique frame-integrated display. The torque sensor combines with the cadence sensor to measure the force applied to the pedals. Torque sensing significantly improves the smoothness of power output for a more natural-feeling ride.
Likewise, the new display offers improved metrics like speed, ride distance, and assist and battery levels. In addition, you have light activation and horn control.
This model has the same size motor, battery options, and identical build specs across the frame as the Freedom 2. The difference in price between the Freedom X and Freedom 2 is $450, which we feel is quite steep for the two updates.
If you're looking for the best of the best in ride quality, the new Freedom X will be the smoothest and most intuitive option in the Wing range. But if you want the best bang for the buck, go with the Freedom 2.
---
Freedom ST
Hidden stem-integrated display
Three battery choices
Three color choices, new blue option
The Wing Freedom ST electric bike is the most recent release (summer '22) and the only step-through model on the lineup and the most expensive option.
Like with the Wing Freedom X, you get a unique frame-integrated display. Unfortunately, this model doesn't have a torque sensor though.
The Freedom ST uses a low-step frame to make it easier for riders to mount and dismount. Otherwise, it has the same 350W motor and selection of batteries providing 35, 45, or 60 miles max range. In addition, this model has a max speed of 22mph.
If you want a more convenient and comfortable Wing bike to tackle your city streets, consider the new Freedom ST.
Wing Bikes Shipping and Delivery
---
Wing Bikes shipping takes roughly one to seven business days, allowing up to four days for the warehouse to process your order. As of 2023, Wing has four delivery options (no delivery option to Alaska):
FedEx Ground
USA Bike Shipping (Contiguous USA)
NYC Pickup
FedEx International (all destinations outside the contiguous USA)
One frustrating policy of Wing Bikes is their $98 fee for any cancellation after payment, regardless of whether the order has been processed or not.
Once the bike is delivered, all you must do is install the front wheel, handlebar, and pedals and adjust the saddle. If you have some experience you can do it by yourself, but if not, we advise taking it to a local bike shop and letting a professional bike mechanic do it for you.
Warranty and Returns
---
All Wing Bikes have a five-day test ride window for buyers in the USA so that you can return the bike within the first five days after delivery without any questions.
However, this test-ride period comes with a $98 fee, and you must hold onto the original packaging materials and not ride more than five miles. In our opinion, this is a poor test ride period and terms.
Each component on Wing bikes has a one-year warranty, available only to US customers (extended warranty available at checkout). The warranty applies only to the original owner.
People Also Ask
---
Where are Wing bikes manufactured?
Wing bikes are likely manufactured in Asia, although there isn't any information available online to confirm this. However, given the prices of the bikes and the specs, we assume that, like the other USA-based e-bike brands, Wing uses factories in China and Taiwan to manufacture their bikes.
How long does it take to charge a wing bike battery?
It takes roughly four hours to charge a Wing bike battery from empty to full. A partial charge will take less than four hours. In addition, the two smaller batteries will take less time to charge than the large battery.
How do you turn on a wing bike?
To turn on a Wing bike, hold down the power button on the handlebar-mounted computer. For the new Freedom X, hold down the bottom mode button at the controls on the left-hand panel on the handlebars. To turn them off, hold down the same button.
How fast can a wing bike go?
A Wing bike can go as fast as 28mph, depending on your chosen model. The Freedom S has the lowest top speed of 22mph. The Freedom 2 and X can go up to 25mph, and the Freedom Fatty has the highest max speed of 28mph.
How long do Wing bikes take to ship?
Wing bikes take between one and seven days to ship. In-stock orders typically take one to three days to ship. The warehouse takes up to four days to process the order, and each shipping method has a different delivery time.
---
It seems to us that Wing bikes are affordable and competitively priced given the level of components used. In addition, they have a decent variety across a small price range to provide more options to different types of riders.
From our online research, the issue that seems to arise repeatedly with Wing Bikes' customers is unsatisfactory customer support, which could deter us from choosing one of their bikes. Nonetheless, the company is relatively new and is likely going through early-stage growing pains, so we would give them a chance to resolve the customer support issues.
Wing Bikes is a young brand with some room to improve, offering an excellent bang for the buck and bikes jam-packed with modern features.
As the brand begins to offer more and more test-ride locations (currently five as of 2023), they should see an uptick in customers who don't want to get stuck with a $98 return fee if they test the bike and don't like it.
Overall, Wing bikes receive positive ratings and reviews online and are solid options in the sub-$2,000 category. We would certainly consider their bikes if we were in the market for a stylish urban e-bike with unique safety features.