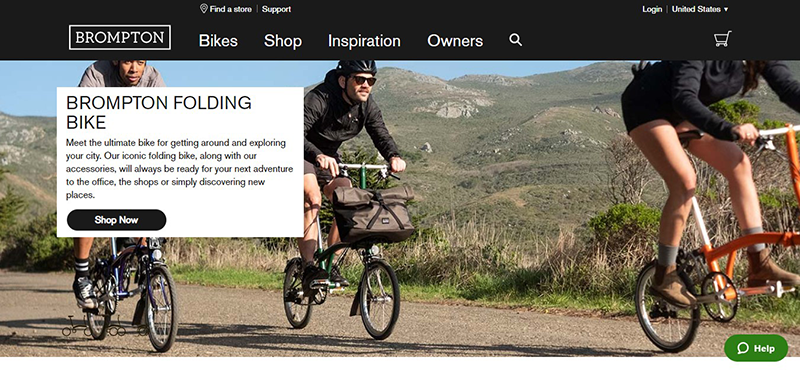 Brompton Bikes were first designed by Andrew Ritchie in 1975, and named after the Brompton Oratory in London, where Ritchie's flat overlooked at the time.
The name Brompton has become synonymous with folding bikes since 1981 when the first production began.
Although a relatively crude version of what they offer today, the bike was awarded 'Best Product' at the Cyclex event in London in 1987.
Popularity soared and they needed more space to work so opened their first factory in west London in 1988. Currently, the brand has ten stores across the globe, as far as Kobe and Tokyo in Japan, as well as across the UK.
Currently, the brand has a range of three different styles of folding bikes and a limited edition range. Although the brand has grown exponentially since its inception in the 1980s, they still manufacture the bikes in London, England.
---
Table of Contents
1. About Brompton
2. Bikes Range
3. FAQs
4. Conclusion
---
1

. About Brompton Bikes

The brand appeals to city riders as well as commuters due to the ease of folding the bike for transportation.

Commuters across the globe that use the train to get to work enjoy cutting out the crowds and costs of driving to and from the stations by using the handy fold up bikes Brompton make.

They are ideal for folding away on trains and don't count as a 'bike' so you don't need to book an extra space for it.

They're also ideal for securing away in the office or workplace as they take up barely any room compared to a regular bicycle. But that's not all. Since 2006, the bike brand has hosted its own World Championship event. Participants from across the globe take part each year to be crowned male and female Brompton World Champion.

The riders begin with a Le Mans style start where they run to their bikes, unfold them and then begin the race. The participants must also avoid wearing sports-specific attire and only wear suit clothing i.e. a suit jacket, collared shirt and tie.

Championships are held in different countries each year and it has become a somewhat coveted prize amongst fans of the Brompton bikes.
---
2

. Brompton Bikes and Product Range
Currently, Brompton Bikes produces three types of folding bikes;
The original Brompton
Brompton Electric
Brompton Superlight.
They have also collaborated with brands such as CHPT3 to create limited-edition versions of their original Bromptons, each with a different aesthetic approach.
The brand also manufactures bags and luggage specific to the Brompton range, making the bikes even more useful than they already are! Due to the shape and frame of the Bromptons, they do require specifically designed bags to use on the bikes.
Brompton manufactures the following accessories for their range:
Bar bags
Messenger bags
Bike covers
Travel bags
Other brands have also designed bags for the Brompton bikes including fellow British brand Restrap. Most recently, however, Brompton has branched out into creating clothing for riding, including some waterproof jackets, shorts, shirts, and a parka jacket from a brand collaboration with Protected Species.
All these and more including spare parts, lighting and visibility, and gifts can be found on the Brompton website.
---
Brompton Original Bikes
The Brompton Original bikes are all based around a single frame and wheel size, with adjustability found in the handlebars and saddle height.
Brompton produce three types of handlebars to choose from across their bikes;
S Type which is 925mm in length and great for a more sporty, forward position on the bike
M Type which is 1015mm in length and provides an all-round comfortable ride, more upright than the S Type
H Type which is 1075mm in length and is great for a more upright position on the bike
In addition to the handlebar choices, there are plenty of colorways to choose from depending on your preference. You can also choose between bikes with 2-speed drivetrains or 6-speed depending on your needs and riding terrain.
Each bike folds up to a third of its size, making it extremely compact and ideal for commuters or city riders who are space conscious. Depending on the model, the bikes can come equipped with a rear rack or fenders which is great for those who want to be able to stay dry on the bike, removing the need to wear specialist cycling kit to ride to work.
Price Range: $1,410 – $2,040
Steel frame
Choice of colours and handlebars
2-speed or 6-speed
---
Brompton Electric Bikes
The Brompton electric bikes are fantastic bits of kit for those who don't want to break a sweat when they travel around the city or on their way to work.
Each bike comes with three levels of assist from the 36V battery, and a promised range of between 20-45 miles, which is usually good enough for a few trips to and from work, depending on the length of your commute.
The bikes come in a choice of 2-speed or 6-speed and each bike has an integrated LED display head unit from which you can control the electric assist. Each bike is still able to be folded neatly away, and you can also detach the battery quickly with a click to make it easier to carry separately.
There are three choices of colors; Gloss Black, Gloss Turkish Green, and Bolt Lacquer. You can also choose between H and M type handlebars to make sure the bike fits you and your riding style.
You can arrange a test ride of a Brompton electric bike from one of their retailers local to you across the United States as well as Britain.
Price Range: Check local retailers
Steel frame
20-45 mile battery range
2-speed or 6-speed
---
Brompton Superlight Bikes
The Brompton Superlight collection gets the name from the weight reduction on the original Brompton bikes.
By using titanium parts in partnership with their traditional steel frame, the brand has managed to reduce the overall weight of the frame by up to 1kg/2.2lbs compared to the original, all-steel bikes. This makes the bikes ideal for carrying over longer distances, for example between train stations or up the stairs to work.
So which parts did Brompton replace with titanium? The front fork, the rear frame, the mudguard stays. They also included a lightweight wheelset and headset to reduce weight on these parts.
The bikes are available in their usual range of handlebar and seat post variants, as well as colorways.
Price Range: $2,330 – $2,820
Titanium and steel frame
Up to 2.2lbs (1kg) lighter than the all-steel original Brompton
6-speed drivetrain
---
Brompton Limited Edition Bikes
There are two ranges of Brompton limited edition bikes; Black Edition and CHPT3.
The Black Edition bikes were designed by Brompton and first released a few years ago to inspire nighttime rides as well as paying homage to urban riding.
You can purchase the Black Edition bikes in a choice of four colors;
Black Gloss
Flame Lacquer
Rocket Red
Turkish Green
They are available as both steel and titanium and steel frames and come with a choice of handlebar style, and with a 6-speed drivetrain.
The Brompton X CHPT3 collaboration bikes were designed in partnership with former professional cyclist David Millar's brand. The created bike has a pared-back aesthetic and a graphical paint scheme featuring a homage to Girona, Spain, the hometown of the CHTP3 brand. The bike is available with S Type handlebars, a 6-speed drivetrain and a lightweight steel and titanium frame.
Each collaboration is limited in production numbers so you'll have to act fast if you want a limited edition bike by Brompton!
Price Range: Black Edition $2,570 – $2,820
Steel frame
Black Editions & CHPT3 Editions
Choice of colorways
---
Brompton Bikes Size Guide
Each Brompton bike is built around a single frame and wheel size, which makes sure the bike can be folded properly without any frame or component interference, as well as streamlining manufacturing.
With this in mind, the brand allows riders to choose which seatpost they believe is best for their height. Each Brompton sold online comes with an Extended seatpost as standard, but you can choose a different length. The options are:
Standard – the shortest and lightest seatpost. Suitable for riders with an 84 cm / 33″ and under inside leg measurement.
Extended – Offers more height but the saddle is extended when folding the bike. Suitable for riders with an 84 – 89cm / 33 – 35" inside leg measurement.
Telescopic – Offers up to 175mm extra elevation than a standard seatpost. Suitable for riders with a 90cm / 35" and over inside leg measurement.
---
3

. FAQs
Where are Brompton Bikes made?
Brompton Bikes are designed and manufactured in London, England. They have been since their inception and the brand is proud to keep their manufacturing local to their headquarters.
Are Brompton Bikes good?
Brompton Bikes are the gold standard in folding bikes. They are not designed for a normal road bike or mountain bike use but are perfect companions for commuters or those who ride in cities and are space conscious.
---
4

. Conclusion

Brompton Bikes are a well-established and loved folding bike brand from the UK.

They manufacture and produce all their bikes in London, England, and have done since they began production in the 1980s. They are the gold standard in folding bikes and design their bikes around a single frame and wheel size, but with adjustable seat posts so that people of all heights can use them.

The bikes are well-made and last for a long time. The price of the bikes is usually a couple of thousand dollars which makes them relatively expensive for new bikers, but a great investment – and let's be honest, you'll probably save money on your train ticket or parking by using a folding bike in the long run.

They are great fun to ride and since Brompton has brought out an electric version there's no excuse not to try one!

Buy from REI.com Buy from Mike's Bikes