The State Bicycle Company was founded in 2009 and aims to get more people on bikes by providing fun bikes to ride.
Largely known as a fixie bikes brand, they have also brought to market city bikes, track-style bikes, geared bikes, and a wide range of components and apparel. They aim to produce high-quality but affordable cycling goods that anyone can use. They are keen to only put out products that they would use themselves.
They work in an interesting way, by releasing each bike as a limited edition. They produce only so many and once they're gone, that's it. They have previously launched a racing team and support grassroots cycling as well as encourage ordinary people to find joy in cycling. It's this ethos and high-quality bikes that have led to the State Bicycle Co reviews being so positive.
Their warehouse and headquarters are currently in Phoenix, Arizona but they have distributors across the US and the world, including the UK and Europe.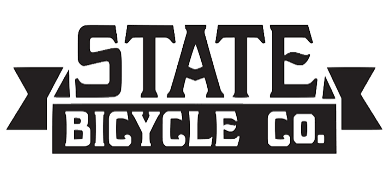 State Bicycles = State Bicycles Co = State Bicycles Company = State Cycles
State Bicycle Co.
---
Store Locator
---
---
table of contents –


State Bicycle Review

1. Bikes Range
2. Parts & Accessories
3. Clothing & Apparel
4. Verdict
---
3 factors that stood out from our perspective
State Bicycle in-house components
It is quite uncommon to see such a popular bike brand use its own line of components.
Drivetrain – Chainrings, cassettes, chains, and obviously the frames.
Great visual coverage
In our opinion, State Bicycles has mastered the art of visual expression (much like Surly bikes). Their bikes are well photographed which in turn works great for advertising & marketing.
Back in the day people preferred to see the bikes in person or relied heavily on ratings and reviews, but we believe that State Bicycle Co. has made superb improvements in getting the feel of the bike to the customers.
Plenty of thematic & discontinued models on archive
State Bicycle has a great section of archived bikes. Read more from the Retired models page.
↓
Current Collaborations
---

National Park Foundation
This collection with the National Park Foundation celebrates the USA's National Parks. Each bike is inspired by a park and a portion of the proceeds from the sale of these bikes goes towards the funds that help protect the parks and keep them preserved.
Grateful Dead
The State Bicycle Co. partnered with the band Grateful Dead to produce a collection of themed apparel and accessories. Each piece has an iconic symbol from the band's history incorporated in the design.
Astronaut Collection
The State Bicycle Co. Astronaut Collection is inspired by NASA and our other worldly feats. The collection contains clothing and components for your bike each adorned with oil slick or space-inspired designs.
---
1

. State Bicycles Bikes Range

Fixie & Single speed // Road // All-road & Gravel

Core Line
$399 Single speed & fixie bikes

4130 Steel
4130 ChroMoly steel frame

Klunkers 🏆
26″ knobby tire, cruiser frame, bmx handlebar

City Bikes
Commuter bikes for easy stroll

6061 Black Label
6061 ultra lightweight aluminum


7005 Undefeated
7005-grade aluminu, ESSOR USA carbon fork & streerer tube

Offroad Division
Gravel, all-road, adventure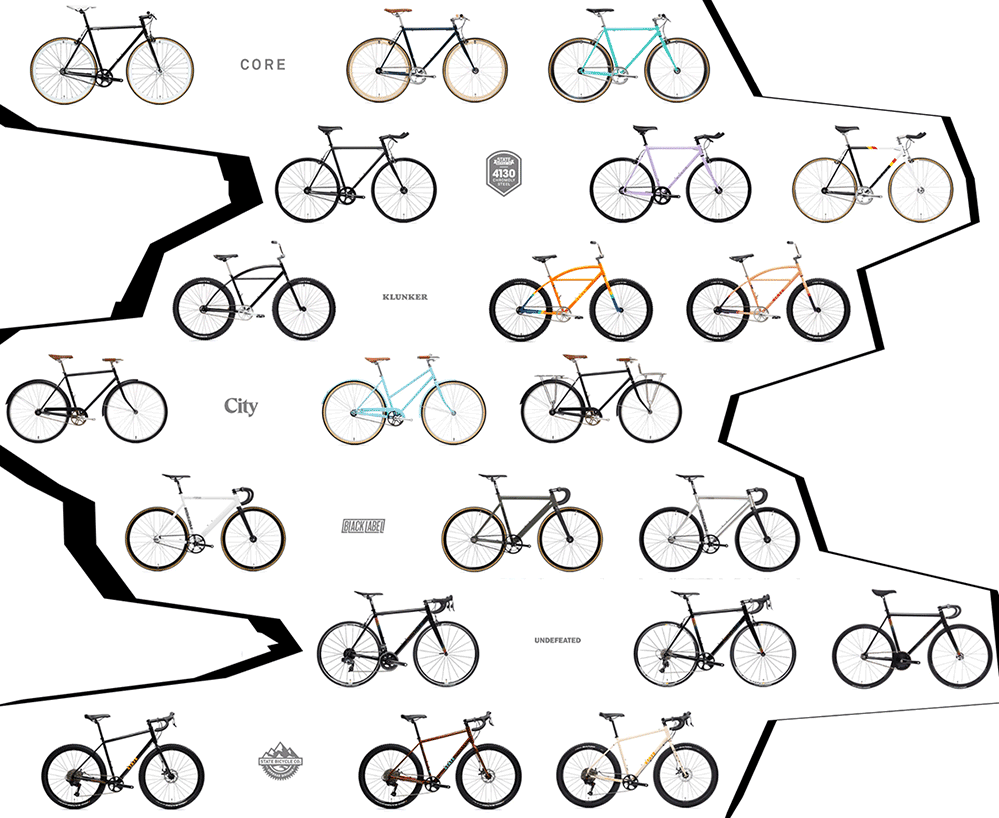 State Bicycle
Core Line

review
---
Endless value – Clean finish & single-speed with a flip-flop hub
Price range: $399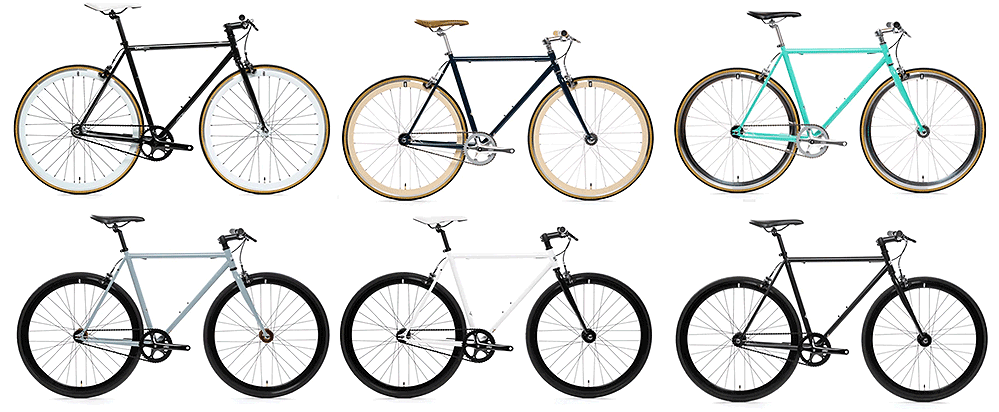 The Core Line is the essence of the State Bicycle Co.
It takes what they're known for best and improves upon it in an extremely affordable way. All bikes are priced at $399 which helps with their aim of making cycling more accessible. The Core Line was built with this primarily in mind – making cycling affordable and accessible to people who otherwise might not be able to buy a bicycle.
But a low cost doesn't mean that the quality is low with State Bicycle Co. in fact, it's far from it. For $399, you can buy a steel-framed bike with quality components and a flip-flop hub. This makes it easy to change between riding fixed gear or freewheel. In addition, all of this is topped off with stylish Vans (yes, like the shoes) grips, and a five-year warranty.
These State Bicycle single speed bicycles come in several varied paint schemes so you can personalize your riding experience. Whether this is your first bike investment or you're looking for a cheap run around bike, the Core Line should certainly be considered.
A Year With Core – State Bicycle Review on Reddit
Also featured in: Best Single-speed fixie bikes
To Whom?
These bikes are great for first-time cyclists or even those who are experienced and are looking for another bike to add to their stable.
Ideal as a run around bike or something to do the errands on, their affordability doesn't detract from the quality of the build.
Durable & vibration reducing steel frame
Flip-flop hub
Fixed vs freewheel
Vans grips
5-Year Manufacturer Warranty
State Bicycle CO
Size Recommendations
XS 5'0″ – 5'4″
S 5'4″ – 5'7″
M 5'7″ – 5'11"
L 5'11 – 6'2″
State Bicycle
4130

Review
---
Price range: $460 – $990
4130 refers to a Chromoly steel grade on the frame & fork.
The State Bicycle Co. 4130 line refers to the 4130-grade Chromoly steel used as the frame material.
There are a wide number of types and styles of bikes in this line, including State Bicycle Co 4130 road bikes, single speed commuter bikes and women's fixie bikes to name a few. Each bicycle in this range comes with sealed hubs, which are perfect for those of us that prefer to do as little bike maintenance as possible! Sealed hubs are essentially fit and forget hubs, so you won't need to regrease them or worry about splines and that sort of thing for many years.
They also come with lightweight components, such as on the State Bicycle 4130 road bikes which include lightweight wide wheel rims that can accommodate tires up to 32mm wide. Additionally, double-butted tubing means these bikes are strong and durable and paired with the magnificent array of colors and paint schemes mean you'll get an almost unique bike.
As with any other line of bicycle, State Bicycle Co. runs a limited amount of bikes in this range and once they're sold out, retire them for good. So if you want one, you had better act fast!
4130 specs
Chromoly steel frame
Light-weight components
Double-butted tubing.
To Whom?
These bikes are still extremely affordable, with prices starting at $459. There are multiple types of bikes on offer in this range, so they have something to suit all riders. Whether you're a die-hard roadie that wants a quality steel frame, or a gravel rider that wants to take their ride off-road.
What is a 4130 bike?
A 4130 bike is a bike made from 4130 steel. You can see the collection on the State Bicycle Co. website through the link below.
State Bicycle Co
State Bicycle
Black Label

Bikes
---
Snappy, responsive, smooth
6061 refers to grade of ultralight aluminum frame
Price range: $700 – $1,400
The State Bicycle 6061 Black Label range is a range of aluminum bikes, denoted by the 6061 tags.
6061 is a type of lightweight aluminum, first used in aeronautical operations and now used by bicycle builders and frame manufacturers throughout the world. These bikes are often responsive and comfortable, while also being incredibly durable and able to withstand knocks and bumps.
This range is home to many a great bike, including the State Bicycle 6061 Black Label V2 track bike, a bike that comes without brakes and is designed to be raced on the velodrome. The State Bicycle Black Label V2 is the second version of their ultra-popular Black Label bikes, with some small improvements made to the frames and designs.
Like many of their other bikes, the State Bicycle 6061 Black Label reviews have been largely positive, with customers expressing how comfortable and agile their bikes are. Again, these are quite affordable too, so that's always a bonus with your consumer base!
Another positive from this range is the State Bicycle 6061  Black Label weight. The frames weigh between 5lb 3oz for a size 49cm, and 5lb 11oz for a size 62cm. This is incredibly lightweight and means the bike retains its agility and great handling even when components are added.
Like other ranges, there are some fantastic color choices to be had. This includes the ULTRA-LIMITED "1-RUN" colorways which are only made once, so if you are keen to have a unique build, this is an affordable place to start.
To Whom?
Great for track riders or gravel bike/all-road riders who are looking for their first aluminum or competition bicycle.
State Bicycle CO
State Bicycle
Klunker

Review
---
Part beach cruiser, part mountain bike, part BMX
Price range: $420 – $500

The State Bicycle Co. Klunker range is something for the quirky riders among us.
The bikes are a mashup of single-speed, mountain bike, and cruiser bicycle, all put together in one neat package. Whether you're a fixie rider or a leisure rider that likes to cycle down at the beach – or at least pretend like you are, then there is a Klunker bike for you.
They are retro-inspired but with modern components and frame building techniques. You can get the best out of both worlds this way – style and quality. Sticking to the brand's accessibility and affordability ethos, all of the Klunker bikes are available below $500. 
With quality steel frame construction and stylish grips and paint jobs, there's not much to dislike about this range from State Bicycle Co. 
To whom?
Is the Klunker for anyone?
Not everyone can pull off the style of this bike. It takes a special kind of person who enjoys the bike as much as the bike likes the rider. The designs are whacky and you'll certainly turn heads, but these bikes are versatile and are as much at home at the beach as they are on the BMX pump track or riding to the shops – the opportunities are endless. 
What is a Klunker Bike?
a. Knobby MTB tires
b. Single-speed drivetrain
c. Cruiser-type frame
d. Flat Pedals – MTB inspired
e. BMX handlebar
State Bicycle CO
State Bicycle
City Bikes
---
Price range: $390 – $580
The State Bicycle Co. City bikes are just that – city bikes.
People have differing opinions on what makes a bike a city bike, but we think that the title is best given to bikes that can attach luggage and are comfortable enough to be used without the need for lycra or specialist clothing.
The State Bicycle Company City range contains bikes with two main frame styles, the 'Dutch Style' with the dropped top tube to make more of a step-thru frame, and the step-over frame which looks more like a regular road bike. They have created bikes with relaxed geometries and a choice of either single-speed or 3-speed gearing.
This combination of geometry and gear choice makes them a perfect sidekick for riding to class or the grocery store, in particular with the Elliston Deluxe model which comes with front and rear racks for baskets or panniers. Once again, the range is affordable as well as stylish, with the most expensive model coming in at under $600.
To Whom?
The City range is perfect for anyone who wants a bike to get around on, we're talking about getting to college, to work, to the grocery store. It's a bike but stripped back to the bones. The State fixies are about the basics of cycling, getting you from A to B with minimal fuss. So if you're after a new way of getting around town, these bikes are perfect.
State Bicycle Co
State Bicycle
Undefeated

series review
---
Price range: $999 – $2,899
7005 – Grade Aluminum Frame
Essor USA carbon fork & steerer tube
The Undefeated features a selection of high-end single speed track bikes on a high-grade alloy frame and carbon fork. You'll see State Bicycle's own top-quality components and designs used along this series only.
Race-ready out of the box
To be updated..
State Bicycle
Off-Road Division
---
All-road / Gravel / Adventure / Klunker
6061 aluminum, 4130 steel,
Price Range: $420 – $1,400
Although more known by their bikes for paved roads- State Bicycles has recently taken a successful leap into the world of gravel roads. At an affordable rate, you can find a variety of gravel bikes that not only look good – but perform in a matter they are design for. Fitted with knobby tires and gravel-geometry, there's a lot that a rigid-frame-road-geometry bike is capable of.
700c & 650b wheel compatibility
To be updated..
To Whom?
Bikepackers, commuters, bike messengers.
State Bicycle CO
---
Read more about discontinued bikes
List of the most popular discontinued models so far –
Megalith, Fixie Matte Black 6, Rutherford, Bernard, Elliston, Ranger, Ghoul, Samurai
2

. Parts & Accessories
---
State bicycles produce their own set of components which has helped them through the Covid19 shortage of parts worldwide.
Frames & forks // Wheels // Drivetrain
Tires & Tubes // Handlebars & Stems
Bar tape & Grips // Saddles & Seat posts // Pedals
3

. Clothing & Apparel
---
T-Shirts & Tank Tops // Shorts, Denim, Pants
Outerwear, Headwear, Sportswear // Sustainable Clothing Collection
Shoes & Socks // Caps // Gloves & Warmers
4

. Conclusions & FAQ – What to think of State Bicycles?
---
Out the box – Assembly
Assemly & Warranty – Read more.
Who owns the State Bicycle Co?
State Bicycles is owned by the founder Mehdi Farsi.
Where is the State Bicycle Co located?
State Bicycle co is based out of Tempe, Arizona.
China-USA Tradewar & State bicycles
Read more about the effects – BicycleRetailer.com
When to expect an e-bike by State Bicycle?
So far we haven't heard any news of State Bicycle Co. going electric, but we'll make our best to be the first ones reveal it!
What about mountain bikes?
State Bicycles co has released a fixed gear mountain bike before, named Pulsar (Rigid) and Pulsar Deluxe (RockShox 100mm on the front). We'll try our best to cover all State's MTBs as soon as they're being released!
If there's anything to expect, it must be the 26-inch single-speed bike just like the Klunker above!
Gravel is there, how about CX?
At the moment, there are no State Bicycle CX bikes available.
State Bicycle fat bikes
State Bicycle has had a fat bike in their list – known as the Megalith.
What are other bike brands similar to State Bicycle?
Aventon bikes
6KU / SKU bikes
State Bicycles & the Simpsons
Read more about the special edition.
---
RELATED Reviews
Best Cheap Gravel Bikes – Under $2,000