11 Best Step-Through Bikes for City Commutes and Fitness Rides
If you're in the market for a new city bike, then our overview of the best step-through bikes is a great place to start.
Both practical and stylish, step-through bikes are a classic frame design that has stood the test of time. In this article, we'll discuss some of the best men's step-through bikes and best bikes for women in this category, as well as unisex frames. They provide a great upright riding position which makes them popular with commuters and urban riders alike.
Read on to discover what makes these bikes unique and shortlist some of the best bikes you should be looking for in your search.
What is a step-through bike?
A step-through bike is essentially what it says on the tin – the frame is designed for you to step through to get onto the saddle. The top tube is low enough for you to step through the frame, hence the name.
This makes it easy to mount and dismount, which is why they were so popular with women who wore dresses, particularly when cycling was first introduced. Nowadays, you can ride in whatever clothes you want thanks to the ease of getting on and off these types of bikes.
The upright riding position is also a strong selling point for many, particularly those who have injuries or don't want the aggressive riding position that a road bike typically offers.
Another alternative to this frame style is the low-step frame. Essentially, the top tube is even lower (if the bike has one), making it even easier to get on and off the bicycle without having to raise your leg above the saddle and risk losing balance or tearing your pants.
---
---
1. Schwinn Discover 2 700C
Winner! Best Beginner Step-Through Bike
MSRP: Check on Amazon
Aluminum frame
Wheel size: 700c
21-speed drivetrain
Promax alloy linear-pull brakes
Bike weight: 36 lbs
One size frame (17″) fits riders 5'5″ – 6'0″
This Schwinn step-through bike is a budget-friendly casual bicycle, perfect for getting around town and beyond.
It's manufactured from aluminum so it's lightweight yet strong, and unlike many others on the list, it includes front suspension. An SR Suntour fork is up front with an SR Suntour alloy crank.
A mixed groupset of SRAM and Shimano parts offers great value for money, and the bike even comes with fenders and an integrated rear rack so you don't need to worry about riding in the rain or carrying weight.
The only place the bike appears to cut the costs is with the brakes. Linear pull brakes are slowly going out of fashion and with other bikes at this price point opting for disc brakes, it's a shame Schwinn hasn't used them on this bike.
Nonetheless, the Schwinn Discover 2 is a great do-it-all bike that will get you comfortably from point A to point B with minimal fuss.
---
2. State Bicycle Co The Azure (3-speed)
Second choice! Most Stylish Step-Through Bicycle
MSRP: $500
Steel frame
Mustache type handlebar
Coaster brake
700x35c tires
Chainguard
3-speed internal gearing (single-speed available as well)
This unisex step-through bike from State Bicycle Co. is a great example of a classic frame with modern styling.
It's manufactured using steel for its longevity and hardwearing properties, which also helps to keep the costs down. One of State Bicycle Co's biggest selling points is its affordability, as the brand aims to increase the accessibility of cycling to more people no matter their income or background.
Public Bikes has thought carefully about each point on the Azure, such as including a chainguard to protect your clothes from getting trapped in the drivetrain and getting greasy before an important work meeting. The mustache handlebars are ergonomically designed and provide an upright riding position that feels comfortable and eliminates discomfort.
This bike is extremely affordable at $500 and can be used with additional luggage carriers and lights, making it a useful urban cycle for those who prioritize style and comfort.
---
3. Co-op Cycles CTY 1.1 Step-Through Bike
Third Place! Best Value Affordable Model
MSRP: $600
Aluminum frame
700c wheels
3×8 Shimano Tourney/Altus drivetrain
Tektro mechanical disc brakes
Bike weight: 30 lbs
Weight limit: 300 lbs
The Co-op Cycles CTY 1.1 Step-Through Bike is a smooth-riding urban bike, perfect for commutes and running errands.
It features a low-slung top tube making it easy to mount and dismount the bike, while the aluminum frame provides durability. Details have been carefully thought about on this bike, with trigger shifters complementing the 24-speed drivetrain (3×8 gears). Wide tires of 40c are great for comfort and carrying loads of up to 300 lb, which is what this step-through bike can handle.
You can purchase (separately) racks and fenders to turn the CTY 1.1 into a utility machine, and the disc brakes can provide reliable stopping power even in wet weather. A Comfort Plus saddle provides a comfortable touching point, and there are three sizes to suit a wide range of rider heights.
All in all, the CTY 1.1 is a cheap and basic bike with plenty of features to suit urban riders, so it's hard to look past it.
---
4. LIV Alight 3 Disc
Best Women's Step-Through Bike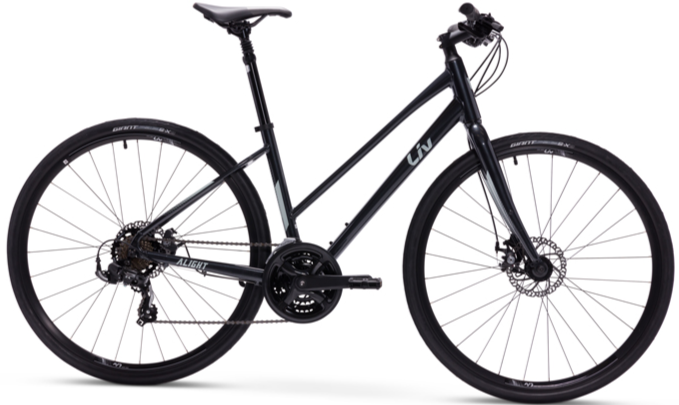 MSRP: $650
Aluminum frame and steel fork
Giant S-X3 700c x 38mm tires, puncture-protected
Shimano Tourney 3×7-speed gearing
Tektro mechanical disc brakes
Suspension seatpost
The LIV Alight 3 Disc is a women-specific hybrid bike ideal for urban riding or cruising along the beach.
It comes with a Shimano Tourney 3×7-speed drivetrain, a simple groupset that is cheap to replace when parts wear out. LIV has included mechanical disc brakes from Tektro, which is adequate for this price point, as they provide solid stopping power in urban environments.
The bike comes in a stylish metallic black paint finish, and it is available in four sizes, from Small to XL, suitable for riders ranging from 4'10" to 6'0″. The comfortable upright position of the Alight 3 is ideal for city or casual riding.
You don't need anything extra to ride this bike comfortably, but it's compatible with a rear rack and fenders if needed.
---
5. Priority Bicycles Turi
Maintenance-Free Gates Carbon Belt Drive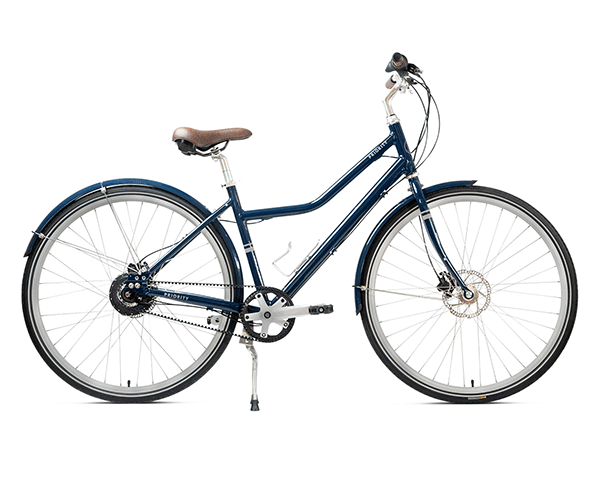 MSRP: $949
Aluminum frame
Puncture-resistant 700×35 tires
Internal gearing
Tektro/Promax hydraulic disc brakes
If you're after a low-maintenance urban bicycle with a bit of a twist, the Priority Turi is the one for you.
It features a durable yet lightweight aluminum frame that comes in three sizes to suit a variety of rider heights. It's only available in one colorway, Gloss Blue with Reflective Decals but it's paired with a brown retro-style saddle, so it's an attractive bike to look at.
However, the main feature of this bike is the drivetrain that consists of an Infinity Shifting enviolo City CVT Internal Rear Hub and a Rust-Free Gates Carbon Belt Drive. Combined, these parts offer a simple yet incredibly reliable drivetrain that requires minimal maintenance.
Color-matched fenders are also included and the upright riding style makes for a comfortable and fashionable ride, wherever you choose to go!
---
6. Huffy Terrace
Best Accessories for the Money
MSRP: $430
Aluminum frame
27.5″ wheels
8-speed drivetrain
Mechanical disc brakes
Stepover clearance: 29″
Huffy Terrace is a versatile step-through bike that is great for getting about town with an easy-to-dismount geometry.
The price is rather affordable for such a popular brand too, at well below $500. You get an aluminum frame and fork, which keeps this bike lightweight and responsive. The frame is equipped with fenders, a rear rack, and a kickstand, so you have everything you need for commuting.
The wide tires and 27.5″ wheels offer comfort and grip, and the 8-speed drivetrain offers plenty of gearing for you, opening up more riding possibilities.
Mechanical disc brakes are a nice touch at this low price point as they will provide reliable stopping power in all weather conditions.
Finally, the Huffy Terrace also comes with a memory foam saddle and swept-back handlebars, which makes it one of the most comfortable choices on this list.
---
7. Electra Cruiser 1 Step-Through Bike
Best Step-Through Beach Cruiser Bike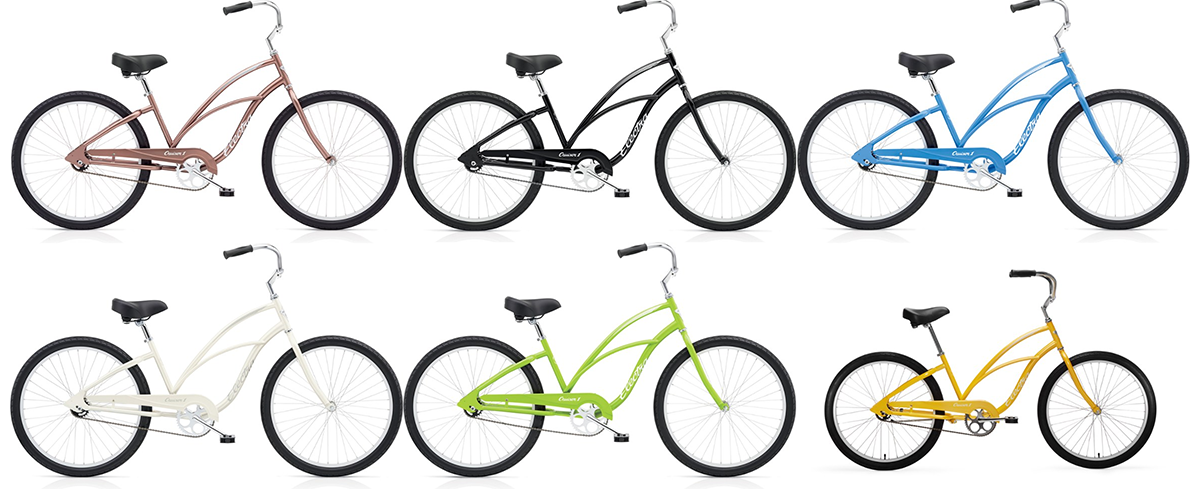 MSRP $400
Steel frame
Wheel size: 26″
Single-speed drivetrain
Coaster brake
Bike weight: 35 lbs
This Electra Cruiser 1 step-through bike is another demonstration of the sleek style this brand is known for.
Available in a range of five colors, the Electra Cruiser 1 is a simple and elegant cruiser-styled bike. It's simple to mount and dismount and comes with a coaster brake. It's also equipped with a single-speed drivetrain that requires little maintenance, which is always a positive thing!
Cruiser bikes don't need much introduction besides the obvious fact that this type of bicycle is the most ...
The Cruiser 1 is manufactured from steel which is the most durable and comfortable material for bicycles, so you'll be able to keep riding this bike for years without issues.
All in all, this is a well-thought-out and stylish bike, ideal for any casual ride, and at an extremely attractive price.
---
8. Cannondale Quick Disc 5
Best Fitness Step-Through Bike
MSRP $735
SmartForm C3 Alloy frame
Wheel size: 700c
Shimano Tourney 14-speed drivetrain
Mechanical disc brakes
Cannondale Fitness Ergo saddle
The Quick Disc 5 is a fantastic Cannondale step-through bike aimed at beginners who are on a tight budget but want a reliable and good-looking choice.
It works well as a bike for getting back into cycling, as many people often fear not being able to put their foot down at traffic lights or junctions and losing balance.
With the upright geometry of this frame, it's incredibly easy to get on and off without having to tilt the bike too much. This, along with the easy-to-use drivetrain and shifters makes it ideal for beginners.
The Shimano Tourney 14-speed drivetrain is complemented by mechanical disc brakes, which allow you to stop on a dime no matter the weather. Both of these are entry-level components, but that's all you need to complete short commutes and run errands around the city.
So if you want to spend well under $1,000 and get a high-quality step-through bike with a good reputation, the Cannondale Quick Disc 5 is the model we recommend.
---
9. Momentum Vida
Best Step-Through Bike for Comfort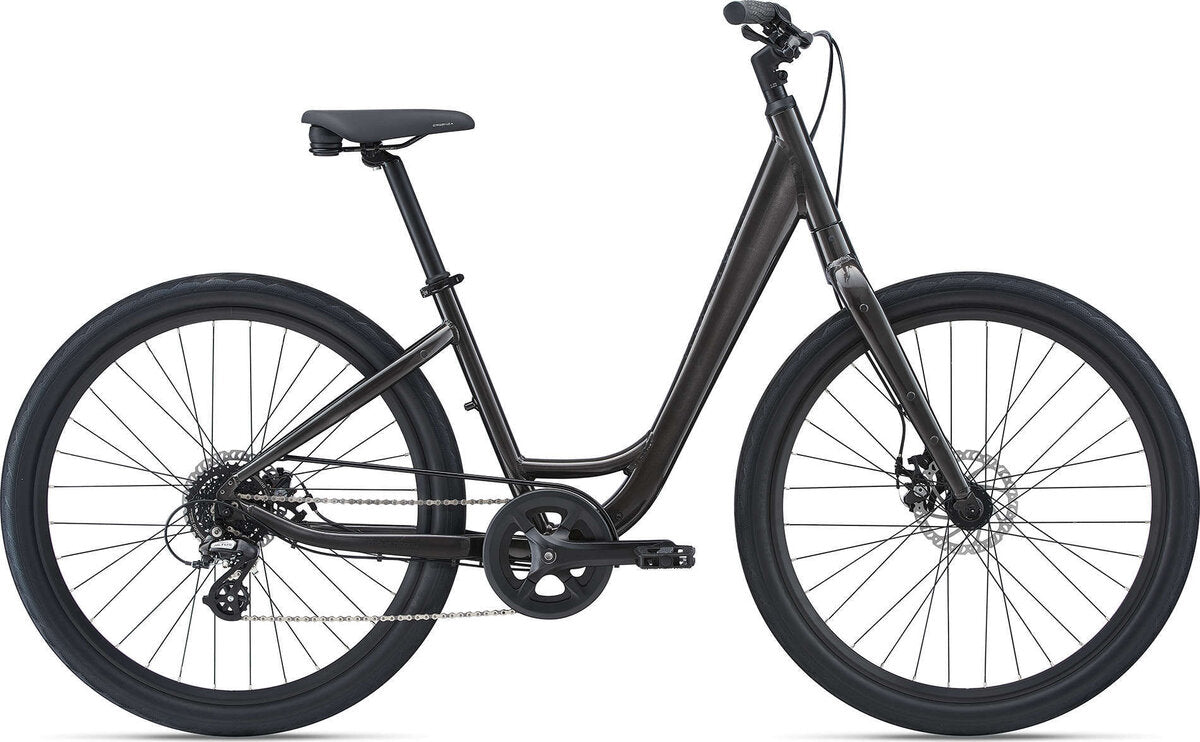 MSRP $760
Aluminum frame and fork
Shimano Altus 8-speed drivetrain
Mechanical disc brakes
27.5″ x 2.4″ puncture-resistant tires
The Momentum Vida is a unique low-step bike with a comfort-focused design. The low-step frame design boosts the confidence of inexperienced riders who are not yet used to mounting and dismounting a bike.
The Vida boasts wide 2.4″ tires on 27.5″ wheels, providing lots of cushioning no matter where you're riding.
The bike also comes with a low-maintenance Shimano Altus 8-speed drivetrain and mechanical disc brakes. This pairing gives you plenty of gearing options and ample stopping power for urban riding.
At less than $800, the Momentum Vida is an affordable and comfortable ride, perfect for urban commuters and leisure riders alike.
---
10. Cannondale Adventure Neo 4
Best Electric Step-Through Bike
MSRP: $2,875
SmartForm C3 Aluminum frame
Wheel size: 27.5″
Shimano Altus 9-speed drivetrain
Shimano MT200 hydraulic disc brakes
This Cannondale step-through bike is another super-comfortable option, making it a versatile and approachable ride for beginners and experienced riders.
The Adventure Neo 4 is a cruiser-inspired ebike with the addition of wide 2.2″ tires that provide excellent comfort and traction. This is perfect for adding a bit of versatility to your ride and means you aren't as limited by terrain.
It also comes with agile 27.5″ wheels and geometry that allows you to put a foot on the ground easily. Hydraulic disc brakes are an important addition and are used in conjunction with the Shimano Altus 9-speed drivetrain.
The Cannondale Adventure Neo 4 is powered by a Bosch Active Line Motor and a 400 Wh battery which will assist you up to 20 mph. The battery offers a 64-mile maximum range, which is more than enough for several days of commuting.
If you want a capable step-through bike with electric assistance, the Adventure Neo 4 is a worthy candidate.
---
11. Public Bikes M7
Best for Short City Commutes
MSRP: $700
Chromoly hi-tensile blend frame with steel fork
Wheel size: 700C
Shimano Acera 7-speed derailleur
Alloy caliper brakes
Bike weight: 32 lbs
The Public M7 mixte bike is engineered to be gender-neutral with a premium step-thru design.
The 'mixte' frame is another way of saying unisex, and it's available in four modern-looking colorways—Cream, Slate Blue, Red, and Black. It's evident that Public Bikes has spent a lot of time designing this bike to be striking from far away.
Each Public bike includes color-coordinated cable housings, rims that are painted to match, cream tires, and the option of mounting a rear rack.
Customization is key at Public as they aim to create stylish city bikes that are individual to each rider. Thus, you can further customize your bikes with other accessories.
In terms of components, the M7 comes with a 7-speed Shimano drivetrain and twist shifters that are easy to use. Caliper brakes are not the best and we think disc brakes would have been a much better choice at this price.
Overall, the Public Bikes M7 is a great example of a city bike, so we recommend buying it if you plan to cover shorter daily distances on paved bike paths.