Bikexchange has grown over time, and here are some of the most recent writers who have helped to write our bike reviews and blog posts.
For all inquiries, contact Sam (at) bikexchange.com
---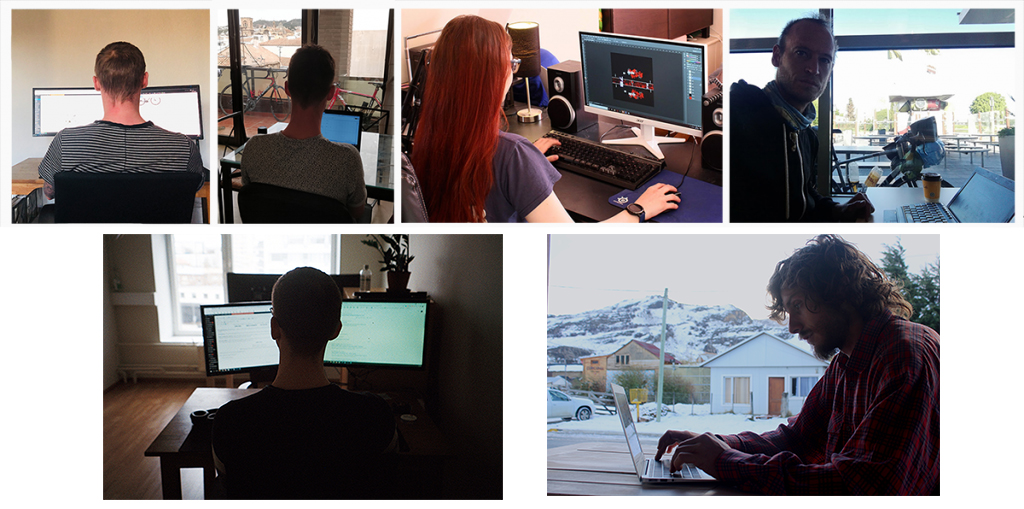 Top, left- Sam, Jordan, Rebecca, Mark
Bottom, left – James, Atticus
---
Research & Writing
---
Mark Hartley
Research & Writing
#best-of-reviews
#bike brands
#single bike reviews
Mark is a cycling enthusiast and freelance writer specializing in travel and technology. He has traveled to 56 countries worldwide, cycling through Africa and Europe. You can contact him on Twitter @splshrollstmble. Mark is behind most of the current bicycle reviews in Bikexchange today.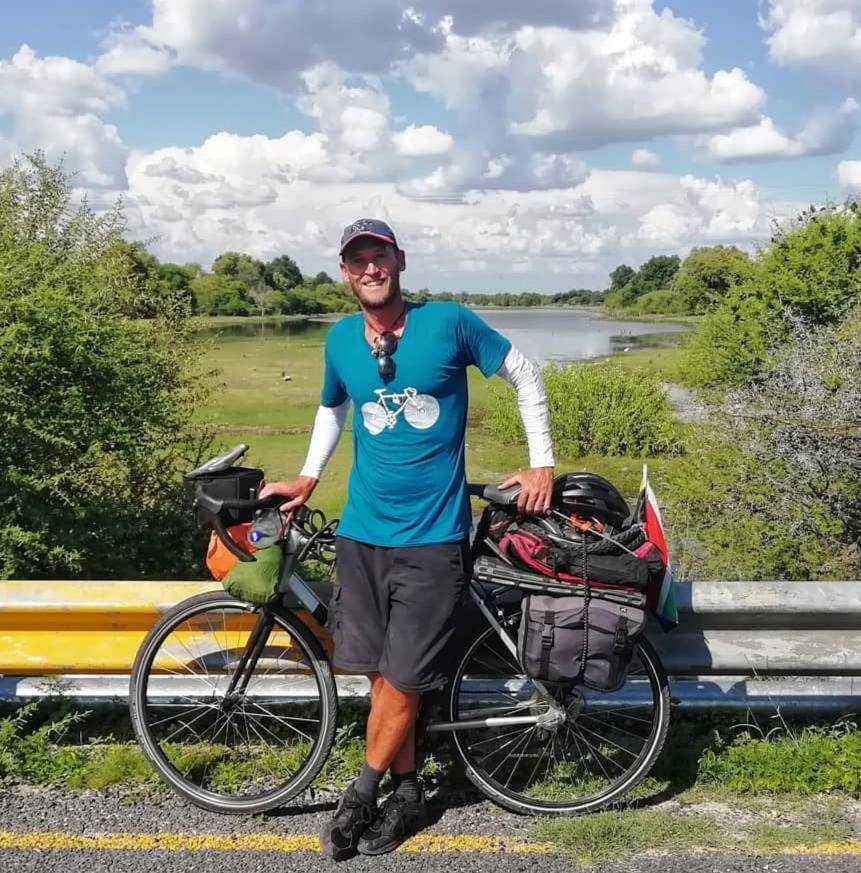 ---
Darcie & Jordan Grimes
Research & Writing
#bike blog
#health
Darcie and Jordan Grimes are an avid cycling couple who love to travel and have found their bikes to be perfect company on road-trips in the USA, through national parks, and in countries such as Canada, Ireland, and Spain.
Their passion for travel and their work in the tourism and hospitality sector has allowed them to live in incredible places like Ireland, Canada, Australia, USA, and the Cayman Islands, and have since relocated to southern Spain, where they are now working as freelance writers, practicing Spanish, and cycling in the famous Sierra Nevada mountains
---
Rebecca Bland
Research & Writing
#brands
Based in the UK, Rebecca began cycling as a means to get to work and hasn't looked back. Now combining her passions and working as a freelance cycling writer, she enjoys road cycling, time trialing, and mountain biking. You can contact her at rebecca.bland14 at gmail.com.
---
Atticus Lee
Research & Writing
#technical #maintenance
Atticus began cycling as a way to get to school. Over the years he has worked as a courier, been a cycle commuter, built multiple bikes from the frame up, and ridden backcountry routes across the US and Chile. He enjoys both road cycling and mountain biking and loves working on bikes. You can follow him on Instagram at @seldomseenathome.
---
James Heath
Content Editor
James is relatively new to the scene of cycling. Like many of us, he cycled as a kid, but 'life got in the way' as an adult, and for a long time, he couldn't find the inspiration to get back on the bike. Recently, however, James discovered the world of eBikes which reignited his spark.
He is the 'tech nerd' of the bunch who likes to be fully informed before making a decision – especially when it comes to new investments. James has lived as a digital nomad, working in SEO, online poker and sales. He is proudly responsible for the ins and outs of eBikes.
---
Sam Millers
All Inquiries
sam (at) bikexchange.com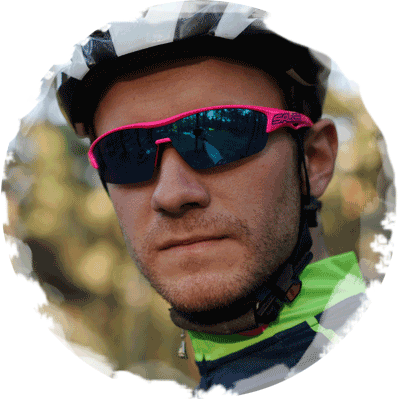 ---
Here are the fifty contributors that helped us to build the site in 1996 to 2007.
---
Michael Barath
Michael was born in Wheeling, West Virginia, and later relocated to the Canton, Ohio area. He worked as a mountaineer, an asphalt technician, and a librarian before finally finding his niche as a behavior trainer with the Stark County Board of Mental Retardation/Developmental Disabilities.
Throughout his life, Michael has been attracted to the "B" words: bicycling, birding, ballet, while he has avoided the "C" words: commitment, cats, couches. That is, until he married, bought a house, and ran up debts. In his spare time, he dances with the Canton Ballet and rides with the Stark County Bicycle Club.
His bikes include a Trek 2300 road bike and an 8000 SHX mountain bike, with a T-200 tandem in the works. He lives in a little house with his wife (Deby), dog (Marley), cat (Romeo), and lovebird (Bouhdro).
---
Gianna Bellofatto (Reid)
Gianna is a freelance writer, columnist, playwright, and public relations professional. Life is a Bike© appears on The Bicycle Exchange and was nominated for the Pulitzer Prize in 2001.
Other writing credits include off-off-Broadway plays, short stories, articles in The Italian Tribune, Hudson Valley Life, and The Nyack Villager. Her new column "About Something©" runs in several newspapers throughout the US.
Gianna is a graduate of the great late Upsala College. She resides in Pearl River, New York, with her husband, Steve Reid, who is a sculptor. She is an avid cyclist, enjoys photography, and wants to keep riding and writing.
---
Harvey Botzman
Harvey has written seven bicycle touring guide books: 'Round Lake Ontario: A Bicyclist's Tour Guide; Erie Canal Bicyclist & Hiker Tour Guide; 'Round Lake Erie: A Bicyclist's Tour Guide; 'Round Lake Michigan: A Bicyclist's Tour Guide; 'Round Lake Huron: A Bicyclist's Tour Guide; Finger Lakes Bicyclist's Tour Guide; and Long-Distance Bicycle Touring Primer.
---
James Brink
James is a corporate attorney residing in Pittsburgh, Pennsylvania, who has been cycling for over twenty years.
He is a member of the Western Pennsylvania Wheelmen and the Wheeling Area Bicycling Club. Jim's two children, Lauren and Eric, are also budding cyclists. Jim pedals a 1982 Trek 620 and a Trek 820 Mountain Bike.
---
Robin Brown Broughton
Robin is a full-time faculty member at West Virginia State College, where she teaches speech and journalism courses. Her articles have been published in Mountain Bike Action, Velo News, and Bike Midwest magazines.
She and her husband Paul own Mountain State Bicycles in Hurricane, WV (888-757-0308) (halfway between Huntington and Charleston) and have been racing and riding mountain bikes for the past seven years.
Both she and her husband have done the 24 Hours of Canaan mountain bike race every year since its inception (with Robin missing one year's race due to pregnancy). Robin rides a Gary Fisher Team Issue mountain bike, and Paul rides a Jamis Dakar Team mountain bike. Their son, Tristan, received his first bike for his two-year birthday in April 1998.
---
John Stuart Clark
John lives in Nottingham, England. Best known in Europe as BRICK for cycling and political cartoons. Has traveled to every continent on the planet, except Antarctica. Travel articles have appeared in every major UK cycling magazine and in many elsewhere in the world.
Has also written on historical and social aspects of biking, and was the journalist who alerted consumers to the insecurity of D-locks back in the 1980s. Has had five books published, two of his travels and three of his cartoons. Contact JSC, a.k.a. Brick, through www.brickbats.co.uk.
---
Ellie Einhorn
Ellie is president of the Western Reserve Wheelers, a Cleveland area club. The Wheelers have been around since 1972 and Ellie is the first woman president. She describes herself as an "East Sider," hailing from Cleveland's eastern suburbs.
She works in a hospital and rides a customized Specialized bike. Ellie has three children and two grandchildren "AND THEY ALL BIKE!"
---
Alan Ira Fleischmann
Alan has been a serious cyclist since 1989, averaging 2500 miles each year. An accountant and freelance writer by profession, he has written books and articles relating to finance, science fiction, humor, and education.
He rides a Trek 1420 road bike and a Fuji mountain bike. He has lived in Connecticut, New York, and Boston, but currently resides in Scott Depot, West Virginia, which he describes as "You're either going uphill, or you've got a killer headwind!"
---
Rhona and Dave Fritsch
Rhona and Dave are originally from Peters Township in Southwestern Pennsylvania but have lived in Keyser, West Virginia since 1975. They are the parents of two children, daughter Kelly in Towson, Maryland, and Peter, a senior at West Virginia University.
They are hosting Kirsten Muller, an exchange student from Denmark through AFS for the 97-98 school year. Kirsten sampled American culture at the Midwest Tandem Rally in Columbus, Ohio on Labor Day 1997. Rhona is a special education teacher, Dave a special education administrator.
They have been bicycle touring together since 1989, primarily in group statewide tours. Other "big tours" have included a week-long tour in the Colorado Rockies, the Canadian Rockies, and most recently the Cabot Trail in Nova Scotia.
Their most challenging climbs include Red Mountain Pass in Colorado and Logan Pass in Glacier National Park. They purchased their first tandem in 1992 and the second after their cross country tour in 1996.
---
Greg Garrett
Greg is the author of the novels Free Bird and Cycling, and co-author of The Gospel Reloaded: Exploring Spirituality and Faith in the Matrix.
He has also written short stories, essays, articles, and reviews for magazines, journals, newspapers, and websites in the US, Canada, Australia, and New Zealand.
An avid non-competitive cyclist, Greg rides a hilly sixteen-mile course in his hometown of Austin, Texas, and particularly enjoys rides in the mountains and high plains of New Mexico.
---
Steven Gluck
Steven Gluck is a semi-retired entrepreneur/real estate investor who achieved independence at an early age. He has subsequently spent the last 17 years managing his investments, traveling extensively around the world, and writing.
He has written on spiritual and material opportunities the world has to offer. Topics include travel, meditation, stress reduction and ways to literally live a much richer life by saving money and cleverly managing your finances.
---
Jonny Hawkins
Jonny is a full-time, professional cartoonist whose home is Sherwood, Michigan.
His cartoons have appeared on over 250 publications, including widely read magazines like Reader's Digest, Guideposts, Boy's Life, Harvard Business Review, Forbes, and Barron's.
---
Chip Haynes
Chip is a graphic artist and everyday cyclist living in Clearwater, Florida with his wife (The Lovely JoAnn), and about twenty bicycles. Chip enjoys folding bikes, fixed gear bikes, and, well, just about every sort of bike, if only he had the time to ride them all.
His advice to cyclists: Keep your bike tires pumped. His advice to non-cyclists: When the oil runs out, they're all bike lanes.
---
George Hellinger
George is an IT manager for a manufacturing company in Columbus, Ohio. He became reacquainted with road riding in 1998, after a 15-year hiatus.
George enjoys riding centuries on his Trek Y-66 Foil and planned to ride between 2,500 and 3,000 in 1999.
---
Jill Homer
Jill is a graphic artist and part-time editor currently living in Salt Lake City, Utah. When she isn't working at a publishing company in Tooele, Utah, she likes to spend her time backpacking, hiking, canoeing, and, most of all, bicycling.
She recently completed a 3,200-mile self-supported cycle tour from her front door in Salt Lake to Syracuse, New York.
---
Geoff Husband
Geoff, ex-teacher, finally escaped Britain with Kate – long-suffering touring partner and wife – to Brittany, France in 1989 with a wild scheme to run lightweight cycle touring holidays.
Breton Bikes (www.bretonbikes.com) managed to find enough customers mad enough to take it on and still thrives today. In his copious leisure time, he has begun to expand into journalism and has been published in cycling magazines on three continents.
Spurred on by this he has become touring editor for Cyber Cyclist spending ever more time "farting about on the computer" as Kate puts it. Rides two Bob Jackson touring bikes, one green and heavy, one blue and whippy, and has played a small part in the production of three children which he now tows behind his green bike at every opportunity.
Spends an average of 10 weeks a year cycle camping all over France and much of the rest of the year helping others do the same. Claim to fame? Managed to lose 1-1/2 stone in 10 days whilst leading a tour in the Auvergne with a stomach bug and still managed the last col (on his knees).
---
James Johansen
James has been a serious cyclist since 1992, averaging 3500 miles each year. By profession a multimedia specialist with a Fortune 500 company who currently is in the process of promoting a chain of web-based cafes named WebTime_Cafe; he has been mountain bike racing for RidgeRider Bicycles in Fayetteville, West Virginia for the past 3 years.
James is published in Dirt Rag mountain bike magazine, front cover (0ctober–Halloween–1995 issue), and in BMW Automobile of North America Club Magazine with articles relating to multimedia and bicycling. He also does web site design consulting in his spare time.
He rides a Trek 2300 pro road bike and races a Cannondale KillerV mountain bike. He has lived in Seattle WA, Virginia Beach VA, Monterey CA, and Rockport ME. But call Lewisburg WV his home away from home.
---
Bill Joyce
Bill, as indicated in his story, was "Touched By An Angel," though–all seriousness aside–those of us (like Yours Truly, his brother the Editor) who know him best could argue that a few of the words in the title could be replaced with "In the Head." Bill, a.k.a. "The Alberta Clipper," has been known to do back-to-back English centuries from time to time.
In addition to his cycling exploits, Bill's a pretty darn good writer. His articles have appeared in numerous publications, including The Daily Californian and The Catholic Voice. A frequent traveler to Latin America, Bill's articles about children in El Salvador won him a National Catholic Press Award. When not cycling or writing, this citizen of Oakland, California is doing what he does best of all–teaching.
---
Jim Joyce 🏆
Jim is the editor and founder of The Bicycle Exchange. His articles (and photographs periodically) have appeared in the Pittsburgh Post Gazette, the Centre Daily Times of State College, Pennsylvania, the Penn State Daily Collegian, the Irish Edition, and All About Beer magazine; his letters have appeared in the Pittsburgh Post Gazette, Pittsburgh Magazine and the Pittsburgh Tribune-Review.
A Western PA native, he relocated to the Pittsburgh area in 1997, after an 11-year teaching career in Wheeling, West Virginia. He continues his teaching and, while he is very proud of The Bicycle Exchange, he is most proud of being a teacher.
---
Jerry King
Jerry is an award-winning cartoonist whose works have appeared in thousands of greeting cards, magazines, Web sites, books, newspapers, newsletters, and children's books.
His client list includes Disney, American Greetings, The United States Golf Association, and many others. Jerry's magazine credits include Better Homes and Gardens, Golf Digest, The Saturday Evening Post, National Enquirer, Woman's World, and hundreds of others worldwide.
---
Ford Kanzler
Ford lives in El Granada, California, south of San Francisco. He builds, refurbished, and rides bikes as a hobby and a sport.
---
Zander Kaufman
Zander is a freelance writer who lives in Southwest Iowa. He has been covering cycling related events in the Midwest for the past five years.
---
Audrey Knight
Audrey lives and rides in Austin, Texas. When she is not falling off her bike, she is usually sleeping or playing the role of an unambitious lawyer at the Attorney General's office.
Thus far, her publication credits have been limited to sleepers like The Review of Litigation, but she's working on changing that, thanks in no small part to The Bicycle Exchange.
Her athletic life began with triathlons–until she figured out that running is for the birds, or at least for people whose legs are not made of bricks. She hopes to try her hand at road racing soon, so keep your eye out for her: she'll be the girl trapped underneath her bike on the side of the road.
---
Cliff Krolick
Cliff is the founder and owner of the New England-based Back Country Excursions mountain biking touring center. One of the first and longest-running cross country touring facilities in the region.
Located in southern Maine, BCE offers trail riding, MTB vacation packages, special events, instruction, and biking adventure. For more info, visit www.bikebackcountry.com.
---
Dave Krupa
Dave is an avid cyclist and past proprietor of Cycle Sports in Cranberry, Pennsylvania, near Pittsburgh.
He is originally from nearby Beaver. Dave "leans toward mountain biking" and but "he enjoys all cycling."
---
Joe Kurmaskie
Joe, dubbed the "Metal Cowboy" by a blind rancher he encountered one icy morning in Idaho, has been addicted to the intoxicating freedom and power of the bicycle ever since he "borrowed" his big sister's banana-seat bike at the age of five.
As he careened down the neighborhood hill, much to his parents' dismay, Joe set in motion what has become a lifelong love affair with the road and the wheel. In his book, Metal Cowboy: Tales from the Road Less Pedaled, Joe offers up an infectious and big-hearted collection of true adventures and misadventures, chronicling his time touring America on his bike.
Check also the Ride Outside The Lines: International Incidents and Other Misadventures With The Metal Cowboy (Three Rivers Press – A Random House imprint). Besides being an author, Joe is a regular columnist for Bicycling, where his "Ask the Metal Cowboy" column appears. A native of Pittsburgh, Joe lives in Portland, Oregon, with his wife and two sons.
---
Bob LaDrew
Bob has been drawing 'Bonkers' cartoons for the Delaware Valley Bike Club newsletter for many years.
Before that, he was an editorial cartoonist with the Coatesville (PA) Record. He resides in Coatesville, Pennsylvania, between Philadelphia and Lancaster.
---
Bob Lafay
Bob is a self-taught cartoonist from Tujunga, California, who has viewed the sport of mountain biking through a cartoonist's eye since 1991. His cartooning career began when he was just 12 years old and he was told he could pass English class by drawing stories for his book reports because his writing was so bad.
Lafay has piloted hang gliders for over 23 years and published a book of cartoons on the subject. He has enough mountain biking cartoons for another book and is looking for a publisher. After 26 years of engineering for Lockheed Aircraft Corporation (commuting for the last 15 years on a road bike), Lafay took early retirement.
Lafay's travel adventures include riding from California to Pennsylvania on a road bike (and later on a Harley) as well as excursions to Europe, China, Cuba, Guatemala, and well over half the 50 states. Lafay's cartoons have been published in Hanggliding, Wire Donkey, Dirt Rag, and various newsletters, and to date, he's never missed a deadline. He claims the biggest benefit of mountain biking is that he met the love of his life, Margie, on a bike.
---
Ella Lawrence
Ella has just wrapped up her coursework at the University of Leiden in the Netherlands and will be returning home in June 2004 to graduate from the University of California, Santa Cruz, with a bachelor's in Cultural Anthropology.
While at UC Santa Cruz she served as the president of the university cycling team (go, Banana Slugs!), who have sent riders to take wins at collegiate nationals for the last three years (she wasn't one of those riders).
Her hobbies include cycle touring, racing road and cyclo-cross, learning foreign languages, reading in cafes, and writing. After she returns to the states she'll pursue a career as an art dealer and freelance writer or attend massage school with the hopes of becoming a soigneur for a pro team so she can touch bike racers' muscles all day long.
---
Jay T. McCamic
Jay is a lawyer by trade and rides a Burley Rock-N-Roll. He and his wife, Jimmie, head up a family of bicyclists in Wheeling, West Virginia. They love tandem riding.
---
Rodney Moseman
Rodney is the former owner of Bicycle World in Lititz, Pennsylvania. He's also a certified Reynolds 753 frame builder and his frames are built under the Moseman name.
He started building frames in 1976 and authored a five-part series on building a tandem frame in the early '80s in Double Talk, The Tandem Club of America newsletter. Since the sale of his shop, he still builds and repairs frames on a very limited basis (winter months).
---
Scary Gary Newcomb
Scary Gary lives with his wife in Orange County (Southern California Coast), where Extreme cycling is a year-round obsession.
Whether it be Downhill (Big Bear), Long Distance XC, ramp jumping, or just burning up the streets and boardwalks of Newport Beach, Gary is in his element. Restoring and customizing classic bicycles is his second addiction, which fills the few hours not spent in a saddle.
---
Ed O'Keefe
Ed, known as the "Pro's Pro," played volleyball at Marycrest International University where he was a four-year captain, and won many MVP awards and conference championships.
He has coached at all levels of volleyball. He consults with athletes of all levels teaching them how to focus, concentrate, and enter The Zone through mental training and conditioning.
Among his many clients have been Indiana University, Loyola University, University, Elaina Oden (1992 Olympian), Anne Eastmon (the United States Professional Volleyball League), Yang Zhe (USPV), and Erik Pappas (former St. Louis Cardinal/Chicago Cub).
Ed has created a one-tape program, "Focus Like A Champion," and a four-tape tape program, the "Ultimate Mental Training Program For Athlete: Secrets For Speed Mental Toughness." Ed speaks to corporations, athletic departments, and works with individuals one-on-one. Ed enjoys taking his Schwinn (Mesa) Mountain Bike on the trail by Lake Michigan in Chicago, where he is the 12th of 13 children.
---
Alice Owen
Alice is a writer and environmental manager, originally trained as an engineer, who moved to Vancouver in 2004. Born in the far southwest of England, she slowly migrated north through what she believes (now that she lives in Canada) to be a very small, but hilly, country, ending up in Yorkshire on the edge of Ilkley Moor, where she discovered she really didn't like technical mountain biking AT ALL!
She believes, however, that cycle touring is the only way to have a great holiday and had toured in England, Ireland, Scotland, Wales, France, and Spain before deciding that she couldn't face another wet British winter.
This decision led to spending the end of 2003 and beginning of 2004 cycling 2,000 miles around New Zealand's south island. She is the stoker on a Dawes Kalantar tandem, piloted at speed by her husband, Mark, who bought the tandem when he had enough of getting cold at the top of hills, waiting for Alice to catch up.
---
Jerry Pearl
Jerry, a resident of Moon Township, Pennsylvania, is an avid mountain bicyclist and runner. He works as an occupational therapist.
His interests include being outdoors, enjoying the natural environment that "we are so fortunate to have at our disposal."
---
Charles Pekow
Charles is a Washington, DC writer and bicyclist who has written articles on cycling for The Washington Post, Dirt Rag, Cycle California!, Utah Cycling, Crankmail, Oregon Cycling, and SPOKES.
He has also written for many other publications including Baltimore Magazine, The Washington Monthly, In These Times, and Working Mother. He won the Washington Writing Prize for a best freelanced article of 2002, given by Washington Independent Writers, among much other professional recognition.
---
Dale Porter
Dale is the Editor of Spoke Notes, the newsletter of the Mountain State Wheelers Bicycle Club, based in Charleston, WV. He is past Vice President of the club and he frequently designs and maps the Wheelers' organized rides.
He is also Associate Director of the Office of Epidemiology and Health Promotion of the West Virginia Bureau of Public Health. He resides nearby Charleston in Dunbar, West Virginia.
---
Amy Queen
Amy is an impressionist painter who sculpts landscapes, portraits, and still lifes two-dimensionally with oil paint. Her love of light and color frees her to recreate objects with vibrant colors and vibrating light patterns.
Because of this love, she has studied with renowned artists Dawn Whitelaw and Anne Templeton. Amy's art is currently being featured in several galleries across the southeastern United States.
Amy is originally from North Carolina. She moved to Nashville, Tennessee, to study art. After graduating from David Lipscomb University with a degree in Graphic Design, she decided to stay in Nashville for some time to enjoy the beautiful landscape around it, taking occasional trips to North Carolina for painting excursions.
She recently was able to move back to her native North Carolina and now calls Statesville her home.
Amy now paints for individuals and businesses, specializing in framed, ready-to-hang art as well as striking wall murals.
---
Rick Price
Rick, Ph.D. in Cultural Geography, and his wife, Paola, are the owners and founders of ExperiencePlus! bicycle and walking tour company.
Together, they have walked and bicycled throughout Europe for the past 30 years, exploring local cultures and collecting stories. They have drawn from these experiences in creating their tours, which focus on the culture, history, and geography of the countries that we visit.
---
Charmaine Ruppolt
Charmaine lives in Alexandria, Virginia. She "swims with the sharks" as a legal secretary in Washington, D.C. She is an avid cyclist and has been a bike commuter since the 1980s. She owns four bikes at home (which includes the folding bike, Bike Friday), and bikes to work every day unless there's lightning or over three inches of snow.
She has biked cross-country and goes somewhere new every year on bicycle vacations. Other outdoor activities she enjoys are kayaking and cross-country skiing. Indoors, she enjoys the hobby of stained glass, which includes commissioned pieces. She lives with her roommate Melinda, and their two cats, Rocky and Blue.
---
Theresa Russell
Theresa lived with her husband and children in the flatlands of northwestern Ohio before moving to Upstate New York. She began cycle touring in 1986, planning a month-long trip to New Zealand for an experiential learning program at the school where her husband, Robert, taught.
She's returned to New Zealand three additional times for the same program and has also organized similar trips to Baja and the Yucatan. She and her husband authored the Midwest Edition (Ohio, Michigan and Indiana) of the Abacus Press Bed, Breakfast & Bike series (available via www.anacus.com).
In addition, she contributes to several national magazines. She is working on a guide to cycling in the Yucatan (Mexico).
---
Mary Lou Safran
Mary Lou describes herself thus: "Having resided in Ohio my entire half-century of living, I am a registered nurse by profession but am currently enjoying life by journeying America's breathtaking roads by means of a bicycle.
My 21-year-old Julie, a physical therapist, accompanied me on my 1996 'transcontinental' from Los Angeles to Cape Henlopen, Delaware." Mary Lou lives in Cortland, Ohio.
---
Jim Saulters
Jim, a.k.a. The Curmudgeon, writes the monthly column, Dirty Thoughts, for the Mountain State Wheeler's Spoke Notes. He likes to "hike, canoe and cross country ski" but his "biggest love is mountain biking."
He has been riding off-road since 1983 but still likes to ride on the road. He has an older road bike and a Schwinn Paramount with a "groupo mongrel" on it. He lives in St. Albans, West Virginia.
---
Andy Singer
Andy is a 4-armed, six-legged alien from the planet neptor. His multiple arms enable him to be a prolific cartoonist, while his huge jaws enable him to capture, crush and consume his favorite foodstuff–Sport Utility Vehicles.
He can often be seen riding around California on his 3-person tandem bicycle. Check out his website at www.andysinger.com.
---
Neal Skorpen
Neal spends most of his time in the basement, seeking The Perfect Brushstroke. His cartoons appear in humorous papers, alternative journals, and cycling magazines across the country.
He also teaches computer graphics at The Art Institute of Portland. He has finally purchased real biking clothes, although he still wears the silly skull helmet. Visit his website at www.nealskorpen.com.
---
Daniel Smiechowski
Daniel is a former Public School Teacher in San Diego County. He has the dubious distinction in futility having run unsuccessfully for Public Office every two years since 1992. As a child, Daniel attended the American Dependents School in La Baule Les Pins, France where he rode his bicycle.
He has subsequently made eighteen trips to France having completed the Nice Triathlon, La Baule Triathlon, and French Overseas Department…Reunion Island Triathlon. Daniel graduated from San Diego State University and attended the University of Paris, France.
His political commentary and features have appeared in The San Diego Union-Tribune, North County Times, La Prensa San Diego, and at least 20 other publications. Daniel currently works in Real Estate in La Jolla, California.
---
Mason St. Clair
Mason is 76 years old and has been a bike commuter ever since 1977. He has some two dozen bikes in his shed, builds his own wheels, and does his own mechanic work. He works part-time as a water quality biologist with Nashville's (TN) Metro Water Services.
He spent 50 years as a government biologist, (local, state, and federal USEPA). He "put the BURR in Bureaucrat." He's been cranking out the Wire Donkey Zine ever since October of 1991. He's written some 1,000 limericks and clerihews.
He can't stand recumbents, loves one speed, but also has and loves touring and racing bikes (he's got a Colnago Super that goes back to 1978). "Take care and keep those wheels a-rolling'."
---
Bradley Swink
Bradley is a writer who works for a Fortune 500 company. A former competitive triathlete, biathlete, and bicycle racer, Bradley spend most of his free time these days fly fishing Pennsylvania's majestic rivers and streams.
He has edited numerous regional fitness-oriented magazines and currently serves as the Communications Director of the UPMC Sports Medicine Pittsburgh Cycling racing team. Bradley and his wife Michele reside in Springdale, Pennsylvania.
---
Andy Wallen
Andy is president, salesman, and technical consultant at Wheelcraft Bicycles in Wheeling, West Virginia. He and his wife, Cindy, operate the business and have two children. Andy has been in and out of the bicycle business since 1983.
He has taught music in public and private schools and has tutored homebound students. He is a part-time musician and wannabe mountain bike racer.
He has logged tens of thousands of miles on his 1986 vintage Cannondale racing bike, and really likes his 1995 Gary Fisher Procaliber, Ltd. ("just like Paolo Pezzo's"). He is also the "Andy" of this website's Ask the Mechanic column.