Best Electric Touring Bikes for Your Next Adventure
Bicycle touring has been around for hundreds of years, with some of the earliest records dating back to the 1800s.
Long before cars and motorbikes were invented, people would use bicycles to tour long distances, sometimes across entire continents. Typically, this was done on slow, old steel-framed bikes and required a high degree of patience and fitness.
Nowadays, with recent improvements in electric bicycle (eBike) technology, a new wave of touring eBikes has emerged.
What Are Electric Touring Bicycles?
E-Touring bikes can take you to desired locations with way smaller effort. Like any other electric bike, a touring/trekking eBike features a rechargeable battery and an electric motor connected to the rear hub or crankset.
Bicycle touring is by far the best way to travel and experience the world on two wheels. Touring bikes allows you to ...
While many touring bike purists might balk at the idea of having electrical assistance, for some people it's a necessity due to injury, old age, or poor fitness.
In most cases, the electric motor doesn't fully propel the bicycle like on a motorbike but rather provides pedal assistance, making it easier to pedal and taking pressure off the knees.
In the case of touring, where heavy loads are usually involved, or long century rides, this little bit of assistance can make a huge difference.
---
Best Electric Touring Bikes in 2022
---
#1 Diamondback – Current
A nice class 3 e-bike for gravel riding and touring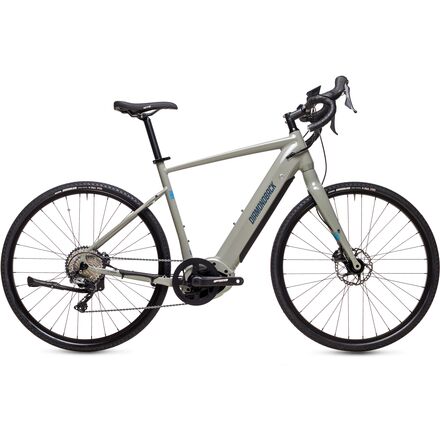 Price: $4,100
The Diamondback Current is a mid-drive electric bike that saddles the gap between gravel and touring.
The combination of 40mm tires, stable geometry, and common touring features like rear rack and fender mounts give this bike its versatile capability.
With speeds of up to 28mph, it's the perfect touring eBike for the more adventurous riders out there. If you are looking for the best electric bike for camping and long-distance touring, the rigid frame Union 1 might be the answer to your needs.
Maxxis Rambler 700c x 40mm tires
Wide, treaded tires like these give the Current an off-road capability that exceeds most other touring eBikes. It is considerably more comfortable on rough surfaces and super efficient over long distances. Maxxis tires are famous in off-road biking for their durable qualities and high performance.
Aluminum frame
The Current features a 6061 T6 aluminum frame with internal cable routing for a clean appearance and better protection. The fork is built from the same durable material and has thru-axles. The integrated Bosch PowerTube 500Wh battery conceals neatly into the downtube and can be removed for easy recharging overnight.
Shimano GRX 810 11-speed
The wide-range Shimano GRX 11-speed 11-42t cassette is geared towards long-distance and loaded touring, providing easy pedaling on most gradients. As an gravel-focused gearset, it provides smooth, reliable shifting without locking up or dropping out.
Shimano GRX 810 hydraulic brakes
A popular choice amongst all manufacturers, the ever-reliable Shimano GRX 810 won't let you down, come rain or shine. With a 180mm rotor in the front and 160mm in the rear, they stop with excellent power and reliability.
---
#2 Cannondale – Treadwell Neo 2 EQ
Best electric bike for short tours and commutes
Price: $2,175
The Cannondale Treadwell Neo 2 EQ is an electric bike with a frame perfectly suited to touring. With thick-treaded 47mm tires, this bike is clearly intended for mixed-terrain riding.
250W Hydrive MRC-250
The 250W Hydrive MRC-250 motor is situated at the rear hub, providing 40Nm of torque into the drivetrain while you pedal. As a Class 1 pedal-assist motor, it can take you up to 20 mph, making it ideal as a light touring bike.
250Wh lithium-ion battery
The modest 250Wh battery will provide up to 47 miles of pedal-assist power on a single charge. Pop the battery on charge and it will be full in five hours. This battery makes the Treadwell an excellent commuter or light electric touring bike.
Aluminum frame
Unlike most standard bicycle frames, touring bikes and electric bikes require a more robust design built from stronger materials. The Cannondale Treadwell Neo 2 EQ is formed from SmartForm C3 Alloy with a tapered head tube and internal cable routing.
Hydraulic disc brakes
Any experienced cycle tourist will tell you that decent brakes are a necessity not to be overlooked. When hurtling down a steep descent packed with all your life's possessions, the last thing you need is your brakes failing you. Tektro's HD-R280 hydraulic disc brakes are a tried and tested staple in the eBike industry, trusted by thousands of manufacturers for their consistent reliability.
---
#3 Gazelle – Ultimate C380 Plus
Women's electric commuter bike for touring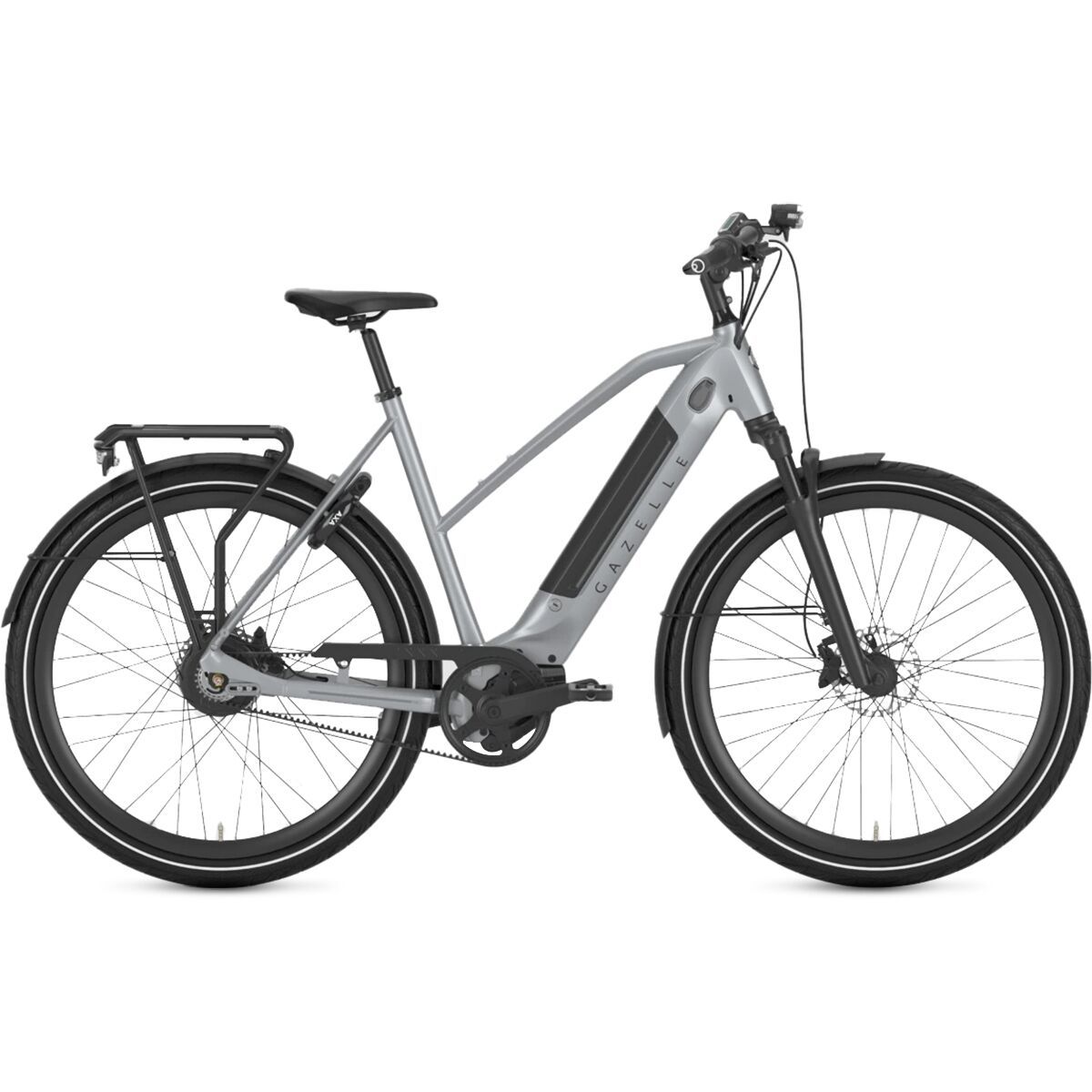 Price: $4,749
The Gazelle Ultimate C380 Plus is an electric city bike with a difference – it uses a Gates belt drive system, which means no chains, no cogs, no grease, and extremely low maintenance. For bicycle touring, this is a great addition as it means far less hassle, fewer cleaning requirements, and less chance of breakdowns.
Bike weight: 54.6 lbs
Weighing in at a moderate 54.6lbs, the Gazelle Ultimate C380 is lighter than it looks. Despite a long-range battery and powerful motor, Gazelle manages to keep things light with an aluminum frame.
500 Wh, 13.4 Ah battery
The 500Wh battery balances a fine line between weight saving and capacity, providing power for up to 70 miles on Eco mode. If you need a bit more punch, it also has Tour, Sport, and Turbo mode.
Motor: Bosch Active Line Plus 3.0 (50Nm)
The Bosch Performance Line 3.0 mid-drive motor pushes out 65Nm of torque, slightly more than the standard found on most Class 1 eBikes. This gives the Gazelle a bit of edge over the competition, especially when climbing hills fully laden with luggage.
28″ wheels
Another unique feature of the Gazelle Ultimate C8 is the 28″ wheels, an uncommon size description in the cycle touring community. This size measures the same as 700c or 29″ wheels. They're wrapped in Schwalbe's eBike specific Energizer Plus puncture-resistant tires.
---
#4 GT EGrade Current
Best electric city bike for hills
Price: $3,300
GT EGrade Current is no ordinary eBike – equipped with everything you need for city riding or bike touring. If you plan on touring on roads and light off-road terrain, this GT e-bike will get you there and then some.
The Ebikemotion 250Wh battery seamlessly integrates into the frame and is easy to lock and remove. On top of that, the incredible Ebikemotion X35 250W motor delivers plenty of power, catapulting you and your luggage up rocky paths and gravel tracks. Torque sensors in this mid-drive motor ensure it delivers super smooth power at all times.
Naturally, with this amount of speed, you're going to need some serious stopping power, which is why GT has chosen Shimano's unbeatable hydraulic disc brakes. With 160/160mm rotors, these brakes won't let you down come rain or shine.
GT has also included a reliable 10-speed microSHIFT drivetrain. With a max cog size of 48T on the rear cassette and a 40T chainring, you get an impressively wide range of gears for an electric bike.
---
#5 Quietkat – Ranger
Off-road touring bike with an integrated rack and huge power
MSRP: $3,499
The Ranger e-bike by Quietkat is a highly versatile bike built for long-haul adventuring off-road and everything you need for commuting.
Each of the components has been carefully selected to ensure a high-quality ride experience on harsh terrain along with comfort and power over long distances.
Aluminum 6061 Frame
QuietKat frames are built using 6061 aluminum alloy. Due to rigorous testing, this frame perfectly balances strength and stiffness with high-end durability while keeping costs down.
750W or 1000W Geared Hub Motor
This motor delivers tons of power and torque to make hill climbing and pulling a full payload seem easy. This type of motor is the best you can get before upgrading to mid-drive motors.
614Wh Battery
The Ranger uses a medium-size battery to deliver max ranges of around 48 miles on one charge. This battery could be a little bigger to support longer days spent touring.
7-Speed Drivetrain
This bike has a reliable SRAM drivetrain which allows you to maximize your battery and get the longest range possible by having enough gear options for uphill and downhill riding. It also has fast and accurate shifting.
Tektro Mechanical Brakes
Riders of the Ranger can have trust in the powerful 203mm rotor mechanical disc brakes by renowned manufacturer Tektro. This system provides smooth braking with a very fast response time, rapid heat dissipation, and automatic motor power-off function upon braking. This significantly reduces braking distance.
---
#6 Benno – RemiDemi 10D Sport
Price: $4,099
The Benno RemiDemi 10D Sport is a cargo electric bike that would make a solid eTouring option for those who want to carry huge loads over diverse terrains. This is a quality bike throughout, from the Bosch Performance Sport motor to the Duro 4.25″ fat tires.
400lb Capacity and 65lb Weight
Coming in at 65lbs, the Benno RemiDemi is by no means the lightest bike on the market but feels comfortable as a touring eBike. This sturdy build is necessary to support the huge payload capacity of 400lbs.
4130 Chromoly Steel Frame
The Chromoly steel frame uses a convenient step-thru design for easy mounting without sacrificing strength and rigidity. The shock-absorbent characteristics of the steel provide extra comfort and durability.
Duro 4.25″ tires
The RemiDemi 10D Sport is capable on roads or off-road terrains with huge fat tires. These tires provide plenty of comfort, traction, and durability on any surface you encounter, including snow, sand, and mud.
Max Speed 28mph
As a class 3 pedal-assist bike, the 250W Performance Sport motor is limited to a maximum speed of 28mph. This is supported by a 400Wh Bosch battery and a Shimano Sore/Acera 9-speed drivetrain.
---
#7 Marin Sausalito E1
PRICE: $2,499
The Marin Sausalito E1 isn't officially an eTouring Bike, but it provides an affordable alternative with the capability to transform into a touring bike. It's supported by a Series 3 aluminum alloy frame and powered by a Shimano STEPS motor and battery, it's ideal for short-to-medium distance tours.
Shimano 250W/40Nm Motor and 418Wh battery
The 250W Shimano STEPS E5000 motor packs a decent punch and provides 40Nm of torque and 200% of pedal assistance. As a Class 1 pedal-assist bike, you get speeds up to 20mph.
The Sausalito E1 is powered by a 418Wh Shimano battery which will give you up to roughly 70 miles on a single charge in Eco mode.
Hybrid bicycles are one of the most convenient styles you can buy. Add an electric-powered motor, and you've got an ...
Aluminum Frame and Fork
Despite its deceptively low weight, this electric bike has a strong aluminum alloy frame. To fit riders of all ages, the frame conveniently comes in four sizes fitting riders 5'2″ to 6'4″.
Shimano Deore 10-speed Drivetrain
For easier pedaling on steep ascents or when heavily loaded, the bike features a 10-speed Shimano Deore drivetrain with an 11-46T cassette. It may not be Shimano's top-quality setup but is more than sufficient for a medium-distance electric touring bike.
Tektro HD-M275 Hydraulic Disc Brakes
These hydraulic disc brakes from Tektro are an excellent addition to such a well-priced bike. They provide solid stopping power in any weather conditions, which is a necessity on an electric touring bike.
---
#8 Cannondale – Topstone Neo SL 2
A classical Cannondale electric gravel bike that's ideal for touring
Price: $3,600
The Topstone Neo 5 is a Cannondale electric bike built for long-distance rides across varied terrain. Loaded with mounts for a rear rack, fenders, bottle cages, and other storage, it's perfect for adventures.
SmartForm C1 alloy frame and carbon fork
The solid frame is built from Cannondale's proprietary SmartForm C1 Aluminum alloy, with a carbon fiber fork – the perfect combination of strength, responsiveness, and comfort. It includes multiple mount points for racks and bottle cages plus internal cable routing for a smooth appearance and better protection.
Shimano GRX 600 11-speed
Gearing consists of Shimano's gravel GRX groupset, with an 11-speed cassette and 42t crank. This setup offers a wide range of gears but with help from the Bosch Performance Line Speed 85Nm motor, you'll hardly need them.
Shimano GRX hydraulic disc brakes
To complete the Shimano GRX groupset, you also get a GRX hydraulic disc brake set. With 160mm rotors, these brakes will ensure you won't have any trouble stopping even in wet weather.
Bosch 85Nm motor
The Bosch Performance Line Speed 85Nm motor is one of the most powerful in electric touring and it's well-known for being tough and durable. With 85Nm of torque, it performs adequately on steep ascents and will power you along at up to 28mph on flats.
FAQ
---
What defines an electric touring bicycle?
Long-distance electric bike = E-Touring Bike?
– Not true. Long-distance eBikes are generally bicycled with an estimated range of 60mi and over. Touring bikes on the other hand are characterized by the accessibility to add racks and panniers to the bike. Therefore, a long-range electric bicycle can also be an electric road bike.
Technically, there is no specific set of conditions required to call a bicycle a touring bike. Although some manufacturers make touring-specific bikes, any bike that somebody chooses to tour on is, by default, a touring bike. However, there are certain features that you will commonly find on most touring bikes that make them comfortable and strong enough for long-distance riding.
For extra strength, many touring cyclists choose a steel frame with lots of mount points and a comfortable upright seating position. These are usually similar to road bike frames although some bikepacking bikes use MTB style frames. For steep hill climbs and strong stopping power on descents, touring bikes usually have a wide gear range and powerful disc brakes. Handlebars can either be dropped or straight but the more hand positions the better.
Other common extras include pannier racks, mudguards, lights, dynamos, and thick puncture-resistant tires.
Are gravel eBikes the same as e-touring bikes?
Gravel bikes are closely related to touring bikes but lack the comfort factor that one would expect from a touring bike.
Road bikes and mountain bikes may dominate the cycling scene but in between these two extremes, you'll find several ...
Are touring bikes good for commuting?
Many people use commuting bikes for touring and vice versa since they usually have many of the same qualities. If you already own a touring bike, it would make an ideal commuter since it's strong, comfortable, and likely has the racks, mudguards, and lights. However, it wouldn't make sense to buy a touring bike specifically for commuting as they are usually more expensive than regular commuter bikes.
EBike Classifications – Throttle vs Pedal-Assist
Electric bikes are classified into three classes
Class 1 eBike – Pedal-assisted electric bikes.
Motor limited up to 750W, speed to 20mph.
Class 2 eBike – Electric bikes with a throttle.
Motor power limited up to 750W, max assisted speed of 20mph.
Class 3 eBike – Pedal-assisted, and optional throttle options available.
Motor power limited to 750W, speed limited to 28mph.
Class 4 eBike – An electric bike with pedals.
Either the motor power is 750W or over, or the assisted speed exceeds 28mph.
Is it worth buying an eBike?
For many people with injured or weak knees, an eBike is the only option if they wish to keep cycling. In this sense, eBikes are certainly worth it for people who may not be able to continue cycling otherwise.
In recent years, eBikes have dropped in price drastically due to improvements in technology. Additionally, they now benefit from longer-life batteries, lighter frames, and stronger motors. For this reason, modern eBikes offer excellent value for money as they are long-lasting, durable, and affordable.
Do electric bikes charge when you pedal?
No, despite a widespread belief that they do, electric bikes don't actually charge while you pedal. The resistance required in the pedals to create enough charge would negate any additional benefit provided by the motor.
However, some electric bikes do have regenerative braking which uses continuous forward motion when braking to feed charge back into the battery. With this system, you could feed quite a lot of energy back into the battery if you were going down a long descent.
How long does the battery last on an electric bike?
The batteries on electric bikes vary greatly between models and the length they last depend on how hard and how frequently you pedal. Most batteries will take you between 40-60 miles (64-96 km) on a single charge – enough to last a whole day riding.
Batteries will need to be replaced after a few thousand cycles (recharges) depending on the type of battery. Lithium batteries are the best, with up to 1000 cycles, with nickel and lead batteries giving only half that or less.