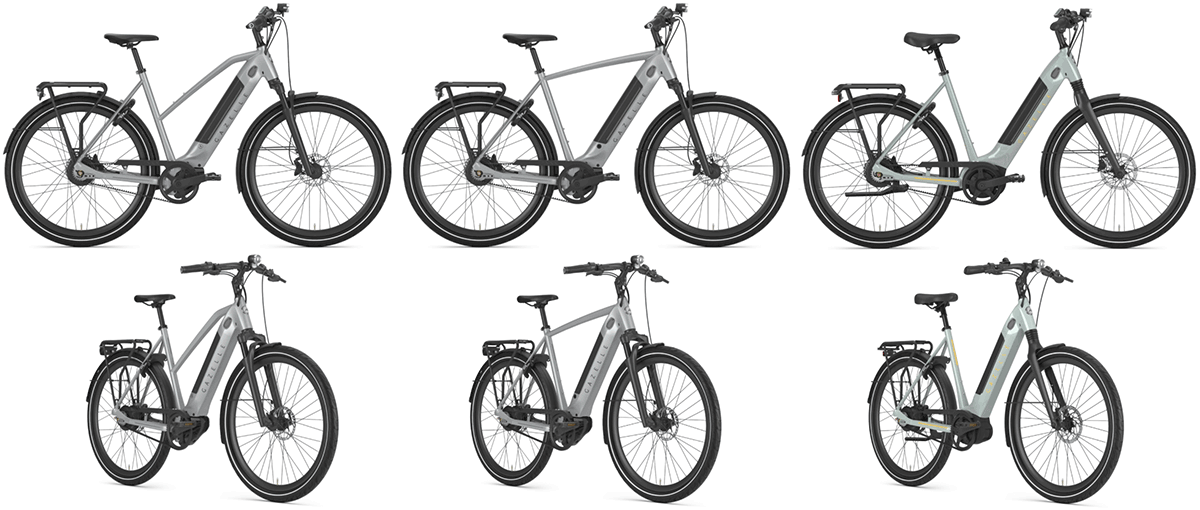 Royal Dutch Gazelle is a hugely successful and long-running (1892) manufacturer of bicycles. In the Netherlands, the company is a market leader, and they sell a vast number of bikes outside of the country making them one of the most successful Dutch bike brands internationally.
10-year frame warranty

125+ years of experience

Manufactures 250 000 bikes per year
---
About & History
In 1992, on Gazelle's 100th anniversary, they produced their eight millionth bike and were awarded the "Royal" title by Princess Margriet in honor of our 100 years in business. Additionally, In 1996, the brand created the "Gazelle quality system," certified in accordance with ISO-9001 norms.
In October of 2005, the company's 12 millionth bicycle, the Gazelle Easy Glider, was released. The first to introduce electronic pedal-assist technology into the Gazelle product range.
Gazelle Bikes prides itself on making stylish, safe, comfortable, and long-lasting bicycles built for daily life. In addition, they aim to continuously innovate while providing the best service so you can carry on riding.
Their bikes come with convenient step-through frames to allow easy use by all riders, powerful and smooth mid-drive motors, and come fully equipped with everything you need for urban riding, including fenders, racks, lights, bells, locks, and kickstands.
At their factory in Dieren, around 450 employees produce more than 275,000 bicycles each year, and in 2015, they expanded to open a second factory.
The original factory is now home to the Innovation & Production Center. In addition, Gazelle built a new assembly shop between the existing factory buildings and the historic main building. The company's assembly lines and the automated paint shop are in this new assembly building.
Customers will be glad to know that each bike is put through over 129 different tests in Gazelle's test lab, ensuring the highest quality standards possible.
---
Gazelle Bikes Range
---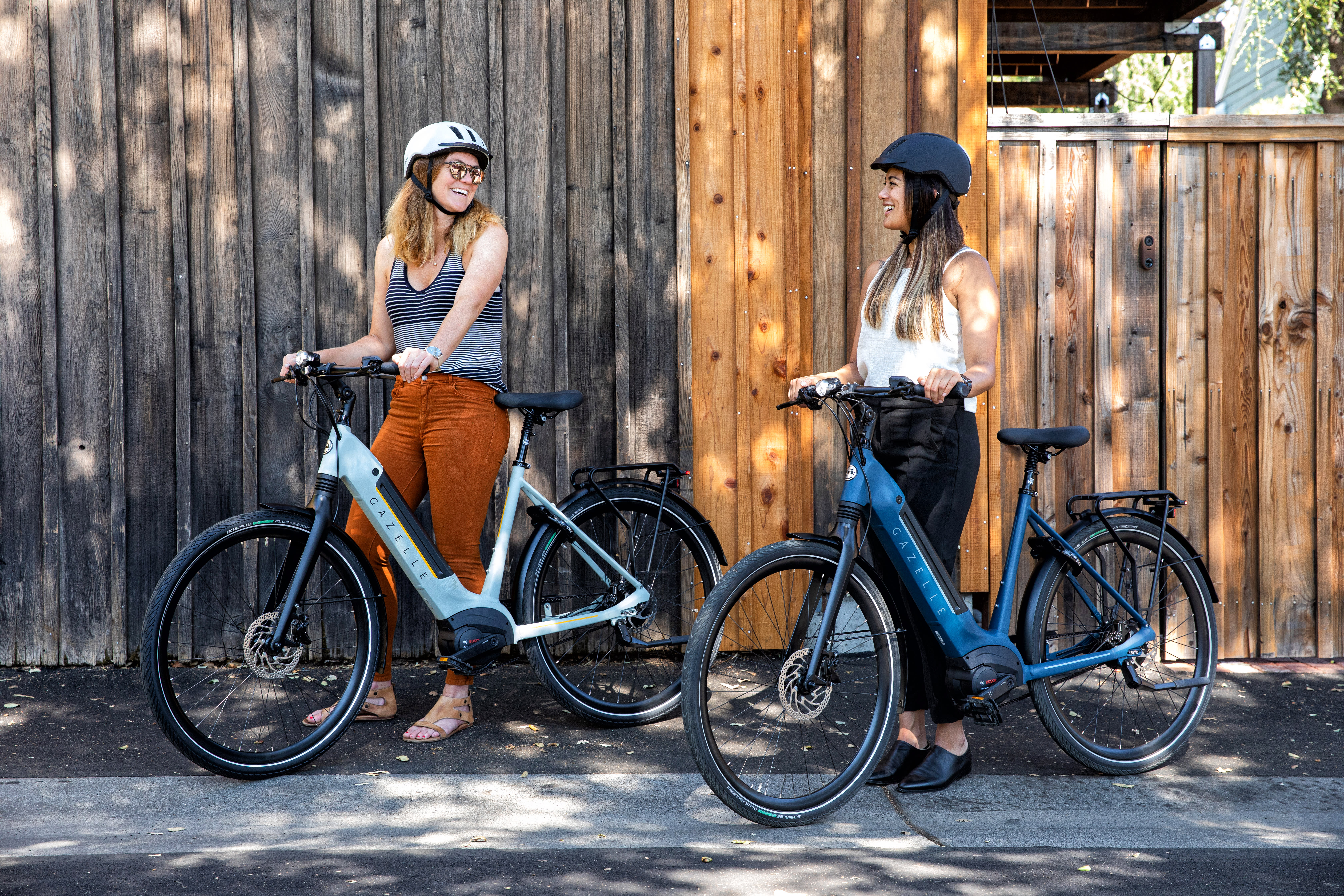 E-Bikes:
Gazelle Ultimate
Gazelle Medeo
Dutch Bikes:
Gazelle Tour Populair
Gazelle e-bike abbreviations:
T9 – Transmission 9-Speed
T10 – Transmission 10-Speed
C8 – Continuously Variable Transmission with 8 Internal Gears
C380 – Continuously Variable Transmission with 380% Gear Range
HMB – Hybrid, Mid-Drive, Bosch Technology
HMS – Hybrid, Mid-Drive, Shimano Steps Technology
HFP – Hybrid, Front Hub Motor, Panasonic Technology
HFB – Hybrid, Front Hub Drive, Bafang Technology
+ (plus) – Class 3 eBike with top assisted speed of 28 mph. Without the '+' sign the top assisted speed is 20 mph.
---
Gazelle Ultimate eBikes
---
Gazelle offers its Ultimate e-bikes with three types of drivetrains:
Enviolo 380 Stepless Shifting
10-Speed Shimano Deore
Internal 8-Speed Shimano Nexus
Gazelle Ultimate T10
40mm travel on the head tube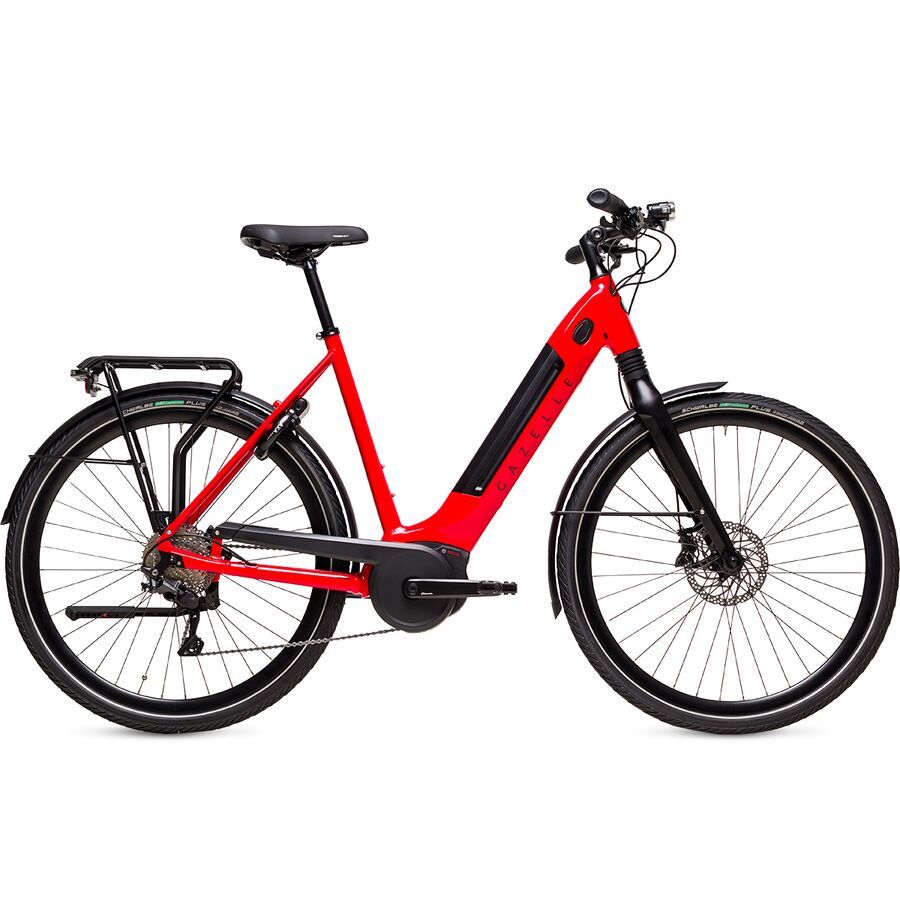 MSRP: $3,999
Aluminum Low-Step Frame | 500W Bosch Performance Line 3.0 Motor, 65Nm | 4 Pedal-Assist Modes | Max Assisted Speed: 20mph
Suspension: Suntour Mobie 45, 40mm travel
10-Speed Shimano Deore
Hydraulic Disc Brakes
28″ Schwalbe Energizer Plus Tires
Weight: 51 lbs
The Gazelle Ultimate T10 HMB is a mid-range trekking dutch electric bike with a high-end ride feel thanks to innovative design and careful component selection.
This bike has two defining characteristics, comfort, and versatility. The components which contribute to this ride quality include the integrated front fork with 40mm of travel, smooth-rolling 28″ Schwalbe Energizer Plus tires with 3mm GreenGuard puncture protection, curved handlebars with ergonomic grips, a plush Selle Royale Loire saddle, and upright geometry.
For power, you have a Bosch Performance Line 3.0 motor with 65Nm torque, which provides smooth power thanks to torque sensing. This is backed up by an integrated 500Wh Bosch battery to provide power for long-range rides with top speeds of 20mph. Additionally, you have a 10-speed Shimano Deore drivetrain to help you get the most from your battery.
Finally, this Gazelle eBike has powerful four-piston hydraulic disc brakes and is fully equipped with the rack, fenders, and lights, making it a complete bicycle for almost any occasion.
---
Gazelle Ultimate T10+
MSRP: $4,199
Mid-Step Frame
Max Torque: 85Nm
Max Assisted Speed: 28mph, Class 3 eBike
Suntour Mobie 45 Front Suspension, 80mm travel
The Ultimate T10+ mid-step Gazelle e-bike is a high-power choice with modern geometry and a stylish yet complete design.
To take the standard Ultimate T10 to the next level, Gazelle has included a premium Bosch Performance Line Speed motor with 85Nm of torque to deliver supersmooth max speeds of 28mph, making it a Class 3 e-bike.
This motor combined perfectly with a stylishly integrated 500Wh Bosch battery to provide long ranges. In addition, a Shimano Deore 10-speed drivetrain helps you get the most from your motor and battery.
With the T10+, you can be confident of a smooth and controlled ride on urban roads or light trails. The components that help accomplish this include an 80mm travel Suntour fork, 28″ rims with Schwalbe Energizer Plus tires for grip, rider-facing handlebars, soft contact points, and powerful Shimano hydraulic disc brakes.
Finally, to ensure this bike is ready for any job, Gazelle has fitted it with a rear rack, fenders, kickstand, and integrated LED lights.
---
Gazelle Ultimate C380
MSRP: $4,249
Aluminum Low-Step frame
Max Torque: 65Nm
Max Assisted Speed: 20mph
Gates Carbon Belt
Enviolo Manual Stepless Gear System
Weight: 55 lbs
The Ultimate C380 HMB Gazelle Dutch bicycle is a premium long-range e-bike with one of the most efficient drivetrains available on the market.
Starting with a stylish low-step aluminum frame, the Gazelle Ultimate C380 HMB gets better and better. The drivetrain used is a Gates belt drive and Enviolo 380 trekking internal gear hub combination, which runs essentially maintenance-free and with almost no reduction in efficiency over time. Additionally, the system is quieter and cleaner than traditional drivetrains.
For power, you can rely on a Bosch Performance Line 3.0 motor with 65 Nm of torque. This motor delivers smooth and reliable pedal assistance, which makes any Hill feel flat. Using a 500Wh integrated battery, writers can expect huge ranges of up to 70 miles.
Gazelle chose Shimano Deore hydraulic disc brakes, Schwalbe Energizer Plus urban tires, integrated fork, seat tube suspension, and a relaxed, upright riding position with comfortable contact points to ensure excellent control and comfort. Finally, a fully equipped setup makes for a perfect commuter or touring companion.
Buy from Backcountry Read Our Full Review
---
Gazelle Medeo eBikes
Prices from $2,599 to $3,699
Frame Types
High-Step
Mid-Step
Low-Step
With the Medeo range, like the Ultimate, you can choose from has three different frames. These choices provide varying levels of comfort, convenience, and performance in use. The low-step is the most comfortable and the least performance-focused, the high-step offers the opposite, and the mid-step provides a balance.
Gearing Options
10-Speed Shimano Deore
9-Speed Shimano Acera
20mph vs 28mph
Depending on your preference, the restrictions in the area where you live, and your needs as a rider, you will choose between a bike with max assisted speeds of 20mph or 28mph.
A 20mph limit without a throttle is a Class 1 e-bike, while a 28mph limit is a Class 3 e-bike. To find out more about your State's restrictions, visit PeopleForBikes.org.
Gazelle Medeo T10
MSRP: $3,199
Aluminum Mid-Step Frame
Bosch Performance Line 3.0 Motor, 65 Nm
Max Assisted Speed: 20mph, Class 1 eBike
4 Pedal Assist Modes: Eco, Tour, Sport, Turbo
Max Range: 70 miles
Hydraulic Disc Brakes
29″ Schwalbe Big Apple tires
Weight: 50 lbs
The Gazelle Medeo T10 Netherlands bike is a more affordable alternative to the Ultimate model using lower-tier components while taking advantage of Gazelle's design excellence.
This Class 1 e-bike has the same premium electronics as the more expensive models starting with a Bosch Performance Line 3.0 motor with 65Nm of torque. This smooth and efficient mid-drive motor provides reliable power makes any hill feels as flat as Holland.
The Bosch 500Wh integrated battery delivers between 25 and 70 miles of range with max assisted speeds of 20mph when used with the 10-speed Shimano Deore drivetrain.
Finally, the high-quality and dynamic frame ensures stable handling thanks to trusted geometry and careful component selection. These components include powerful hydraulic disc brakes, 50mm fork suspension, wide Schwalbe Schwalbe Big Apple tires that provide extra comfort, and ergonomic handlebar grips.
---
Gazelle Medeo T10+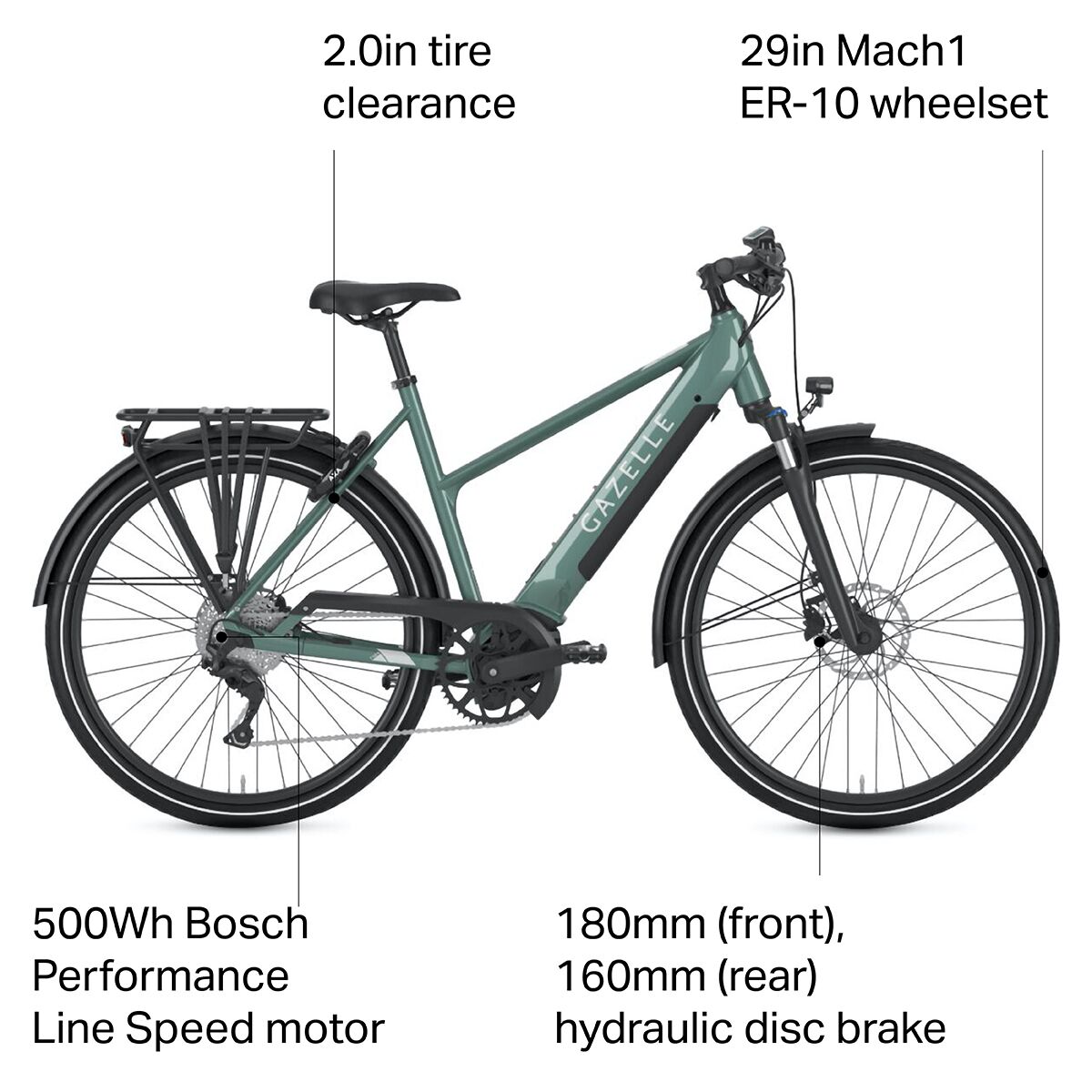 MSRP: $3,699
Gazelle's Medeo T10+ HMB is the standard T10's faster and more sporty big brother.
The electronics on this bike take a big jump beginning with Bosch's Performance Line Speed motor with 85Nm of torque. This motor provides tons of acceleration and buttery smooth power with four levels of pedal assistance and max speeds of 28mph. In addition, the 500Wh integrated battery and dual battery capacity ensure no ride is too long.
Max Torque: 85Nm
Max Assisted Speed: 28mph, Class 3 eBike
Weight: 51 lbs
The T10 Plus uses the same reliable 10-speed Shimano Deore drivetrain to match the stylish frame. As with all Gazelle e-bikes, the frame geometry and component choice inspire confident handling. Wide Schwalbe Big Apple urban tires, integrated 63mm fork suspension, swept-back handlebars, and responsive aluminum balance handling and comfort perfectly.
Finally, like all of Gazelle's e-bikes, the T10+ HMB is fully equipped for any job and has an integrated tire lock for added safety.
---
Gazelle Dutch Bikes
---
Gazelle Tour Populair
MSRP: From $1,499
Steel Frame
Hand Painted
Leather Saddle
8-Speed Shimano Nexus
Gazelle's Tour Populair Dutch-style bike is the perfect urban companion built for long-lasting comfort and convenience.
This Gazelle bicycle begins with a rugged steel frame and stainless steel rims that simultaneously boost longevity and comfort. The geometry of this bike is in the traditional Dutch style, an upright, relaxed riding position, sweptback handlebars, premium contact points, and the choice between a step-over or step-through frame.
One of the most notable additions to this bike is the Brooks B67 leather saddle. The cycling community recognizes this saddle as one of the most comfortable on the market, regularly chosen by long-distance riders, such as for bicycle touring.
Other great features of the Tour Populair include the AXA security lock, steel mudguards, pannier rack, a reliable 8-speed Shimano Nexus drivetrain, and the inclusion of LED lights.
---
FAQs
Where are Gazelle bikes made?
All of their bikes are made at the factories in a told called Dieren in the Netherlands.
Are Gazelle bikes good?
Dutch bicycle brands are considered some of the best in the world. As an old cycling nation, the Netherlands has manufactured bikes for over a century and uses the experience to produce reliably high-quality products.
From this Gazelle electric bike review, we've seen the careful selection of premium components, the best in this price range, the level of detail that goes into design finishing these bikes, and the company's overall commitment to rigorous quality standards. This analysis leads us to believe that Gazelle bikes are some of, if not the best Dutch-style e-bikes on the market.
What size Gazelle bike should I get?
No Gazelle bike size chart needed. You can easily use this Gazelle bike frame size calculator.
Do Gazelle bikes have a throttle?
No. Gazelle eBikes are pedal-assist only. They have class 1 (20mph) and class 3 (28mph) electric bikes in their selection.
Where to buy?
Stores – All Around America (Find Your Shop)