7 Best Electric Mini Bikes for Adults
Electric mini bikes are great for many riders because they are generally cheaper than other e-bikes and they are more convenient to store or transport due to being smaller and lighter.
Additionally, they can do most of the things a regular e-bike can do and they are simply cool things to ride. These bikes vary greatly in price and functionality, but most are designed for shorter journeys with an upright riding position. Some models have a folding mechanism, while others have wide tires and suspensions for off-roading.
Depending on your needs as a rider, we're sure you will find the perfect mini electric bike for adults in this review.
Why choose a mini e-bike?
Electric mini bikes are preferable for some riders because they are super convenient to use. The size of these little electric bikes allows you to easily take them on public transit or into your car, office, or home for storage.
They are perfect for regular small journeys where you need to be able to get around quickly and without expending much energy.
For work – Large warehouses, large construction sites, ports, etc.
Maximum portability – For traveling by a car & boat
---
Best Electric Mini Bikes to Get
1. Juiced Scrambler (20″ wheels)
2. Engwe EP-2 (20″ wheels)
3. Sailnovo (14″ wheels)
4. ANCHEER – EB5 Plus (14″ wheels)
5. Rad Power Bikes – RadExpand 5 (20″ wheels)
6. Gyroor C3 (14″ wheels)
7. Aventon Sinch (20″ wheels)
---
1

. Juiced Scrambler

A powerful fat tire mini e-bike
MSRP: $1,799
750W Bafang motor | Cadence & pedal assist | 52V 13Ah battery (675W) | Max speed: 28mph
Suspension Hydraulic Forks
20×4.25″
7-speed transmission
Hydraulic disc brakes by Tektro
Pedal-assist & Twist throttle
Range: up to 45-70mi (depends on the battery)
The Scrambler e-bike by Juiced is a fast mini bike for adults with a mid-range price and lots of power and an unusual design.
The Scrambler comes with a choice of two models, both using an enormous industry-leading 52V battery combined with a powerful 750W motor with exceptionally smooth power transfer.
The Bafang motor can reach peak performance of 1300W and with this battery can last up to 70 miles. The "Camp" version is fitted with off-road 4″ Kenda tires while the "City" model has mag wheels with 4.25″ puncture-resistant tires for lower maintenance.
Finally, the Scrambler electric fat tire mini bike also has powerful hydraulic disc brakes, a 7-speed Shimano drivetrain, a backlit LCD display, fork suspension, and an extra passenger seat to take advantage of the 275lb payload capacity.
---
2

. Engwe EP-2 Pro

Fat tire folding electric bike
MSRP: $1,049
750W motor | 48V 12.8Ah (614Wh) | Charge time: 5-7h
60mm suspension fork
Folding & lightweight design
20 x 4″
Weight capacity: 330lbs
Weight: 74lbs
Engwe's EP-2 Pro folding electric bike offers unique convenience with perfect power and range functionality for even long-distance commutes.
This bike is quite heavy for a folding e-bike weighing 74lbs. However, it has a 750W geared hub motor with a 614Wh battery to provide 50+ miles of range.
The 8-speed drivetrain on the EP-2 Pro provides plenty of gearing for varied terrain and allows you to maximize your battery charge.
Additionally, this fast folding bike comes with fat 4″ tires, shock-absorbing front fork suspension, a sturdy aluminum frame, and a huge 330lb payload capacity. Finally, a rear rack and fenders mean you can take on any commute on or off-road.
---
3

. Sailnovo
Score: 4.4/5 out of 100 ratings
MSRP: Check on Amazon
14″ wheels | 350W motor | 36V 10.4Ah | Charge time: 5-6h
IP54 waterproof
Top speed: 18.6mph
Range: 18-28mi
Package Dimensions 46.5 x 27.5 x 8.5 inches; 55.12 Pounds
3 modes of assistance
Amazon's Sailnovo is a cheap electric mini bike designed for comfort and convenience due to the inclusion of rear suspension.
The Sailnovo small electric bike for adults comes 90% assembled and has a punchy 350W motor. The battery is 10.4Ah and is built into the frame providing up to 28 miles of range and a sleek look.
This fast mini bike also has an IP54 waterproof rating, dual disc brakes, non-slip bump handlebars, anti-shock tires, front lamp, and tail lights making it comfortable and extra safe to use. Additionally, when not in use you can fold down the handlebars and saddle to make it smaller.
Finally, the Sailnovo e-bike is also compatible with a front basket to the front or kettle holder to carry light cargo.
---
4

. ANCHEER – EB5 Plus (14″)
Best electric folding bike under $1,700
MSRP: Check on Amazon
14″ wheels | 250W motor | Range: up to 15,5mi | 1-speed
Weight: 37lbs
Charge time: 3-4 hours
1-year warranty
Removable battery
The Swagtron EB5 Elite Plus is a versatile folding electric bike with removable battery functionality at a very affordable price.
This sleek small e-bike comes with a powerful 350W motor and a single-speed drivetrain for assistance and full electric throttle mode. The battery can last up to 15.5 miles at cruising speeds of up to 15mph. Additionally, riders can purchase an extra battery that can be swapped out for those longer adventures.
The EB5 Pro has the ability to fold up in a few seconds so you can store it or transport it in your car or on public transit.
Finally, dual caliper brakes, small 14″ wheels, and ergonomic grips, round out a great set of components.
---
5

. Rad Power Bikes – RadExpand 5
Best electric folding bike under $1,700
20″ wheels | 750W motor | Range: up to 50mi | 7-speed
Weight: 62.5lbs
1-year warranty
Removable battery
The Rad Power Bikes RadExpand 5 is a mid-range folding e-bike sold at a very competitive price from the direct-to-consumer brand.
This versatile bike comes with a powerful 750W motor and a 7-speed drivetrain for maximizing battery life. The 672Wh battery lasts up to 50 miles and hit cruising speeds of up to 28mph.
The RadExpand has the ability to fold up rapidly for storage or transport. Finally, hydraulic disc brakes, 4″ fat tires, and a fully equipped setup round out a great set of components.
---
6

. Gyroor C3
Smallest electric mini bicycle
15 speeds | 14″ wheels | Max speed: 18.6mph | Range: Up to 20mi
3-speed
450W motor
Chainless – internal gearing
Disc brakes
The Gyroor folding mini e-bike has the most unique folding mechanism we've seen and has lots of other useful features despite its cheap price.
This bike has a large 450W hub motor that delivers max speeds of up to 19mph. Using a 10Ah battery, the Gyroor e-bike can ride for distances of 20 miles, perfect for urban commutes.
Other notable features which make this bike great to use are the 14″ wheels with shock-absorbing tires, disc brakes, and integrated lights on the front and back. Additionally, the bike has a helpful LED display that shows battery, speed, and trip distance.
Finally, this is a non-pedal, chainless e-bike that allows it to fold up into a very small package for transport and storage and making it the smallest model we've reviewed.
---
7

. Aventon – Sinch

A fat tire mini folding bike
MSRP: $1,799
Range up to 71mi | 500W hub motor | Charge time: 4-5 hours | 20×4″
Aluminum frame
672Wh battery
Mechanical disc brakes
Weight: 68lbs
Maximum weight: 300 lbs
The Aventon Sinch electric mini bike is a folding model that includes huge 4″ tires, fork suspension, and powerful electronics to deliver a versatile and highly capable ride.
Aventon's folding mechanism allows the bike to fold up in seconds and stay in a small secure package. When set up, the frame is very sturdy and robust. Unfortunately, this design significantly increases total weight.
The 500W motor pairs with a fast charging 672Wh battery to provide ranges of between 30 and 71 miles. A 7-speed Shimano Acera drivetrain helps you maximize your battery's capacity.
Other notable features of the Aventon Sinch include mechanical disc brakes, Aventon app connectivity, and compatibility with a rear rack and fenders.
A Quick Buying Guide
---
Belt vs Chain vs Chainless Drivetrains

Chainless small electric bikes are excellent because they require less maintenance, no grease, and make less noise. However, they won't have as many gears if you need to pedal on varied terrains.
Chain drives allow you to add larger gear ranges for better performance, but they require regular maintenance, tuning, and are likely to break faster.
Belt-drive bikes are a new trend, especially among bikepacking communities. Belt-drive bikes are silent, clean and maintenance-free, which gives them a long lifespan.
Electric Mini Bike Motor Wattages
On average, small e-bike motors are equipped with 350W motors, although you'll see 250W and 750W versions available as well. Because these bikes are lightweight and designed for lighter use, they don't need as much power.
Hub motor vs mid-drive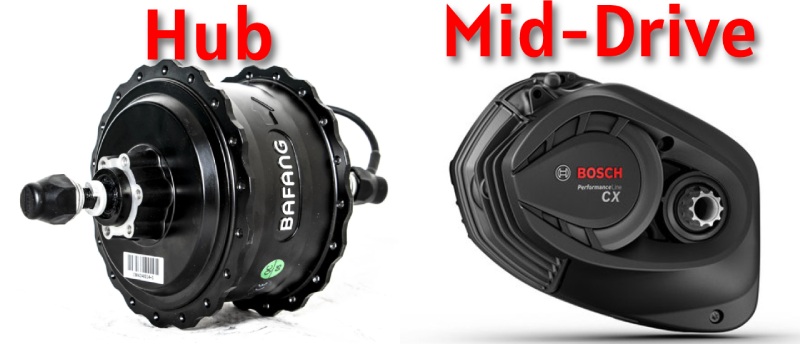 When comparing mini e-bikes to folding e-bikes, a hub drive motor is the most common type of eBike motor. Read more about the Pros and Cons – Hub drive vs mid-drive.
Average speed
On average, small e-bikes are limited to a max speed of 20mph, while there are fast mini e-bikes that can go up to 28mph, which makes them Class 3 eBikes.