Best 20-inch Electric Bikes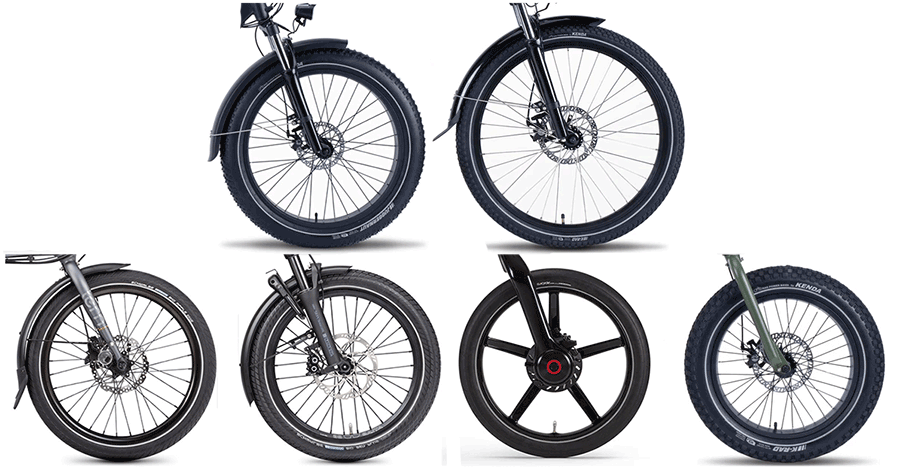 Electric bikes have grown in popularity rapidly over the past few years. Since the pandemic in 2020, their popularity has seen an even faster increase.
This has been facilitated by improvements in technology and lower prices. These bikes are now more powerful, versatile, and affordable. One trend among e-bikes is the increase in the use of 20″ tires.
These tires provide a great balance between the standard 26″, 27.5″, and 29″ wheels found on MTBs, Hybrid, and Road bikes.
Benefits of 20″ Wheels and Tires
20″ electric bikes are more maneuverable, have better torque, are lighter, and are more comfortable for folding bikes compared to 16″ tires. Larger tires are better for performance as they climb better and respond better on rough terrain.
Great for urban commuting.
Most 20″ electric bikes have a folding construction which means that they are quite compact while still offering superb riding quality.
20″ wheel size suits for riders of all age groups.
There are many different 20″ tires available.
Finally, a 20-inch electric bike is generally less stable and less comfortable than their large-wheel counterparts, but they are preferred to their versatility for simple commuting. The inclusion of fat tires and fork suspension will help to mitigate the need for a larger tire.
---
12 Best 20-inch Electric Bikes
Juiced Bikes – Scrambler
Hurley – Mini Swell
Juiced Bikes – Scorpion X
Rad Power Bikes – RadRunner
Swagtron – EB-6 Bandit
Engwe Bike – Engine Pro
QuietKat – Voyager
Tern – HSD P9
Lectric – XP 2.0
Rad Power Bikes – RadExpand
Brompton – H6L
GoCycle – G4
---
Juiced Bikes Scrambler
Moped-style 20″ e-bike with high power

MSRP: $1,799
Juiced Bikes' Scrambler 20″ moped-style e-bike is a lightning-quick budget-friendly option with an unusual yet functional design.
The Scrambler bonds with tons of power from a huge industry-leading 52V battery combined with a 750W (peak performance of 1300W) Bafang motor with smooth power transfer. Additionally, a 7-speed Shimano drivetrain provides reliable shifting to support the motor and maximize the range up to 45 miles.
750W geared hub motor (1,300W peak)
52V 13Ah (676Wh) Battery
Range: 45mi
7-speed Shimano drivetrain
20×4.25″
Tektro Hydraulic Brakes
Suspension Fork with hydraulic lockout
Other notable features of this e-bike are the 4.25″ puncture-resistant fat tires, Tektro hydraulic disc brakes with great stopping power for high speeds, lockable fork suspension, and an extra passenger seat so you can take a friend and all your adventures.
---
Hurley Mini Swell
Comfy moped-style 20″ e-bike
MSRP: $1,999
Hurley's Mini Swell is a 20″ moped-style e-bike providing a comfortable, powerful, and versatile ride experience.
Upright geometry, a durable steel frame, fat tires, and fork suspension all contribute to a super smooth ride feel no matter the terrain. Additionally, this e-bike also has the ability to go off-road due to the aforementioned 4″ Wanda fat tires and lockable fork suspension.
Finally, a 500W motor, 480Wh battery, and 6-speed Shimano drivetrain provide plenty of power and up to 40 miles.
500W geared hub motor
48V 10Ah battery
Range: 40mi
6-speed Shimano drivetrain
20×4″ tires
Mechanical disc brakes
---
Juiced Scorpion X
A moped-style e-bike with full suspension

MSRP: $2,199
Juiced Bikes
The Scorpion X by Juiced is designed with the look and power of a traditional moped but with the versatility of a utility bike.
This bike is built to be comfortable on diverse terrain and has the ability to take on any job you need in comfort. To do so, you have shock-absorbent suspension in the front and back, road-smoothing 4.25″ fat tires with puncture resistance, upright geometry, and a comfortable saddle.
Moped-style e-bikes are a new trend in the industry. Manufacturers have begun designing and releasing electric ...
Additionally, the Scorpion X is fitted with a rear rack, fenders, integrated LED lights, and a heavy-duty kickstand for convenient commuting.
Finally, this 20″ e-bike has a powerful 750W rear hub motor for top speeds of 28 mph, as well as a 780Wh battery and an 8-speed drivetrain that delivers ranges up to 55 miles.
750W brushless geared hub motor
52V 15Ah (780Wh) Battery
Range: 55mi
8-speed derailleur
20×4.25″ fat tires
Hydraulic disc brakes
Full-Suspension
---
Rad Power Bikes RadRunner Plus
750W Utility eBike
MSRP: $1,899
Rad Power's RadRunner Plus is a 20-inch fat tire mini folding electric bike packed full of features and power, enough to take on any job you need.
The RadRunner Plus is a Class 3 bike because of the 750W/80Nm motor with throttle operation and 28mph max speed on pedal assist mode. To support the motor, you can rely on a 7-speed Shimano Acera drivetrain.
For juice, this utility eBike has Rad Power's efficient 672Wh battery that lasts up to 45 miles on eco mode. Additionally, it is fully equipped with a rear passenger seat, and fenders, a commuter's dream.
Finally, the RadRunner Plus has other notable features including an LCD control panel, integrated LED lights, puncture-resistant 3.3″ fat tires, 80mm travel front fork suspension, and comfort-focused geometry, allowing you to go wherever the road takes you without a worry.
750W motor, max torque: 80Nm
48V 14Ah (672Wh) Battery
Range: Up to 25-45mi
7-speed drivetrain
20×3.3″
Twis-grip throttle & pedal-assist
---
Swagtron EB-6 Bandit
350W 20-inch fat tire electric bike
MSRP: $900
Swagtron's EB-6 Bandit 20-inch fat tire electric bike is one of the best for less than $1000. It's equipped with everything you need for great off-road performance.
For power, the EB-6 Bandit has a 350W motor paired with a 7-speed Shimano drivetrain, allowing you to take on soft terrain or tough inclines with ease. The battery on this bike is a small 7.8Ah which only lasts up to 20 miles but it is removable.
Off-road performance is due to the 4″ fat tires, Shimano MF-TZ21 disc brakes, and lightweight and responsive 6061 aluminum alloy frame. Additionally, this small eBike has an integrated bell and a kickstand to make your rides more convenient and safe.
350W Motor

Power Assist

20×4" Tires

Removable 36V Lithium-Ion Battery

Dual Disc Brakes

7-Speed Shimano SIS Shifting Built for Trail Riding
---
Engwe Bike Engine Pro
750W motor, 20-inch folding electric bike
MSRP: $1,699
Engwe's Engine Pro full suspension folding electric bike is one of the most unique models we've seen. It features all of the usual fat-tire components with the added benefit of rear shock suspension for off-roading.
This 20-inch fat-tire electric bike has a 60mm travel fork, 4″ Chaoyang fat tires, Tektro hydraulic disc brakes, an 8-speed drivetrain, and powerful electronics to match.
If you're the type of cyclist that often needs to use public transport or store their bike away, a folding bike is ...
The motor has two distinct modes, 750W or 500W, and a throttle. The battery has 12.8Ah and can last up to 45 miles on pedal assistance. Despite its lightweight design, the alloy frame can support up to a whopping 330lbs, which allows riders to confidently carry any cargo they need.
Finally, Engwe's folding mechanism deserves a mention because of the ability to fold down in just ten seconds, remaining in a secure and small package when you're ready to transport or store the bike.
750W hub motor
48V 12.8Ah battery
Charge time: 5-6h
8-speed drivetrain
Hydraulic disc brakes
---
QuietKat Voyager
750W Electric Bike

MSRP: $2,899
Motor: 750W | Battery: 556Wh | Charge time: 6-8 hours
The Voyager 20-inch folding electric bike from QuietKat balances folding convenience with off-road hunting e-bike power. It is capable of taking on anything from tough backcountry trails to relaxed urban commutes.
This bike has a large 750W motor and a 7-speed SRAM drivetrain to get you over soft terrain and up steep gradients. The battery has a capacity of 11.6Ah and delivers ranges up to 48 miles. The motors on all QuietKat bikes are also virtually silent to improve hunting trip success.
In order to perform well off-road, you can rely on large 203mm rotor mechanical disc brakes, a 100mm travel fork, 4″ Kenda Krusade puncture-resistant fat tires, and a sturdy aluminum frame. Additionally, this bike can support loads up to 325lb.
Lastly, the Voyager has a great locking mechanism that allows it to fold up neat and secure for transporting or storing it. This e-bike is certainly a great mid-range choice.
Range: Up to 48 miles
Weight: 54 lbs
Payload Capacity: 325 lbs
---
Tern HSD P9
250W cargo e-bike
MSRP: $3,699
9-speed Shimano Alivio drivetrain | Range: Up to 26-69mi | Weight: 56.5 lbs
Tern bicycles is known for their cargo e-bikes and well-made mid-drive motors. Best suited for city commutes and RV travels, the HSD P9 is a high-end cargo e-bike with a 70mm travel suspension fork, integrated lights, and Shimano hydraulic disc brakes. You'll find an e-bike specific chain, Shimano Alivio 9-speed drivetrain, extra-long rear rack, a side stand, removable battery, and fenders, to make it complete.
Long story short, you can always count on their brand if you are looking for a durable and long-lasting e-bike.
Class 1 e-bike
Hydraulic disc brakes
Bosch Active Line Plus, 250W/50Nm
400Wh battery
Suitable for riders 4'11" to 6'5″
---
Lectric XP 2.0
500W Electric Bike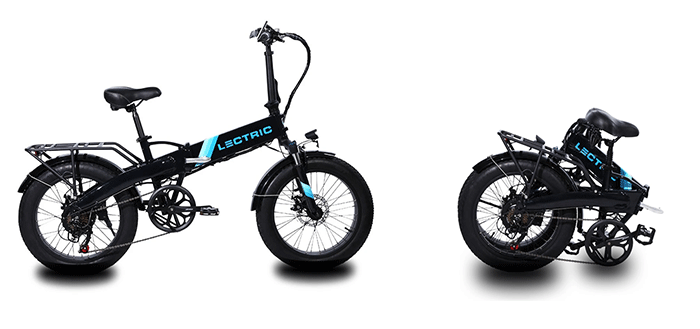 MSRP: $1,099 – $999
Motor: 500W (800W peak) | Battery: LG 48V 10.4Ah (500Wh) | Charge time: 4-6h
Lectric's XP 2.0 20″ folding electric bike is one of the best value models we've seen. This bike has heaps of features and has an extremely high 4.9/5 star rating from almost 500 riders.
The XP 2.0 comes either with a regular frame or a more comfortable step-through design. The motor on the bike is a 500W rear hub that has throttle activation and five levels of pedal assistance.
For juice, you can travel up to 45 miles with the 9.6Ah battery which has an average charge time of 4-6 hours. Other notable features on this Lectric 20 inch bike are the Tektro mechanical disc brakes, 3″ CST fat tires, road-smoothing fork suspension, and large 330lb payload capacity.
Additionally, the XP 2.0 comes fully equipped for any job with full fenders, a rear pannier rack, and integrated LED lights.
Range: 25-50+ miles
Weight: 63 lbs
4″ x 20″ fat bike tires for all-terrain riding – The bike comes fully assembled (folded).
---
Rad Power Bikes RadExpand 5
750W Electric Bike
MSRP: $1,499
Motor: 750W @ 80Nm | Battery: 672Wh | Range: 25-45mi
Rad Power Bikes is a direct-to-consumer brand with some of the best quality e-bikes for under $2000. The RadExpand 5 is their most convenient and versatile e-bike to use.
This folding 20 electric bike has heaps of power due to the 750W/80Nm torque motor. The motor is supported by a reliable MicroSHIFT 7-speed drivetrain and a 672Wh battery which can last up to 45 miles depending on variables.
The bike arrives fully equipped with everything you need for commuting including a rear rack, LED lights, and fenders. Other great features of this bike are the puncture-resistant 4″ CST fat tires, LCD bike computer, a heavy-duty kickstand, and comfort-optimized geometry.
Range: 25-45 miles
Weight: 62.5 lbs
Payload Capacity: 275 lbs
---
Brompton H6L
250W premium folding eBike
MSRP: $4,050
Motor: 250W hub | Battery: 300Wh | Charge time: 4h
The Brompton H6L 20-inch small electric bike is a sleek, mid-range choice with premium components that ensure this bike rides smoothly and can tackle any job.
Firstly, this is the lightest e-bike on this list at just 34lbs. Additionally, the 250W motor delivers punchy power to tackle any hills you encounter
The H6L uses a high-quality 300Wh battery that can provide ranges up to 45 miles. Finally, the inclusion of rim brakes is disappointing but fast Schwalbe Marathon tires and fenders round out one of the most stylish 20″ e-bikes on the market.
Range: Up to 45 miles
Weight: 34lbs
---
GoCycle G4
750W Electric Bike
MSRP: $4,000
Motor: 750W | Battery: 300-375Wh | Charge time: 3 hours
The G4 by GoCycle is another example of a stylish, high-end 20″ folding electric bike with a stripped-back design and premium construction.
This e-bike has a unique three-material frame composed of carbon fiber in the mid-frame and fork, hydroformed aluminum in the front frame, and a magnesium Cleandrive. This perfectly balances strength, responsiveness, and durability.
A notable component of the frame is the lightweight single-sided carbon fork. It has a fully integrated G4drive motor with 750W of power. This is combined with the frame-integrated 8.1Ah battery that can last up to 40 miles on a single 3-hour charge.
Finally, the G4 comes with 2.25″ high-grip MotoGP-inspired tires infused with silica, Bluetooth connectivity, powerful hydraulic disc brakes, and 25mm travel suspension in the back.
Range: 40-50 miles
Folded Dimensions: 34.6″ x 15.3″ x 24.2″ (with pedals folded in) / 32.7″ x 15.3″ x 29.5″ (with kickstand folded in)
Weight: 36.5 lbs