Best Mullet Mountain Bikes
Business in the front, party at the back
What is a mullet mountain bike?
A mullet mountain bike is one with mixed wheel sizes. Most often this is a 27.5″ wheel on the back and a 29″ in the front, however, this can also be a mix with 26″. Companies who sell and riders who use a mulleted mountain bikes claim that they provide the advantages of each wheel size.
Due to their popularity, many big-name brands now carry a mullet model. This includes companies like Specialized, Santa Cruz Bicycles, and Orange Mountain Bikes.
What are the benefits of a mullet MTB?
"The best of both worlds" is a common response to the question posed above. In practice, there are four distinct benefits. That being said, some riders may not consider these things beneficial to their particular riding style.
A bigger 29″ wheel controls more smoothly in very rocky terrain. The larger the wheel, the more easily it rolls over big hits and hangs up less so that you can control the bike better.
For riders who want more clearance with a smaller 27.5″ in the rear because their 29″ wheel kicks up over steep drops.
A smaller 27.5″ wheel in the rear allows more movement and thus improves cornering giving riders the ability to take corners at higher speeds
A larger wheel in the front compared to the rear will speed up your ride by creating a slacker geometry, improving stability, and reducing rolling resistance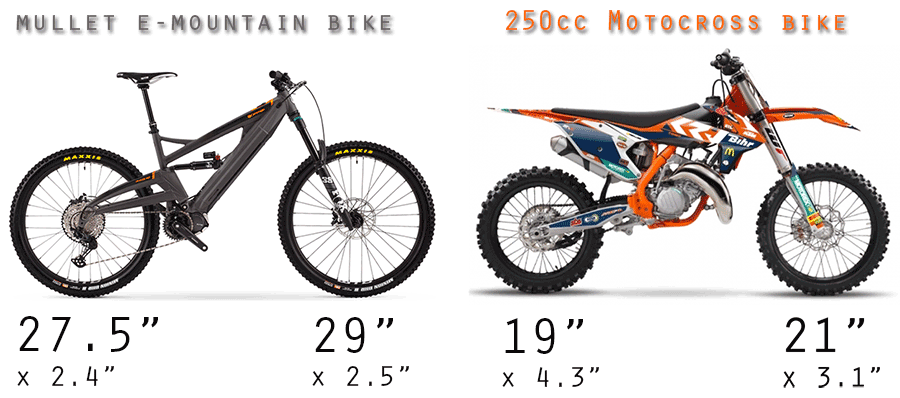 29″ FRONT Wheel
Smoother roll over obstacles and rocks
Larger contact path due to larger wheel (Unless the rear tire is drastically wider)
Higher axle
More stability on higher speeds
27.5″ REAR Wheel
Faster acceleration
Better cornering
Lower center gravity
Slacker geometry
Better clearance
A brief history of mullet bikes
A recent increase in the popularity of these bikes would make it seem like they are a new phenomenon. However, this increase is mostly due to their inclusion in professional spheres including EWS and downhill races because of recent changes to UCI regulations.
Mullet bikes have actually been around for over 15 years, as seen in Specialized's BigHit in 2004 which mixed 24″ and 26″ wheels.
---
table of contents
#1. Hardtail Mullet MTBs
#2. Full-Suspension Mullet MTBs
#3. Electric Mullet Mountain Bikes
Feel free to add your recommendation to the comments section!
---
#1

. Hardtail Mullet Mountain Bikes

Santa Cruz Bicycles – Chameleon
Orange – Crush MX Pro
---
Santa Cruz Bicycles Chameleon R
Mullet ready – comes in either 27.5″ or 29er
Chameleon Full Review
MSRP: $2999
The Chameleon R carbon c model is a lightweight, speedy, and stylish mountain bike with compatibility for 27.5-inch, 29-inch, or mixed wheels.
This hardtail bike uses FOX Rhythm 34, 120mm travel fork suspension, and a large front wheel to provide great shock absorption and rollover ability on rocky trails. The carbon fiber frame ensures a high level of compliance and additional dampening effects.
This model of the Chameleon comes with a premium 12-speed SRAM NX Eagle drivetrain, high traction Maxxis Minion/Ardent Race tires, powerful SRAM Guide hydraulic disc brakes, and reliable SDG Tellis dropper post.
Finally, this versatile MTB has extra mounts for water bottles and a cargo cage for those extra-long adventures.
Frame: Carbon C
12-Speed SRAM NX Eagle drivetrain
Brakes: SRAM Guide T
TLR rims
SDG Tellis dropper post
29×2.3″ Maxxis Minion DHF front
29×2.35″ Maxxis Ardent Race rear
---
Orange – Crush MX Pro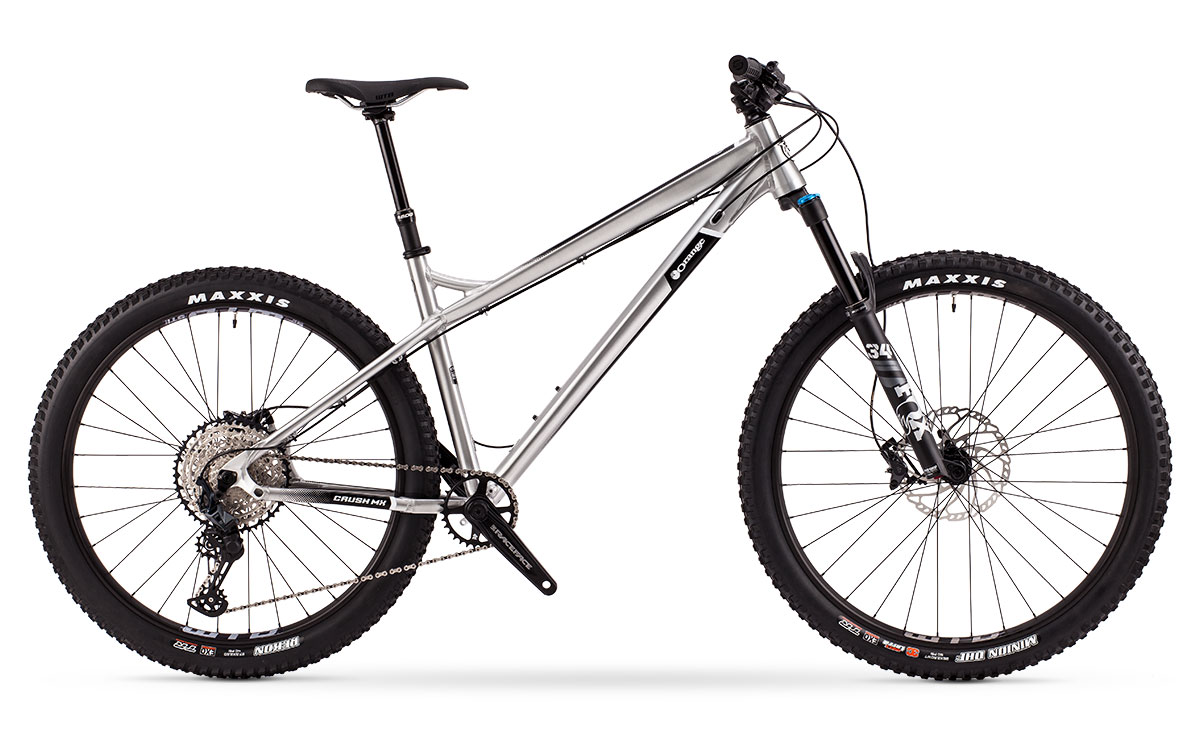 MSRP: €2,900 (Available in the UK only)
Orange Bikes
The Crush MX by Orange is an affordable mullet hardtail MTB designed to ride comfortably in the harshest conditions.
A large wheel in the front provides better rollover and stability while the rear 27.5″ wheel accelerates faster, is more agile, and corners better. This combo paired with a 140mm travel Fox Performance 34 Float fork, a durable 6061-T6 aluminum frame, and stability-oriented geometry means you can confidently take this bike wherever the trail goes.
Additionally, the Crush MX Pro has a tapered head tube, dropper cables, and an SGT Tellis dropper, Maxxis Minion DHF tires, and Shimano hydraulic disc brakes to round out a great component list.
6061-T6 aluminum frame, custom-butted OS
Fork: Fox Performance 34 Float 140mm
Shimano SLX shifiters, derailleur, cassette 12-speed
29×2.5″ / 27.5×2.6″ Maxxis Minion DHF
SGT Tellis dropper seat post
Shimano Deore hydro disc brakes
orangebikes.com/
---
#2

. Full Suspension Mullet Mountain Bikes

Orange – Switch 6
Specialized – Demo Race
Forbidden Bike CO – Druid
Forbidden Bike Co – Dreadnaught
Santa Cruz Bicycles – V10 MX

---
Orange – Switch 6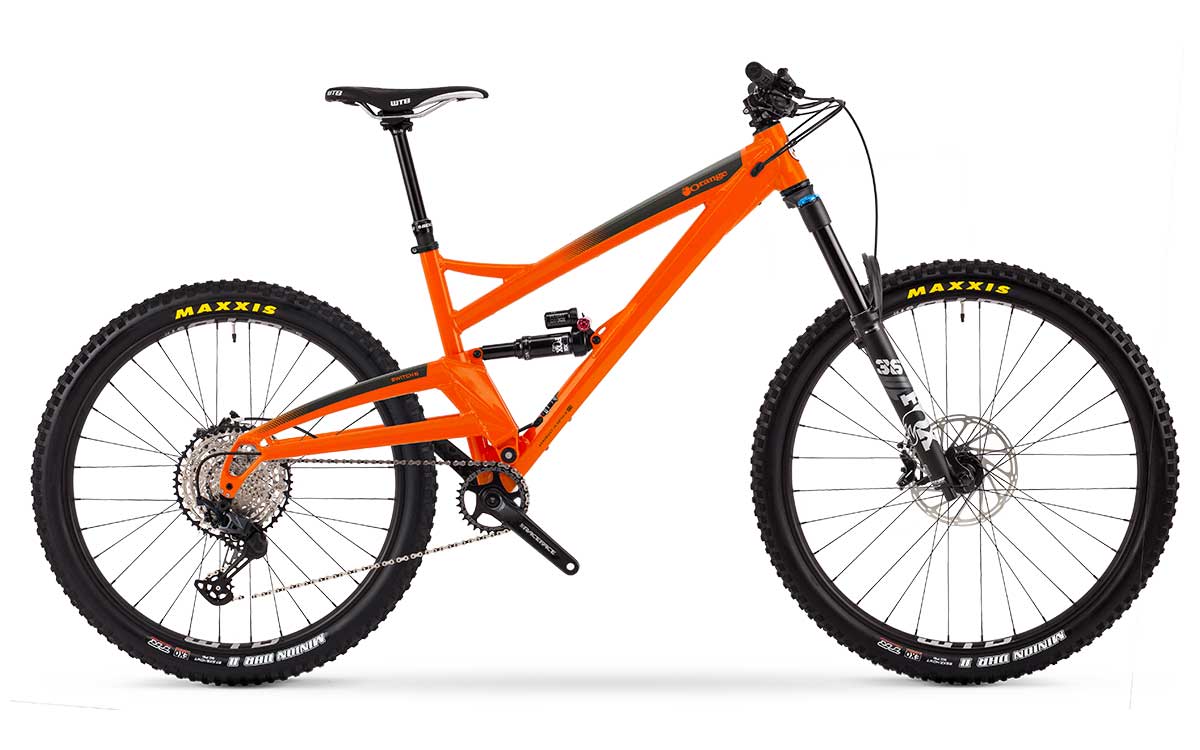 MSRP: €5,200
Orange bikes
The Switch 6 is Orange's first mullet bike designed as the ultimate "do it all" MTB.
This bike features a 160mm reduced-offset fork suspension and 145mm in the back. Perfectly suited to aggressive riders, the Switch 6 takes advantage of a large front wheel and small rear wheel to perform better in corners and roll-over smoothly. Additionally, tuned geometry carefully aligns keyframe elements to provide a high-quality ride on all parts of the mountain.
This hand-built bike uses a lightweight monocoque 6061-T6 aluminum frame with integrated cable routing that comes with a five-year warranty. Other great components include 2.4″ Maxxis Minion DHR tires, a 12-speed Shimano SLX groupset, and SRAM Guide RE hydraulic disc brakes.
6061 T6 Aluminum frame
Fork: Fox Performance 36 Float 160mm
Rear shock: Fox Float DPX2 Performance 145mm
12-speed Shimano SLX 10-51T
29×2.4″ & 27.5×2.4″ Maxxis Minion DHR II
SRAM Guide RE 200/180mm rotors
SGD Tellis dropper seat post 150mm
orangebikes.com/
---
Specialized – Demo Race
A mullet downhill bike
MSRP: $6,800
Specialized
Specialized's Demo Race is a downhill mullet mountain bike optimized for speed on the most difficult terrain.
With this bike, Specialized has achieved a perfect blend of traction and maneuverability which has been tested by world champion mountain bikers and winning the Downhill World Championship and World Cup titles in its first year following being approved by cycling's governing body the UCI.
The Demo Race allows riders to swap between 27.5-inch and 29-inch sized wheels easily while also having the ability to adjust chainstay length and bottom bracket height to optimize for wheel selection.
Top-end 200mm travel RockShox suspension has been optimized for speed and durability while a downhill-specific XO1 7-speed drivetrain provides the perfect gear range at all times. Finally, ride with perfect confidence with SRAM CODE RSC 4-Piston hydraulic disc brakes and premium Roval and Butcher BLK DMND tires.
RockShox Super Deluxe Ultimate DH
RockShox BoXXer Ultimate 29
Brakes: SRAM CODE RSC 4-Piston
Specialized.com/
HT – 62.8° / ST – 76.8°
---
Forbidden Bike CO – Druid
Forbidden Bike Co – Dreadnaught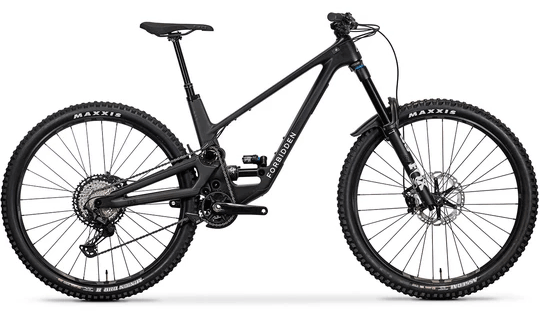 MSRP: $6,699 – Druid / $7,399 – Dreadnaught
Forbidden Bike Co
Forbidden Bike Co's Dreadnought XT and Druid XT are both high-quality mullet mountain bikes with slightly different purposes.
Dreadnaught
The Dreadnought XT is the more versatile of the two intended for anything from enduro racing to Alpine descents. This high travel MTB uses a  170mm Fox 38 Grip2 fork and a custom-tuned Fox X2 Air shock with 154mm of rear travel. This high pivot system provides exceptional ride quality whether climbing or descending over rocky terrain.
Forbidden Bike Co's One Ride geometry further contributes to a consistent ride experience with an unbeatable balance that makes the Dreadnought stand out from its competition.
Frame: Dreadnought Full
Fork: FOX Performance Elite 38 GRIP2 – 170mm Travel
Rear Shock: FOX Performance Elite FLOAT X2
Brakes: Shimano XT 4-Piston 203/180mm rotors
Drivetrain: Shimano XT 12speed
Tires: Maxxis Assegai 29″x2.5″ + Maxxis Minion DHR II 29″x2.4″
Druid
The Druid XT is specialized to take on rugged trails with a focus on reliability and trail performance. This model uses 150mm travel in the FOX Performance Elite fork and 130mm in the rear shock. This bike is also designed with One Ride geometry which ensures consistent sizing across the range.
The geometry on the Druid XT is optimized to ensure a balanced ride and combines with a suspension system that eliminates unwanted drivetrain forces so you can go further than ever before.
Frame: Druid Full Carbon
Fork: FOX Performance Elite 36 GRIP2 – 150mm Travel
Rear Shock: FOX Performance Elite DPX2 3 Position Adjuster
Brakes:  Shimano XT 4-Piston 180mm rotor
Drivetrain: Shimano XT 12speed
Tires: Maxxis Assegai 29″x2.5″ + Maxxis Minion DHR II 29″x2.4″
us.forbiddenbike.com/
---
Santa Cruz Bicycles – V10 MX
MSRP
: Starting from
$6,699
 Santa Cruz Bicycles
Weight: 37lbs
Fork: 203mm
Rear Shock: Fox DHX2
Frame: Carbon CC
Front Tire: 29×2.5″
Rear Tire: 27.5×2.5″
santacruzbicycles.com/
---
#3

. Electric Mullet Mountain Bikes

Intense – Tazer
Niner – WFO e9
Santa Cruz Bicyles – Bullit
Haibike – AllMtn 5
Orange – Phase MX Pro

---
Intense
Tazer
MSRP: $6,999
Intense Cycles
The Intense Tazer electric Mullet mountain bike is an innovative and powerful choice for any serious mountain goat out there.
With a classic mullet design featuring a 29″ front wheel and a 27.5″ rear wheel, this bike delivers maximum traction, excellent maneuverability, and ample clearance for the most difficult of trails.
The electronics on this bike stand out featuring an ultra-lightweight Shimano Steps mid-drive motor (2.8kg/6.1lbs) with 70Nm of torque and 250W of power. This pairs nicely with a 504Wh battery that lasts up to 62 miles on a single charge and a Shimano SLX 11-speed drivetrain.
Finally, this e-bike performs alongside the best because of its high-quality carbon fiber frame, 160mm travel Fox Factory suspension, and premium Maxxis Minion tires.
Frame: Tazer Optimized Carbon
Fork: Fox Factory Float 36, E-Bike specific 160mm
Rear shock: Fox Factory Float DPX2 155mm
Motor: 250W Shimano Steps E8000
Weight: 48lbs
Maxxis Minion DHR II, 29×2.6″ & 27.5×2.8″
11-speed Shimano SLX derailleur
Class 1 e-bike – 20mph
Battery: BT-E8010, 504Wh
intensecycles.com/
---
Niner – WFO e9
MSRP: $6.595
Niner Bikes
Niner's WFO e9 is a bike designed to tackle the roughest trails and steepest hills you can find. This bike gives you the ability to skip the lift and take your mountain biking to the next level.
To do so, you have a Bosch Gen 4 performance CX mid-drive motor with torque-sensing power transfer and a huge 625Wh battery. This premium system delivers predictable, smooth pedal assistance for mile after mile in the harshest conditions.
Although this bike comes with a 6061 aluminum frame, the design makes up for it. Forged frame end links and dropouts boost frame strength and smartly integrated electronics ensure great stability.
The WFO e9 uses RockShox 180mm travel coil suspension which response perfectly to pedal assistance with stable yet supple behavior. This paired with the mixed wheel setup further improves maneuverability and traction on technical trails.
6061 aluminum frame
Motor: Bosch Gen 4 Performance CX 625Wh battery
Fork: RockShox ZEB R 180mm
Rear Shock: RockShox Super Delux Coil Select R 180mm
SRAM SX Eagle drivetrain 12-speed
SRAM Guide RE hydro brakes 200mm rotors
29×2.4″ / 27.5×2.6″ Schwalbe Eddy Current Evo Super Gravity
Weight: 55.5 lbs
KS LEV SI dropper seat post
ninerbikes.com/
---
Santa Cruz Bicycles – Bullit '2022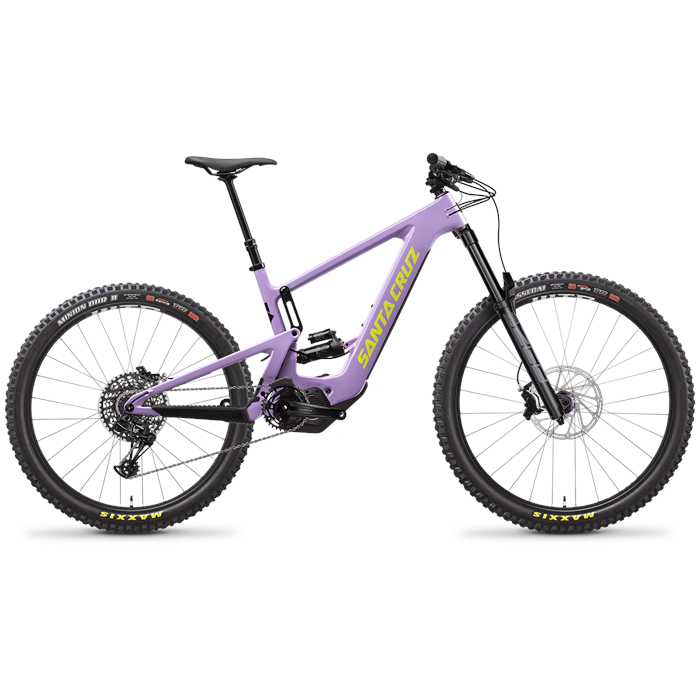 MSRP: $8,449
evo
Shimano DU-EP800 Drive Unit
85Nm
Shimano 630Wh Integrated Batter
Largest capacity battery by Shimano! 🏆
RockShox ZEB
170mm
RockShox Super Deluxe Select
170mm
SRAM NX Eagle
10-51t
SRAM Guide RE
4-piston hydro brakes
SDG Tellis dropper seat post
29×2.5″ & 27.5×2.4″
evo.com/
---
HaiBike – AllMtn 5
DH-spec eMTB for demanding trails
MSRP: $6,800
HaiBike USA
The Allmtn 5 by Haibike is a high-performance mullet trail bicycle that has what it takes to climb and descend with the best.
The mixed wheel combination gives this bike great traction, better roll-over ability, and snappier handling in corners. Additionally, balanced 160/150mm RockShox suspension means there is no trail out of reach.
The electronics on the Allmtn include Bosch's punchy Gen4 Performance CX 250W/75Nm motor and juicy PowerTube 625Wh battery. With this pair, you can expect ranges of up to 100 miles and the ability to get out of any situation such as soft terrain or steep gradients
Other notable components include a Shimano XT 12-speed drivetrain, large-rotor Shimano XT hydraulic disc brakes, and premium Maxxis Minion DH tires.
6061 aluminum frame
Fork – 160mm RockShox Lyrik Ultimate RC2
Shock – 150mm RockShox Deluxe+ RT
12-speed Shimano XT, SLX shifters 10-51T
Shimano XT hydro brakes 203/180mm rotors
Gen4 Performance CX 250W mid-drive motor
625Wh battery
HT: 65° // ST: 76.3°
haibikeusa.com/
---
Orange – Phase MX Pro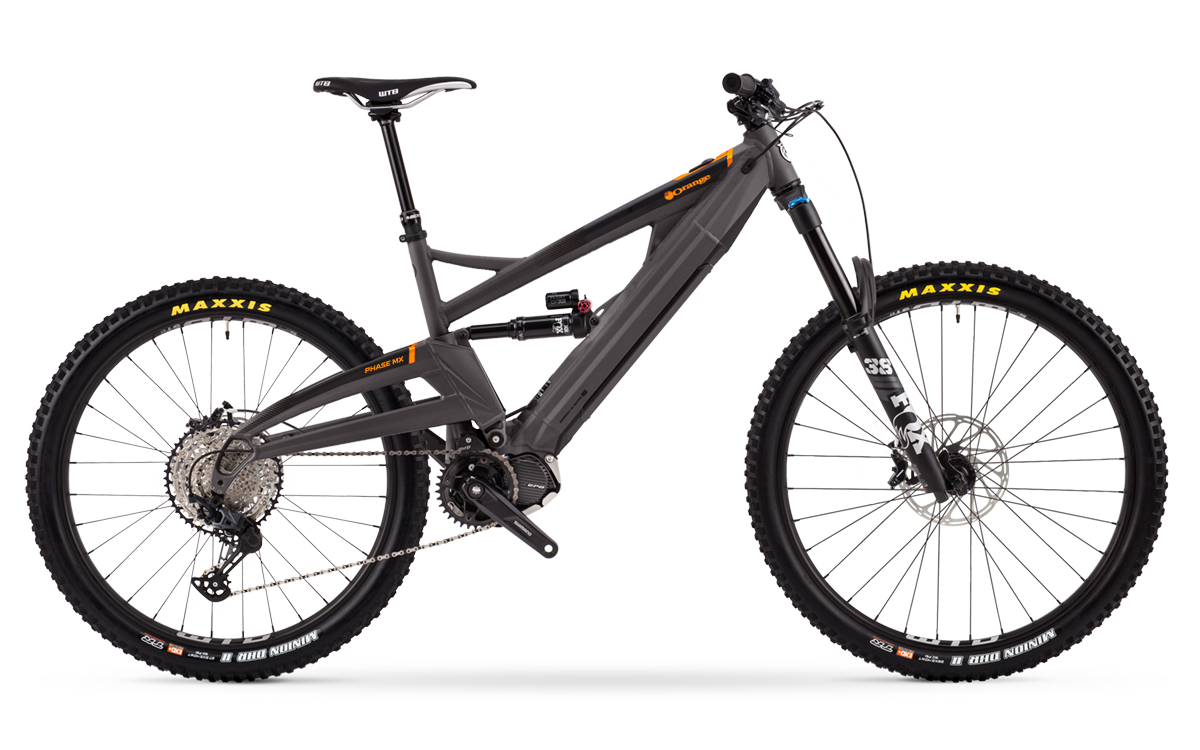 MSRP: from 8,400€
Orange bikes
Orange's Phase MX Pro is the company's first mullet-style e-bike. Featuring a 27.5″ rear wheel and 29″ front wheel along with 160mm travel full-suspension, this bike boasts unbeatable versatility.
Powerful electronics set the standard for this premium bike starting with a super smooth and lightweight Shimano EP8 250W mid-drive motor with 85Nm of torque. This revolutionary motor provides 10 levels of power assistance so you can always find the perfect match.
A large 504Wh battery will keep you going for long ranges and has keyless removal so you can take an extra battery on your rides.
The thoughtful design of the suspension system led Orange to include a metric rear shock and increase the amount of progression resulting in less pedal kickback and overall better performance. Additionally, the geometry is optimized to balance stiffness with compliance to better deal with the punchy motor.
Finally, the Phase MX has top-end components in every other area of the bike to ensure high performance.
6061-T6 aluminum
Fork: Fox Performance 38 Float 160mm travel
Rear shock: Fox Float DPX2 160mm travel
29×2.5″ & 27.5×2.4″ Maxxis Minion DHF
SRAM Guide RE hydro brakes 200m rotors
Motor: 250W Shimano EP8 – 85Nm
Battery: Shimano E8035 504Wh
orangebikes.com/
---
RELATED Reviews
Best Electric Mountain Bikes of 2021
Best Electric Hardtail MTBs of 2021