The Transition bicycle company was established nearly 20 years ago in 2001 in Washington State. Started by Kyle Young and Kevin Menard.
Transition bikes pride themselves on being 'rider owned', and maintaining a level of transparency and approach-ability even as the company grows. While working in mundane corporate jobs, Kyle and Kevin looked elsewhere for inspiration.
About Transition Bikes
They began a company called comparebikes.com which began as a project for people to be able to compare geometry, specs, and prices of mountain bikes on the market. This required a lot of information and Kyle and Kevin gathered geometry information from as many bike brands as they could.
After they realized it might not be a fruitful venture, they decided to focus on starting their own bike company, a company that would remain accessible and relatable to customers no matter how much they grew.
More recently, they moved their headquarters from Ferndale to Bellingham to be closer to the trail facilities and the local riding community, rather than an hour or so away.
After many models and steep manufacturing learning curves, Transition bicycles now makes bikes for every type of mountain riding, from Trail to Downhill and everything in between.
Transition bikes are a company that doesn't orient their goals for maximum profit, they want to create bikes that people want to ride and don't compromise on quality over a fad.
Transition mountain bikes sponsor several professional and up-and-coming riders across the globe. The current factory team is comprised of: freeride/slopestyle rider Hannah Bergemann, free-rider Nico Vink, MTB Pro rider Marco Osborne, and free-rider Jaxson Riddle.
They also have a GiddyUp squad with ambassadors and riders that represent Transition cycles across the globe.
Transition Bikes Range
---
 All Transition bikes are made to be ridden and are built to last with specs that are designed for longevity and quality rather than fads and trends that may not last. Transition bicycles know that their bikes are an investment and they keep the development rider led, rather than product or trend-led.
With this in mind, they've built a collection of bikes that do it all, blurring the lines between categories. Transition MTB have developed bikes in Trail, Enduro, Jump/Freestyle, Downhill, and Cross-Country (XC) categories, but each has its own innovations that make them do-it-all bikes.
XC / Cross-Country
Trail
Enduro
Gravity / Downhill
Hardtail
Dirt Jump

Kids'
 Transition bike dealers can be found all across the globe, making them accessible for all. Their prices are competitive but considering they make high-end bikes with carbon frames, they can be considered an investment. The Transition mountain bikes are available in a variety of builds to suit budgets, so you can choose the level of componentry you want on your bike.
Transition Cross-Country (XC) Mountain bikes
Cross-Country, or XC bikes, are typically lightweight mountain bikes with up to 130mm suspension travel. They are now more often than not full-suspension bikes, thanks to the development of lightweight components.
These bikes are fantastic climbers thanks to their lightweight, and adequate on descents. In XC racing their descents are not nearly as technical or steep as Enduro or Downhill, simply because the bikes aren't built for that type of terrain.
XC bikes are ideal for those that want to go on long rides on less tricky terrain. Transition has one bike in their XC line-up, the Spur.
Transition Spur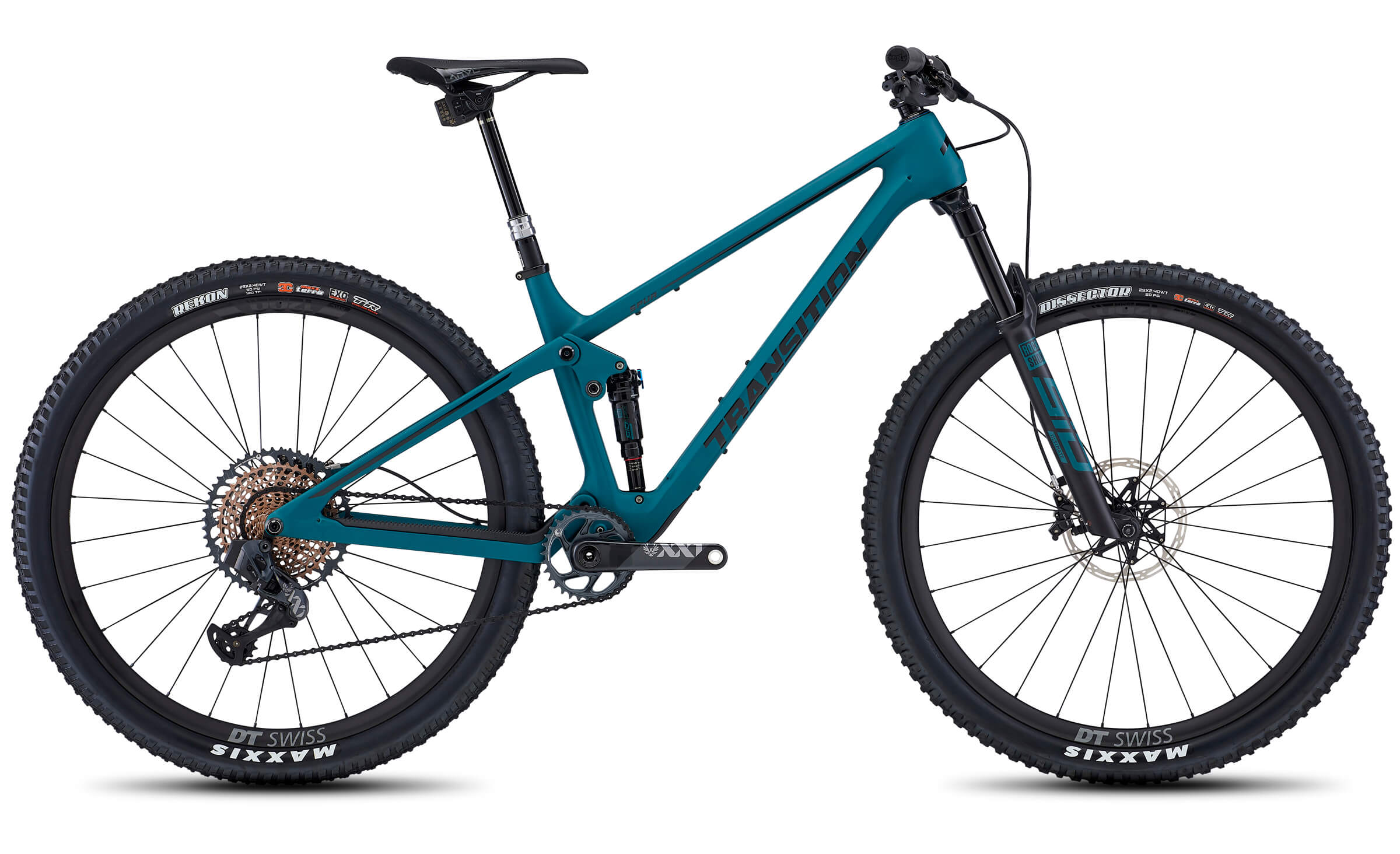 The Transition Spur blends the lines between what an XC bike should be capable of with the geometry of a far more hardy bike. Transition offer 120mm rear and front suspension travel, and 29″ wheels. The 29″ wheels mean you can ride over larger obstacles more easily without needing the skill to maneuver the bike around as much.
The Spur comes with a range of SRAM groupsets and RockShox suspension components to choose from. It also comes with a dropper post which is not commonly seen on XC bikes. This lightweight bike weighs 24.7 lbs/11.2kg making it extremely lightweight. It is available in either deep sea green or black powder colorway.
---
 Transition Trail Mountain Bikes
 Trail bikes are the sort of step between XC and Enduro bikes. Typically they have between 120mm-160mm of suspension travel, (although this is debated) and are designed to excel on fast trails.
They are full-suspension bikes but their geometry is typically not as long and slack as an Enduro mountain bike. These types of bikes are at home in trail centers, and technical trails, and unlike Downhill bikes they can climb well so you don't need to buy an uplift ticket at the trail park. Transition have one bike in their Trail arsenal, the Transition Scout.
Transition Scout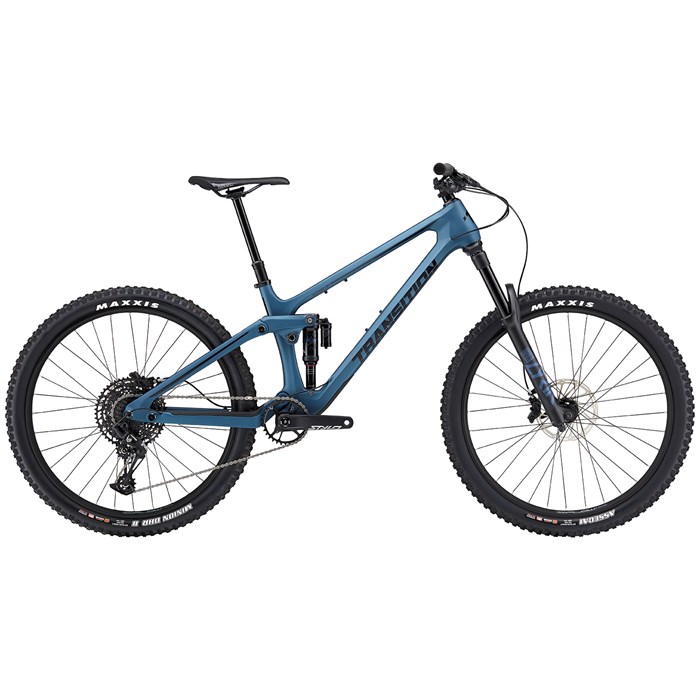 The 2020 Transition Scout merges boundaries between typical trail and enduro classifications with its 140mm rear and 150mm front suspension travel.
The Scout bike comes equipped with 27.5″ wheels, big enough to gather momentum quickly but small enough to need the skill to get over tricky terrain. The Scout mountain bike is fully carbon and comes in several groupset options from Shimano and SRAM as well as suspension choices from RockShox and Fox. Alternatively, you can buy the frameset by itself and build the bike to your desired specifications. You can find Transition Scouts for sale across the globe.
---
 Transition Enduro Bikes
 Enduro mountain bikes are the bridge between Trail and Downhill mountain bikes. They have more suspension than a Trail bike but less extreme than Downhill. They tend to have slacker head tube angles than Trail bikes, increasing the wheelbase and encouraging a more planted position and more confidence in riding down descents.
Wheel sizes are typically 27.5" or 29″. Enduro bikes find a balance between descending and climbing abilities but are heavier than Trail bikes. Unlike other categories, Transition bikes 2020 have two models in the Enduro range; the Sentinel, and the Patrol.
Transition Sentinel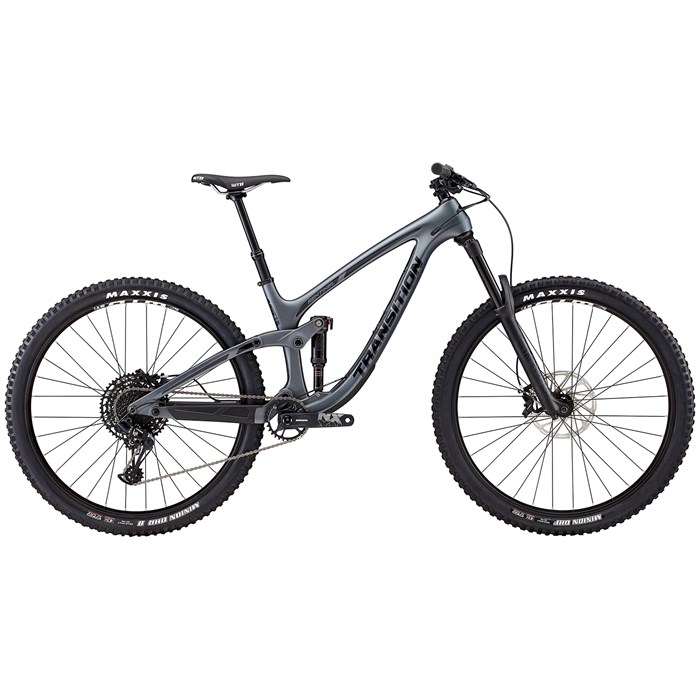 The Sentinel is a full carbon full-suspension Enduro bike offering 150mm rear and 160mm front suspension travel on 29″ wheels. The 29″ wheels make it easier to roll over obstacles and build speed.
Transition bikes offer a range of SRAM and Shimano groupsets for their Sentinel build, and a choice between RockShox or Fox suspension. You can also buy a Transition frame and build the bike to your specifications.
The Sentinel comes in a choice of ti grey or loam gold paint options. In size medium with SRAM X01 components, the Sentinel weighs 30.7lbs/13.94kg, which is relatively lightweight.
Transition Patrol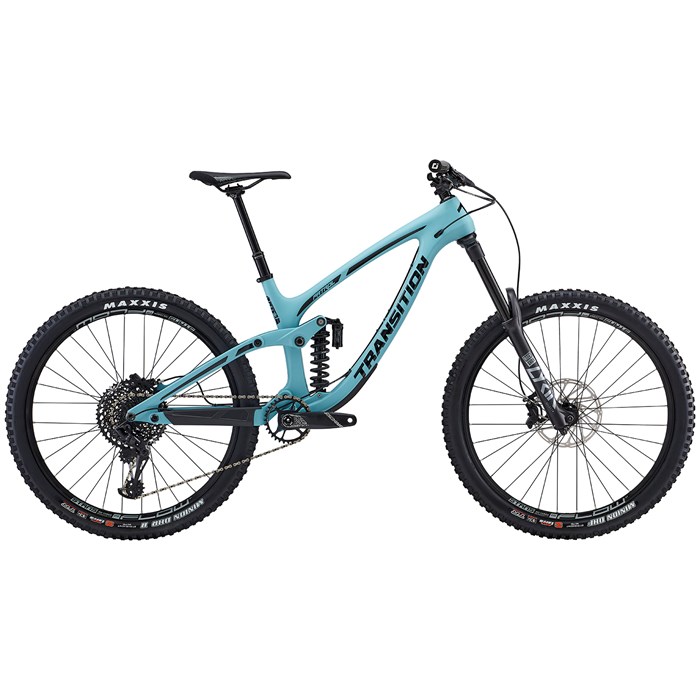 The Transition bikes Patrol is a carbon or alloy full-suspension Enduro bike. It's available with 160mm rear and 170mm front suspension, bordering on the line between Enduro and Downhill categories.
The Transition Patrol 2020 model comes with 27.5" wheels and is available with a wide choice of SRAM groupsets; from NX to X01. The bike is available in coral blue or TR grey paint options.
The carbon version of the Patrol equipped with an SRAM X01 groupset and Fox suspension weighs in at 30.95lbs/14.04kg, which is on the border of a lightweight Downhill bike and a heavier Enduro bike.
---
 Transition Downhill bikes
Downhill mountain biking is not for the faint-hearted. These are the beefiest and often heaviest of the mountain bike discipline, and come with stable geometries and lots of suspensions. They are often characterized by their dual or triple crown forks which give the bikes more travel in their suspension.
Downhill mountain bikes are best for extremely steep, technical and gnarly descents, but not so great at riding uphill or for light trail use. Trails are often rated extremely difficult (black or black diamond for example). Transition MTBs have one bike in their current downhill range, the TR11.
TR11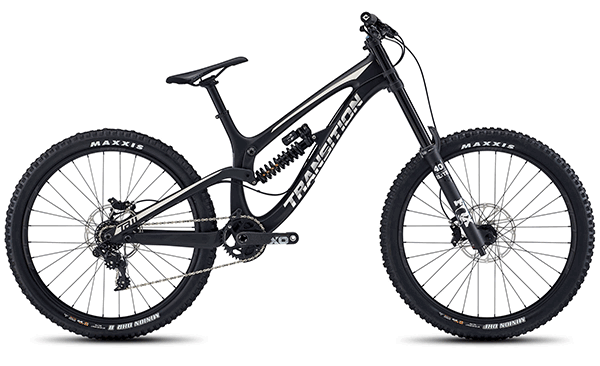 The Transition TR11 is their downhill bike offering and has been updated for 2020. It is a full carbon frame and a complete bike with an SRAM X01 groupset that weighs in at 34lbs / 15kgs, which for a downhill mountain bike is light.
Transition offers a bike with 27.5″ wheels, and 200mm of suspension travel in both the front and the rear. Buyers can spec their bikes with either Fox or RockShox suspension components, and either X01 or GX SRAM groupsets. The 2020 version is available in either a black chrome or primer blue colorway.
---
Transition Hardtail bikes
 Hardtail mountain bikes are inherently that; bikes with a hardtail aka no rear suspension. These bikes only come with front suspension, and typically they have less travel than Enduro bikes, but these days the line is blurring, with Hardtails now regularly coming equipped with components like dropper posts, usually only seen on full-suspension bikes.
The Transition Hardtail range comprises of one bike, the Throttle. Although on their website it's only available as a clearance option, so they may be bringing a newer model out soon, if at all.
Hardtails are designed similarly to XC and Trail bikes geometry-wise, so they can be quite short and steep, although newer more Enduro-facing Hardtails tend to have a longer wheelbase and slacker headtube angles.
Throttle
The Transition Throttle Hardtail is a lightweight carbon bike designed with 140mm of front suspension travel. It's not currently available to buy, but the latest (2020) rendition is still listed in the clearance section of Transition's website as a frameset.
Being constructed out of carbon means it's an incredibly lightweight bike, perfect for those long climbs, but equally as comfortable on gnarly descents. It's not going to be as comfortable on the technical stuff as an Enduro or full-suspension mountain bike, but if you're after a versatile mountain bike you can take to the jumps as well as the trail centers, this is one to consider.
---
Transition Dirt Jump bikes
 Dirt Jump bikes are designed to help riders reach new heights (literally), so they take a minimalistic approach and only include the necessary components. Often similarly built to a hardtail, the frames tend to be quite short and low, but with taller handlebars. They are usually rigid frames or have suspension forks with around 80-120mm of travel.
They are often given 24" or 26" wheels and don't necessarily come with many gears, as riders don't need to pedal as much as on other mountain bikes once they're up to speed. There is one Transition Dirt Jumper in their lineup, the PBJ.
PBJ
The PBJ is one of the longest-running models in Transition bikes' history. It comes with 100mm of front suspension travel and 26" wheels. It claims a relaxed geometry to help riders feel at ease on, but agile enough for even the tightest bike parks and pump tracks.
The PBJ is available in either Short, Long, or X-Long sizes and the frame can be bought separately. PBJ comes in a single-speed setup, with a rear brake only. In size short and fully equipped the bike weighs in at 25.88lbs/11.74kg. The color options include real steel, black, and copper, or aqua blue.
---
 Transition Kids' Bikes
 Buying your child a Kids specific bike is a great way to get them interested in mountain biking, or biking in general. As they grow quite quickly it's important to buy one that will adjust as they grow.
Transition bikes have just the one bike in their Kids line-up, the Ripcord but it promises to make your kids want to put the Xbox down and head outside for some fresh air. For a Kid's bike it could be considered expensive, so make sure you do your research and that it will be the right fit for your child.
 Ripcord
The only bike in the Kids section of Transition bikes is the Ripcord. The alloy frame comes with 100mm of front and rear suspension travel, and 24″ wheels. It's designed as a do-anything bike, whether you want to take your kids to the pump track, the bike park or the local trails, the Ripcord will keep your child entertained and build confidence in their skills.
It comes in one size and has an SRAM NX 11-speed drivetrain, with Shimano hydraulic brakes for ultimate stopping power. It is available in loam gold, raw alloy, or grape and teal paint jobs.
---
 Transition Bikes Size Charts
 The following size guide is based on Transition's adult bike range:
 X-Small: 4'8" – 5'2"/  143cm – 158cm
Small: 5' – 5'7" / 153cm – 170cm
Medium: 5'4″ – 6' / 163cm – 183cm
Large: 5'9" – 6'3" / 175cm – 190cm
X-Large: 6'1" – 6'7" / 185cm – 200cm
XX-Large: 6'2" – 6'8" / 188cm – 203cm
When it comes to the Kid's bike, the Ripcord, it only comes in one size, but Transition says it should fit the following heights: 3'8" to 5', with the ideal height being in the middle around 4'4"-4'6".
FAQ
Where can I find Transition bikes for sale?
Transition bikes use dealers across the globe for distribution. You'll most likely find a dealer near you but check online first.
Their bikes can be bought online via their Official Page, or from evo.com
Where are Transition bikes made?
From what little information there is available, it appears that Transition bikes are made in Taiwan.
Are Transition bikes good?
Transition bikes are built on the ethos that the company is 'rider-owned', and they build bikes that the employees themselves want to ride. They're built to last and don't pay attention to fads or trends in the MTB industry. They are considered an investment but are high-end bikes that are more often than not using carbon frames, which adds to the overall cost.
Who owns Transition bikes?
Kevin Maynard and Kyle Young, the same two people that started the company in the early 2000s.