Santa Cruz 5010 Review — Making Short Work of Any Trail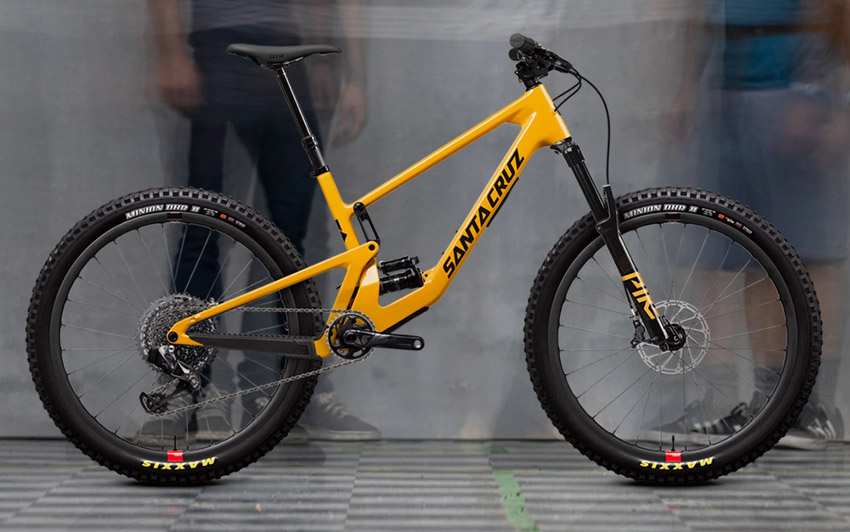 The Santa Cruz 5010 is a fun, plucky trail bike and the perfect companion for creative mountain bikers.
Santa Cruz optimized this MTB to be quick, agile, and stable, making it capable across a mix of terrains but uniquely competent on tight and technical tracks.
The latest 5010 series showcases Santa Cruz's most innovative engineering and technologies to produce an unrivaled ride quality in the trail category.
This comprehensive Santa Cruz 5010 review will highlight the bike's standout features and take a closer look at the design and componentry so you can get a feeling for the spirit of the 5010.
MSRP $5,149 to $10,249
An impressive but pricey small-wheeled trail bike that stands out for its playful and nimble ride quality.
PROS
Premium carbon fiber frame
Lower-link VPP suspension technology
Confidence-inspiring geometry and tires
Efficient climber
Excellent acceleration
CONS
27.5 inch wheels are slow and tiring on rough terrain
Expensive
Santa Cruz 5010 Quick Overview and Specs
---
Frame: Santa Cruz 5010 Carbon C or CC
Wheel size: 27.5″
Tires: 2.4″ Maxxis Minion DHR II
Front travel: 140mm
Rear travel: 130mm
Drivetrain: 12-speed
Brakes: 180mm hydraulic discs
Seatpost: Dropper
Weight: 31.27 to 29.74lbs
The 5010 Santa Cruz 27.5″ trail bike is a perfect example of how fun and playful this kind of bike can be.
The 140mm front travel and 130mm rear travel doesn't tell the whole story of this bike's ability. Proprietary lower-link VPP (Virtual Pivot Point) suspension gives the 5010 a more capable, bottomless feel than a similar spec trail bike. In addition, you can fit up to a 150mm fork and any size rear shock, should you want to take it up a level.
The 5010 has small-diameter 27.5″ wheels that pair with 2.4″ tires. These tires seem narrow on paper but feel perfectly adequate when you're out on the trail. Another advantage of this setup is that it's lightweight and agile, perfect for ripping tight corners and getting up over obstacles.
The geometry of the 5010 is optimized for maneuverability and stability with a low design that features a low BB and rear shock, short chainstays, and a slack headtube. The proportional geometry also delivers consistent performance across the sizes.
In summary, this year's Santa Cruz 5010 is another outstanding release by the mountain bike experts. It's playful, capable, fast and would make the perfect bike for any ambitious trail mountain biker.
Santa Cruz 5010 Review
---
We've established that the 5010 is an impressive trail machine with fun and capable ride qualities and exceptional engineering and spec. However, to better understand the bike and where it thrives and falls short, we need to look closer at the design characteristics and componentry.
What's New for 2023
The new Santa Cruz 5010 is similar to the 2021 model. However, the 2021 bike was completely different from the previous one.
The Santa Cruz 5010 2023 mountain bike uses the same lower-link VPP suspension and agile, playful frame geometry and specs. The only changes were minor componentry switches which are inconsequential for the bike's feel and performance.
The only other notable change is the color finishes, including a super-sleek Stormbringer Purple and classic Golden Yellow and Black.
Frame
Santa Cruz is renowned for its industry-leading carbon fiber frames that they design, test, and prototype in their carbon lab in California. They're so confident in the quality and performance of their frames that each one is backed by a lifetime warranty.
The Santa Cruz 5010 frame is available in Carbon C or Carbon CC. The Carbon C is slightly heavier and cheaper than the CC frame but has the same ride characteristics. Unfortunately, there is no Santa Cruz 5010 aluminum this year, meaning the prices start high.
Each frame on the line features sleek integrated cabling, a threaded bottom bracket, a chainstay protector on the drivetrain side, and a guard on the underside of the downtube. In addition, there are mounts for a chainring bash guard as well, so you can protect your drivetrain from rocks and other hard objects on the trails.
Geometry
The 5010's geometry carefully balances a punchy, nimble ride quality with additional stability to give a feeling of limitless capability.
The short chainstays maintain the characteristic agility that 5010 riders love. The chainstays are proportional to the frame size to ensure each rider gets the same performance. In addition, you have a low bottom bracket height that adds to the playful handling and complements the 27.5″ wheels.
Santa Cruz uses a slack head angle and a roomy front end that inspires confidence with more stability, so you'll be comfortable tackling anything you encounter on the trail. Likewise, the 5010 has a slightly steeper head angle, making the bike more stable while climbing steep gradients.
Finally, the 5010 has a flip-chip that adjusts the geometry to suit specific terrain. The High setting is perfect for typical trail riding and XC. In contrast, the Low setting shifts the geometry to a slightly more enduro/downhill-ready position.
Lower-Link VPP (Virtual Pivot Point) Suspension Technology
One of the standout technologies of this bike is the tunable lower-link VPP suspension. This technology balances pedaling efficiency with the ability to isolate big hits.
An impressive feature of this design is that it allows them to tune the suspension for specific bike styles. For example, on the 5010 trail bike, they adjust the VPP for maximal power transfer efficiency, so you waste as little energy as possible when pedaling.
Although proprietary, the VPP technology doesn't require hard-to-find, bespoke components that make future repair difficult. In addition, the linkages come with a lifetime warranty, like the frame.
Where Does the Santa Cruz 5010 Excel?
---
Again, the Santa Cruz 5010 bike is designed to be playful, quick, and agile, making it the perfect bike for tight, technical trail riding and great for long days of cross-country fun.
Climbing
With mid-travel components and lower-link VPP suspension, the 5010 has an impressive climbing pedigree. In addition, the VPP platform comes tuned to deliver maximum efficiency when pedaling, so the bike's rear hardly moves when storming up climbs.
Another feature that makes going uphill more comfortable is the slightly steeper seat tube angle, putting you in a more stable and efficient position for technical climbs. Finally, each model has a massive 12-speed cassette (10-50t or 10-51t), enough range to spin comfortably up the steepest gradients.
Descending
The Santa Cruz 5010 handles surprisingly well while descending. Again, the VPP technology boosts the performance of the individual 140/130mm suspension components to provide a feeling of having more. Additionally, you can take advantage of the Low position on the flip-chip for a more stable downhill-like geometry.
Of course, as this isn't an enduro or downhill mountain bike, it's best to avoid the roughest terrain. However, this bike's agile handling and easy maneuverability mean it's perfectly capable of handling the majority of technical downhill sections.
Finally, the super grippy Maxxis tires provide plenty of traction for sharp corners.
Acceleration
One distinct advantage of 27.5″ wheels over the more common 29″ is faster acceleration. You will undoubtedly notice the difference on this bike if you're switching from a 29er. Additionally, the high-end carbon fiber frame and efficiency-boosting VPP suspension tech increase its acceleration further.
This ability makes the 5010 lightning fast out of tight corners and allows you to get up to speed with ease, even though the rolling speeds won't be as high.
What Can Be Better?
Even the best mountain bikes aren't perfect, and although we believe the 5010 is one of the best full-suspension mountain bikes, it has a couple of weak points worth mentioning.
27.5″ wheels mean it's not the fastest or most comfortable trail bike.
Requires more effort to get through rough sections of the trail.
No aluminum option, so even the cheapest build is expensive.
That said, these are by no means dealbreakers, considering the pros definitely outweigh the cons on the 5010.
Santa Cruz 5010 Builds
---
The 5010 Santa Cruz trail bike comes in five different builds ranging from $5,149 to $10,249. Unfortunately, each has a carbon fiber frame, meaning there is no entry-level price option.
The three Santa Cruz 5010 Carbon C models (R, S, XT) cost $5,149 (SRAM NX), $6,199 (SRAM GX), and $7,299 (Shimano XT) respectively. The cheapest R-build is the most distinguishable as it features an SDG Tellis dropper, Guide T brakes, and a FOX Float Performance DPS shock. The other two Carbon C models are similar, both with a RockShox Pike Select+ and Super Deluxe Select+ suspension setup and a Reverb Stealth dropper. The XT model also gets a carbon handlebar upgrade.
Santa Cruz takes it up a level with their premium Carbon CC models ; $8,349 (SRAM X01) and $10,249 (X01 AXS RSV). Both use an elite-level RockShox Pike Ultimate and Super Deluxe Ultimate suspension combination and SRAM G2 RSC brakes. The top build also gets a set of Reserve 30 27.5″ Carbon wheels and SRAM's world-class electronic shifting. Both bikes weigh 29.74lbs, which is a pretty impressive number on any full-sus bike.
Santa Cruz 5010 Sizing
---
Santa Cruz 5010 is available in five frame sizes, suitable for riders between 4'8″ and 6'5″ tall, which is an excellent range. Find yours below:
XS – 4'8″ to 5'1″
S – 5'1″ to 5'5″
M – 5'5″ to 5'9″
L – 5'9″ to 6'1″
XL – 6'1″ to 6'5″
If you're between two bike sizes, it's best to test-ride both. Alternatively, Santa Cruz recommends comparing the geometry on your current bike, especially stack and reach, to both sizes of the Santa Cruz 5010 to see which is most similar.
If you can't test-ride the bikes, remember that a larger frame will be more stable but require more strength and bigger movements to shift your weight to the correct position. On the other hand, a smaller frame will be less stable but easier to manipulate and shift your weight across.
People Also Ask
---
Bottom Line: Should You Buy a Santa Cruz 5010?
---
The 5010 is a versatile 27.5″ full-suspension mountain bike with broad rider appeal. But, most importantly, this bike is super fun to ride. Its playful, agile ride quality makes your average trail feel as if it's packed with obstacles and jumps, making every ride more enjoyable.
Of course, the price is relatively high, meaning this bike is a considerable investment. However, with the 5010, you're getting Santa Cruz's promise of superior quality, construction, and performance, backed by lifetime warranties on the frame and links.
You should add the Santa Cruz 5010 to your MTB shortlist if you're looking for an exciting small-wheel trail bike with guaranteed quality and performance.
Where to Buy Santa Cruz 5010?