Devinci Marshall Review — The Perfect Affordable All-Rounder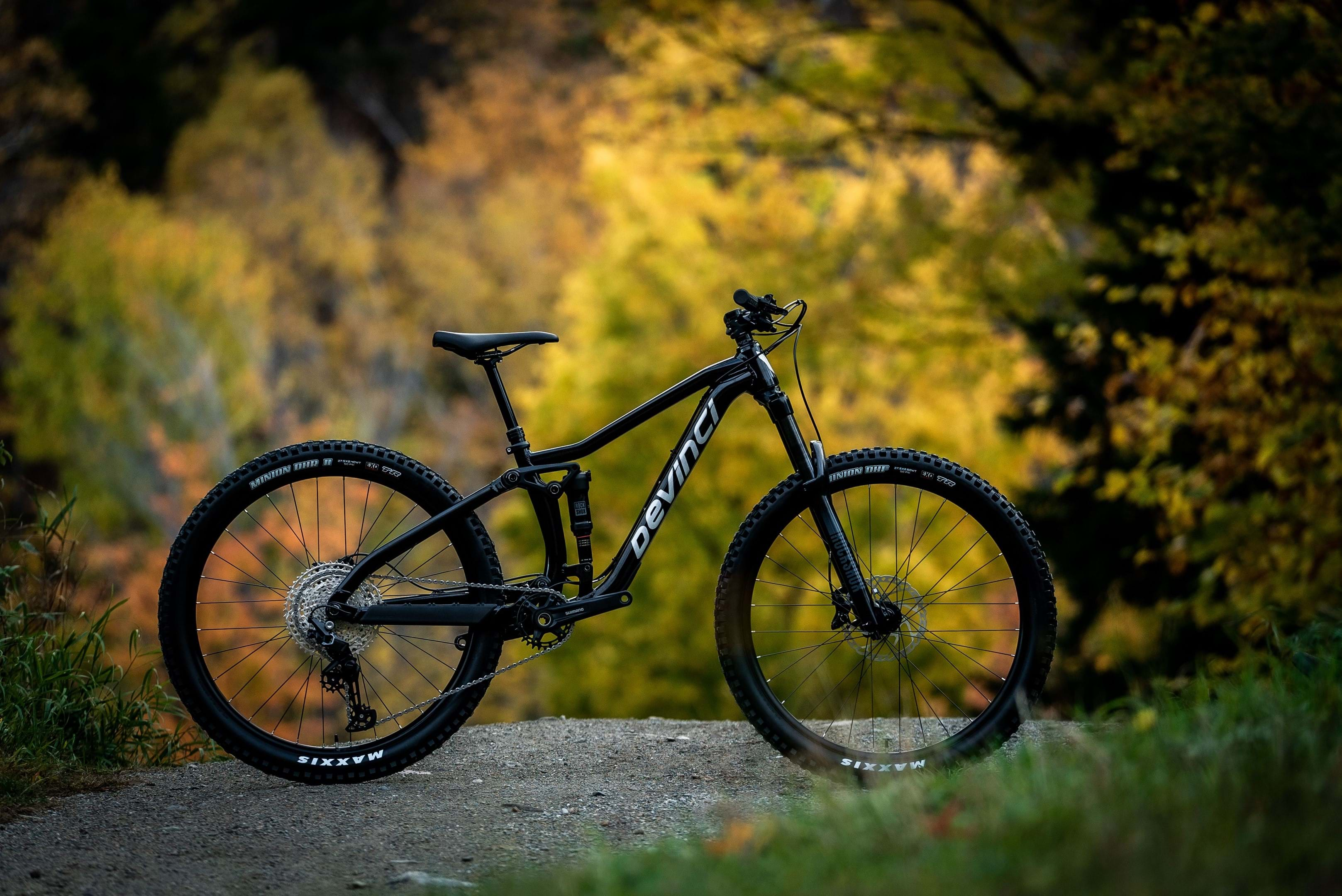 The Devinci Marshall is a mid-travel aluminum trail bike with 29″ wheels, designed to be the perfect, affordable all-rounder.
One of the most impressive details about this bike is that the aluminum frames are made in the company's manufacturing facility in Quebec, Canada, giving them a distinct advantage over companies who outsource manufacturing to Asia.
The low price of the Marshall makes it an excellent choice for new to intermediate mountain bikers or those upgrading from hardtail to full suspension for the first time.
This Devinci Marshall review will highlight the main specs, discuss the key components and characteristics, and finish with our verdict on if you should choose the Marshall as your next trail bike.
MSRP $3,079
A versatile 29er trail bike designed for riders who want full-suspension capability without breaking the bank.
PROS
Split Pivot suspension
Stable and predictable
Efficient climber
Affordable
Canadian-made frame
CONS
Heavy
Slightly unpredictable braking
Devinci Marshall 29 Deore 12S Specs
Frame: Aluminum Optimum G04
Wheels: V2 Comp 29″, Formula DC-711 & DC-746 hubs
Tires: Maxxis Minion DHF 2.5″ (f) + DHR II 2.4″ (r)
Fork: Rockshox 35 Silver TK SoloAir, 140mm
Rear travel: RockShox Deluxe Select R Debonair, 130mm
Drivetrain: Shimano Deore M6100, 12-speed
Brakes: 180mm, Shimano Deore M4100/MT420, 4-piston
Seatpost: TranzX dropper, 135/150mm
Weight: 35lbs approx.
Devinci Marshall Full Review
---
For 2023, Devinci discontinued the production of the SRAM SX 12S model and continued with the same Devinci Marshall Deore spec.
The Devinci Marshall 29 Deore 12S is spec'd and priced for beginner to intermediate riders. The moderate travel, entry-level build kit, grippy tires, and stable geometry deliver a ride feel that's perfect for newer mountain bikers or intermediate riders on a budget.
Canadian-Made Aluminum Frame
---
Devinci's Canadian-made aluminum frames are one of the brand's most unique offerings. They make more bikes in Canada than any other company, and they're among a handful of brands still manufacturing bikes in North America.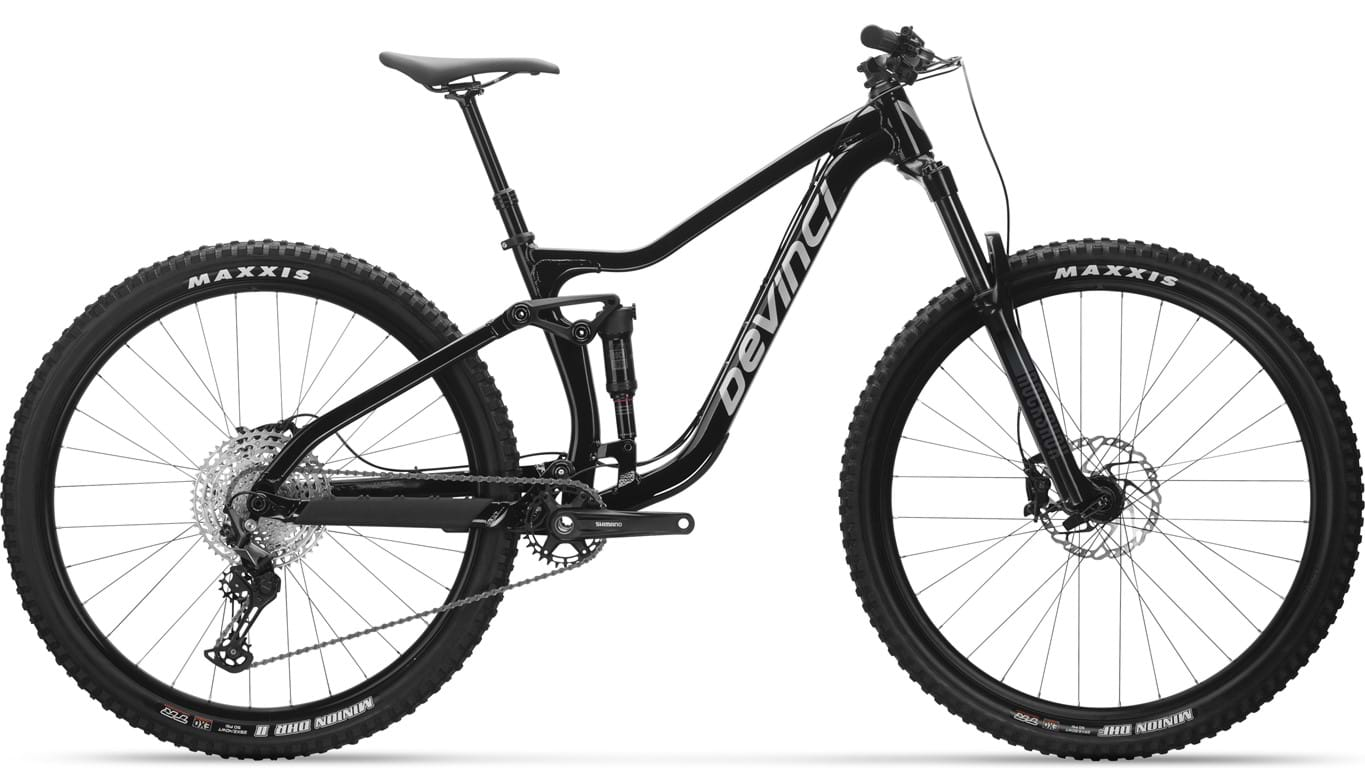 Each stage of the Devinci Marshall frame's product lifecycle takes place under the watchful eye of their team. Design, prototyping, manufacturing, testing, and quality control procedures are done with complete control, resulting in a superior product backed by a lifetime warranty.
Devinci treats the custom 6061-T6 aluminum tubesets for durability, stiffness, and excellent strength-to-weight characteristics exclusive to their bikes.
Although it's an entry-level full-suspension model, the high-quality frame will make an excellent base for future upgrades as your skills progress and the cheaper components begin to wear. Unfortunately, there isn't a Devinci Marshall carbon to upgrade to.
Modern Trail Geometry and Progressive Sizing
---
The aggressive geometry of the Devinci Marshall is one of the most important design characteristics. This design allows the bike to be ridden hard and fast on light to moderate trails, inspiring confidence in new mountain bikers and providing plenty of capability to those with more experience.
The seat tube angle is relatively steep, ranging from 76.8 to 77 degrees. This angle puts you in a comfortable and efficient position for climbing, allowing you to tackle long days with plenty of elevation gain.
The head angle is consistently slack at 66.5 degrees across the size range. This angle and the long-ish wheelbase (1143 to 1251mm) provide a feeling of stability when riding downhill at speed and allow you to maintain an appropriate amount of weight over the front wheel.
Devinci uses a progressive approach to the sizing of the Marshall. The XS/S builds have smaller 27.5″ wheels and shorter chainstays (430mm), giving smaller riders a more tailored ride feel consistent across the range.
Split Pivot Suspension
---
The Split Pivot suspension technology used on the Marshall is a system created by Dave Weagle, one of mountain biking's leading suspension designers.
The Split Pivot system is a simplified linkage that helps to maximize small bump compliance and traction while simultaneously improving pedaling efficiency. To achieve this, it separates the acceleration and braking forces, reducing unwanted suspension reactions to acceleration and braking.
This system also allows Devinci to individually tune the leverage ratio curve to suit each style of bike. For example, the Marshall is tuned for a more efficient pedaling platform.
Shimano Deore 12-Speed Drivetrain and Four-Piston Brakes
---
The Deore M6100 12-speed drivetrain is an excellent inclusion at this price range. The shifting is reliable and relatively smooth, and the drivetrain can handle plenty of trail abuse. The setup includes a 10-51t Microspline cassette and 30t crankset, ensuring you can spin up steep gradients without issue.
Another highlight, given the price of this bike, is the high-power four-piston brake calipers on the Deore M4100/MT420 hydraulic brakes. These are strong brakes, adequate for the broad range of trails that this bike can handle. However, the bite point can be a little unpredictable at times.
Devinci Marshall Trail Performance
---
There isn't a specific attribute or type of trail where this bike shines. Instead, it functions as a jack-of-all-trades. None of the components or design characteristics will allow you to excel in one domain, but they combine to provide versatile performance.
Where Does the Devinci Marshall Thrive
---
The Devinci Marshall is a very efficient climber for a $3,000 full-suspension bike. The steep seat tube angle puts you in an efficient position for climbs, and the Split Pivot design isolates the acceleration forces from the suspension to reduce its effect on pedaling efficiency. Thankfully, it does so without negatively affecting the ability to get over roots on climbs.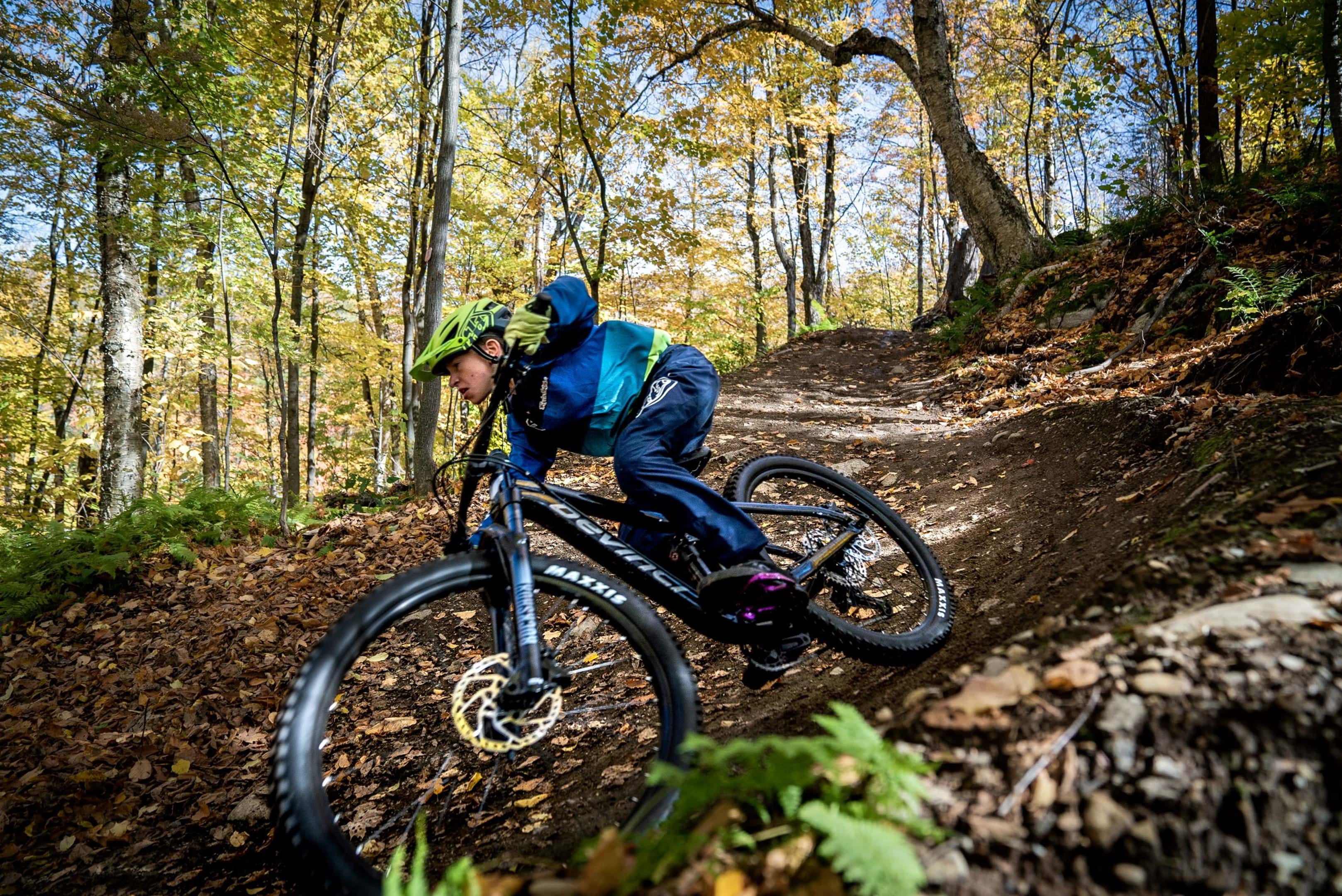 This bike also descends well on fast, flowy trails with small to medium-size obstacles. The aggressive trail geometry provides a sense of stability at high speeds. In addition, the suspension setup gives the Marshall a planted and predictable feeling when riding over chunky stuff instead of being active and supple.
Hill climbing has long been the ruler by which many cyclists measure their worth. The popularity of extreme hill ...
You can feel confident pushing the Marshall as hard as you want on smoother sections. The Maxxis Minion DHF and DHR II tires will hold traction on loose terrain and when taking corners at speed.
The balance of all-around climbing and descending capability makes this bike an excellent choice for riders who like to tackle varied trails without restricting themselves to a specific style. You'll only feel under-biked on technical enduro-style terrain.
What Could Be Better?
---
The Devinci Marshall weight is one slight weakness. Being slightly heavier (at around 35lbs), the bike isn't as fast on the uphills as it could be. Nonetheless, the pedaling efficiency of the Split Pivot suspension somewhat makes up for the extra weight.
Another area for improvement is the RockShox 35 Silver TK fork which is a little unpredictable in its performance and doesn't have compression adjustments. This component is slightly disappointing, given the considerable price increase of the bike for 2023 ($2,599 to $3,079).
Lastly, the seatpost might be worth changing for some riders because it sits a little higher than average for this style, giving a feeling of riding above the bike.
Devinci Marshall Sizing
---
The Devinci Marshall comes in five sizes, XS to XL, fitting riders between 4'9″ and 6'6″. Again, the S and XS use 27.5″ wheels instead of the 29″ standard, providing smaller riders with more consistent geometry.
XS – 4'11" – 5'3″
S – 5'3″ – 5'7″
M – 5'6.5″ – 5'10.5″
L – 5'10" – 6'2″
XL – 6'1.5″ – 6'6″
If you fall between two sizes of the Devinci Marshall, you can find a dealer near you through their website and visit the shop to do a test ride of the two models. Alternatively, compare the geometry of the two to a similar trail bike you've ridden to see which is the closest match.
People Also Ask
---
How much travel does the Devinci Marshall have?
The Devinci Marshall has 130mm of rear travel and 140mm of fork travel. This setup puts it in the mid-travel trail category, designed to handle most terrain except technical downhill-style trails that have massive obstacles and jumps. The price of this bike makes it ideal for beginners.
Are Devinci bikes made in Canada?
Yes, most Devinci bikes are made in Canada. However, many of their bikes are made in factories abroad and assembled and tested in Canada. As of 2023, Devinci still makes nine of their mountain bikes and dirt jump bikes in Canada, such as the Marshall, Wilson, and Kobain.
Is the Devinci Troy a trail bike?
Yes, the
Devinci Troy
is a trail bike. With a 150mm fork and 140mm shock, the Troy slots in at the high end of the trail category. It is a more capable bike than the Devinci Marshall and comes with various build options, including carbon.
Verdict: Should You Buy a Devinci Marshall
---
If you are new to mountain biking, the Devinci Marshall is an excellent option to add to your shortlist of full-suspension bikes. Likewise, if you're upgrading from a hardtail mountain bike for the first time or are an intermediate rider with a limited budget, this bike could be right for you.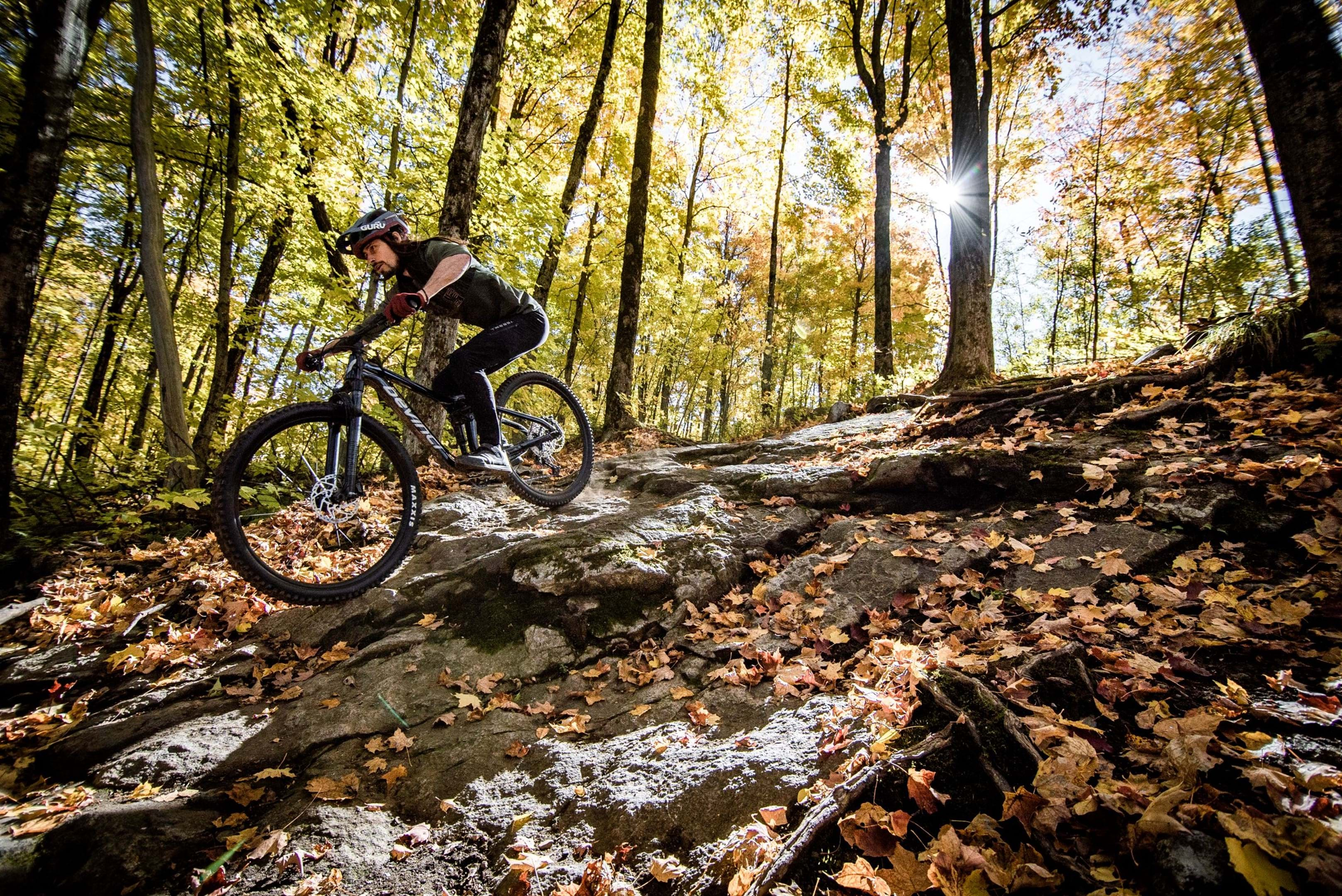 Firstly, the Devinci has stable trail geometry that inspires confidence on fast downhill terrain. This geo combines with large 29″ wheels with Minion DHF/DHR tires, providing tons of traction on loose terrain. In addition, the 130/140mm suspension setup is perfectly adequate for beginner to intermediate-level trails.
Experienced mountain bikers may sometimes feel a little under-biked when tackling advanced trails, but that's normal for a 130mm frame. However, if you're a more advanced rider with a limited budget, this bike's versatility and low price are appealing.
All things considered, if you're looking for a do-it-all trail bike with solid components, an affordable price, and a lifetime-guaranteed frame to learn and grow with, consider Devinci's Marshall.