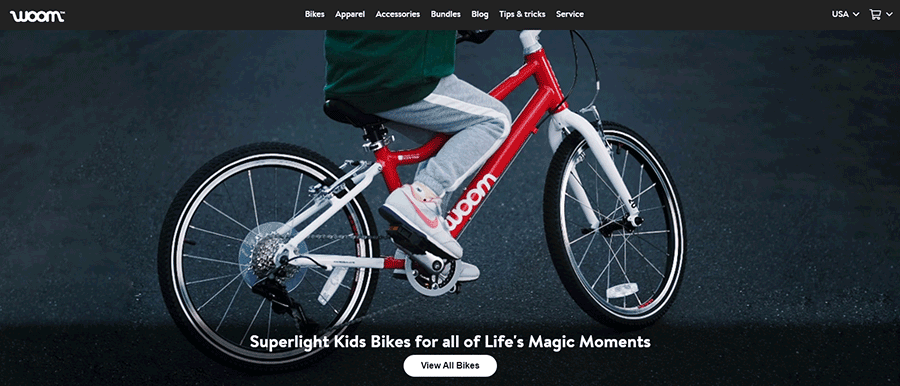 Woom bikes collect medals in the same vein as generals; they just love shiny objects to pin on their chest or hang on their walls. One after another, year in year out, they top all the award lists. Eurobike Winner 2019, Reddot Winner 2020, Two Wheeling Tots Top Picks 2019, Design & Innovation Award 202, Reddot Winner 2020, and the list go on.
woom bikes is a bicycle company based in Austria and founded by two dads with years of prior experience in the cycling industry.
Woom is a specialty brand that focuses on kids and their cycling needs. 90% of their bike parts have been designed in-house and produced with the ergonomic and specific needs of children's anatomy.
Their bikes are 40% lighter than most conventional children's bikes in the market. And, if your kid already owns a Woom and outgrows it, you can trade in their old model and get a 40% discount when buying the next size up.
They saw a problem and were determined to solve it: There were no high-quality bikes available for their children, they decided to make their own. Today, woom kids bikes are already very popular in continental Europe but are slowly taking over the rest of the world as well.
The company's goal is simple and direct:
"We want as many children as possible to love to ride their bike – that is our mission."
Marcus Ihlenfeld
Founder of woom.
---
woom bikes size chart
The brand recommends choosing a bike size by the length of the inseam for the best fit
woom
Wheels
Height range
Min. Saddle Height
Age range

1

12″

31″ – 40″

10.1″
1.5 – 3.5

1

plus
14″

37″ – 43″

14.8″
3 – 4.5

2

14″

37″ – 43″

15.9″
3 – 4.5

3

16″

41″ – 47″

19.1″
4 – 6

4

20″

45″ – 51″

22.1″
6 – 8

5

24

"

49″ – 57″

26.4″
7 – 11

6

26″

55″ – 65″

29.5″
10 – 14
OFF

4

20″

46″ – 51″

22.3″
6 – 8
OFF

5

24″

50″ – 57″

27.8″
7 – 11
OFF

6

26″

55″ – 65″

30.3″
10 – 14
OFF Air

4

20″

46 – 51″

22.8″
6 – 8
OFF Air

5

24″

50″ – 57″

28.3″
7 – 11
OFF Air

6

26″

55″ – 65″

30.7″
10 – 14
---
woom 1
For kids making their first steps in the cycling world
MSRP $199
Steering limiter / 12″ air tires / Hand brake / Weight: 8.5 lbs
Best For: 1.5 – 3.5 years of age / 31″ – 40″ in height / Saddle height: 10.04″ – 14.37″
woom 1 is the number one balance bike for kids who are trying to learn how to ride a bike at a very early age. Thanks to the very low step-through frame and a wide range of saddle height positions, your kid can start riding as soon as they start walking and keep riding until they are 3-4 years old.
The woom 1 balance bike is the first choice of parents worldwide because of all of the features it packs. In my opinion, the most important ones that make this bike a good purchase are the steering limiter, the hand brake, and the low weight.
Everyone can learn how to balance on a bike. But fear is a great hindrance. Kids are afraid that they might fall if they start riding without support. The combination of a very lightweight frame, reliable hand brake instead of a coaster brake, and a steering limiter will give your kids more confidence than any other bike.
Best of all, woom 1 is available in five colors, so it's suitable both for boys and for girls.
---
woom 1 Plus
For toddlers practicing the balance on two wheels
MSRP $269
14″ air tires / Mid-size frame / Removable steering limiter / Dual hand brakes / Removable footrest
Best For: 3 – 4.5 years / 37″ – 43″ in height / Saddle height: 14.76″ – 18.5″
We mentioned that woom 1 is the best balance bike out there. Well, the woom 1 Plus is the best balance bike made bigger. At first glance, it's quite similar to woom 1, but it has some important improvements.
The tires are 14″ in diameter, so this bike is suitable for older toddlers. The frame is bulkier as well, but it's still easy to get on and off thanks to the low step-through design.
Another really important feature on the woom 1 Plus that I like is the surfboard footrest. It's ideal for taller riders who already have enough confidence, but it's not that great for shorter riders. However, you can take it off in a matter of minutes and add it back when your kid grows taller or gains some more confidence.
Moreover, they are color-coded, so there's a minimal risk that children will mix up the front and the rear brake. Once you think that your kid is ready for an additional challenge, you can also remove the steering limiter and let them figure things out on their own.
woom 1 Plus is highly adjustable, so you can use it time and time again for years to come.
---
woom 2
Kids who have outgrown their balance bikes and are ready to transition to a pedal bike
MSRP $359
Dual hand brakes / Chain guard / Steering limiter / 14″ wheels & air tires / Kickstand
Best For: 3 – 4.5 years / 37″ – 43″ in height; Saddle height: 15.94″ – 19.09″
When you see that your child has mastered riding a balance bike and there is no challenge in it for them anymore, that means they are ready to progress to a pedal bike. The best choice at this point is woom 2 since it has a very similar geometry to the balance bikes. Therefore, the change for your little ones will be minimal.
One of the most important features for the parents on woom 2 is the chain guard. No chance you will have to deal with chain stains on your kid's pants, socks, and shoes! But the model 2 is also a great choice because it features dual hand brake levers, a detachable steering limiter, and very lightweight construction (just 11.2 lbs).
Like all other woom bikes, this model comes in 5 bright colors as well, so your child will be excited to ride it.
---
Woom 3
Preschoolers who are getting their first pedal bike or transitioning from a smaller one
MSRP $389
16″ wheels, air tires, dual brakes, ergonomic crank, chain guard, anatomical saddle
Best For: 4 – 6 years / 41″ – 47″ in height; Saddle height: 19.09″ – 25.2″
woom 3 is a lightweight kids' pedal bike which is ideal for children who have yet to completely relax when riding. This model features a completely upright position that is not only comfortable but promotes confidence as well. It's much easier to loosen up when you have a better view of what's ahead and you can easily put your feet on the ground.
The 3 model is larger than the previous ones and features 16″ wheels and durable air tires. These tires are quite knobby, which is perfect if your kid will ride on slippery surfaces such as wet asphalt, sand, or loose gravel as they provide plenty of grip.
Other, pretty standard equipment by now includes dual color-coded brake levers and a chain guard. But, woom 3 also features an ergonomic crank and an anatomical saddle, which are specifically built for young children. Therefore, your kid can spend hours riding around the block and feeling comfortable.
---
Woom 4
For school kids who love riding on all types of terrain, including gravel and forest roads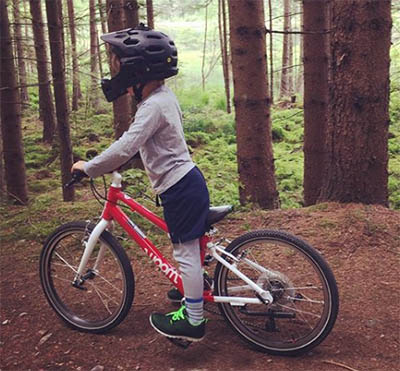 MSRP $479
20″ tires / Grip shift Sram shifters / 8 gears / Quick-release axels / woom stem / Sram X4 derailleur
Best For: 6 – 8 years / 45″ – 51″ in height; Saddle height: 22.05″ – 27.95″
woom 4 is everything your kid will need for years to come. Woom bikes are a bit more expensive than other kids' bikes out there, but I like to look at it as an investment for the future. This model is basically an adults' bike in kids' clothes, so it's worth every cent.
When your kid is 6 to 8 years old and they have overcome simple riding, it is the perfect time to introduce them to gear shifting. The woom 4 comes with ergonomic and simple to use grip shifters, which are the best option for your kids to figure out how gears work and what they do.
I was also impressed with the woom stem, which is a clever addition. It attaches to the original stem of the bike, so you can prolong the time your kid can ride this bike and postpone the next purchase.
If you have some additional money to spare, you can fit lots of accessories on this bike (and others as well), such as fenders, a kickstand, rear rack, lights, water bottles, and a lot more.
---
Woom 5
Ideal for school kids who want to ride around the block or explore their area on more rugged terrain
MSRP $499
24″ wheels / SRAM X4 rear derailleur, and shifter / knobby tires / seat post clamp
Best For: 7 – 11 years / 49″ – 57″ in height; Saddle height: 26.38″ – 32.28″
woom 5 is rated as one of the best bikes you can buy in this class. Its smart design allows it to be perfect for long paved rides, short neighborhood rides, as well as off-road rides. You can't expect your kid to become a junior MTB champion on woom 5, but you can expect them to have loads of fun and come home with a smile on their face.
Kids at this age (7 – 11) are known to abuse their bikes a bit more, so it's important for the bike to be easy to maintain. woom 5 has quick-release clamps on the wheels, so it's super-easy to take them off to replace a flat tire or something like that.
Bike seats have a quick release too, so you can easily adjust the height of the saddle as your kid grows (which happens fast at this age). Personally, I love the grip shift gearing on woom 5. I am not a fan of grip shift on adult bikes, but it's great on kids' bikes because of its simplicity.
All in all, in my opinion, this is an extremely durable and well-built bike. It will reduce the need for maintenance for the parents and last for generations to provide fun for the kids.
---
Woom 6
Both for kids and for parents who like riding on flats, hills, asphalt, gravel, and any other type of terrain and surface
MSRP $499
26″/20″ wheels / Lightweight 6061 aluminum frame / 8-speed MicroSHIFT / Hydraulic disc brakes / Frame-mounted bag and front rack
Best For: 10 – 14 years / 4'6″ – 5'4″ in height
Is your teen asking you for a new bike that looks like an adult bicycle and not like a kids' bike? woom 6 is the answer to your woes. This model is a hybrid bike, which means it combines the functionality of both mountain bikes and road bikes.
It has a sturdy and durable aluminum frame, but fast-rolling tires. That makes it a great choice for all types of terrains, so you do not need to invest in two separate bikes if your child loves exploring.
I also love the simplicity of this bike, which is what children need. They want a bicycle that's easy to ride and maintain, that will simply get them places with little or no fuss.
The grip shift system that controls the 8-speed Sram X4 rear derailleur is simple to use and provides a gear for any type of terrain.´Since woom 6 is suitable for riders as high as 5'4″, it's a great choice for shorter parents as well, in my opinion. You can also fit it with fenders, lights, water bottles, and customize it to your liking.
---
Woom Now 6
Perfect for kids who demand a lot from their bikes and want confidence-inspiring components for all terrains
MSRP $849
26″ tires / Lightweight aluminum frame / 8-speed / V-brakes / Customizable with numerous accessories
Best For: Age: 10 – 14 years, 56″ – 66″ in height
Does your kid need a bike that they can use for anything? Then the Now 6 by woom is the perfect bike for the job. This jack-of-all-trades takes the standard woom 6 and blows it out of the water with premium components and tons of extra features.
The Now 6 begins with woom's standard lightweight and durable aluminum frame and places a 26″ rear wheel and a 20″ front wheel to lower the center of gravity but maintain an upright riding position that promotes stability and gives a better view of the road or trail ahead.
2.15″ Schwalbe Big Apple puncture-resistant tires, hydraulic disc brakes, anti-slip pedals, and ergonomic child-specific touchpoints ensure the Now 6 is comfortable and controlled in varied weather conditions and terrains.
The brakes on this bike are easy to use thanks to the adjustable levers. In addition, the 8-speed MicroSHIFT drivetrain has simplified twist shifters and on the other bar, you have a twist-grip bell.
The final standout feature of this bike is the fully-equipped design which means it can be used by anything from an urban school commuter to a multi-terrain leisure bike. If you're looking for an all-terrain utility hybrid for your child or young teen, the Now 6 is a superb option!
---
Woom OFF-Series
---
woom OFF 4
The perfect bicycle for 6-8-year-olds with an insatiable desire for exploration and off-road
MSRP $669
20″x2.25″ tires / Lightweight aluminum frame / 9 speeds / Hydraulic disc brakes / wide tires
Best For: 6 – 8 years / 46″ – 51″ in height;
Finally, something that we've all been waiting for—woom has started making off-road bikes! Woom OFF 4 is the first one, intended for pre-teens, that is, kids between the ages of 6 and 8. We have to stress that this is not a cheap kids MTB. Instead, it is a proper mountain bike for kids that will allow children to follow their parents on trail rides.
The heart of woom OFF 4 is a superlight aluminum frame that children will find easy to control on the rides. It has a sporty geometry and an angled top tube that simplifies mounting and dismounting the bike.
The carbon fork is very lightweight and stylish, offering stiffness and responsiveness. On it, you'll also see Promax hydraulic disc brakes, so this bicycle definitely means business.
Apart from that, woom OFF 4 has a 1×9 drivetrain controlled by the SRAM X5 rear derailleur. That's plenty for most hills out there!
Let's not forget about the Schwalbe 20 x 2.25″ tires that grip the ground as their life depends on it. So, if you want to spend more time with your children and show them the ropes of trail riding, woom OFF 4 won't let you down.
---
woom OFF 5
OFF 5 will put a smile on any kid's face if they enjoy playing outside and finding new trails and roads
MSRP $679
24″ tires / Lightweight aluminum frame / carbon fork / 9 speeds / hydraulic disc brakes / 2.35″ wide tires
Best For: 7 – 11 years / 50″ – 57″ in height
Finally, there's a kids' mountain bike that's built to endure more than simple trail rides and bike path rides. It's called woom OFF 5, in which OFF signifies its off-road capabilities. This bike is super lightweight thanks to an aluminum frame and a carbon fork.
It weighs just 18.9 lbs, so it's easy for children to carry it over obstacles if necessary. Moreover, it's easy for the parents to lift it up and put it in the car when travel time comes.
Just like woom OFF 4, the No. 5 also has 9 gears coupled with an SRAM X5 groupset. This is an entry-level groupset, but it is ideal for children. It will allow them to shift gears smoothly and you won't have to worry that they'll destroy an expensive piece of technology.
Stability and control are the two most important parts of a mountain bike, and woom OFF 5 maintains both with powerful brakes and wide tires.
This bike brakes with hydraulic disc brakes which squeeze two 140 mm rotors. The tires are even wider than on woom OFF 4—they're 2.35″ wide, so they look massive and provide tons of traction.
There you have it, if you think your 7-11-year-old is ready for some real trails and a dose of real mountain biking, woom OFF 5 is the right bike!
---
woom OFF 6
Woom OFF 6 is a serious Alu/Carbon mountain bicycle that'll take both teenagers and their parents along demanding trails
MSRP $699
26″ tires / Super-light aluminum frame / Stiff carbon fork / 9 gears / Hydraulic disc brakes with 140 mm rotors / 2.35″ wide tires
Best For: 10 – 14 years / 55″ – 65″ in height
Just like the regular woom 6, the OFF 6 can be shared by both children and parents, if they are of similar height. That's because this woom model rolls on 26″ wheels that are often seen on adult bikes.
If your teen is bugging you to finally get them an adult bike, they'll be pretty happy with this one. It has everything that you'll see on a best bike for teenagers. Woom OFF 6, just like its cousins OFF 4 & OFF 5, sports a very lightweight aluminum frame and a stiff, light, and responsive carbon frame. The colors look serious, but they're lively enough to be a good motivator to go out for a ride.
This bike is not ideal if your teen wants to start competing on the trails. However, if they simply want to start riding a mountain bike and learning some basic skills, there are few better ones.
The combination of a 9-speed SRAM X5 drivetrain, 2.35″ tires, hydraulic disc brakes, and a wide-range cassette are suitable for different types of rides and terrains. If you want to get your kid a bike that you can "borrow" from time to time as well, woom OFF 6 will not disappoint you.
---
OFF AIR Series
---
OFF Air 4
MSRP $869
20×2.25″ tires / Hydraulic disc brakes w/ 140mm rotors / 9-speed / 11-32th cassette / SRAM X5 derailleur / Adjustable suspension
Best For: 6-8yo / Height range: 46″ – 51″
The Woom off air 4 was designed for kids aged 6-years and older. It is a durable, ultra-light mountain bike meant to inspire passion in the sport. Easy to operate, and easy to maneuver. It is an introductory mountain bike. The kink in the tobe top allows for easy on and off in any situation.
It has a sport geometry frame of super-light aluminum, that's complemented by an adjustable suspension fork, a long-lasting disk brake system, and a SRAM X5 mode with adjustable nine gears
---
OFF Air 5
MSRP $879
Adjustable suspension fork / 9-Speed SRAM X5 / 24×2.35″
Best For: 7-11year old kids, height range: 50″ – 57″
The Woom Off Air, like its sibling, is designed to give kids control negotiating steep descents and uphill struggles. It's a bike for kids 7-yeas and older. Superlight, with a hydraulic disk brake and Schwalbe mountain bike tires with ADDIX SPEED rubber. It has all the features of the Woom off air 4 just for kids a bit older.
---
woom OFF AIR 6
MSRP $899
26×2.35″ tires / Adjustable suspension fork / SRAM X5 9-speed drivetrain
Best For: 10-14year olds in a 55″ – 65″ height range
No longer a kid's ride but a bike for pre-adolescents that get into scrapes, the Woom off air 6 was designed for children ten-years and older that want a bit more speed and are no longer intimidated by obstacles.
Like all Off Air bikes, the Woom 6 was crafted with a super light, ultra-durable aluminum frame, it offers the same features only a bit beefed up. Among its great characteristics, the highlight is a special chainring that ensures the chain stays in place no matter how tough the road gets.
---
What are your thoughts regarding woom bikes? Let us and others know in the comments section below.
Instagram Image Credit @ziegenBike, @gabikeli, @Olga.Ideal, @the_mole_80, @paul.l3v1n, @terrawerra
---
woom's UpCYCLE Program
The woom upCycling program is what makes woom different from all other bike companies out there. It allows you to exchange your old woom bicycle and receive a new one with a 40% discount. This way, there is no reason to make compromises and have your child ride a bike that is too small and impractical for them.
However, not any bike can be exchanged. There are some conditions that need to be met first:
You need to have a receipt of the purchase of your woom bike
The bike cannot be more than 2 years old
The bike needs to be roadworthy (it needs to be in a decent condition)
You need to have purchased a woom membership card
Once you make sure that you have met all of these conditions, you can contact woom and they'll organize the shipping of the bike free of charge for you. After they determine that the bike you sent to them is roadworthy, you will receive a 40% reimbursement from your next purchase.
This is a fantastic way to save money in the future. As a parent, I know how expensive buying a kids' bike every couple of years can get. Plus, you end up with several bikes lying around your home that you do not know what to do with.