Best Beginner Mountain Bikes in 2023
Mountain bikes are one of the most versatile types to own and they have come a long way since their beginnings in the 1980s, with a wide range of options to choose from these days.
This makes buying your first bike a daunting task—do you go for full suspension or hardtail? Trail or cross country? How much should you spend?
These are all tough decisions, so we've compiled a convenient list of the best beginner mountain bikes to help you choose. Here you'll find something to suit any budget, from low-cost entry-level bikes around $500 to good quality intermediate bikes above $1,000.
Although a hardtail is probably the best choice for your first MTB, we've also included a few full-suspension bikes for you to consider.
The following list of the best beginner mountain bikes is intended for recreational mountain bikers and occasional trail riders who are looking for affordable options.
Important Factors to Consider
---
A Good Beginner Mountain Bike Should Be Equipped With:
A suspension fork
Preferably an aluminum frame
27.5″ or 29″ wheels
Hydraulic disc brakes
Are Carbon Frames Recommended for Beginner Mountain Bikers?
Although carbon fiber is not as 'brittle' as it used to be 10 years ago, a beginner cyclist may now know some of the basics tips to follow to maintain the best outcome of a carbon fiber's expected lifespan. We'd recommend a carbon frame to a seasoned cyclist who knows how to 'treat' the bike correctly and who has a solid cycling background.
How Much to Pay for a Beginner Mountain Bike?

A cheaper bike doesn't necessarily mean it lacks in quality. Instead, many large bike brands produce entry-level bikes that are equipped with great value components that stand the test of time a recreational cyclist is willing to put the bike through.
If you're on a tight budget, you can also consider buying a used mountain bike from The Pro's Closet. There's a huge selection of models in good condition that offer excellent value for the money.
Which type of mountain bike is best for a beginner cyclist?
The simple answer is: Cross-country or Trail mountain bike types with a travel range from 80 to 100mm on hardtails, and 100-130mm travel on full-suspension bikes.
Check out the models we recommend below.
Best Beginner Mountain Bikes
---
1

. Cannondale – Trail 5

Best men's beginner mountain bike!
Price: $950
The Cannondale Trail 5 is a decent beginner mountain bike for those looking to break out beyond just singletrack and explore more varied terrain. It has a lightweight aluminum frame and an SR Suntour fork with 100mm of travel, enough for taking on small drops and rough trails.
The Cannondale Trail 5 is a reliable hardtail mountain bike with an entry-level build and a competitive price ...
Although it doesn't have rear suspension, the Trail 5 benefits from SAVE micro-suspension that absorbs any small vibrations and provides a smoother ride.
Cannondale has reduced costs with a simple 10-speed microSHIFT drivetrain but has cut no corners with Shimano hydraulic disc brakes and WTB rims and tires. All around, the Trail 5 is a good quality intermediate MTB that uses some budget parts but delivers the goods where they're needed most.
SR Suntour XCM, 100mm travel fork
10-speed microSHIFT Advent X
Wheel Sizes
XS – S 27.5″
M – XL 29″
Weight: Approx 33lbs
Shimano MT200 hydraulic brakes
Frames from XS to XL fit riders 5'1″ to 6'3″
Related: Cannondale Trail Series Overview
The GOOD:
Different wheel size options for height, hydraulic brakes, single front cog, great feedback.
The BAD:
Frame-flex on larger frames – possibly originates from cheaper quality wheels or spokes.
Not as good for advanced mountain biking.
The SUM:
Number one on this list for a reason – great score and solid points proved at the reviews section.
Cannondale Trail series is an awesome choice for beginner and intermediate mountain bikers.
---
2

. Co-op Cycles – DRT 1.2

REI Score: 4.7/5 out of 37+ ratings
Price: $999
Co-op Cycles is the in-house bike brand of REI outdoor stores, so you know you can trust the quality. This hardtail offering is a mid-range MTB with a focus on fast riding along singletrack and forest trails.
The SR Suntour fork has a generous 120mm of travel to swallow up any large bumps and the Tektro hydraulic disc brakes will keep you on track come rain or shine.
It uses an 18-speed Shimano Altus drivetrain with a 2×9 setup that includes the excellent low-profile 'Shadow' rear derailleur. This keeps the derailleur close to the bike to avoid damage from rocks or branches. Considering that you also get ST-i25 rims and WTB tires, this is a lot of bike for the price. A real bargain!
Fork: 120mm SR Suntour XCR dual-piston
2×9 speed Shimano Altus & Alivio
Aluminum frame
Tektro Hydraulic disc brakes
XS, S, M – 27.5″ wheels / L, XL – 29″ wheels – 2.4″ width
Weight: 32.5lbs
Frame Sizes from XS to XL fit riders 5′ to 6'3″
The GOOD:
DRT-series is well-known for offering unbeatable value to large bike brands.
Great score at REI.
XS – M come with 27.5″ wheels, L -XL come with 29″ wheels.
The BAD:
120mm fork is a blessing and a curse in this case
The SUM:
Excellent value, Co-op Cycles at it.
---
3

. Diamondback Line 27.5 Bike
Price: $900
This beginner hardtail mountain bike from Diamondback is the perfect introductory trail bike at an affordable price. Although it isn't a dual suspension bike, the SR Suntour XCR fork provides a decent 120mm of travel – enough to tackle rough terrain and mild descents.
The 6061-T6 Aluminum frame has a hand-built, professional finish. The 9-speed Shimano Acera drivetrain is matched with Shimano hydraulic disc brakes which provide more than enough stopping power for intermediate riding.
Why do we recommend it for recreational beginners?
The bike is equipped with all the essentials one would need to get into mountain biking as a beginner – reliable hydraulic disc brakes, 120mm of front travel, and a wide-range 9-speed drivetrain, all of which are more than suitable for beginner cyclists.
---
4

. Rocky Mountain – Soul 10
MSRP: $909
Rocky Mountain's Soul 10 is a cheap beginner's hardtail designed for learning the craft of mountain biking. This sub-$1,000 MTB boasts a range of solid components for beginners, such as a MicroSHIFT Advent 9-speed drivetrain, Clarks M2 2-Piston hydraulic disc brakes, and Kenda Amrak 27.5×2.4″ tires.
Hydraulic disc brakes
9-speed drivetrain
27.5″ wheels
120mm fork
6061 aluminum frame.
The Soul 10 is a great hardtail MTB for 'Sunday riders' who are looking for a commuter bike with added accessibility on dirt roads. Definitely worth consideration.
The GOOD:
Modern design, 1x drivetrain, and hydraulic disc brakes.
The BAD:
Entry-level components.
The SUM:
Another great entry-level alternative for beginners on a tight budget.
---
5

. Marin – Palisades Trail 2

Shipped ready to ride, best price guarantee!
Price: $1,020
The Palisades Trail from Marin is a great beginner mountain bike for those on a tight budget. It gives you 100mm of front travel on the RockShox Judy Silver TK fork but includes no rear suspension, making it ideal for mild trail riding or singletrack racing.
With a combination of Shimano Altus and Alivio components on the 18-speed drivetrain, you get high-quality gearing for a bargain price. Not only that, but you also get Tektro M275 hydraulic disc brakes – a super-reliable part.
Marin has included some budget components to keep costs down, such as the Series 2 6061 aluminum frame. While more than sufficient for the purpose, these do make the bike a bit heavier than some other mountain bikes.
100mm

RockShox Judy Silver TK fork

Tektro M275 hydraulic disc brakes

Shimano Altus & Alivio
27.5×2.25″ tires
Frames from S to L fit riders 5'5″ to 6'1″
The GOOD:
Marin offers good-quality bikes at an affordable rate.
Hydro brakes & 27.5″ wheels.
The BAD:
The double chainring might be something that would be hard to upgrade to a 1x chainring once you'd like to progress.
The SUM:
Although the double front chainring is quite old-school, it offers a wide variety of gearing. The brakes, fork, and derailleurs are good!
---
6

. Cannondale Trail 8
Price: $800
Cannondale Trail 8 is an entry-level aluminum hardtail MTB that will get you into the outdoors without breaking the bank. It's perfect for developing riders who want to explore the countryside along gravel or non-technical mountain trails.
The Suntour M303 fork has 75mm of travel, which is enough to absorb vibrations and minor bumps. Fortunately, the WTB Ranger Comp 27.5/29 x 2.25 tires provide a decent amount of extra padding.
The drivetrain and shifters are Shimano Tourney, with 2x alloy cranks and a 7-speed 11-34t cassette to provide enough gearing. You also get Tektro mechanical disc brakes with decent stopping power.
SmartForm C3 aluminum frame
Size-dependant 27.5″ or 29″ wheels
75mm travel
14-speed Shimano Tourney drivetrain
The GOOD:
For someone who is looking for a basic mountain bike made by a huge bike brand with Shimano components.
The BAD:
Double front chainring and entry-level parts make it suitable for recreational users only.
The SUM:
Basic and affordable beginner mountain bike that won't win any races but will get you outside exploring your local trails.
---
Best Beginner Mountain Bike for Advanced Cyclists
These are the top-rated beginner mountain bikes
7. Marin Rift Zone 1 $1,899
8. Co-op Cycles DRT 3.3 $3,299
9. Ghost Kato Base $950
10. Norco Storm 1 $1,199
11. Salsa Rangefinder $1,399
---
7

. Marin – Rift Zone 1 '2022

Price: $1,899

Great consideration should also be the Rift Zone by Marin Bikes.

It is an entry-level full-suspension beginner's mountain bike that offers a ton of freedom towards comfort. This bike can easily open doors to many potentially great mountain bikers in the future as it has a rather appealing price tag. Hardtail mountain bikes are not for everyone, especially if you value extra comfort on tougher terrains.

The 2022 Marshall is equipped with an 11-speed Shimano Deore drivetrain, RockShox suspension front (130mm), and X-Fusion 02 PRO R on the rear (120mm). You'll get a Series 3 6061 aluminum frame and Shimano MT201 hydraulic brakes that are must-have components at this price range.
11-speed Shimano Deore
6061 aluminum frame
Shimano MT201 hydro brakes
Frames from S to XL to fit riders 5'3″ to 6'4″
The GOOD
Unbeatable value.
Great entry-level full-suspension MTB for beginners.
The BAD
You might get addicted to mountain biking, and want to use it for too heavy trails — that's what it's built for.
The SUM
Perfect for newcomers to get them on the trails with comfort.
Buy from Jenson USA Buy from GovVelo.com
---
8

. Co-op Cycles – DRT 3.3

Best Beginner Full-Suspension Mountain Bike!
Price: $3,299
The DRT 3.3 is Co-op Cycles premium full-suspension MTB, designed to take on serious off-road conditions with 120mm of front and rear travel. It features a high-quality RockShox Revelation Motion Control RC fork and a Deluxe Select+ shock, supported by a tough 6061 aluminum frame.
The 12-speed Shimano SLX drivetrain includes a 10-51t cassette and a 32t crankset with SLX hydraulic disc brakes. It's difficult to fault anything on this top-quality trail MTB. Co-op Cycles uses tried-and-tested WTB ST Light i30 TCS 2.0 rims and Maxxis High Roller 2.4″ tires for the wheels, plus you get an X-Fusion Manic dropper post included! You'll struggle to find a better bike for the price!
XS, S – 120mm travel front & rear
M / L / XL – 120mm travel front and rear
12-speed Shimano SLX
The GOOD:
Excellent reviews of 4.8/5-stars from 18 on REI.com.
The BAD:
The DRT 3.3 uses a low-performance dropper post.
The SUM:
Awesome value and a great alternative to many big bike brands.
---
9

. Ghost – Kato Base
MSRP: $950
The Kato Base by Ghost is one of the best beginner mountain bikes. At just under $1,000, it packs in some seriously good technology that defies the low price.
The Shimano Altus/Alivio 2×9-speed drivetrain is a solid component on a bike in this range. It features an 11-36t cassette and a 36/22t crankset, providing 18 gears with a decent ratio for easy uphill pedaling.
This bike also uses Shimano hydraulic disc brakes, which are more than sufficient on a hardtail MTB. For suspension, you get a fork with 100mm of travel; enough vibration absorption for mild off-road riding, but I wouldn't attempt any big drops.
All-round, it's a great bike for cross-country, light trail riding, and urban cruising.
27.5″ or 29″ (M+) wheels
100mm fork
Shimano 2×9-speed
Hydro brakes
Maxxis Rekon 2.25″ tires
The GOOD:
Air fork & single front cog.
Wheel sizes vary based on frame size.
The BAD:
The 2×9-speed drivetrain is heavier and higher maintenance.
The SUM:
Excellent components for such a low price.
---
10

. Norco – Storm 1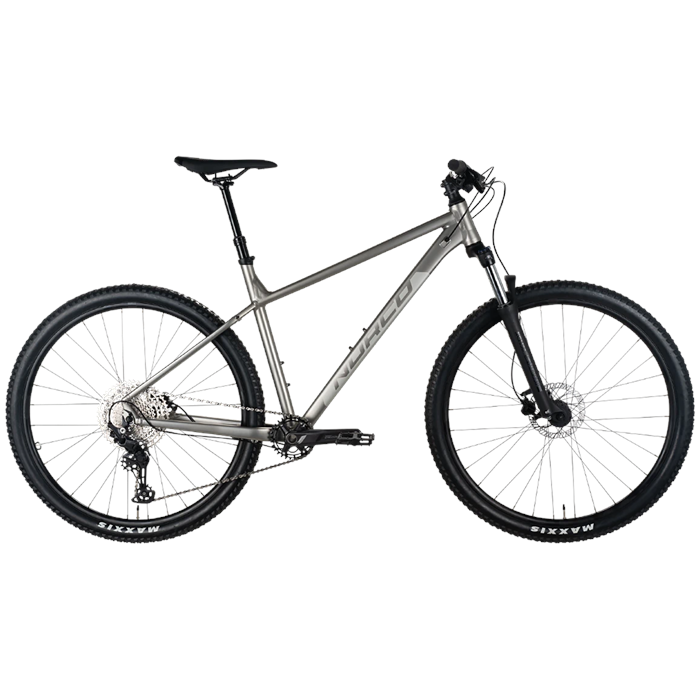 Price: $1,199
The Norco Storm 1 is an entry-level hardtail MTB that combines a premium X6 double-butted aluminum frame with affordable components. It features a Suntour XCM HLO DS fork and Shimano Deore drivetrain, both solid components that deliver decent performance without breaking the bank.
With 11 gears running off a Shimano Deore FC-M5100-1 30T crankset and a maximum 11-51T rear cog, you get enough range for easy climbing, with Tektro hydraulic disc brakes offering ample stopping power in any weather conditions.
11-speed Shimano Deore M5100
Tektro HD-M275 hydraulic brakes
While some minor sacrifices have been made here to ensure the Storm 1 remains affordable, most amateur riders will feel more than confident tackling single track and country lanes on this impressive trail bike.
---
11

. Salsa – Rangefinder
Price: $1,699
This impressive entry-level cross-country machine from Salsa looks and feels like it should cost a lot more than it does. It's a powerhouse of quality components packed into a solid, aluminum frame with an SR Suntour air fork and 11-speed Shimano Deore drivetrain.
So what's the catch? Well, it is only a hardtail bike with 120mm of front travel, so you won't be racing down any steep, technical descents on this one. However, with Maxxis Rekon 2.8″ plus-size tires and Shimano hydraulic disc brakes, you'll have no trouble keeping traction at high speed. It's the ideal bike for quick, nimble off-road riding along singletrack and rocky trails.
6061 T-6 Aluminum
120mm SR Suntour Air spring fork
XS/S – 27.5×2.8″ / M, L, XL – 29×2.8″
11-speed Shimano Deore
---
FAQ
How to choose the best beginner mountain bike?
The best bike for beginner mountain biking? Although a bit pricier than some other options, we feel the Co-op DRT 1.2 is probably the best entry-level mountain bike on this list. It offers the best quality components in its price range, and it's certainly worth spending the extra cash on.
Is a mountain bike the best all-rounder bicycle?
Although mountain bikes can be ridden on any terrain, the weight and slow-rolling tires mean they are slow and heavy on the tarmac, meaning they aren't ideal as an all-rounder bicycle. Gravel bikes use lighter frames and thinner tires, making them more suited to both on-road and off-road conditions and better all-rounder bicycles.
How much to pay for a first mountain bike?
How much you pay for your first mountain bike will probably be determined by your budget, but you should try to aim for close to $1,000 if you can. Most mountain bikes under $1,000 tend to have cheap components that will either break under heavy use or provide an unsatisfactory cycling experience.
Why prefer the 3x front chainring?
How do I start mountain biking?
Just buy a bike and start riding. Mountain biking doesn't require any special training beyond knowing how to ride a bike. Simply get out there on the trails and start having fun! Over time, you'll gravitate towards the type of riding you enjoy more, from extreme downhill to flat-out cross-country racing.
Make sure to also read our mountain biking tips to improve your skills even faster.
What is the best beginner mountain bike?
We'd say Co-op Cycles offer the best value mountain bikes online as these bikes have quite a good groupset and unisex frames.
Is mountain biking difficult?
Professional-level, downhill mountain biking can be extremely difficult and dangerous, but most people don't take part in that particular discipline. Your average, everyday singletrack or trail ride is only as difficult as you make it, depending on the type of track you attempt. As long as you start slow and keep on track, you shouldn't have any trouble completing standard mountain biking courses.
Mountain biking vs road cycling – which is better for weight loss?
Although professional Tour de France cyclists tend to have the body shape of stick insects, mountain biking can often be more tiring and better for weight loss. Road cycling is only truly effective for weight loss if you're going uphill a lot, or cycling very fast. Mountain biking, on the other hand, is usually very tiring even if you just go out for a casual day riding.
What are the downsides to cheap beginners mountain bikes?
Generally, bottom-range derailleur, mechanical disc brakes, and 'soft wheels' are the biggest turn-downs. Although, if you are a beginner and 'intend' to stay on the more casual riding style – it won't be much of a turn-down.