Prevelo is one of the best-selling kids' bike manufacturers in the US.
Launched as a family business by Jacob Rheuban in California in 1982, Prevelo has always been focused on building better bikes for kids. Unlike the cheap bicycles you would find in most retail stores, Prevelo uses high-quality materials and custom-built frames to produce strong, lightweight bikes for kids.
---
Prevelo – Kids Bikes Range

Models: Alpha / Zulu / Zulu Heir
Alpha series Prevelo bikes are built with high-quality components, intended for recreational use mainly
Zulu series Prevelo bikes are made of premium components that are also suitable for racing and training purposes
Zulu Heir series is their most advanced set of kids bikes with high-end components that can be adjusted to a fine degree
| | | | |
| --- | --- | --- | --- |
| Age | Gears | Type | Models |
| 18 months+ | Single-speed | Balance Bike | AlphaZero |
| 3 to 5 | Single-speed | 14-inch bikes | AlphaOne / ZuluOne |
| 4 to 6 | Single-speed | 16-inch bikes | AlphaTwo / ZuluTwo / ZuluTwo Heir |
| 5 to 9 | Multi-speed | 20-inch bikes | AlphaThree / ZuluThree / ZuluThree Heir |
| 7 to 11 | Multi-speed | 24-inch bikes | AlphaFour / ZuluFour / ZuluThree Heir |
---
Alpha Zero 12″ – Balance Bike
The Alpha Zero is probably one of the most advanced balance bikes to get
Price: $199
It's made by a bicycle brand that specializes and custom-builds their whole bikes range! Compared to any other balance bike out there, the Alpha Zero 12″ is built on a 6061 aluminum frame that has front and rear V-brakes. Prevelo also uses low-profile rounded hex bolts on front and rear hubs to prevent kids from getting knocked against the harsh-edged nuts.
Wheel Size: 12″
Age Range: 1.5 +
Gears: 0
Main Focus: Teach balance
Weight: 8.5lbs / 3.8kg
Tire / Tube Size: Kenda 12×1.75
The Alpha Zero is a perfect mixture of comfort, ease of use, and durability. 58+ 5-star reviews on their page.
The 12″ Alpha Zero comes 99% assembled, all you've got to do is install the handlebar!
---
Alpha/Zulu One – 14″ bikes
Optimized for two wheels!
MSRP:
$359 – Alpha
$459 – Zulu
Wheel Size: 14″
Age Range: 3 to 5 years
Gears: Single
Every single detail about this bike is well-thought-out. Take a look at the whole range of features to get a better overview:
Lightweight alloy frame with custom formed tubing
Lightweight alloy fork with Chromoly steerer
Tektro brakes with a small-reach lever (Alpha One: V-brakes / Zulu One: Disc Brakes)
Rear coaster brake on the Alpha model
Rounded hex bolts for safety
Double chain wheel guard
Specifically sized custom made cranks
..and much more
---
Alpha/Zulu Two – 16″ Bikes
Best-seller
MRSP:
$379 – Alpha Two
$469-799 – Zulu Two
$799 – Zulu Two Heir
AGE Range: 4-6
Alpha Two
The AlphaTwo is Prevelo's best-selling kid's bike, retailing at just under $400. The Alpha doesn't come with training wheels as its optimized for just two-wheel use. The lightweight 6061 heat-treated aluminum frame is fitted with two 16″ wheels and Kenda 1.5″ tires with Tektro aluminum V-brakes for great stopping power.
The handlebar is 470mm wide with a 30mm extendable stem and the Prevelo seat features a toolless adjustable clamp. The bike is clearly of a high-quality that even the roughest of children will struggle to damage.
Weight: 14.5lbs / 6.6kg
Double chain wheel guard
Lightweight 6061 aluminum frame
Tektro V-brakes on Alpha-model
Internally routed cables
Rounded-off hex bolts to prevent kids from hitting their leg against the sharp edges
Zulu Two
Heir: Available with a lightweight 60mm travel air fork with HM Carbon Fiber / AL6061 lowers & AL7050 hard-anodized ⌀30mm stanchions and adjustable rebound, lockout, and compression
Lightweight 6061 aluminum frame
Custom formed frame tubing, BOXT™ rear stays, and forged rear dropouts
Lightweight aluminum alloy fork with Chromoly steerer
Hydraulic disc brakes by Tektro
Three-piece crank
Squared taper cartridge bearing bottom bracket
Ultra-narrow Q-factor
Custom made cranks
Double alloy chain guard
..and much more
---
Alpha/Zulu Three – 20″ Bikes
Because kids' bikes have smaller wheel diameters, rear derailleurs on these bikes hang low and close to the ground for optimized performance
MSRP:
Alpha Three $499
Zulu Three $899
Zulu Three Heir $1199

Wheel Size: 20″
Age Range:
Alpha Three: 5-9
Zulu Three: 5 1/2 -9
Gears
Alpha Three: 1×8 (11-34T)
Zulu Three: 1×10 (11-36T)
20″ Prevelo bikes for kids are a tough build, optimized for best comfort and performance. Since Prevelo focuses on kids' bikes ONLY, they have customized the most crucial areas on the bike to make the ride more enjoyable compared to any other kids' bike on the market!
These are some of the best kids' mountain bikes out there, suitable for casual and experienced young riders!
ALPHA THREE
Shimano Altus drivetrain on an 8-speed with Shimano's Smart Cage derailleurs that keep things high and away from the ground.
Shimano Acera Rapidfire Plus thumb-operated shift lever with an indicator display.
Custom made cranks for sized specifically for each bike model
A three-piece crank with square taper cartridge bearing bottom bracket
Tektro V-brakes
6061 alloy frame with custom formed tubing
ZULU THREE
6061 alloy frame with triple-butted tubing and TRAPT™ downtube profile
Available with a lightweight HEIR® 80mm travel air fork with HM Carbon Fiber / AL6061 lowers & AL7050 hard-anodized ⌀30mm stanchions and adjustable rebound, lockout and compression and 15mm Thru-Axle (Rear hub – 12mm Thru-Axle).
Dropper post ready – Stealth
Available with tubeless-ready tires and wheels
Tektro hydraulic disc brakes
Shimano ZEE 10-speed drivetrain
Shimano Shadow RD+ Short cage
11-36T for a diverse MTB experience
This bike comes 95% assembled, all you have to do is install the front wheel, pedals, seat post, and handlebar.
---
Alpha / Zulu Four – 24″ Bikes
Likely one of the most advanced youth's bike on the market
The whole set-up on Prevelo bikes is very well-thought-out.
Not only the geometry and parts, but every single detail about the bike has its own special purpose.
If you are looking for a bike that's built for everyday use on dirt/urban commutes, the fourth-series will be one of your best options you could choose from! Prevelo bikes hold their value quite well, as they are built for rough use and can withstand.
When comparing the fourth series to any other kids bike on the market, you are guaranteed to get the best bang for your back, as this is what the whole brand is focusing on. These are also one of the best teen bikes that can take a lot of abuse thanks to their durable frames.
Age Range: 7-11
8-speed gearing, 11-34T
6061 aluminum frame with custom tubing
Tektro V-brakes
A three-piece crank with squared bottom cartridge
Custom made cranks
Shimano ALTUS 8-speed drivetrain
Shimano Acera Rapidfire plus short shifters which are easy to use with small hands
Double-sided chainguard for extra safety
---
Zulu Four
MSRP: $899 – Zulu / $1499 – Zulu Heir
Preferred age range: 8-11
10 or 12 speeds
Specific slack head tube angle & short chainstays keep the bike controlled over rough conditions
Lightweight aluminum frame – Custom Formed 6061 triple-butted tubing and TRAPT downtube profile
HEIR model comes with HM Carbon fiber 80mm travel fork
Stealth cable routing and dropper-post ready
Flat mount rear brake caliper keeps it protected between the chainstays
Tektro Hydraulic Disc Brakes
10-51T for rough and steep hills
---
Prevelo Kids Bike Size Recommendation
In order for the kids to learn properly how to bike, it is crucial to get them the right size bike, too!
| | | | |
| --- | --- | --- | --- |
| Model | Wheel Size | Approx. Rider Age in years | Pedaler Inseam (inches) |
| Alpha Zero | 12″ | 1½ + | n/a |
| Alpha One | 14″ | 3 to 5 | 13 to 16.5 |
| Alpha Two | 16″ | 4 to 6 | 15.5 to 22 |
| Alpha Three | 20″ | 5 to 9 | 18 to 23 |
| Alpha Four | 24″ | 7 to 11 | 23 to 28 |
| Zulu Two | 16″ | 4 to 6 | 15.5 to 22 |
| Zulu Three | 20″ | 5½ to 9 | 20 to 25 |
| Zulu Four | 24″ | 8 to 11 | 23 to 29 |
---
How to Set the Saddle Height?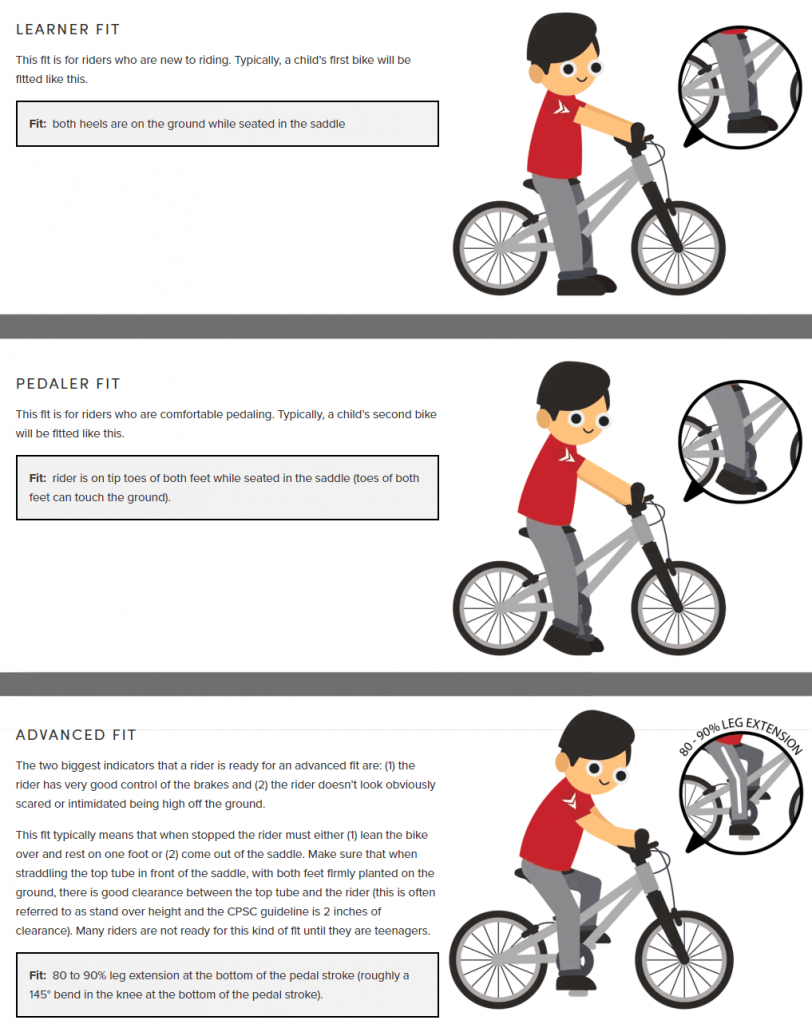 ---
Blog – Must read for parents
Check out Prevelo's blog for useful information on how to improve your child's riding experience. It includes regular features and articles about child safety, advice for parents, and Prevelo partnerships. As the main contributor, Jacob provides helpful guides explaining common problems in detail, with pictures, videos, and calculators to solve issues like gear ratios.
Teaching children to shift gears on a bike
Why do rear wheels on bikes skid so easily & how to teach kids to use both brakes?
Gear ratio, gear inches & chain ratio calculator
At what age should you teach a kid to ride a bike?
"My child is a balance bike master but struggles with pedals. Help!"
---
Prevelo Bike Accessories
Prevelo sells a range of protective gear and bike add-ons for kids, including helmets, knee pads, bells, lights, and kickstands. You can also add customized name lettering to your kids' bike for an additional $20.00!
In addition to add-ons, Prevelo stocks a range of spare parts like:
Forks

Tires &

tubes

Grips for any repairs you may need to do
---
Prevelo Trade-Up Club
AS YOUR KID GROWS, SO WILL THEIR PREVELO
See How It Works: Prevelo Trade-Up Program
---
Support
All Prevelo bikes come with a 30-day money-back guarantee, a 5-year limited warranty that covers the frame and fork, and a 1-year warranty on paintwork and components.
If you have any troubles before are after purchase, Prevelo offers a wealth of support to its customers. On the website, you'll find a comprehensive FAQ to answer any of your immediate questions and provide detailed guides on how to construct delivered bikes.
If you can't find the help you need online you can get hold of Prevelo via their online contact form, call them, or visit their Warehouse in Temecula, California.
We've never seen such an overlooking Q&A about kids' bikes, so make sure to check out their FAQ section!
---
Shipping & Assembly
Shipping cost: $15 US-wide
Assembly: 95% Assembled
---
What Do We Think of Prevelo bikes?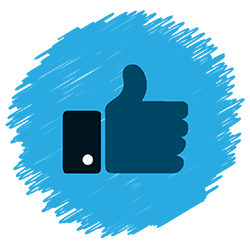 Kids' bikes are notoriously low-quality and built from cheap parts because parents often expect their kids to lose interest in cycling over time. However, if you want your child to develop a healthy love of cycling it's imperative you start them off on good quality bikes right from the beginning.
Prevelo fills this gap in the market by providing parents with top-quality bicycles built from the same materials as adult bikes. The bikes are not only much safer and enjoyable for your kids but also tougher and more durable, resulting in better value for money in the long run.
Long story short – If you are looking for a high-end kids all-rounder bike with great trail riding capability, you have become to the right place!