Trek Bicycle Corporation is a bicycle and cycling products manufacturer whose headquarters are located in Waterloo, Wisconsin.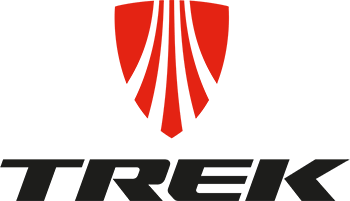 Trek bicycles are marketed through 1,700 dealers across North America. They have distributors in more than 90 nations across the world with subsidiaries in Asia and Europe.
Only a small percentage of their bikes are manufactured in the USA while the remaining 99% are manufactured in other parts of the world including Germany, China, and the Netherlands.
Over the years, this manufacturer has distributed bikes under brand names like:
Diamant Bikes
Klein and LeMond Racing Cycles
Trek, Villiger Bikes
Gary Fisher
---
History
Trek is the Afrikaans word that stands for "Journey". Taking a closer look at the history of Trek bicycles, one would agree that it has indeed been a journey.
Over the last 42 years, this company has continually worked to refine and improve its products and persuaded the world to join in and take the journey towards better health and fitness.
Trek's story began in December 1975 in a barn when Dick Burke invested a sum of $25,000 to manufacture steel touring frames to battle those produced in Japan and Italy.
Initially, the idea was to make the world's best bikes but it was not until 1982 that they managed to actually manufacture their first complete bike as a company after acquiring more space and building a factory. In 1983, they made their first mountain bike.
Later in 1984, they launched aftermarket parts and accessories line, Trek Components Group (TCG).
The period between 1985 and 1991 could be described as the technology frontier for Trek. In 1985, they borrowed from aircraft and other bike companies' technology and introduced their first bonded aluminum bike frame in 2000.
Later in 1986 Trek followed up the success of 2000 with a 3-tube carbon composite model, The Trek 2500.
This was Trek's entry into the world of carbon fiber. That same year, to keep up with rapidly growing sales, they added another 75,000 sq ft (7,000 m2) of manufacturing space to its Waterloo headquarters.
In 1988, Trek bikes introduced "Trek Wear," which strongly indicated the company's entry into the cycling apparel business. A year later, Trek ventured into foreign markets, opening subsidiary offices in the UK and in Germany.
That same year Trek introduced its Jazz brand of bicycles, a collection of entry-level and kids' bikes designed by Trek but manufactured in Taiwan. Jazz bicycles were discontinued in 1993.
In 1992, They launched their first bikes built with a full-carbon frame, the 5500 and 5200 which featured Optimum Compaction Low Void (OCLV) frames. These went on to become the world's lightest production bikes with a frame weighing around 1.11kg.
The company further expanded its space to accommodate the new OCLV manufacturing facility.
In 1992, Trek also introduced their first full-suspension mountain bike, the 900 series which featured the T3C suspension system.  In 1993, Trek also acquired Gary Fisher Mountain Bikes, named after Gary Fisher, one of the inventors of the mountain bike and one of the most popular names in off-road cycling.
Fisher had founded Gary Fisher Mountain Bikes in 1983 and sold his company in 1991 to Taiwan's Anlen company, remaining on as President.
From there it has been all systems go for Trek bikes with a various event marking their success such as introducing a full suspension Y bike in 1995 and signing three-time Tour de France champion Greg LeMond to get LeMond Racing Cycles on its feet (1995), although the relationship with LeMond soured in 2008 as both sides alleged breach of contract.
In 2006 Trek launched the "1 World 2 Wheels" campaign. The idea was to encourage Americans to swap their cars for bikes on trips of two miles or less.
Today their mission is to "Help the world use the bicycle as a simple solution to complex problems" such as easing traffic congestion, improving health, seeing the world, and combating climate change.
They've cut their coal emissions to nil and parking spaces at their headquarters are allocated for carpoolers only.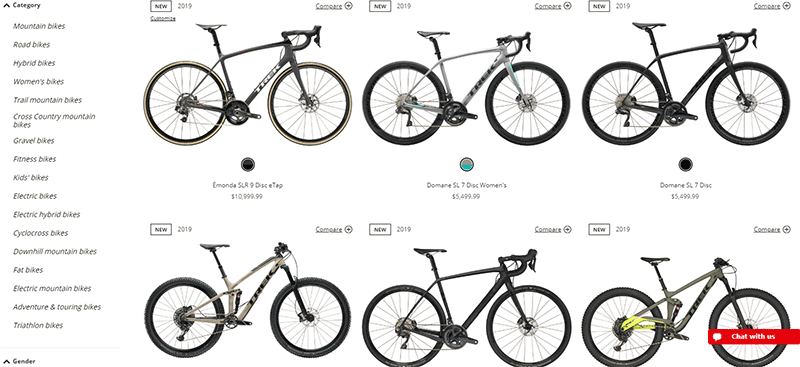 ---
Bikes Range
Today, Trek produces everything from high-end road, mountain, and triathlon bikes to hybrid, comfort, cruiser, and kids' bikes. These products are available in a range of prices; the high-performance bikes will require you to dig deeper into your pocket while other bikes are more affordable.
Entry to Performance – Mountain / Road / Fat / Electric / Hybrid / Kids'
They have also designed bikes and accessories to fit female riders since 2000 and they have a custom bike program called Project One, where customers can choose their own paint scheme and component mix.
---
Trek Mountain Bikes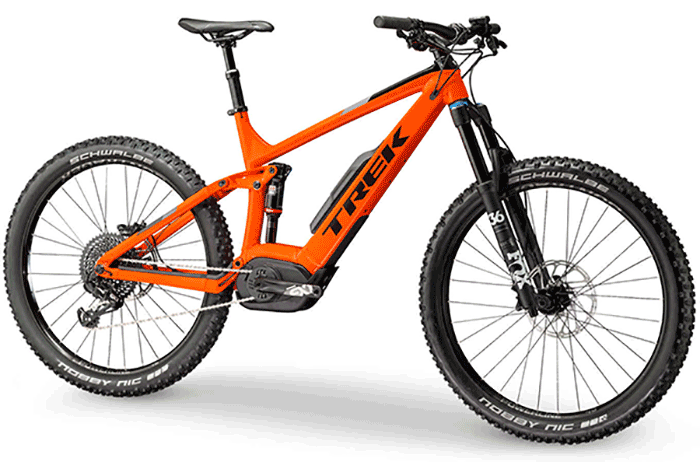 Full-suspension / Hardtail /  Rigid
Carbon / Aluminum
XC / Trail / Enduro / Downhill / Downcountry / Electric / Kids' / Fat
Trek's mountain bikes are made to ride off-road for adventure, fun, and competition.
They're characterized by wide, knobby tires for increased traction on variable terrain, but there is a great deal of variation between models.
They have options ranging from hardtail to full suspension, 29ers and 27.5, to aluminum or carbon.
From suspension to frame design, finding the bike that's right for you depends on where you'll ride and the type of riding you want to do.
The Trek Powerfly 9 LT Plus, marks the upper end of the range, with an RRP of $6,700. It features Trek's Alpha Platinum Aluminium frame and offers the stiffness of a 27.5″ wheel with all the benefits of a 29″ wheel.
---
Trek Road Bikes
CX / Gravel / Triathlon / Electric / Aero / Endurance
Aluminum / Carbon
All Trek road bikes will perform effectively in a wide variety of riding situations, from racing to long-distance touring. Each bike style is designed to emphasize certain rider priorities and should be used for a particular type of ride.
Determining which style of bike fits your goals is the first step in identifying the one that you're going to enjoy the most.
---
Trek Hybrid Bikes
Urban & Commuter / Fitness / Dual-sport / Recreation / Women's / Kids'
Aluminum / Carbon
---
Trek Electric Bikes
---
Hybrid / Mountain / Road
Trek / Electra
Aluminum / Carbon
---
Sponsorship
Trek once supported the now-disgraced American cyclist, Lance Armstrong, through his peak years. In 1997, it helped him sign with their sponsored team – US Postal Service Pro Cycling.
He won his seven editions of the Tour de Frances on bikes bearing their brand name, but all of his "wins" were later taken from him following doping violations.
---
Related
Trek Verve Disc – Hybrid bike series for men and women
Trek Roscoe – MTB bikes review