REI (Recreational Equipment, Inc.) is one of the best outdoor-oriented companies and shops out there. For a cyclist, it is a true treasure trove, providing a great amount of value. That's why we decided to write this REI review, enjoy!
Cyclists can turn to REI not only to buy high-quality bikes, parts, gear, and other equipment but also to expand their knowledge about cycling and other outdoor sports. That's one thing that sets REI apart from many other brands.
If you were not aware of this before, it's time you become. That's why we'll guide you through the REI from the cyclists' perspective and show you what the value is for you.
---
REI's Big Summer Sale Starts Now: Save Up to 30%
Check out REI's Big Bike Sale to save up to 30% on bikes, ebikes, cycling gear, clothing, and more!
The big summer sale starts on Friday, 7/28 and lasts thru 8/7 2023, so hurry up and find something that you need and like because the stocks are limited.
---
In-Depth REI Review: Everything Cyclists Needs to Know

Mountain Bikes Review
> Read Our Full DRT Series Review <
Touring Bikes
> Read Our Full ADV Series Review <
Hybrid Bikes Review
> Read Our Full CTY Series Review <
Electric Bikes Review
> Read Our Full eCTY Series Review <
See All Cycling Deals on REI.com
Where Is REI today?
---
The thing we like the most about REI is their everything-you-need approach. You can just take up cycling as a hobby, visit an REI store and buy everything you need to get started, including a bike, clothes, tools, spare parts, accessories, and more.
A couple of years back, REI's main focus was on being a versatile outdoor store that allows outdoor enthusiasts to get their hands on the best equipment from various brands out there. They still do it and they're one of the best in the game.
However, they started shifting their approach slightly, as several years ago they decided to bring their own brand to a premium level as well.
Therefore, today, REI makes high-quality tents, apparel, gear, and equipment under their own name. They also own Co-op Cycles, which is their brand that makes different types of affordable high-quality bikes, which we will talk more about below in a while.
Expert Advice Section for Cyclists
---
Whether you are a cycling professional or a beginner, you'll find proper information if you visit REI's Expert Advice section. It has everything you need, from riding tips and tricks, buying guides, to maintenance and repair tutorials.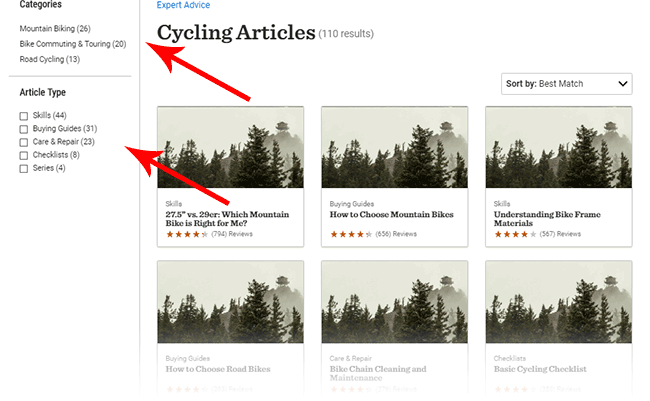 REI definitely stands out as a brand because most of its employees (even in retail shops) are outdoor enthusiasts with years of experience. That's why they decided to have them warm up their fingers by regularly writing expert advice articles about various topics.
Even though there is a lot of material under that section, it's really easy to find what you're looking for. The articles are separated into three main categories:
But there are five other article types through which you can filter your search, such as:
What we like most about REI's Expert Advice section is that every guide and tutorial is in-depth and covers all of the most important aspects of the topic. There's valuable information both for beginners and for experienced cyclists who are looking to hone their skills.
Best of all, all of the advice they give is available completely for free.
If you don't know how to do something or how to choose some piece of equipment, they probably have a guide about it (110 at the moment!)
P.S. When we write guides or answer our readers' questions, we often end up on their expert section looking for valuable information.
Cycling Classes & Events
---
REI gives classes on various cycling topics, skills and organizes events all around the USA. A hands-on approach is the best way to learn a new skill, so we think that this is a big opportunity for inexperienced cyclists to expand their knowledge.
For example, if you want to learn how tubeless tire conversion works, REI has a workshop where they teach this skill. If you never learned how to ride a bike but you want to finally change that, you can book REI's one-on-one class. These are just two examples, but there are many other classes on a myriad of topics.
If you also enjoy the social side of cycling, you should check out REI's Events section. They organize group rides, campouts, campfire classes, hikes, and so much more. It's the perfect opportunity to learn more and meet like-minded individuals.
You can filter all of these according to your skill level, activity level, and budget, so you can easily find something you'd enjoy.
Adventure Trips
---
If you want to experience life a bit more and go on an adventure, REI offers to take you on one. They organize different types of adventure trips, including cycling trips, which is what interests us the most.
If you visit their Adventure Trips section, you'll find trips such as Yellowstone to Glacier Cycling, New Zealand Biking, Spain Cycling, Death Valley trips, and so much more. You can easily explore the world with REI.
Again, you can filter the trips relative to your skill level, so you don't get bored or get yourself involved in more than you can handle.
Rent Cycling Gear
---
Gear is expensive (if you don't use it often).
When going for a ride with your friends, think about renting the gear you need if some of you aren't pros. No need to purchase expensive gear if you do not plan to use it later on.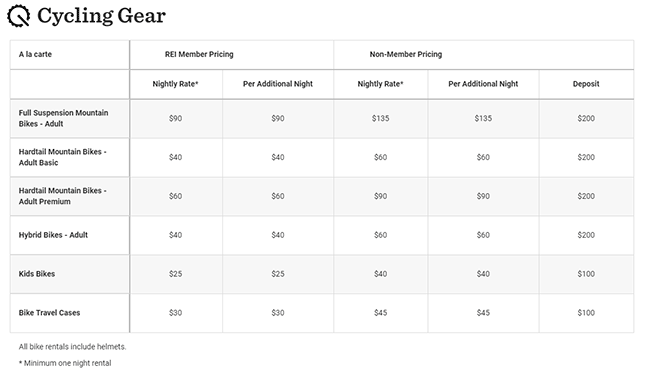 Lack of "proper" gear is one of the most common reasons why people decide not to go on an adventure or try out something new and exciting. They don't know if they will like it or not and don't want to spend hundreds (or even thousands) of dollars in vain.
That's why renting gear the perfect alternative. REI lets you rent bikes (you get a helmet with every bike), tents and other camping gear, climbing gear, paddling gear, snow gear, and even car racks.
Therefore, you can easily go on a bike tour and combine it with other fun activities without breaking the bank.
Where Are REI Shops Located?
---
REI brick and mortar shops are scattered all over the US, so you will have no problems finding one in your vicinity. At the moment, there are 156 shops you can visit, located in 38 states. The states with the highest number of shops include: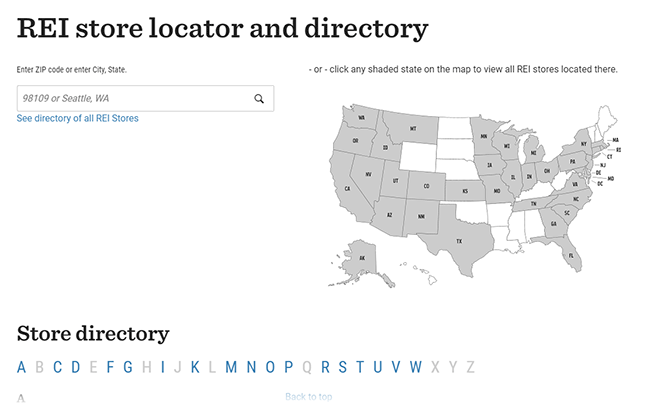 California (28)
Washington (11)
Texas (10)
Colorado (9)
Oregon (8)
If you don't find your state on their list of shops or you simply prefer buying online, you can visit their online shop as well. In our opinion, it is probably the most comfortable online shop for buying a bike and other cycling-related gear and equipment. You can learn about the gear and shop at the same time.
Brands REI Partners With
---
REI not only strives to provide the best possible quality equipment when it comes to their own brand but when it comes to other brands they feature on their website as well. They only partner with tested brands that have been in the cycling industry for years, so you can always purchase goods that are high in quality and will last for a long time.
When it comes to bikes, some of the companies they partner with and whose bikes you can purchase include Diamondback, Cannondale, Ghost, Salsa, Pure Cycles, and many others.
They also work with Ortlieb, Topeak, Bontrager, CamelBak, Osprey, and many other names to provide cycling adventurers with bike bags, camelbacks, hydration packs, and backpacks.
If you dig a little bit deeper and go to the cycling parts and equipment section, you'll find brands such as Garmin, Wahoo, Vittoria, Thule, Kryptonite, Crankbrothers, and so on.
Whichever cycling-related brand you're looking for, chances are that you will find it in REI's stores.
Types of Bikes REI Sells
---
Even though REI is an outdoor equipment brand and their main focus seems to be on mountain biking, they do not neglect other types of cyclists either. No matter if you want to hit the trails, gravel, mud, or stay on paved roads, you'll find a bike that suits you.
All of the bicycles they sell are neatly organized in six main categories:
Mountain Bikes
Road Bikes
Kids' Bikes
Hybrid Bikes
Specialty Bikes
Electric Bikes
Their selection of two-wheelers includes great picks for everyone's pocket. They offer a wide range of affordable and simple bikes, over mid-range and mid-cost models, all the way to high-end expensive beasts of machines that would suit pros.
By visiting one of their shops (or browsing the online shop), you can shop for full-suspension and hardtail mountain bikes, fat bikes, gravel bikes, aluminum and carbon road bikes, and so much more.
The Specialty Bikes section is particularly interesting as this is where you can find cruisers, fixies, cargo bikes, folding bikes, folding cargo bikes… in other words, anything your mind can imagine.
Electric bikes are also slowly taking over the world, so REI has made sure to provide their customers with a good choice here as well. If you're interested in getting a bit more juice, you can shop for electric road bikes, hybrid bikes, hardtails, full-suspension models, cruisers, and more.
We also appreciate one of the biggest selections of kids' bikes, as buying a bike for your kid is not as simple as it sounds. Therefore, a wide range of models you can choose from definitely makes the job easier. There are bikes for kids of all ages here, so you're set until they're are old enough to choose their own.
REI's Own In-House Brand: Co-op Cycles
---


Co-op Cycles is a bicycle brand created by REI. This is the name under which they make really good mountain bikes and road bikes, with an emphasis on trail models.
REI's Co-op Cycles was established in 2017 under that name and has been going strong ever since. The majority of their bicycles are priced in the low or mid-range, so they target beginners and cycling enthusiasts.
However, don't let their competitive prices fool you. They are able to offer a lot more for the same price than many other brands, because their entire designing, manufacturing, and retail process is kept in-house and controlled by REI.
See Co-op Cycles on REI.com or Read Our Co-op Cycles Review
Cycling Gear Categories
---
As we have mentioned, the beauty of REI is that you can become interested in cycling today, visit their shop, and have everything you need to call yourself a cyclist tomorrow (except for skills, but that comes in time!).
In addition to selling all types of bikes, they also sell all sorts of cycling-related gear. All of this gear is separated in intuitive categories on their website, so browsing through it is easy. The sections they include are:
Packs, Bags & Trailers
Tools & Maintenance
Bike Helmets
Bike Accessories
Kids' Cycling
Cycling Clothing
Bike Racks
Cycling Shoes
Bike Components
As you can see, there's absolutely everything you might need to ride safely and efficiently on the road. With the addition of REI's Classes and their Expert Section, you can really learn the ropes about cycling quickly.
If you need some specific bike accessories from REI, you can purchase bike computers, lights, locks, fenders, tools, lubricants, and cleaners, and so on.
You can also look more like a cyclist and feel more comfortable on the road by checking out their shorts, jerseys, jackets, tights & pants, and other clothes for all seasons and purposes.
Warranty and Bonuses
---
One of the ways in which you can see whether a company stands behind their products and believes in the quality of what they make is by taking a look at their return policy.
REI's return policy guidelines tell us a lot of good things about this brand.

Namely, they have a 100% satisfaction guaranteed approach to returns. They accept returns and offer refunds or replacements within one year from purchase for all products except outdoor electronics. If you purchase an electronic product, you can return it within 90 days.
Of course, this guarantee does not cover ordinary wear and tear, but just manufacturing defects which cause the equipment to malfunction or break.
Bonuses
---
In addition to already offering pretty competitive prices, REI also has discount coupons that you can use and numerous benefits for their members.
A lifetime REI membership is just $20. By becoming a member, you get an annual dividend notice each March, which consists of 10% back on some of your REI purchases and rewards for REI purchases made with REI Co-op World Mastercard. You can use this dividend to shop for more products in REI shops!
Moreover, if you buy several pieces of a product, you will often get a discount, which is awesome if you often buy in bulk. It gives you a chance to save a bit more.
Want to Save the Planet? Buy Used!
---
If you want to save even more money and help the planet, you can buy used stuff from REI.
The company puts returned goods back to sale instead of throwing them away. That's a good deal for REI, for the environment, and for customers.
All of the goods that are put back for sale are carefully inspected. REI makes sure that there are no mechanical or other damages.
Of course, all used goods are seriously discounted, so you can get some amazing deals if you do not mind buying second hand.
The stuff you can find here includes clothes, camping equipment, cycling shoes, packs, saddles, and a lot more.
F.A.Q
---
Here are some questions we've received from the readers.
Why is REI so successful?
The REI's success as a brand lies in the fact that they both sell products of the most popular outdoor brands and make their own high-quality goods. Moreover, thanks to their marketing and retail practices, they are able to offer their quality products at a lower price, which makes them more competitive.
What bikes does REI sell?
REI sells all types of bikes that you can think of. They have different types of mountain bikes, road bikes, gravel bikes, hybrid and city bikes, as well as city bikes. They also sell bikes from a variety of popular brands, such as Diamondback, Salsa, Cannondale, GHOST, and so on.
Are REI Co-op bikes any good?
Yes, REI Co-op Cycles bikes are made with quality in mind and built to last. Co-op Cycles makes a low-end and mid-range mountain and road bikes. They are great for beginners, cycling enthusiasts, fitness riders, and even amateur racers.
Why REI is closed on Black Friday?
REI is a co-op, which means that they view all of their employees as members of one big, happy family. Moreover, the company does not encourage rampant consumerism and instead wishes to encourage employees and customers to spend the day outside.
How do REI dividends work?
REI dividends are returns the members of the REI Co-op earn on certain purchases. By paying $20 for a lifetime membership, you become eligible for 10% back on a select purchase you make. The dividends are paid annually and you can use them to purchase goods in REI shops.
Do REI bikes come assembled?
If you order a bike from REI to your home, the bike will arrive almost completely assembled. Only some minor assembly needs to be done before you can ride, which you can do with the tools included in the package. If you ship the bike to a nearby REI shop, their mechanics will assemble the bike for you.
Can REI special order bikes?
Yes, they can. If you want a bike that they currently do not have in stock, you can contact them and ask them about it. They can order it for you and if you're a member, there's even a chance that you will earn the 10% dividend.
If you are an outdoor enthusiast, REI is a much better choice for shopping than Amazon. REI's employees are experts in outdoor sports, so they can help you out much more. Moreover, REI also has better return policies in place, so you can get a refund more easily. Moreover, REI pays dividends to its members, so if you purchase a lot of stuff, you can save quite a bit of money.
REI differs from Backcountry in that it is a co-op and as such pays part of its profits back to the members of the co-op. Moreover, REI has around 130 brick-and-mortar shops, so you can try the goods before you buy them and interact with the employees face-to-face. However, both have the same free shipping practices. However, REI accepts returns of used gear for up to a year, whereas Backcountry's limit is just 30 days.
Our Thoughts About REI
---
To sum, if you ask us whether REI products are any good, our answer would be an absolute yes. REI is, after all, one of the most popular brands in the USA, and a recognizable brand in the whole world. They could not deserve this status without providing a high-quality service overall.
What we like the most about them is their prices and their relationship with customers. They let you become a member of their Co-op by purchasing a one-time membership and pay you back a portion of the sales. Not many companies do that.
REI is a great choice for cyclists because they sell everything you might need!
From bikes, over parts and accessories, to clothes. They even organize cycling trips and classes, so there's not much more you could ask for.