In-Between Bike Sizes – How to Choose When You Fall Between Two Frame Sizes
At least 15% of bike buyers fall in between two bike sizes. So, which one should you go for? We'll help you decide.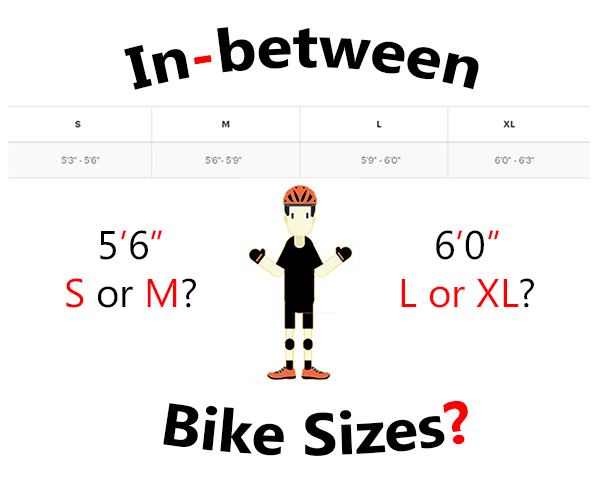 Due to the accessibility and the large variety of bikes on the market, buying a bicycle online has now become more popular than ever.
A new bike is a big investment financially, therefore it is wise to ensure you're making the right choice before you make the purchase.
Back, knee, and wrist pain are common when your bike is too big or too small mainly due to uneven distribution of bodyweight and overreaching.
While the bike size is not the only thing that will determine the success of your new bicycle purchase, finding the perfect fit will improve your overall cycling experience as well. When you ride on the right size bike that is adjusted to fit your body, you help prevent injuries, ride more efficiently, and feel comfortable for longer durations.
---
How To Choose – Body Preferences & Bike Size
What Size Bike for In-Between Bicycle Frame Size?
Long torso = Larger frame
Long hands = Larger frame
Long legs = Shorter frame
Short torso = Shorter framer
Short hands = Shorter frame
Shorter legs = Longer frame
---
The Quick Answer
Get a size smaller if:
You are into technical riding.
Best for cornering
Best for technical riding
Best for a person with a short torso or long legs
Shorter bike = Shorter wheelbase = More agile, nimble, and playful
Get a size larger if:
You prefer better stability at higher speeds over the technical aspect.
More stability on higher-speeds
Prefer more straightforwards trails
Best for cyclists with a tall torso or long arms
Larger bike = Longer wheelbase = Better stability on higher speeds
---
In-Between Bike Sizes: Should You Go Up or Down?
1. Find your arm span to height ratio – The Ape Index
Measure the distance between your fingertips with your arms held out shoulder height, palms facing down, and shoulder blades down and back in a 'neutral' position.
This measurement is sometimes referred to as the 'Ape Index'.
Compare this number in inches to your height in inches.
If your wingspan number is greater than your height, it may be preferable to choose the larger size frame when you fall between sizes.
If your arm span is smaller, the smaller frame may suit you better.
2. Get Your Leg Inseam Measurement
Stand with your back to the wall with no shoes. Put a hardcover book between your legs, up against the wall, and press firmly up into your crotch. Measure from the ground up to the mark.
3. Long vs. short torso – which do you have?
*When you have a long torso
To measure your torso length – 1.Sit on a chair by the wall 2. Place a book on the wall and measure from the chair to the book mark'. If that is over half of your body height you have a long torso.
4. Do The Toe Touch Test
Slowly bend over with your legs locked out, and try to reach your toes.
If you can, you may prefer a longer head tube (larger frame), if not you can choose the smaller one, or work on your mobility.
While this test is rudimentary, when you consider it in the context of the other measurements, it is useful.
5. Go For a Test Ride
Regardless of whether you are between sizes or not, you should always take a bike for a test ride before purchasing if you have the opportunity.
This is even more relevant if you are unsure about the fit.
If you are purchasing online, try to find the bike or a model with similar measurements at a local bike shop before you do.
6. Ask For a Recommendation
Whether you are planning on getting the bike from your local bike shop or Craigslist, feel free to ask around about the fit of this specific brand or model.
How to Compensate for the Incorrect Bike Size?
---
Bikes are adjustable to a fine degree in several ways.
This means that even though bike sizes are fixed, you can still tailor the bike to suit your body and preferences. These are the main components that can be changed:
The seat post can be raised or lowered
Handlebars can be raised or lowered
The saddle can be moved forwards or backward
The handlebar stem length can be changed
Handlebar width can even be adjusted or changed
Finding the correct size bike is tricky because of the massive variation in how manufacturers measure and list ...
It's worth noting that two distinct bike sizes may fit any one person due to the overlap and their ability to adjust. With all the measurements we mention, along with knowing preference and flexibility, you will have all you need to choose the size that you will enjoy riding the most.
FAQ
What size bike should I buy when I'm between sizes?
The question depends mainly on these few things:
Personal preferences and feel of the bike.
Level of flexibility
Bodily measurements
1. Leg length
2. Arm length (wingspan-to-height ratio)
3. Torso & back length
Bike frame measurements – top tube length, seat tube length
How to measure bike frame sizes?
Bike frame size is usually determined either by the:
Distance from the center of the bottom bracket to the top of the seat tube.
Some manufacturers measure from the center of the bottom bracket to where the top tube meets the seat tube.
The length of the top tube is another key measurement to consider that isn't factored into the bike size. This measurement will indicate how much you will have to stretch to reach the handlebars (adding a longer handlebar stem is a way of tackling a short top tube).
What measurements are used to size bicycles?
Hybrid, City, Electric, and Mountain bikes are usually labeled in sizes like XS, S (Small), M (Medium), L (Large) XL (Extra-Large). You'll see the occasional XXS and XXL mountain bike frames as well. Road bikes are generally measured in centimeters (cm) – 56cm, 58cm, 60cm which indicates the length of the seat tube. Whereas Cruiser bikes have sizes marked in wheel sizes such as 24″ or 26″
Conclusion
---
Making a bicycle purchase is a big decision that requires thought and patience. Finding the right size can be difficult if you are between sizes. However, if you follow the advice in this article, you will put yourself in the best position to make the right choice.
It's worth noting that having a local bike shop with a good reputation is extremely valuable. Take advantage of test rides, professional knowledge, and in-person customer service to help find the perfect bike for you.