Cycling has many positive benefits for your health, your wallet, and the environment. Every day, thousands of people waste money driving to work when they could easily make the same journey by bicycle. Not only does this cut down on carbon emissions but improves fitness, health, and mood.
The initial transition to cycling can be difficult, but most people find they enjoy it so much, that they never go back to driving or public transport. However, if you want to get the most enjoyment out of your new lifestyle, it's important to choose the right bike.
A decent bicycle with the correct fit can be an investment that will serve you for 5-10 years or more. Bicycle parts are cheap and you can do most maintenance at home, keeping costs to a minimum. In this bicycle buying guide, we'll help you pick the perfect bicycle for your lifestyle and requirements.
---
---
How to Choose a Bicycle?
When thinking about which bicycle to get, it's crucial to consider the following factors:
1. Purpose: Fitness, Utility or Commuting.
2. Type of Bike: Choose the right kind of bike.
3. Budget: Buying a bike is a 5-10 year investment towards your health & well-being.
4. Brand: Research the brand's reputation, quality of customer service, etc.
5. Model: Find the model that fits your needs and budget.
6. Size: Crucial. Don't forget to check multiple bike size charts and make sure you get the right frame size.
---
1

. PURPOSE | What do you need the bicycle for?
---
The best type of bike is not the most expensive or fanciest bike – it's the one that fits your needs. Is your purpose fitness, adventure, commuting, transportation, or recreation?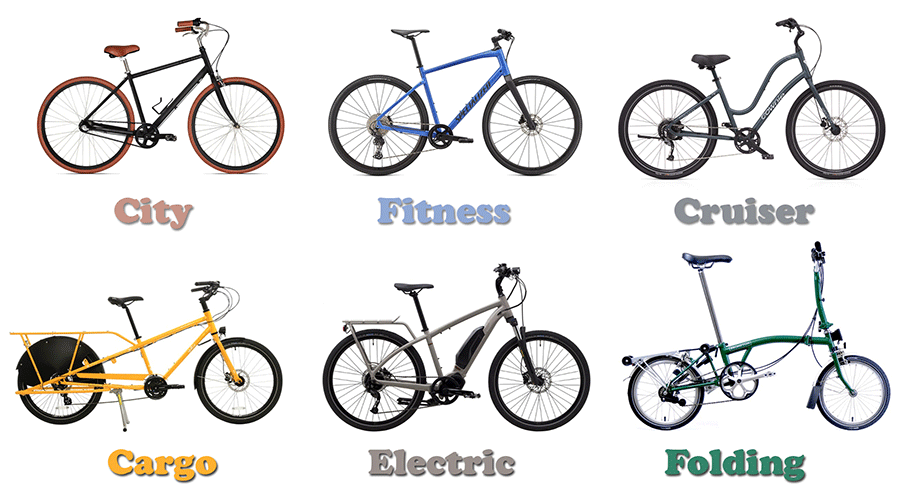 Leisurely rides
Commuter bikes such as city, comfort, cruiser, etc.
The best bike for casual riding is a cruiser or comfort bicycle. These laid back bikes are simple to operate, with a comfortable seating position, soft saddles, and fat tires. They don't go fast but they're fun to ride along the beach on a lazy day.
The best bike for riding around town is a commuter or city bike. These tough, lightweight bikes typically have puncture-resistant tires, single-speed gears for easy maintenance, and a comfortable, upright seating position.
Transportation: Utility, touring & trekking.
Many people use bicycles to carry goods, whether you're running a market stall, doing the school run or going on a bike tour. Hybrids, cargo bikes and touring bikes are all used for these types of activities.
These bikes typically come with large baskets, racks, or carriers attached to the front and back of the bike. Tourers often add pannier bags for carrying luggage, while stall owners add large buckets for goods and parents put seats on to carry their children.
Fitness & Sport: Mountain, road, gravel, cyclocross, fitness hybrid.
Road bikes and mountain bikes are the most common types of sport bicycles, although both are often also used for recreation or transport. Mountain biking has several disciplines, each with a unique bike design, while road bikes tend to follow a very traditional design.
Most good fitness bikes built from tough, lightweight materials, with a wide range of gears and high-quality components. Other fitness bike styles include gravel and cyclocross bikes, which are aimed at a specific type of off-road competitive racing.
---
2

. BIKE TYPE | What kind of bike should I buy?
---
To decide which bicycle is best for you, first research as much as you can about the different bicycles available.
Most people don't know exactly what they want until they've seen all the types of bikes and only then realize which will fit their needs best.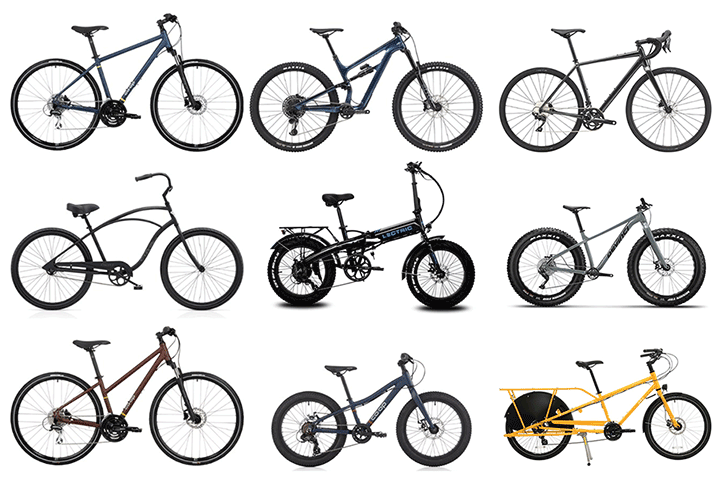 Determine the exact type.
We have listed 20 Different Types of Bikes to give you a rough idea of what to expect.
Which type of frame?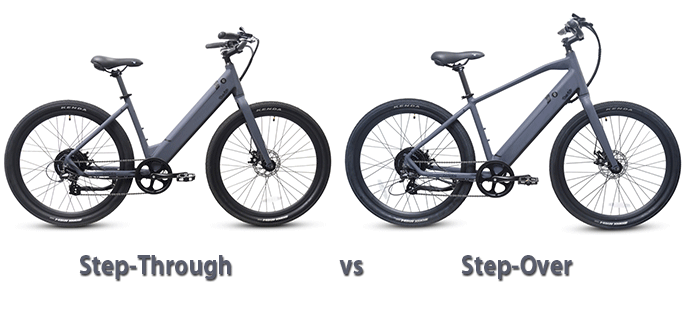 Step-through (& Low step)
Step-through or low step frames were originally designed to help women with dresses mount them more easily. The lowered center tube makes it much easier to get on and off the bike, so they're also convenient for the elderly and shorter people.
Step over / cross-over (XR)
Step over frames are the common standard used on most road bikes and mountain bikes. Although they are harder to mount, they provide a more rigid, faster ride. The presence of a top bar also makes these bikes better for touring, as you can attach a triangle bag or top tube bag.
---
3

. BUDGET | Determine how much you are willing to pay.
---
The best bike to buy is not necessarily the most expensive one, as it depends more on what you are looking for and your riding proficiency. A beginner won't get the full benefit out of a $10,000 road bike – but don't go too cheap either.
Try to aim for the middle ground between $1,500 – $2,000. In this range, you'll discover a lot of good bicycles for a decent price. Experienced cyclists with larger budgets will probably go for the $3,000 range, while professionals will aim for $5,000 and up.
Good quality bikes:
Ride better
Last longer
Maintain their value over time
*Bear in mind that it costs another $100 to $300 for some of the crucial accessories needed for long term riding. Accessories such as a bike lock and helmet are some of the items you don't want to save your money on.
Commuter bike prices
City, commuter, comfort, electric
$300 – $700 – Single speed fixie bikes, city bikes, cruiser bikes
$700 – $1,000 – Hybrid, comfort bikes,
$1,000 – $1,500 – Good quality commuter bikes with all the bells and whistles. Entry-level electric bikes by known e-bike specific brands.
$1,500 – $2,000 – Mid-range commuter bikes at every possible type available. Awesome selection of electric bikes for everyday commutes.
$2,000 – $3,000 – Top of the line commuter bikes, mid-drive electric city bikes.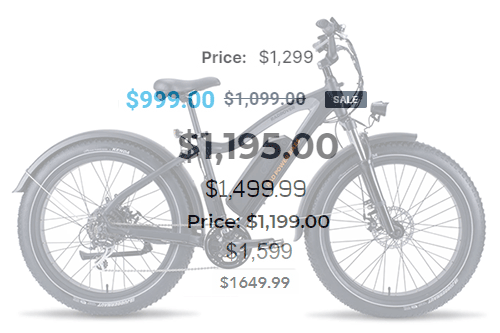 Fitness bike prices
Mountain, road, gravel, cyclocross, electric
$500 – $700 – Entry-level mountain bikes.
$700 – $1,200 – Great entry price range for recreational cyclists.
Steel gravel bikes
Aluminum mountain bikes with hydraulic disc brakes
Aluminum frame & carbon fork road bikes
$1,200 – $2,000 – Decent bikes that can be used for training purposes.
1x front cog hardtail mountain bikes with good hydraulic brakes and an air fork
Good groupset road bikes
$2,000 – $3,000 – The sweet spot.
Cyclocross bikes start to come around
A wide selection of gravel bikes
Decent road bikes that can be used for racing
$4,000 and onwards – The top 20%.
High-end hardtail mountain bikes, mid-range full-suspension bikes
Good quality carbon road bikes
$5,000 and up – Basically choose what you like.
Good-quality electric mountain bikes
Electric road bikes come on the scene
Decent electric gravel bikes available
Utility bike prices
Touring, cargo, bikepacking, e-utility
$500 – $1,000 – Entry-level touring bikes.
$1,000 – $1,500 – Cargo bikes start to come around, some electric bikes with integrated racks. Entry-mid touring bikes.
$1,500 – $2,000 – A great choice of unconventional cargo bikes. Bikepacking bikes start to come around. Electric bikes with integrated racks.
$2,000 – $3,000 – More electric cargo bikes. Good groupset bikes for trekking or long-distance touring.
$3,000 and up – A budget to expect a decent mid-range utlity bike
$4,000+ – High-quality bikes for transportation.
---
4

. BIKE BRAND | What are your preferences?
---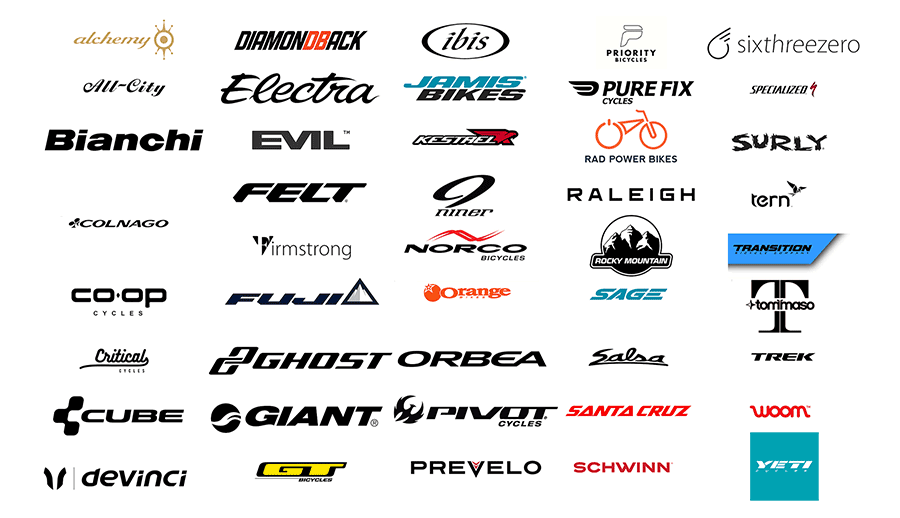 Would you prefer a bicycle made by large bike brand, or made by a brand that is specialized in making one bike type only?
Established brands like Trek, Specialized, and Raleigh are well-known and trusted for their quality and consistency. They have a large group of loyal followers and are a reliable choice for newcomers to the scene.
If you know your bicycles well and have developed a specific taste, you might've found a boutique cycling brand that is more tailored to your needs. Brands like Surly, Priority, and Yeti make high-quality bikes for discerning riders that appreciate that extra personal touch.
While many traditional brands make ebikes too, the best ebikes usually come from newcomers like Rad Power Bikes or Tern. These firms have cornered the ebike market, releasing a wide range of excellent ebikes for commuting, utility, and recreation.
---
5

. BIKE MODEL | Choose what you like – the fun part.
---
When you've chosen what type of bike you want, calculated your budget, and learned about the different brands, you can finally ask yourself: "So, what bike should I get?"
Bike brands often have several models in each style, offering slight differences like groupset, frame material, and wheel options. Your quality of your groupset defines how well your gears and brakes work. Competitive cyclists can't afford to cut corners here, but beginners will get by with entry-level groupsets.
In 2023 you can really trust your money on the what's out there when it comes to bike frame materials. Whether you are a beginner or a seasoned recreational cyclist, the materials have improved well over time. Some brands (like Surly bikes) are steel-specific, while some make carbon bikes only (Yeti Cycles).
Like groupsets, a good set of rims and tires will provide better grip and lower rolling resistance. Again, as a beginner, you won't need to worry too much about this, but experienced riders may want to go for carbon rims and quality tires like Schwalbe or Maxxis.
---
6

. BIKE SIZE | Lastly – one of the most important factors.
---
Getting the wrong size bicycle will spoil your entire riding experience and your bike will end up gathering dust in the shed. It's not just about picking small, medium or large – you need to measure your stand-over height (inseam length), pedal-stroke distance, handlebar reach, and arm span vs height (ape index).
Technically, you should have a bike fitting done for you by a professional in store, but if you're ordering online, you'll find most sites provide a size guide. With the above measurements and a good sizing chart, you'll be able to pick the right size bike for you.
The Verdict
---
When choosing the right bike for yourself, it's helpful to follow this method as prescribed above:
Bike Type → Budget → Brand → Model → Size
First, you'll need a good idea of what your requirements are to select the right bike type. Your budget will help to narrow it down further, revealing which types of brands are available to you. Then, you'll just need to select the model that suits your skill level and get the right sized fit.
What is a good bicycle to buy?
The best bicycle to buy is the one that fits your needs and budget. If you're commuting to work, a hybrid or city bike in the $1,000 to $2,000 range will be fine. If you're aiming to compete in road races, you'll want a road bike in the $3,000 to $4,000 range. Always be sure to read a lot of reviews so you know that you're buying something decent.
Which is the best bike for seniors?
Senior citizens will benefit from a bike with a step-through frame, helping them to mount and dismount with less hassle. They'll also prefer something lightweight, with simple gears, a bell, puncture-resistant tires, and a comfy seat. Most cruiser or city bikes will fit this description and also come in electric models to provide a boost when needed.
What kind of bike is for me?
The perfect bike for any individual comes down to your needs and personal preference. Recreational cyclists often want a stylish bike that looks good, while more practical riders need something more utilitarian. There is no one-type-fits-all bike, so you'll need to follow the steps above to find the perfect bike for you.