Overview / Buying Guide / Sizing / Types / Reviews /
Find your correct mountain bike size in about 5 seconds!
When buying a mountain bike, it is crucial to choose the right size. The wrong size will not only be uncomfortable but can result in serious long term effects to your back, shoulders, and wrists.
If you want to know which size you need, look below! Without making it too complex, we have provided the following chart which will work well in most cases.
---
Mountain Bike Size Chart
Rider Parameters
Suggested Mountain Bike Frame Parameters
Feet & Inches
Centimeters
Inseam Length
Centimeters
Inches
(Frame Size)*
4'10" – 5'2″
148cm – 158cm
25″ – 27″
33 – 37
13″ – 14″
(XS)
5'2″ – 5'6″
158cm – 168cm
27″ – 29″
38 – 42
15″ – 16″
(S)
5'6″ – 5′ 10″
168cm – 178cm
29″ – 31″
43 – 47
17″ – 18″
(M)
5'10" – 6'1″
178cm – 185cm
31″ – 33″
48 – 52
19″ – 20″
(L)
6'1″ – 6'4″
185cm – 193cm
33″ – 35″
53 – 57
21″ – 22″
(XL)
6'4″ – 6'6″
193cm – 198cm
35″- 37″
58 – 61
23″ – 24″
(XXL)
This sizing chart should work for every type of mountain bike type, but it is recommended to check each manufacturers personal preferences!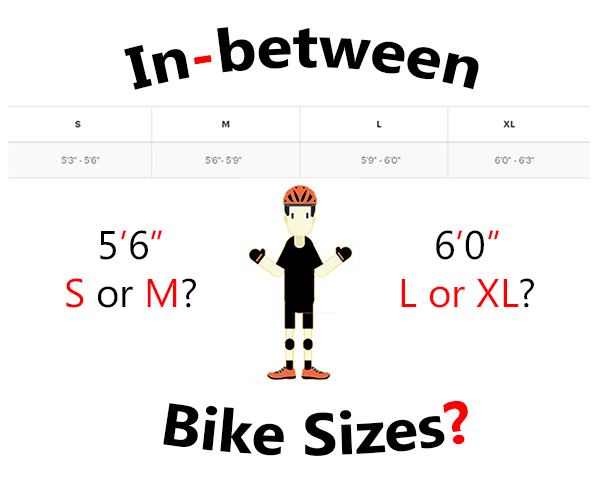 Please note: Some bike manufacturers may have different charts. This is because they have totally different frame designs. Always use manufacturer-specific sizing charts when possible.
If you're between two sizes, we have a suggestion:
If you're below 5'7", pick the smaller frame and if you are above 5'7", pick the bigger frame. If you are still growing, always pick the bigger frame.
Hopefully, that should answer your question. If you have additional questions, read below and you might just find the answer!
---
What If I Got My Bike Size Wrong?
First of all, you need to determine if you actually got the wrong frame size, or if you just need to make adjustments to the handlebars, and saddle etc.
You should try making adjustments before deciding you have the wrong frame size. For example,
is your saddle at the right height?
Is it the right distance from the handlebars?
Is it at the correct angle?
Do you have the right stem length and position? Those small adjustments can have a big impact on the overall feel of your bike.
There are also bike fitting services (like on Amazon or on Comprehensivecyclist.com), that you might want to use to make sure your position is correct.
If you did everything right, and the mountain bike still doesn't feel like it is the correct size, return the bike to get the right size.
*Why shouldn't you rely purely on sizing labels (XS to XXL)?
Mountain bike frame dimensions from XS to XXL differ for every manufacturer.
There is no standard that says a 21" frame MUST be a large size. For example, if a manufacturer makes only three sizes (S, M and L) the smallest frame can be designed for 5'6"– 5'10" (which is a medium on this table).
Here is another example: We've seen that some manufacturers make hardtail bikes in a XL size, and a full-suspension in an L size, but they both are meant for riders up to 6'6".
So, never rely purely on sizing labels (XS to XXL). Always size a bike using your height and your inseam length.
What's The Right Mountain Bike Saddle Height?

Well, there are basically two ways how you can determine the right saddle height for you. One way you can do all on your own. For this, you can tell the height is right when your feet are on the pedals, and when one pedal is in its lowest position, you have 10-15 degree bend in that knee.
For an even better result, order a bike fitting service. Through this service, they measure different points on your body and set the optimal mountain bike saddle height for you.
Make sure to order the PRO bike fitting service if you are an aggressive rider, and ride a lot!
More reading on I Love Bicycling
---
How To Get The Best Riding Position?
Once you have the right frame size, you can get everything else in the right position.
Sometimes the exact right size mountain bike doesn't feel right off the bat. This is because all of our bodies are different.
For example, Pete, Jeff, and Mike are all exactly 5'9" tall. However, Pete has longer arms than the other two. Mike has shorter legs than them both, and Jeff has longer legs than Mike and Peter.
This is normal.
So what they can do here is adjust the saddle, buy a different angle/length stem, or move the handlebar position a bit. These are the easiest ways to optimize a mountain bike's size. If you don't feel comfortable doing this, order the bike fitting service as we discussed earlier from Amazon.