Rad Power Bikes RadExpand 5 Review — A New & Affordable Electric Folding Bike
The RadExpand 5 is a modern city transport solution by Rad Power Bikes and the latest addition to the fleet. This release comes at an opportune moment when more and more people are taking up e-biking and switching to alternative modes of transport for commuting.
Rad Power Bikes is currently the biggest e-bike brand in North America, thanks to its low prices, high quality, and versatile products. The RadExpand is an upgrade to the RadMini and will replace it once stock is gone.
Despite improving upon many aspects of its predecessor, the RadExpand is lighter, cheaper, and more versatile. Let's take a look at the bike in more detail.
What's New About RadExpand 5?
Rad Power Bikes design team has been working hard and listening to the customers, which we can see by the improvements to the RadExpand when compared to the older RadMini bike.
Firstly, the RadExpand 5 is 4.5lbs lighter, despite having the same electronics and an extra rear pannier rack. It weighs 62.5lbs, which is still a hefty weight for carrying the bike, but a move in the right direction, nonetheless.
Aside from weight, the brand's main focus was to improve the comfort and versatility of their folding bike option. For example, the tires are one inch wider (4-inch) than the RadMini, helping to smooth out any bumps and vibrations, making up for removing the front fork suspension.
Rad Power Bikes RadExpand has wider tires, a lighter front end, and more ergonomic grips, saddle, and handlebars for an improved riding experience.
Rad Power also changed the grips, saddle, and handlebars to increase comfort further. Both touchpoints are now more comfortable, and they added adjustable handlebars for finding the most ergonomic fit possible. Additionally, the frame geometry is updated to improve handling and stability.
Finally, the Rad Power folding bike is now more versatile thanks to the integrated pannier rack for cargo transport and the wider gat tires that allow riders to confidently tackle a broader range of surfaces, including mud, snow, and sand.
RadExpand 5 Main Specs
Many of the key specifications of this bike are similar to the other Class 2 models by Rad Power Bikes as the brand typically uses the same powerful geared hub motors and Li-ion batteries. For this reason, we believe the RadExpand 5's spec will outcompete most other folding e-bikes in this price range.
Rider height: 4'10" – 5'10"
Motor: 750W Brushless geared hub motor
Battery: 672Wh, 48V, 14 Ah
Throttle: Half twist
Range: 25-45 miles
Max speed: 20mph
Brakes: Mechanical disc brakes, 180mm rotors
Weight capacity: 275 lb
Fork: Rigid steel
Gearing: 1×7-speed microSHIFT
Tires: 20×4″ CST BFT
RadExpand 5 Full Review
The RadExpand 5 is an electric folding bike suited to urban riders, commuters, or any e-biker who values comfort, convenience, and versatility.
You can fold this bike for transportation or storage in a matter of seconds, and it can support large cargo loads and tackle off-road terrain or steep hills while maintaining an upright, ergonomic position. In addition, the RadExpand comes with everything you need for city riding, including a rack, fenders, lights, and a kickstand.
Compact Folding Aluminum Frame
The RadExpand 5 uses the same 6061 aluminum material as the rest of the Rad Power Bikes range. This material choice helps keep the costs down without sacrificing functionality. In addition, 6061 aluminum is relatively lightweight, stiff, and durable, making it the perfect material for cheap e-bikes.
The frame folds down by releasing two hinges, making a compact package measuring 29H x 25W x 41L". An included strap keeps the bike held together when folded and when unfolded, it locks securely using a sturdy locking mechanism.
Powerful 750W Rear Hub Motor & 672Wh Battery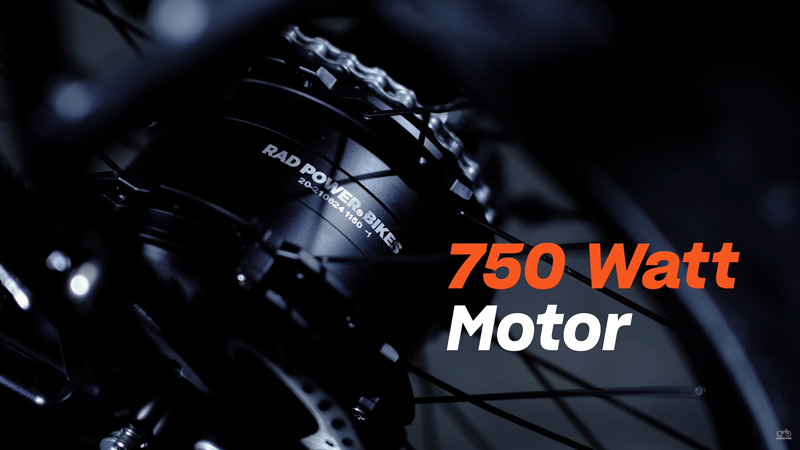 The RadExpand 5 uses the same battery-motor combination seen on many other Rad Power Bikes models. This 750W geared hub motor provides plenty of power to tackle hills with a full payload of 275lbs. Additionally, the geared hub design works independently of the drivetrain, so it lasts longer and allows you to ride if your chain breaks.
Rad Power Bikes chose their go-to 672Wh battery to support the motor, positioned low on the seat tube to improve handling characteristics. This battery weighs 7.7lbs and lasts between 25 and 45 miles based on usage. One excellent design feature is the ease of access to the battery when the bike is folded.
Drivetrain & Brakes
Like most Rad Power Bikes, the RadExpand has a thumb-shift 1×7-speed drivetrain (MicroShift RD-M26). By using the full range of gears available, you can maximize the battery range up to its limit of roughly 45 miles.
This bike uses mechanical disc brakes with 180mm rotors and durable semi-metallic brake pads for the braking system. Once you pull the levers, it automatically cuts off and activates the brake light. These are not the highest-quality brakes but are appropriate for e-bikes at this price range.
Go-Anywhere Fat Tires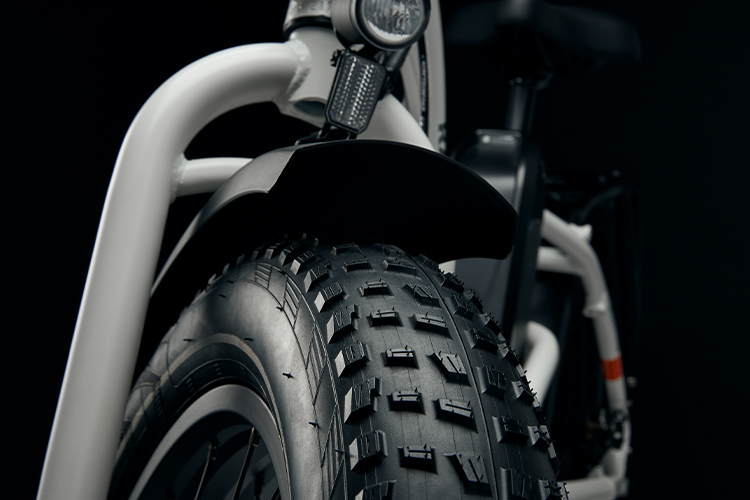 One of the most notable additions to the RadExpand compared to the RadMini is the huge CST BFT 4″ fat tires. These e-bike rated tires come with CST's EPS puncture-resistant liner, perfect for urban riding where road debris is likely to cause punctures.
Additionally, the tires have a reflective strip to improve side-on visibility. Finally, these all-mountain tires have deep center tread and side knobs to dig in on tight turns and on soft surfaces to ensure excellent traction at all times.
Lights, Rear Rack, Fenders & More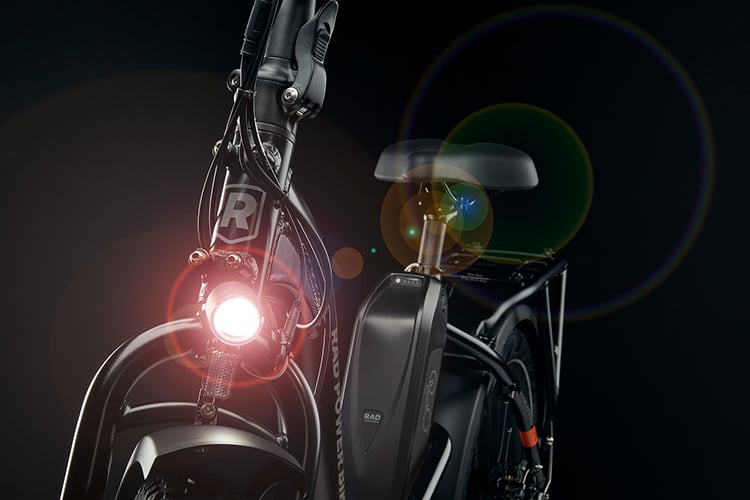 The RadExpand, like all good urban bikes, is fully-equipped for any job in the city. It includes a rear rack, fenders, LED lights, a bell, and a kickstand. As mentioned previously, Rad Power also changed the handlebars to an adjustable riser bar so you can find the ideal position for your body.
Who Should Get the RadExpand 5?
The RadExpand 5 is an excellent choice for urban riders. Whether commuting, running errands, or just for leisurely city rides, this bike is ideally suited for the job. Thanks to the folding design, this bike is a massive draw for those who regularly take their bike on public transport, road trips, or those with limited storage space at home.
The fully-equipped spec, powerful electronics, and comfortable ride feel also mean RadExpand is an excellent e-bike for older riders or those who want to replace their car for getting around. If you're in the market for a cheap electric folding bike, look no further than the RadExpand 5.
Other Rad Power Bikes Models to Consider
In case RadExpand 5 is not exactly what you're looking for and it doesn't check your most important boxes, we recommend taking a look at the rest of Rad Power Bikes' lineup to find something that suits your needs better.
| | | | | | | | | |
| --- | --- | --- | --- | --- | --- | --- | --- | --- |
| RAD POWER BIKES | PRICE | TYPE | MOTOR | FRAMES | SPEEDS | TIRES | BRAKES | FORK |
| RadTrike 1 | $2,499 | Single-speed | 500W | Step-Through | 1 | 18 x 2.25 | Mechanical | Rigid |
| RadRunner 1 | $1,299 | Utility | 750W | ST / Standard | 1 | 20 x 3.3″ | Mechanical | Rigid |
| RadRunner Plus | $1,799 | Utility | 750W | ST / Standard | 7 | 20 x 3.3″ | Mechanical | 80mm |
| RadMini 4 | $1,499 | Folding | 750W | ST / Standard | 7 | 20 x 3″ | Mechanical | 80mm |
| RadWagon 4 | $1,899 | Cargo | 750W | Step-Through | 7 | 22 x 3″ | Mechanical | Rigid |
| RadCity 4 | $1,599 | City/Hybrid | 750W | ST / Standard | 7 | 26 x 2.3″ | Mechanical | 100mm |
| RadCity 5 Plus | $1,799 | City/Hybrid | 750W | ST / Standard | 7 | 27.5 x 2.0″ | Hydraulic | 50mm |
| RadRover 5 | $1,699 | Fat | 750W | ST / Standard | 7 | 26 x 4″ | Mechanical | 80mm |
| RadRover 6 Plus | $1,999 | Fat | 750W | ST / Standard | 7 | 26 x 4″ | Hydraulic | 60mm |
Our Verdict: Is the RadExpand 5 Worth the Money?
Whatever your needs or preferences are, the RadExpand is an excellent value offer at just $1,299. It easily competes with the other competition in the sub-$1,500 price range.
Rad Power Bikes are widely recognized for their high quality and durability, and the RadExpand 5 is no different. It uses the same components as the other models made by the company and is sure to be a hit with its users.
Considering the high rating of the RadMini (4.7 from 1154 reviews), we're excited for the newer, cheaper, and upgraded RadExpand 5 folding e-bike.