Rad Power Bikes RadTrike 1 Review
An electric tricycle has been the most requested product by Rad Power Bikes' customers since its founding in 2007. Finally, for 2023, those customers will get their wish with the release of the RadTrike 1.
This mid-range e-trike helps fill the gap between e-bikes and light-duty electric vehicles, providing urban dwellers with an alternative means of transportation that's both environmentally friendly and healthy.
Electric tricycles are superior to traditional e-bikes in their ability to carry heavy and bulky cargo. In addition, they are more stable and comfortable to ride.
Our RadTrike 1 review will highlight the main components and design features, discuss the ride feel, talk about who the bike is best suited for, and finish with our verdict on whether or not it's a good buy.
MSRP $2,499
A mid-range electric tricycle for riders who want more stability and cargo carrying capacity.
PROS
Powerful motor
Solid max range
415-lb payload capacity
Comfortable and stable
Reverse feature
Rad Power Bikes RadTrike 1 Main Specs
MSRP: $2,499
Motor: 750W hub
Battery: 480Wh
Drivetrain: Single-speed
Range: 20-55 Miles
Brakes: Mechanical disc + rear coasters
Weight: 82 lbs
Payload Capacity: 415 lbs
Sizing: Height: 4'10" to 6'4″ / Inseam: 25″ to 35″
Full Rad Power Bikes RadTrike 1 Review
---
Rad Power Bikes has tapped into a whole new market with the release of the RadTrike 1. Although it comes in over the entry-level price range, the RadTrike is still affordable. The spec easily competes with other similarly-priced models, such as the Pedego Trike, Buzz Cerana, and Sixthreezero EVRYjourney.
Why Choose an Electric Tricycle?
Electric tricycles offer three distinct advantages over e-bikes. Firstly, they are much more stable, so carrying heavy cargo is stress-free, and it's safe to ride if you struggle with balance.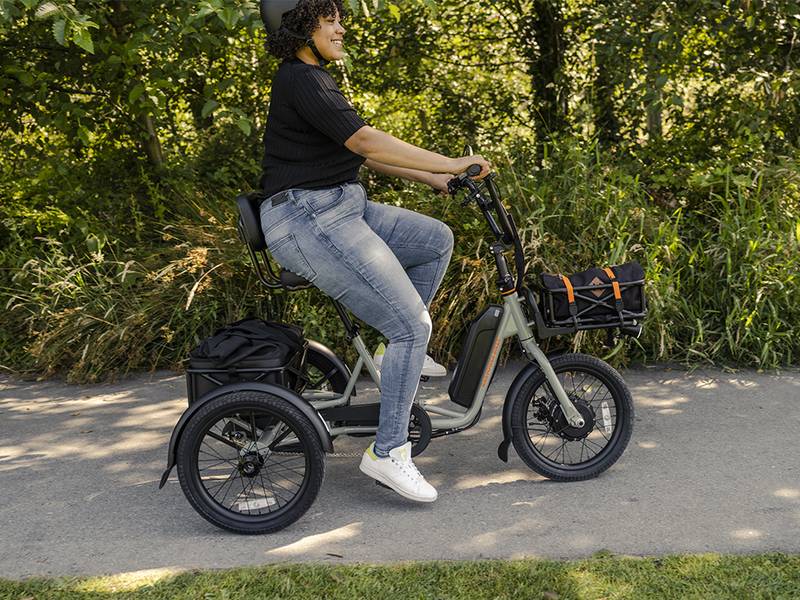 Secondly, the extra frame space and third wheel increase the payload capacity, which is why this model can support 75 lbs more than the RadWagon cargo e-bike.
Lastly, trikes are more comfortable as they use a seat with a backrest and a relaxed ride position that can't be replicated by traditional bikes.
Steel Frameset and 415-lb Payload Capacity
Rad Power Bikes built the RadTrike 1 frame and fork with Chromoly steel. Chromoly steel has properties that complement this type of model. Firstly, it is highly compliant, absorbing vibrations and creating a smoother, more comfortable ride feel.
In addition, it is exceptionally durable, sturdy, and cheap to manufacture, helping keep the price down and ensuring a high payload capacity.
The trade-off is loss of efficiency and extra weight, but these issues are not very relevant for an electric tricycle, and the RadTrike 1 weight is only 82 lbs.
The RadTrike 1 has a solid payload capacity of 415 lbs, with a max rider weight of 325 lbs and a max cargo weight of 90 lbs. Unfortunately, the cargo carrying capacity is lower than it could be, considering the total payload capacity. You can carry up to 60 lbs on the rear rack and 30 on an optional front rack.
Stability and Comfort
One challenging part of riding a traditional bike is balancing, especially for those who haven't ridden for many years. A tricycle eliminates this worry by adding an extra wheel and lowering the center of gravity, opening up the world of cycling to those with impaired balance. In addition, the third wheel provides more traction for riding in wet weather.
Comfort is another important characteristic of riding a tricycle, and it's a joy to cruise on the RadTrike. It comes with a cushioned seat with a padded backrest, both of which are adjustable. Additionally, you have adjustable handlebars that ensure you can maintain an upright and relaxed position that doesn't strain your neck or back.
A final component that contributes to the comfort of the RadTrike is the wide 2.25″ tires, helping to absorb road vibrations and improve ride quality.
Electronics

Rad Power Bikes chose the typical 750W geared hub motor they use across their range, except in the front wheel's hub instead of the rear wheel, as you see on most e-bikes. This motor gets juice from a 480Wh downtube-mounted battery, capable of returning up to 55 miles of range.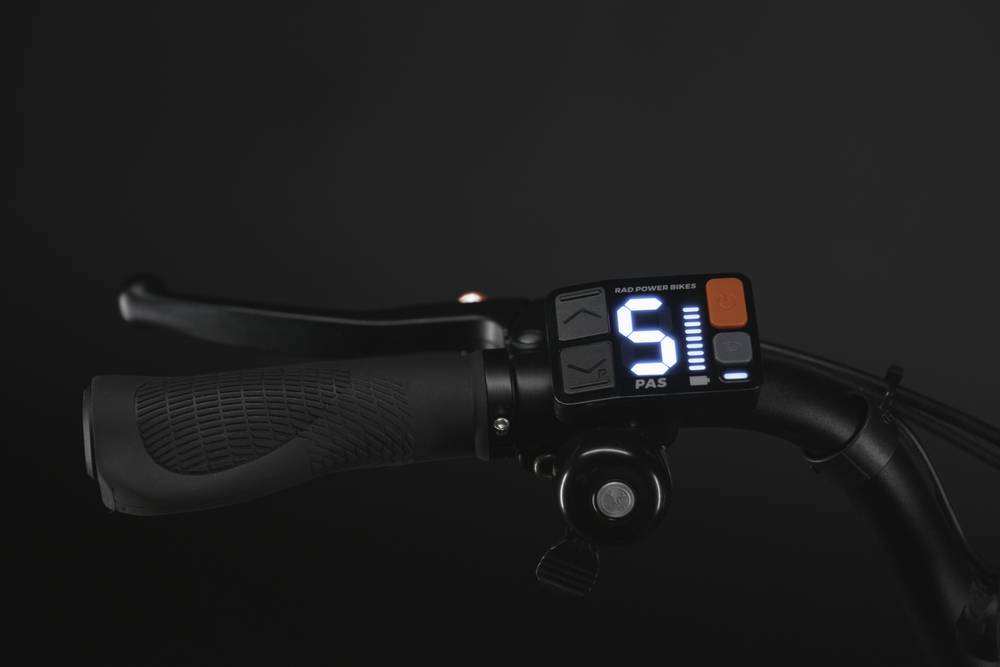 The RadTrike 1 top speed is set at 14mph instead of 20mph because tricycles can become unbalanced when cornering at high speeds. In addition, it has five levels of pedal assistance and a throttle.
A unique capability of this electric tricycle is the reverse mode, which activates by holding down the PAS button. This feature allows users to comfortably back out of tight spaces without dismounting and pushing the trike. We recommend adding a handlebar wing mirror to make this process easier on your neck.
RadTrike 1 Build Kit
The rest of the components on the RadTrike are decent, although there are a couple of questionable inclusions by Rad Power Bikes.
The RadTrike is fully-equipped with the typical urban e-bike components, including a rear rack, fenders, auto-on lights, and a bell. Instead of a kickstand, you get a handbrake for easier parking.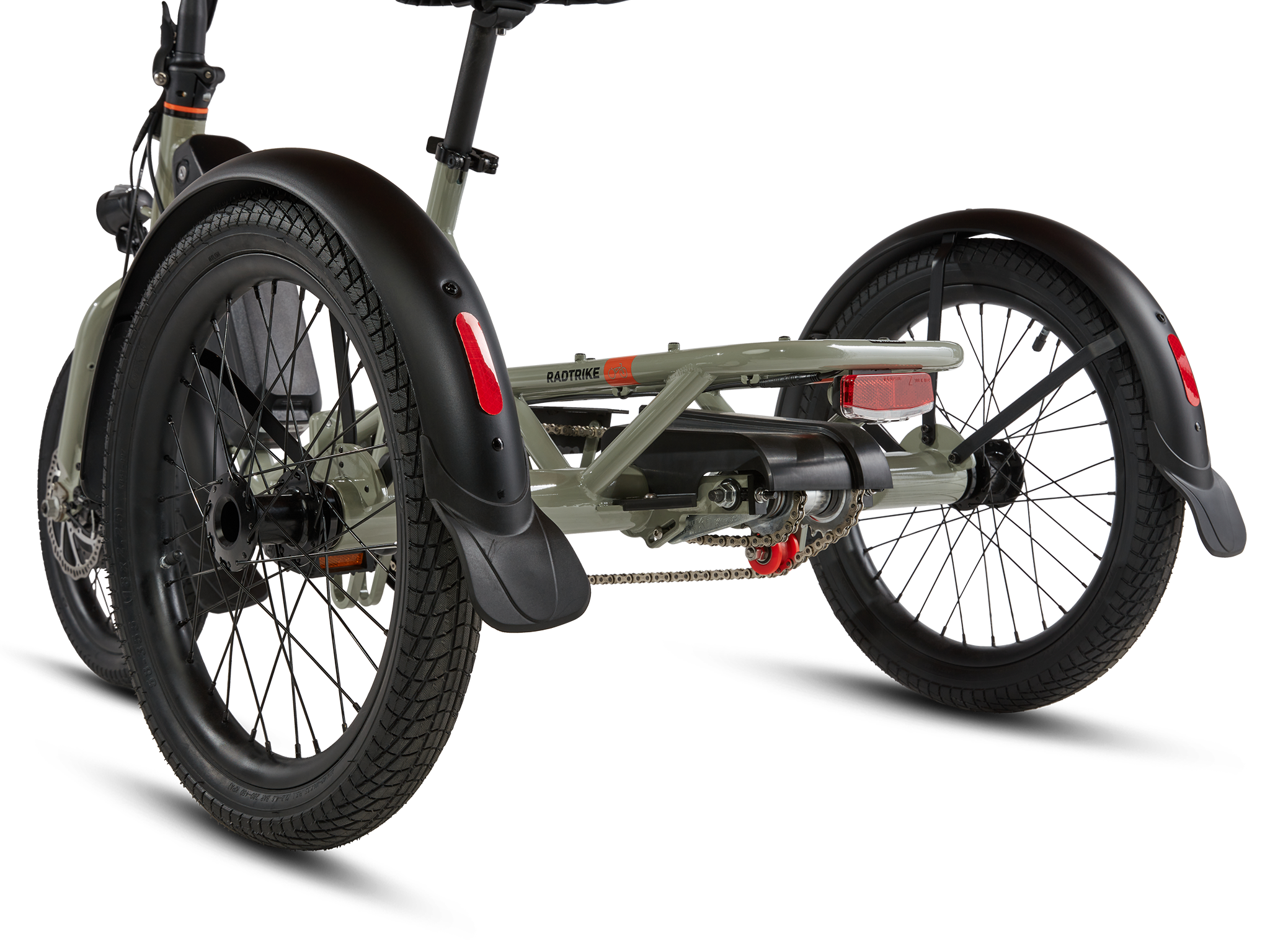 The brakes consist of a front mechanical disc with 180mm rotors and two rear coaster brakes, which operate by pedaling backward. In our opinion, this setup is slightly underpowered, especially given the high payload capacity. A single-speed drivetrain rounds out the groupset, helping to keep maintenance needs down but limiting your ability to pedal when the gradient gets steep.
Finally, the wheelset comprises 18″ single-wall alloy rims and 2.25″ puncture-resistant Kenda Kontact tires, custom-made for Rad Power Bikes.
Accessory Packs for the RadTrike 1
The RadTrike has three accessory packs as optional add-ons to personalize the trike upon purchase. Alternatively, you can pick individual products from the online store. The three packs are as follows:
Haul it all kit: Medium front-mounted basket, small basket, small basket roll top liner
Around town kit: Front rack, phone mount, folding lock, mirror
Essentials kit: Medium front-mounted basket, folding lock, phone mount
Rad Power Bikes RadTrike 1 Ride Feel
---
With three wheels, a cushioned seat and backrest, wide 2.25″ tires, and upright geometry, it's safe to say that the RadTrike 1 has a smooth and relaxed ride feel.
In addition, the stability gained by the extra wheel and low center of gravity would inspire confidence in anyone, even when riding with fully loaded racks.
Finally, despite having a powerful motor, the acceleration isn't overwhelming, adding to the confident ride feel. Because it is a little slower than an e-bike, this electric tricycle is ideal for short to medium-distance trips around the city and into the countryside.
Who Is RadTrike 1 Best Suited For?
---
Electric tricycles like the Rad Power Bikes RadTrike 1 are ideal for riders who prioritize comfort, stability, and functionality. This e-trike fills the gap between e-bikes and lightweight e-vehicles and can be an excellent environmentally friendly substitute for a car.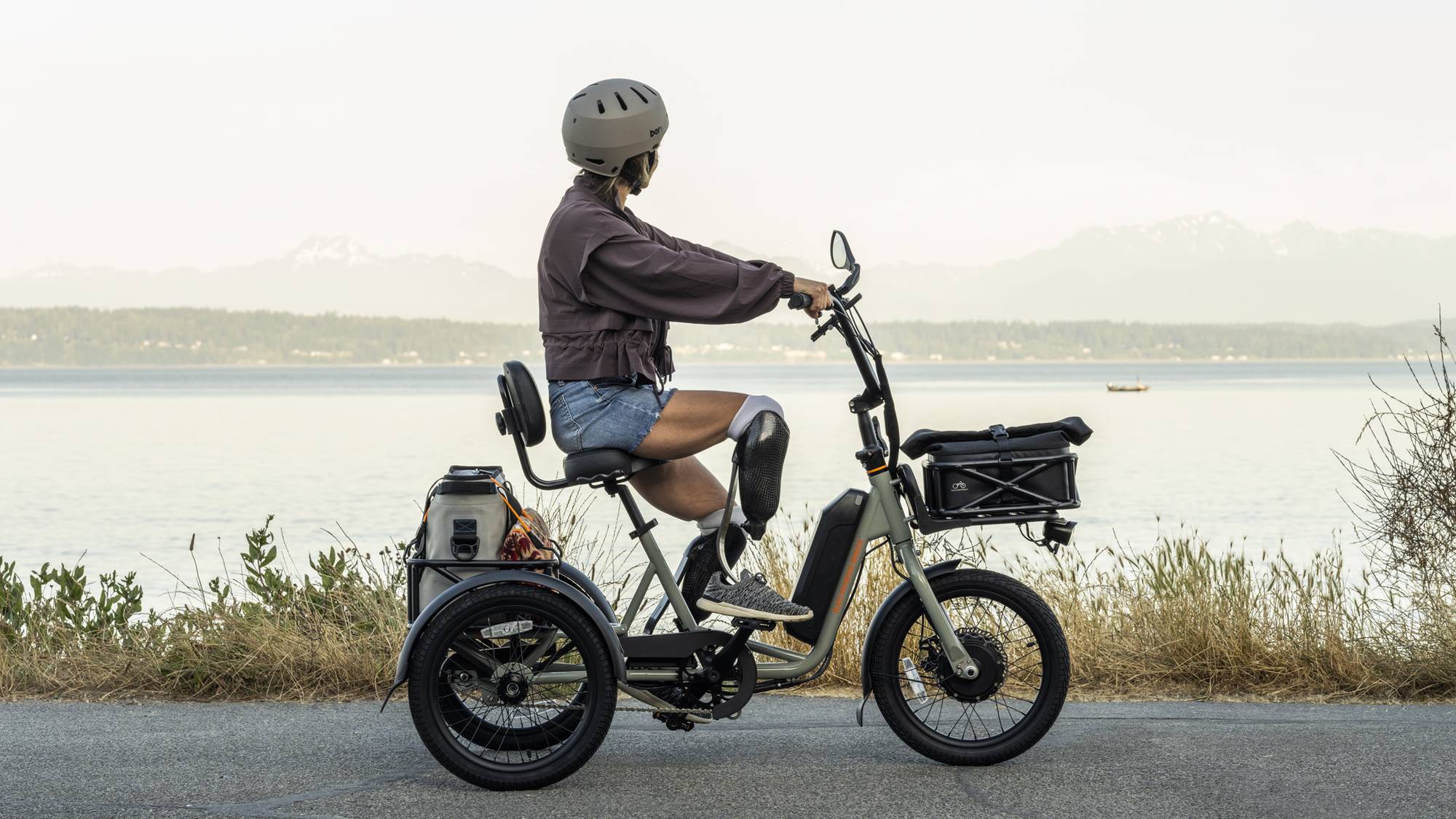 Another group that benefits from the extra wheel is riders with balance impairments who don't feel comfortable navigating roads and pathways on two wheels. Likewise, anyone with limited mobility may enjoy the upright, relaxed seated position and straightforward mounting and dismounting of the RadTrike.
Of course, this is not an exciting, high-performance machine. Instead, it excels in a specific set of environments and does so at a reasonable price and the guaranteed reliability of a Rad Power Bikes product.
Other Rad Power Bikes Models We've Reviewed:
Is the Rad Power Bikes RadTrike 1 a Good Buy?
---
The RadTrike 1 is a solid buy if you're in the market for an electric tricycle. These products appeal to a certain kind of rider, and if you're in that group, you'll be happy with the quality of this e-trike and the value it provides.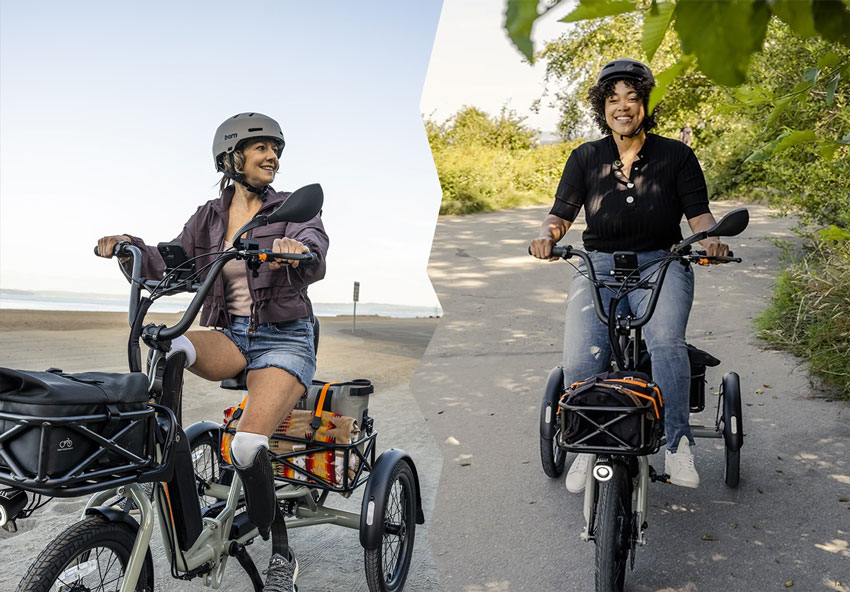 The range of e-trikes currently available is limited, so the release of this model by one of the USA and Europe's leading electric bike manufacturers is timely and will be well received. The RadTrike easily competes with the competition and lies somewhere in the middle in terms of price.
Of course, as with any bike, there are a couple of minor changes we think would improve it, but overall, Rad Power Bikes has nailed the design of their new e-trike.
Add the new Rad Power Bikes RadTrike to your shortlist if you're in the market for an affordable electric tricycle.