Best Class 2 Electric Bikes You Can Buy in 2023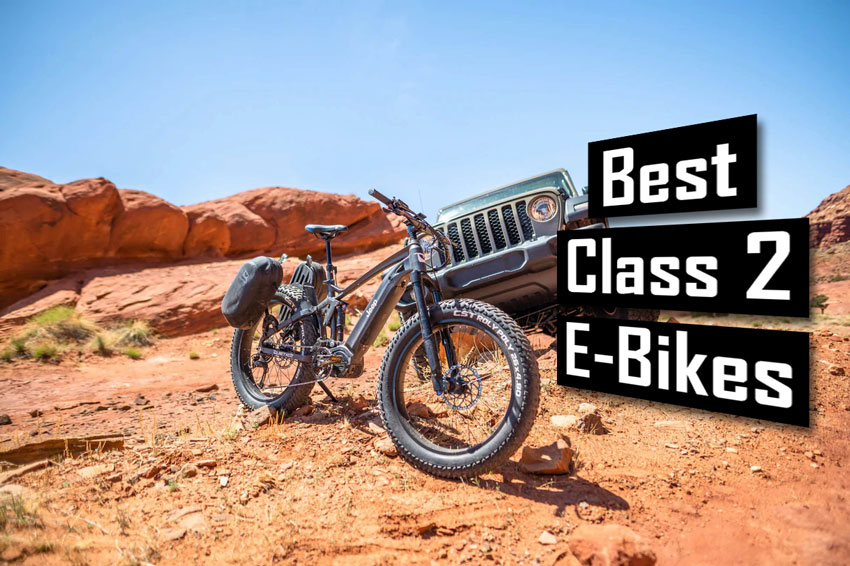 A Class 2 e-bike is the only legal class of electric bike with throttle and pedal assist as a standard.
Using the throttle these bicycles can be fully electric or use a range of assistance modes that deliver varying power levels to support you up to 20mph. Once the bike reaches 20mph, the speedometer tells the motor to cut out until you fall below that speed again.
What to expect from a modern Class 2 eBike?
Convenient on hilly routes
Easy to use only the throttle
Powerful motor, generally a hub motor
The best bikes in this category have a good weight distribution of the heavier parts for better handling, powerful motors, large batteries, helpful accessories like an LCD control panel and integrated lights, and durable components.
Before you begin searching for a Class 2 bike, think of how you plan to ride or what you need the bike to function for (such as to replace your car), so you can choose a style that suits you.
Most Class 2 e-bikes are limited to 750W to comply with e-bike laws, however, the torque (Nm) is not regulated, and can significantly increase acceleration and performance on steep gradients.
---
---
1. QuietKat Jeep
Best Class 2 electric bike you can find on the market

Weight – 70 lbs | Max Payload – 300 lbs | Motor – 750W / 1,000W | Torque – 160Nm | Battery – 696Wh | Range – up to 58mi
MSRP: from $5,500 – $6,000
QuietKat
QuietKat's Jeep e-bike was developed in partnership with the iconic vehicle brand to create the ultimate off-road electric bicycle, and they succeeded.
This exceptional innovation comes as a 750 or 1000 watt electric bike, boasting 1500 watts and 160Nm of peak performance, the most powerful we've seen.
Fork – 150mm, QK Custom air suspension
Rear Shock – 150mm, RockShox Monarch
Brakes – 4-piston Tektro hydraulic disc
Gearing – 1×9-speed SRAM
Tires – 26″ x 4.8″ Fat-Tire
For optimal control and performance on the most extreme terrain, the Jeep uses huge 26″ x 4.8″ fat tires, full suspension (150mm travel), and 4-piston hydraulic disc brakes with 203mm disc rotors, allowing you to take on soft sand, mud, snow, and hardpacked trails.
Additionally, the huge 14.5Ah battery delivers up to 58 miles of range paired with premium SRAM 9-speed gearing so you can always find the perfect gear. Finally, one notable feature of this bike is that you can remove the throttle, turning the bike into a Class 1 e-bike if you ever travel to a park, state, or country with strict e-bike laws.
Buy from QuietKat.com Read Our Full Review
---
2. Aventon Pace 350.2
An entry-level urban eBike with a punchy motor
Weight – 49lbs | Max Payload – 300lbs | Motor – 350W | Battery – 417Wh | Range – 40mi avg.
MSRP: $1,299
Aventon
The Aventon Pace 350.2 is an affordable and versatile eBike, ready to tackle urban commutes, leisurely spins, and days spent running errands.
With a 350W motor that kicks out 20mph max speeds and a 417Wh battery, you'll get an impressive average range of 40 miles. Not only that, the 2.2″ Kenda Kwik Seven-5 tires, swept-back handlebars, plush saddle, and upright geometry make this bike relaxed and comfortable to ride.
Fork – Rigid Aluminum
Brakes – Tektro mechanical discs
Gearing – Shimano 1×7-Speed
Tires – 27.5″x2.2″ Kenda
Need more? Well, you also get a Shimano Tourney 7-speed drivetrain with Tektro mechanical disc brakes. Finally, this fully aluminum-framed cruiser is compatible with a rear rack and fenders to make it perfect for commuting.
---
3. Rad Power Bikes RadRunner Plus
Best Class 2 electric utility bike
Weight – 74 lbs | Max Payload – 300 lbs | Motor – 750W | Torque – 80Nm | Battery – 672 Wh | Range – up to 45mi
MSRP: $1,999
Rad Power Bikes
The RadRunner Plus is the most customizable electric bike you can buy, performing well above its affordable price tag.
This versatile, powerful ride is compatible with up to 330 accessory combinations from the Rad Power store, allowing users to personalize this e-bike's functionality, making it uniquely their own.
Fork – 80mm, spring suspension fork
Brakes – Tektro disc
Gearing – 1×7-speed
Tires – Kenda K-Rad 20″ x 3.3″
Riders will be able to take on any ride on this 2 people electric bike (up to 300lbs), without breaking a sweat. To do so, the RadRunner Plus comes with a passenger package which is a comfortable seat on the rear rack. Additionally, this bike has a powerful motor and battery, mechanical disc brakes, wide puncture-resistant tires, and front fork suspension to make it super comfortable on all terrain.
To make this bike perfect for commuting, Rad Power Bikes included powerful front and rear lights, full fenders, a pannier rack, a kickstand, and a USB port for charging your devices. This innovative e-bike really is a commuter's dream!
---
4. Charge City
The perfect urban eBike
Weight – 45 lbs | Max Payload – 300 lbs | Motor – 250W | Battery – 418Wh | Range – 50mi
MSRP: $1,799
Charge Bikes
The Charge City is an affordable Class 2 eBike with a sturdy aluminum frame and punchy 250W Bafang motor. It's the perfect bike for getting around town, running errands, and commuting to work. The City comes with fenders and a rack included, integrated LED lights, and a kickstand.
Fork – Chromoly steel
Brakes – Mechanical Disc
Gearing – Shimano 7-speed
To facilitate confident off-road riding, you have Goodyear Transit Tour 700 x 40c tires, mechanical disc brakes, and a shock-absorbing steel fork. Finally, the battery will last up to 50 miles for a great day out in the city streets.
---
5. Ride1UP 700 Series (Class 3 with 20mph Throttle!)
Customer rating: 4.9 / 5 out of 485+ reviews

Weight – 62 lbs | Max Payload – 275 lbs | Motor – 500W | Torque – 60Nm | Battery – 672Wh | Range – 30-50mi
MSRP: $1,695
Ride1UP
Ride1UP's 700 Series is one of the standout electric city bike options available below $2,000. It is optimized for supreme comfort and functionality for various urban riding styles, including commuting and leisure riding.
Fork – 100mm, Mozo hydraulic suspension
Brakes – Dual piston hydraulic disc
Gearing – 1×8-speed Shimano Acera
Tires – 27.5″ x 2.4″ Schwalbe SUPER MOTO
The 700 Series comes with hydraulic front fork suspension, Schwalbe Super Moto-X puncture-resistant tires, and premium Tektro hydraulic disc brakes to make handling easy. Additionally, these components along with comfort geometry and a memory foam Selle Royal saddle make this bike comfortable on bumpy roads and light trails.
Finally, the large 750W/60Nm motor is powered by a large range 14Ah battery, while also delivering power to the integrated LCD control panel and lights on the front and back. Ride1UP really has thought about everything with this urban Class 2 e-bike.
---
6. Engwe C20 Pro
Folding eBike with a huge max range and throttle assist
Weight – 52 lbs | Max Payload – 331 | Motor – 250W | Torque – N/A | Battery – 691Wh | Range – 95mi
MSRP: $900
Engwe Bikes
Another excellent commuter e-bike choice is Engwe's C20 Pro. This unique bicycle is perfectly suited for day-to-day riding in urban environments or to escape the city and hit some light trails, balancing comfort and performance.
Fork suspension mechanical lockout
Brakes – 160mm mechanical disc
Gearing – Shimano 7-speed
Tires – 20″ x 3″ puncture-resistant fat tires
Notable components on the C20 Pro folding bike include the front suspension, a handy integrated LED light system, powerful mechanical disc brakes, and a Shimano 7-speed drivetrain.
Finally, all of this is powered by a punchy 250W motor 691Wh battery, giving riders an incredible max range of 95 miles.
---
7. Lectric XP 3.0
Third generation of the award-winning Lectric XP
Weight – 64 lbs | Max Payload – 330lb | Motor – 500W | Torque – 55Nm | Battery – 500Wh | Range – up to 45mi
MSRP: $999
Lectric eBikes
The XP 3.0 is the best value folding electric bike with the throttle function we've seen. It is very affordable, convenient to use, and versatile enough for many types of rides.
Fork – 50mm suspension
Brakes – Mechanical disc, 180mm rotors
Gearing – 1×7-speed Shimano Tourney
Tires – 20×3.0″
This bike performs best as a commuter companion with integrated lights, rack, and fenders, compact folding frame, and comfortable geometry. However, it is also very capable of going off-road onto soft, bumpy, or loose terrain. To do so, the new XP 3.0 has a 50mm fork, 3″ tires, powerful mechanical disc brakes, and a punchy motor with 5 levels of pedal assistance.
Finally, this budget e-bike has a huge payload capacity of 330lb, allowing you to carry up to 150lb on the integrated rear rack over distances up to 45 miles, or wherever the road or trail takes you.
---
8. Wing Bikes Freedom S
20″ urban electric bike with a throttle purchased separately
Weight – 37lbs | Motor – 350W | Battery – 317Wh/375Wh/504Wh | Range – up to 60mi
MSRP: from $1,048
Wing Bikes
The Wing Bikes Freedom S 20-inch electric bike is the ultimate affordable urban e-bike. They designed the Freedom S as an option to replace a car with its comfortable seat, upright geometry, 1.74″ balloon tires, and a max 60-mile range from the large-battery option, perfect for commuting
Fork – Aluminum
Brakes – Mechanical disc, 180mm rotors
Gearing – 1×7-speed Shimano Tourney
Tires – 20″ x 1.75″ Kenda, puncture-resistant
This stylish bike fits a wide range of riders heights 5′ to 6'1″. Other notable features include powerful mechanical disc brakes and integrated lights
Finally, this bike has a 350W motor with pedal assistance, a throttle purchased separately for $80, and 7-speed gearing, allowing you to tackle tough gradients.
---
9. QuietKat Ranger
Class 2 electric hunting bike under $3,000
Weight – 65 lbs | Max Payload – 325 lbs | Motor – 750W / 1000W | Torque – N/A | Battery – 557Wh | Range – up to 48mi
MSRP: from $3000 – $3,600
QuietKat
The Ranger by QuietKat is a premium 750-watt eBike that is designed as the ultimate hunting and back-country riding companion.
QuietKat's motors are renowned for being exceptionally quiet to support stalking prey, and they also provide a camouflage frame design for any riders who want to take their bike up a notch.
Fork – Coil suspension fork
Brakes – Tektro mechanical disc
Gearing – 1x7speed SRAM
Tires – Kenda Juggernaut 26″ x 4.5″
The QuietKat Ranger includes essential components such as a pannier rack, fork suspension, 4.5″ fat tires, and an LCD screen. It is also able to support enough load of 325lbs so you can easily pack out your catch after a successful hunt. Additionally, these components make this e-bike a pleasure to ride on tough terrain.
One weak point of this bike is the battery at just 11.6Ah capacity, meaning the power and range is slightly limited compared to other bikes in this price range. That being said, expanded batteries or a portable solar charger are available from the QuietKat store to mitigate this issue.
---
10. Rad Power Bikes RadRover 6 Plus
Customer rating: 4.7 / 5 out of 277 reviews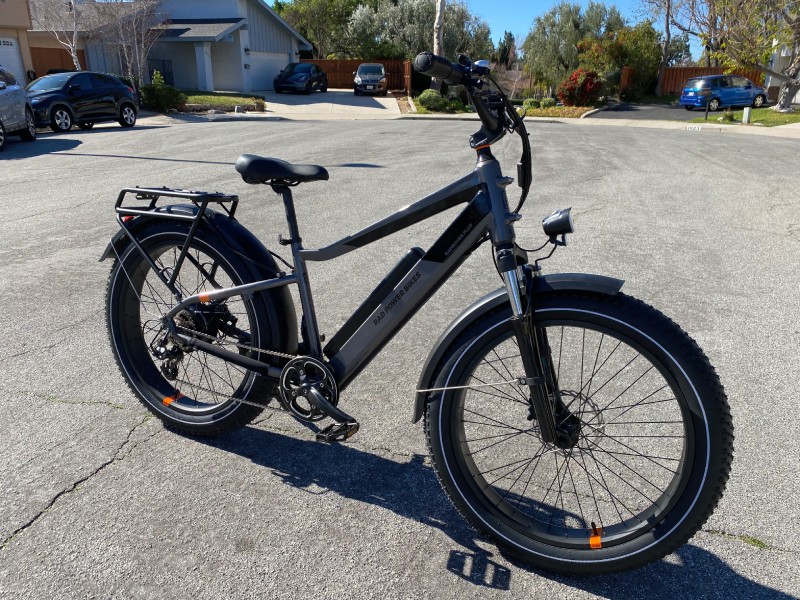 Weight – 73.4 lbs | Max Payload – 275 lbs | Motor – 750W | Torque – 80Nm | Battery – 672Wh | Range – up to 45mi
MSRP: $1,999
Rad Power Bikes
The RadRover 6 Plus electric bike with throttle control is Rad Power Bikes' flagship model, with the previous model earning the accolade of the best-selling e-bike in North America.
This budget-friendly e-bike can do it all, performing on tough terrains while delivering a premium comfortable ride feel. The components that help deliver this balance are the powerful hydraulic disc brakes, ergonomic grips and saddle, 60mm front fork suspension, and 4″ wide puncture-resistant Kenda fat tires.
Fork – 60mm, spring suspension
Brakes – 180mm Hydraulic disc
Gearing – 1×7-speed
Tires – 26″ x 4″ puncture-resistant Kenda Juggernaut
Additionally, the RadRover has a helpful LCD bike computer with lots of functions and ride metrics, fenders, front or rear rack compatibility for transporting cargo, and integrated brake lights. This choice of components by Rad Power makes their e-bike the ideal choice for anybody that wants a versatile e-bike at a very competitive price!
---
11. Lectric XP Lite
Folding off-road eBike
Weight – 46 lbs | Max Payload – 275 lbs | Motor – 300W | Battery – 375 Wh | Range – 40+ miles
MSRP: $799
Lectric Ebikes
This attractively priced Class 2 eBike from Lectric is ideal for zipping around town, getting to work, or even going off-road. It's a folding, single-speed commuter with a lightweight folding frame, frond and rear lights, and a kickstand. Additionally, you can also equip it with front and rear racks that would allow you to carry large cargo loads.
Brakes – Mechanical Discs
Gearing – Single-speed
Tires – 20"x 2.6"
The 300W motor provides plenty of power to help you climb hills without any effort. Take on the city streets safely in any weather and ride on soft surfaces with ease thanks to front and rear lights, grippy fat tires, and large-rotor disc brakes.
---
12. Ride1UP Turris
Weight – 55lb | Max Payload – 300lb | Motor – 750W | Torque – 60Nm | Battery – 614Wh | Range – 25-45mi
MSRP: $1,295
Ride1UP
The Ride1UP Turris is our number one e-bike choice for those on a budget. The Turris delivers an all-around comfortable ride quality and performance for urban riders even with its entry-level price.
Fork – 100mm hydraulic lockout suspension
Brakes – Zoom 180mm hydraulic disc
Gearing – 1×7-speed Shimano Altus
Tires – 27.5″ x 2.4″ Kenda K1227
This e-bike has comfortable upright geometry, ergonomic touchpoints, and a cruiser-style model step-through choice in the ST model. For power, you can enjoy up to 45 miles of range with more than sufficient power from the 750W motor.
---
13. Rad Power Bikes RadCity 5 Plus
An affordable Class 2 commuter bike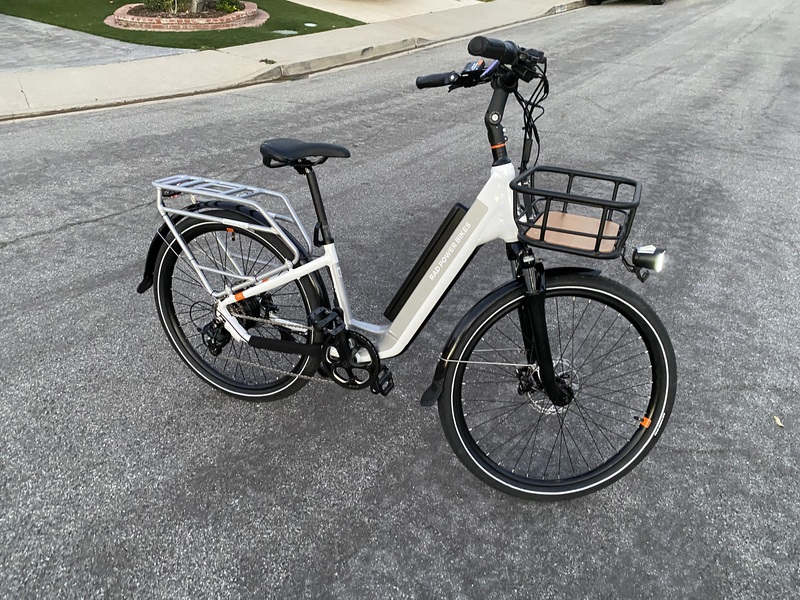 Weight – 65 lbs | Max Payload – 275 lbs | Motor – 750W | Torque – N/A | Battery – 672Wh | Range – 28-50mi
MSRP: $1,999
Rad Power Bikes
This impressive Class 2 eBike from Rad Power is a well-priced alternative to the other fully-equipped commuter e-bikes. With 50mm of front suspension, a 7-speed drivetrain, and hydraulic disc brakes, it has all the trimmings of a solid all-rounder.
Fork – Suspension, 50mm Travel
Brakes – Hydraulic Disc
Gearing – 1×7-Speed
Tires – 27.5″ x 2.0″ puncture-resistant
However, the 2″ puncture-resistant tires and a 750W motor are the key components on the RadCity that make it a winner. The battery is also efficient, delivering up to 50 miles per charge, sufficient for a day's riding. It also comes fully equipped with a digital display, LED lights, kickstand, fenders, and a rear rack.
---
FAQ
---
What's the difference between Class 1, Class 2, and Class 3 electric bikes?
Class 1 bikes are considered electric-assisted. They do not have a throttle meaning they require pedaling to activate the motor. The motor will stop assisting when you reach 20mph.
Class 2 e-bikes always have throttle and pedal assistance. These bikes can be used as fully electric bikes. They are also limited to 20mph when the motor stops assisting the rider.
Class 3 models may or may not have a throttle. Their max speed with pedal assistance is capped at 28mph (max speed with throttle assistance would be still 20mph), making them the most powerful type of e-bike, thus subject to more regulations, however, in most states, they are still considered bicycles.
What is a Class 4 electric bike?
Class 4 e-bikes are high-powered models with top speeds over 28mph. They are not permitted for use on any paths, trails, etc. They are limited to use on the road, such as with mopeds or scooters. This type of bike requires licensing and registration, as well as the use of a helmet.
What does an electric bike cost?
Electric bike price varies greatly between the class of bicycle, its function, the manufacturer's name, and the overall quality of the build and components. Across our articles, we've reviewed e-bikes ranging from less than $1000 all the way to over $9000. However, the majority of e-bikes cost between $1000 and $4000.