Best Electric Bikes for Seniors in 2023
The best electric bike for seniors is one that is very comfortable, convenient to use, and provides enough power to make any hills seem flat.
Other important characteristics include a low base weight to make it easier to maneuver, adjustable components, and good handling ability. Thankfully, there are many direct-to-consumer e-bike brands available today, finding the perfect bike for a senior is easier than ever before.
---
---
1. Ride1UP LMT'd Step-Through
A fast & powerful e-Bike for hilly commutes
MSRP: $1,695
Ride1UP
Motor – 750W, 48V, 100Nm | Range – 30-50mi | Battery – 48V 14Ah – 672Wh
Class 3 eBike – 28mph pedal-assist, 20mph throttle
27.5 x 2.4″
RST Asteria fork, 80mm travel
Brakes – Tektro Orion HD-M745 hydraulic, 180mm rotors, 4-piston
Bike weight: 53lbs
7-speed Shimano Altus
Ride1UP's LMT'D is a great e-bike for seniors because it is built for comfort, it's lightweight, and it has plenty of power to make any ride feel easy.
The LMT'D comes with powerful electronics with an excellent range including a 750W/100Nm motor and a 14Ah battery which delivers max assisted speeds of 28mph for distances between 30 and 50 miles.
For comfort, the e-bike is built with upright, cruiser geometry and has wide, backward-pointing handlebars perfect for a relaxed ride. Additionally, Schwalbe Super-Moto X 2.4″ tires and an RST Asteria Air Fork smooth out any bumps on the roads or light trails.
Finally, this bike also has powerful dual-piston Tektro hydraulic disc brakes, an 8-speed Shimano drivetrain, and a lightweight aluminum frame which further add to its ride quality.
ST frame Fits riders – 5'1″ – 6'2″
---
2. Cannondale Adventure Neo 4
MSRP: $2,875
REI
Class: 1, 20mph pedal-assist | Battery: 400Wh | Motor: 250W, 50Nm
3.5-hour charge time
Kenda Kwick Seven.5, 27.5 x 2.2″ tires
Hydraulic disc brakes, 160mm rotors
Cannondale's Adventure Neo 4 hybrid electric bike is a great choice for any senior who values comfort and versatility.
For power, the Adventure Neo 4 has a 50Nm Bosch Active Line motor with various levels of pedal assistance, and a max-assisted speed of 20mph. Using a 400Wh battery riders can expect up to 63 miles per charge. The battery also charges quite quickly in under four hours.
The step-through frame design pairs perfectly with wide 2.2″ tires, upright geometry, and comfortable touchpoints to deliver a smooth and enjoyable ride on varied terrain. Additionally, hydraulic disc brakes, a lightweight aluminum frame, and a Shimano Altus 9-speed drivetrain make this bike a great all-rounder.
---
3. Wing Bikes Freedom ST
MSRP: from $1,299
Wing Bikes
Class: 1, 22mph pedal-assist (throttle optional) | Battery: 317/375/504Wh | Motor: 350W, 40Nm
Frame – Aluminum Alloy
Drivetrain – 7-speed Shimano Tourney
Brakes – Hydraulic Disc
Tires – 20 x 1.75″
Wing Bikes' Freedom ST 4 e-bike is a stylish and smooth-rolling comfort bike with premium electronics and a lightweight design.
The Freedom ST comes with a light and durable alloy step-through frame for easy mounting and dismounting. The electronics on the bike are smartly integrated along with the cabling to deliver a sleek finish.
The motor used is a 350W, 45Nm model and is backed up by a choice between 317/375/504Wh batteries to deliver max ranges of 35, 45, or 60 miles and plenty of smooth power to tackle steep gradients.
The bike is comfortable and convenient to use, the touchpoints are soft and ergonomic, and the geometry is relaxed, an all-around solid choice for seniors.
---
4. Rad Power Bikes RadRunner Plus
All-new, upgraded version of the previous bestseller (with over 3,000 ratings)
MSRP: $1,899
Rad Power Bikes
Motor: 750W, 80Nm | Battery: 48V 14Ah, 672Wh | Range: 45+ Miles
Max Payload – 300lbs
7-speed Shimano Acera
Fork – 80mm
20×3.3″ tires
Weight: 74.3 lbs
Rad Power Bikes' RadRunner Plus is not necessarily an electric bike for seniors but it has many of the important characteristics that we look for, however, it is quite heavy at over 74lbs.
This versatile fat tire electric bike is very comfortable and convenient to use thanks to its wide 3.3-inch tires with puncture resistance, front fork suspension, low step-through frame, and upright geometry. Another great feature of this bike is its ability to combine with 330 unique accessory pairings so you can completely customize what you use the bike for.
The RadRunner Plus has a 750 W/80Nm motor, a 14Ah battery that lasts up to 45+ miles, and a 7-speed Shimano drivetrain which makes any ride feel easy. Finally, the bike is fully equipped with a rear rack and fenders as well as integrated LED lights and kickstand.
Fits riders – 4'11" – 6'2″
---
5. BUZZ E-Bikes Cerana T
MSRP: $1,699
BuzzBicycles
350W mid-drive motor
Weight: 83lbs
Minimum saddle height: 32.5″
Integrated basket
Wheels: 24″ front, 20″ rear
The Buzz Cerana is a great 3 wheel electric bike for seniors because of its versatile utility and comfortable design.
This e-trike uses 20″ back wheels and a 24″ front wheel to deliver excellent stability and make it easy to control even when fully loaded.
The Cerana comes with two baskets, giving you a huge carrying capacity for anything you need, and the rear basket can be folded down whenever it's not in use. Its power comes from a smooth 350W mid-drive motor and an efficient motor that gives up to 40 miles of range.
To boost comfort, this bike has wide, puncture-resistant tires, a padded saddle, soft grips, and a relaxed upright riding position. Finally, you also have fenders, integrated LED lights, USB charging, and disc brakes.
---
6. Rad Power Bikes RadCity 5 Plus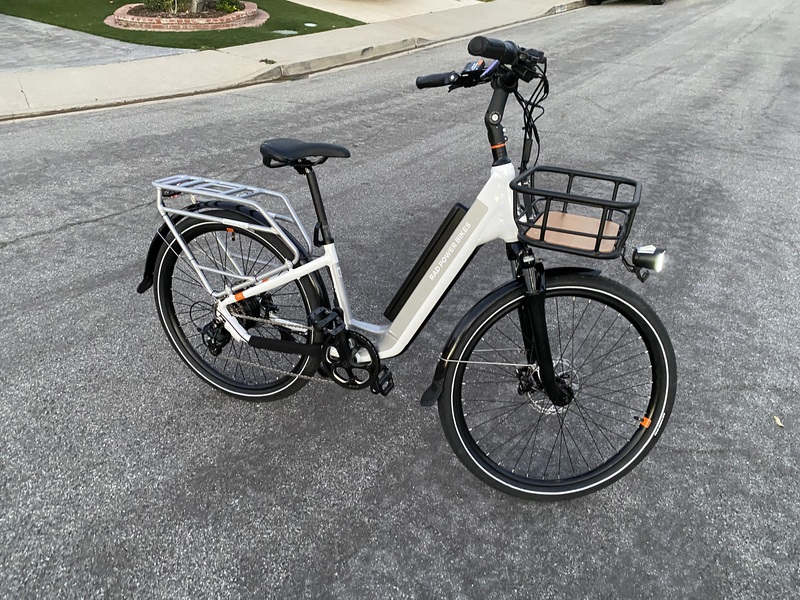 MSRP: $1,849
Rad Power Bikes
Motor: 750W rear hub | Battery: 48V 14Ah, 672Wh | Class: 2
27.5″ x 2.0″ puncture-resistant tires
Hydro brakes
7-speed
Weight: 64lbs
Rad Power Bikes' RadCity 5 Plus delivers exactly what the brand promise, a comfortable, smooth-rolling cruiser bike, perfect for seniors.
For electronics, the RadCity has a powerful 750W rear hub motor, a 672Wh battery, and an easy-to-use LCD display with all the ride metrics. This motor and battery combination provides up to 50 miles of range.
Riders can take advantage of an 7-speed Shimano drivetrain and five levels of pedal assistance to get the most from their battery.
As with any comfort bike, the RadCity 5 Plus has a convenient step-through frame design, shock-absorbent 2″ balloon tires, a padded seat, and a relaxed riding position. Finally, hydraulic disc brakes, a kickstand, bell, LED lights, rear rack, and fenders round out a comprehensive set of components.
---
7. Juiced Bikes HyperScorpion
MSRP: $2,499
Juiced Bikes
Weight – 102lbs
Motor – 1000W, Retroblade motor
Battery – 52V/19.2AhWh, 998Wh
Max capacity – 275lbs
The Juiced HyperScorpion electric cruiser bike is optimized for comfort and smooth riding on urban roads, light trails, and soft terrains thanks to fat tires.
This e-bike's key characteristics are comfort and speed. To achieve this, Juiced designed the HyperScorpion with moped-style cruiser geometry, including a step-through frame, an oversized padded saddle, dual suspension, and shock-absorbent 4.25″ fat tires.
In addition, this bike comes with everything you need for commuting and other jobs within the city. These components include a rear rack, fenders, integrated LED lights, and a kickstand.
Finally, the electronics on the HyperScorpion are powerful enough to make any ride feel easy. Using a 1000W motor and 998Wh battery with an 8-speed drivetrain for support, you can expect ranges up to 70 miles, enough for a great day of riding.
---
8. Ride1UP Turris
MSRP: $1,295
Ride1UP
750W, 60Nm Shengyi hub
614Wh battery
7-speed Shimano Altus
Zoom Hydraulic disc brakes
Ride1UP's Turris is another great electric bicycle for seniors as it is built to maximize comfort without sacrificing power and versatility.
This entry-level e-bike has a 750W, 60Nm motor, making any hill feel flat. It pairs perfectly with a 614Wh battery delivering modest ranges when used in conjunction with the 7-speed Shimano Altus drivetrain.
Additionally, this bike rides smoothly and has great handling thanks to powerful hydraulic disc brakes, 27.5 x 2.4″ Kenda tires, relaxed geometry, and ergonomic touchpoints. The Ride1UP Turris has mounts for a rack and comes with fenders and lights.
---
9. QuietKat Villager
Best electric bike for a 60-year-old
MSRP: $2,799
QuietKat
Motor: 500W | Battery: 696Wh, 48V 12.8Ah | Range up to 38mi
Weight capacity: 325lbs
26×3″
Tektro hydraulic disc brakes
Coil fork
QuietKat's Villager is the brand's best choice electric bike for elderly people because it has all of the power and functionality that you can expect of a QuietKat bike with added comfort for urban cruising.
Thanks to its versatile components, the Villager can be used equally on urban streets as it can on dirt roads and light trails. This is possible due to its wide and grippy 3″ tires, 100mm fork suspension, two-piston hydraulic disc brakes with huge 203mm rotors, and powerful electronics.
The motor on this bike is a 500W hub unit and combines with a 696Wh battery to give you up to 38 miles of range when used with the 7-speed drivetrain. Finally, a low step-through frame, 100lb-capacity rear rack, integrated LED lights, and fenders make this bike useful in any situation.
---
10. Lectric XP 3.0 Step-Through
MSRP: $999
Lectric eBikes
Motor: 500W, 55Nm hub
Mechanical disc brakes, 180mm rotors
20 x 3″ tires
Weight: 64 lbs
Max load capacity – 330lbs
The XP 3.0 by Lectric E-Bikes works well as an eBike for older adults and also has one of the best prices for the level of components. However, it is slightly heavier than other bikes we've seen.
The power on this bike comes from a 500W rear hub motor with a throttle and five levels of pedal assistance. Using the 7-speed drivetrain and a 500Wh battery, expect ranges up to 45 miles on a single charge.
What makes this bike great for seniors is its convenience and comfort. Firstly, the XP 3.0 has a quick and secure folding mechanism, shock-absorbent CST 3″ fat tires, front fork suspension, and a low step-through frame. Additionally, fenders, a rear pannier rack, and integrated LED lights make it perfect for city riding.
---
11. Gazelle Medeo T9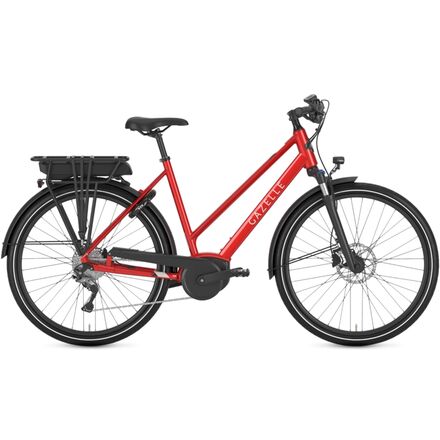 MSRP: $2,799
Backcountry
Aluminum frame and fork
Shimano hydraulic disc brakes
28″ wheels and Schwalbe Big Apple 2″ tires
50mm travel fork
Step-through electric bikes for seniors don't get much better than Gazelles Medeo. This bike has great components in every area that make it a joy to ride wherever the journey takes you.
Starting with a lightweight aluminum frame, the Medeo T9 keeps getting better. For power, you have a Bosch Active Line Plus 3.0 50Nm mid-drive motor with four levels of pedal assistance and easy-to-reach controls on handlebars. The battery is a 400Wh model that is located in the rear rack, which negatively impacts weight distribution.
Powerful hydraulic disc brakes ensure optimal stopping power premium Schwalbe Big Apple tires provide extra traction for optimal comfort and safety. Additionally, a 50mm travel fork helps smooth out any bumps you come across. Finally, upright geometry, comfortable contact points, and a low-step frame make this bike perfect for any older rider.
---
Electric Bikes for Senior Citizens – What to look out for?
Low-step frame
Upright geometry to prevent lower back pain
Low weight – Preferably under 55lbs
Easy to maneuver – 20″ / 26″ / 27.5″ wheels
Tire width from 1.95″ to 3″
Walk-assist mode
Class 1 – 20mph pedal-assist
Class 2 – 20mph throttle & pedal-assist
Legal EBike Classes
Class 1 – Pedal assist | Top speed 20mph | Motor limited to 750W. 🏆
Class 2 – Pedal-assist and throttle | Top speed 20mph | Motor limited to 750W.
Class 3 – Pedal-assist + optional throttle | Top speed 28mph with pedal-assist, 20mph with throttle | Motor limited to 750W.
Throttle or pedal-assist?
Half-Twist Throttle PROs:
– Assists from stand-still
– Found on powerful motors, generally on hub-motors.
– Great for "lazy" riders
Pedal-assist PROs:
– More efficient and economical
– They're better for your health as there's some pedaling needed for the cadence sensor to work
Hub motor vs mid-drive
Mid-drive motors – Longer range, more expensive, smoother, lightweight, better weight distribution.
Hub drive motors – Affordable, heavier, great torque levels.
Final Takeaways
Why consider the Ride1UP?
An air suspension fork is a great component at this price range
Low step-through frame
Best value & great score from reviewers
Powerful motor with throttle & pedal-assistance
Why consider the Cannondale?
Long estimated range
High-end mid-drive motor
Large wheels & tires
Easy on & off due to low-step frame
9-speed drivetrain
Cannondale = Great quality
Why consider Rad Power Bikes?
One of the most trusted electric bike brands on the market
Great geometry – low-step frame
Trusted motor & battery
New "Plus" model with extra features
Why consider the BUZZ trike?
It's a trike so it has extra stability
Excellent mid-drive motor
Smaller wheels
Large carrying capacity
Why consider the Tern?
Its got a folding frame & Tern focuses on folding bikes
Trusted mid-drive motor
It Folds compact when not in use
Why consider Quietkat?
Strong e-bike brand
26 x 3″ tires coupled with a fork gives plenty of traction
A bike that can accommodate a lot of accessories for hunting, fishing, camping
Why consider the Liv bike?
LIV is a women-specific bike brand
The Sister company of Giant
Above-average components