Once viewed as a novelty by the biking community, eBikes are quickly becoming a popular choice amongst commuters. As environmental issues continue to affect people daily, more and more commuters are looking towards 'green' alternatives for transport. eBikes are a great way to introduce new recruits to the cycling community and it's good to see companies like Rad Power Bikes paving the way!
Rad Power Bikes – Main Focus
Rad Power Bikes is an ebike manufacturer from Seattle that began life in 2007 when founder Mike Radenbaugh built his own eBike to commute to school. It now sells a wide range of custom-designed and purpose-built eBikes to countries all around the world.
Products in the Rad Power Bikes' lineup range from cargo and utility bikes to commuter bikes and fat bikes. They also do custom builds, rentals, and fleet sales to businesses, warehouses, and delivery companies. Customers in Seattle, Sacramento, Vancouver, Austin, and Portland can have bikes delivered for test rides or on-site builds and maintenance.
Bikes Selection
All Rad Power Bikes E-bike series have 6061 aluminum frames and a 750W geared hub motor with 80 Nm torque except the 500W on a RadMission. The 48V charger can provide up to 45 miles per charge depending on weight and speed. Braking on all bikes is supplied by Tektro Aries MD-M300 caliper disc brakes. Click on each bike's title to see full specs!
---
RadMission 1
New!
MSRP $1,099
Available colors: Steel blue, black, gray, white, red
The newest model to their addition! Unlike all the other Rad Power eBike models, the RadMission electric bike comes with a 500W Geared Hub Motor. There's plenty of customization that can be done around the bike if you'd like to make it your everyday commuter bike. Max load capacity – 275lbs.
Double aluminum rims
27.5″ wheels
Single-speed
Weighs under 50lbs
Integrated brake light
Led control panel
Twist grip throttle
---
RadWagon
MSRP $1,699
Available Colors: Orange, White, Black (Limited edition)
The RadWagon is an electric cargo bike with a large rear runner board to carry luggage or passengers (350lb / 158kg total). It can be fitted with additional padding, handlebars, two kids' seats, or pannier bags depending on the use case.
---
RadRunner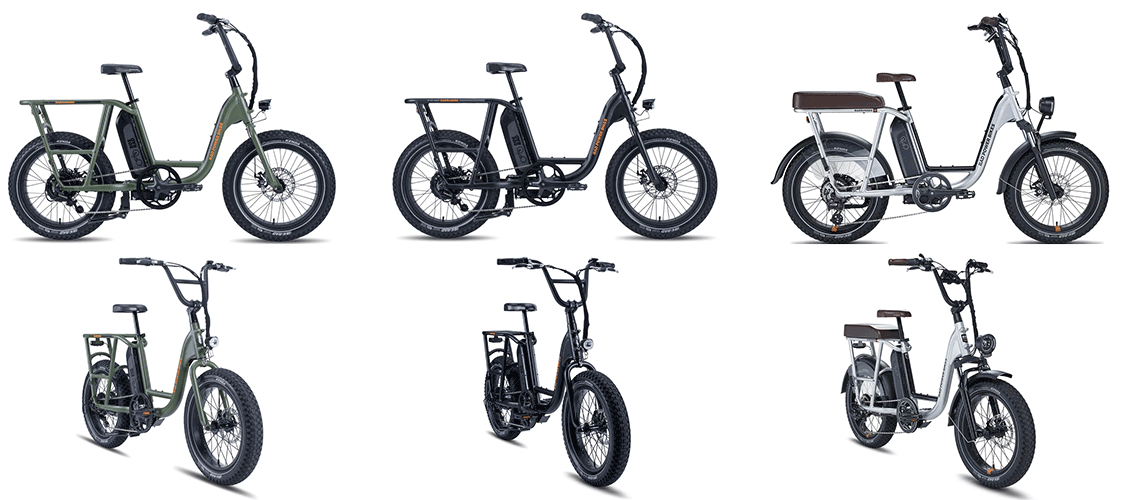 MSRP $1,299

Available colors: Black / Forest Green
Rad Power Bikes' flagship bike the RadRunner is a small single-speed utility bike with a rear rack strong enough to hold luggage or a small passenger (300lb / 136kg total). The upgraded RadRunner Plus ($1,699) includes a 7-speed drivetrain and front suspension.
---
RadRover
MSRP $1,699
Available Colors: Black / Forest Green / White (Step-Through)
The RadRover and RadRover Step-Thru are rugged fat bikes designed for off-road riding. They have extra-large 26" x 4" Kenda juggernaut tires and a Shimano 7-speed drivetrain.
---
RadMini
MSRP $1,499
Available Colors: Black / White
The RadMini and RadMini Step-Thru are lightweight, foldable 20" bikes for zooming around town. They fold to the size of a large suitcase for easy transportation and have a Shimano 7-speed drivetrain and RST front spring fork.
---
RadExpand 5
MSRP $1,299
Available Colors: Black / White
The RadExpand 5 is a lighter, more versatile update to the popular RadMini, described above. This folding e-bike is perfect for commuters, travelers, or those with limited storage space. This bike is ready for anything with powerful electronics, a fully equipped setup, and puncture-resistant fat tires.
---
RadCity
MSRP $1,599
Available Colors: Black / White
The RadCity and RadCity Step-Thru are full-size 7-speed commuter bikes with 26" x 2.3" Kenda K-Rad tires and Suntour front suspension.
ACCESSORIES
Most of the bikes in the range are designed for commuting and carrying luggage so their accessories include a lot of luggage racks, front racks, and pannier bags. There are various platforms, front and back racks, and different size baskets from small ($59) to large ($79) that can fit on both front and back racks.
The small delivery bags ($49) and large basket bags ($59) can protect goods in transit from wet weather and the center console ($99) and Ballard cargo bag ($119) can carry excess items for longer trips. Rad Power Bikes also sells seat pads, foot pegs, and handlebars for passengers as well as fenders, locks, child seats, helmets, and lighting.
---
Replacement Parts
Rad Power Bikes replacement parts include various tubes and tire sizes for all its bikes, from 20" x 3.3" to 26" x 4". It also sells spare seats, battery chargers, replacement keys, and brake pads. If you need to replace your entire battery pack, these can be purchased for $549.
WHOLE RANGE
Tires – 20″ / 26″
Tubes – 20″ / 26″
Handlebar Grips
Seats
Brake Pads
Replacement Keys
Batter Packs
---
Community
Rad Power Bikes hosts a vibrant online community of eBike users which includes photos, reviews, and discussions from other members. It has also recently launched a blog called The Scenic Route that serves as a "digital home for eBike news and culture", with advice, stories, and event happenings. Another cool feature on the their website is Rad Academy Classes, a monthly eBike maintenance and repair class that offers to its customers.
Fleet Sales
Rental / Business / Delivery / Campus / Warehouse / Facilities
For businesses looking to provide alternative transport for staff, simplify transportation in their factories, or speed up deliveries, the brand offers corporate fleet packages. These are ideal for staff bike hire schemes, recreational rentals, warehouse logistics, or any corporate delivery needs. Part of the corporate offerings includes the RadBurro, a heavy-weight delivery eTrike for the haulage and industrial sector.
Financing
Rad Power Bikes offers as low as 0% financing with Affirm
Owners of e-bikes from Rad Power Bikes have the opportunity to get rewarded with a $50 Amazon Gift Card!