Overview / Buying Guide / Sizing / Types / Reviews /
Do you need a hand choosing the right mountain bike? In this mountain bike buying guide, we will tell you all you need to know in order to find the best bike for you!
Throughout this step-by-step guide, we will ask you multiple questions that will help decide what bikes are suitable for you. You'll find important details that you must know when it comes to buying a mountain bike. We will try to do all of this without making it too long! Let's begin!
Related: Bicycle Groupset Comparison
Related: Best Full-Suspension Mountain Bikes – Under $3,000
Related: Best Electric Mountain Bikes – In 2021
---
Your Riding Preferences
What type of rider are you?
The grand question is, what type of rider are you (or want to be)? There are basically four different so-called mountain bike rider types that we like to use: occasional riders, beginners, enthusiasts, and experts.
Please keep in mind, these four categories have been made by us to help you choose the right bike in this mountain bicycle buying guide. There are no universal terms used to divide riders into different groups. The purpose of our groups is to give you an overview and help riders to choose the most suitable class for themselves.
Here we will give you a quick overview so that you know how much you should pay for your mountain bike:
---
LEVEL: Occasional commuter
An occasional rider only rides their bike several times a month. The purpose of the bike ride is typically shopping. However, it may also be for just cruising around (for leisure rather than serious exercise).
Even occasional riders should stay away from department store bikes! You might end up saving some money on the initial purchase of a department store bike, but the maintenance would be more expensive, and the ride much worse. Maintenance is one thing you should do at least once a year.
Bike specs for occasional riders
Alloy frame
Entry-level components (Shimano Acera or Alivio), SRAM (X3 or X4)
75-100mm fork travel
Three chainrings upfront
14 to 27 gears
Mechanical disc brakes
*These are suggested specs. The best bikes in this price range should feature those listed or similar parts!
Mountain bikes designed for occasional riders need their chains oiled, and brakes and gears adjusted just the same as any other bike does.
Also, after about 300-400 miles you will want to change the chain, cassette, and front gear rings. It is always the best practice to change them at the same time to ensure that wear does not occur prematurely due to old parts still being used.
Not all MTB buying guides mention that.
Bike Price For Occasional Riders
If you are an occasional rider, between $350 and $500 is the optimal purchase price range. If you spend a little bit more, you are not wasting money as long as the bike includes better components. Just take a look at the list in this mountain bike buyer's guide and choose your favorite!
---
LEVEL: Beginner
For those who like to take their bike out for a ride several days a week and/or for training purposes, you will need a slightly more reliable bike. The difference that makes these bikes better boils down to higher quality components, and better frame geometry.
Beginners often take their bike on trips up to two hours long. Typically, these trips will take places on mountain bike trails. Beginners don't often have high expectations for their bike.
---
Bike Specs For Beginners
6061/7005 Alloy frame (For serious fitness trainers – carbon)
Hardtail (Rarely full suspension (from $1,000)
Mid-level SR Suntour, FOX, or RockShox suspension with 100 – 120mm fork travel
Mid-level components: Shimano (Deore, SLX, or Zee), or SRAM (X5 or X7)
Typically double or triple chainrings on the front. However, 1X drivetrains are also starting to show in this range
Hydraulic or mechanical disc brakes
11-27 gears (dependent on the number of rings upfront)
Double-walled alloy rims
*In this mountain bike buying guide, we believe that these are suggested specs that would make a great beginner bike
Price For Beginners And Fitness Trainers
As you see above, the components are a big step up from the bikes that are meant for occasional riders. However, the ride improvement does come with a bit of a price jump. For beginners and trainers, you should be looking to spend somewhere between $500 and $1,500. In this price range, you will be able to find a proper mountain bike that has been outfitted with nice components.
---
LEVEL: Enthusiast / Race
If you plan to start racing mountain bikes, or already do just for fun, here is the range you should be looking in. This range is where you will find very reliable components with nice features that likely aren't offered on lower-end bikes.
Racing is very demanding on a mountain bike, so you definitely want to make sure you get a good bike, and take great care of it.
In this mountain bike buying guide, these bikes are also where you will start to find major adjustability. This is nice because it helps you fine-tune your bike so that it suits your riding preferences. For example, you will be able to tune your suspension for your weight, as well as potentially adjust the compression and rebound.
---
Specs For Enthusiasts
Carbon or high-quality aluminum frame
Hardtail or full suspension
High-level Shimano (Saint, SLX, XT) or SRAM (X9, X0 XX) components
High-Level forks with 100 – 140mm of travel (up to 200mm on DH bikes)
Hydraulic disc brakes
Single or double chainring upfront
9-20 gears
*These are some suggested specs for a great enthusiast bike
Mountain bike price for enthusiasts
Since enthusiast-level bikes can be comfortably ridden in serious competitions, the components should offer high-end performance. In this mountain bike buyer's guide, we'd like to suggest that you pay upwards of $1,500 to get a high-quality hardtail.
A full-suspension bike in this range will likely run upwards of $2000. The more you play, the better components you will likely get on the bike. However, this is not always true so make sure you are mindful of what the bike is specced with before you buy.
MTB Price For Enthusiasts
Since enthusiast-level bikes can be comfortably ridden in serious competitions, the components should offer high-end performance. In this mountain bike buyer's guide, we'd like to suggest that you pay upwards of $1,500 to get a high-quality hardtail.
A full-suspension bike in this range will likely run upwards of $2000. The more you pay, the better components you will likely get on the bike. However, this is not always true so make sure you are mindful of what the bike is specced with before you buy.
---
LEVEL: Expert /Race
We've all awed at ultra-expensive mountain bikes, but who really needs one? You will find out just below!
If you are a full out racer or a professional rider, then you will probably want to buy something from this category. If you aren't an expert rider but have the cash to spare, there is no doubt any mountain biker would love the performance that these bikes offer. So buying one may still be warranted even if you are not a top-level rider.
Mountain bikes in the 'experts' group feature components of the highest level. This is also where you will find all of the latest and greatest technology. The bikes are designed for people who want to be at the top of their chosen discipline. This is achieved through maximum pedaling efficiency, weight savings, durability, and modern geometry and standards.
These mountain bikes are equipped with the lightest and most reliable components available. Let's take a closer look at our mountain bike buying guide.
Expert level mountain bike specs
Carbon or sometimes a high-quality aluminum frame
Hardtail or full suspension
Top-level Shimano (XT or XTR (Di2)) or SRAM (X01 Eagle or XX1 Eagle) components
Top-Level adjustable suspension with travel ranging from 100 –203mm.
Hydraulic disc brakes
Single chainring upfront
7-12 gears
Usually carbon rims
Carbon saddle, post, handlebar, etc.
* These are some suggested specs for a top-notch expert bike
Bike Price For Experts
The low weight and reliability of expert-level components don't come cheap. However, it may help a top-level rider achieve better results. For the sake of this buyer's guide, we suggest that you look mountain bikes in the 'experts' category with prices starting at $3,000.
Remember, your bike is only as good as its worst component. Make sure that if you cheap out, it is not in a place that will majorly affect performance.
Some bikes cost upwards of $7,000! This doesn't mean that the bike will perform much better than a $4,000 bike. It ultimately boils down to the rider. A good rider can make almost any bike look good.
---
Choose The Right Mountain Bike Type
What type is best for you? XC, Trail, FS?
Once you've figured out your riding preferences, it is time to decide on what type of bike you want or need.
There are 3 categories of mountain bikes on the market:
Hardtails: Suspension on the front. The front suspension is needed to absorb bumps on the trails. Provides a very efficient ride.
Full Suspension Bikes: Suspension on front and rear. Dual-suspension gives you a smoother ride but adds extra weight.
Rigid Bikes: No suspension at all. Not very popular anymore. Mainly ridden just for fun.
Each of those will also divide into different mountain bike types. Each type will perform best under the specific discipline it is designed for. Different types of bikes will have differently styled frames, suspension, components, and more. The mountain bike types are listed below:

Cross Country (XC): Designed for speed. You want to buy this bike when you want to ride with efficiency over most trails.
Trail (All mountain): Designed to go basically everywhere. Some say trail bikes are just amped up XC bikes. These bikes are built to absorb rough terrain but also pedal well. Look for one if you want to ride trails that are a little bit rough for XC bikes.
Enduro: Pretty similar to Trail bike but they are more oriented to go downhill (thanks to more suspension). If you like rough up and down trails, then choose an enduro bike.
Downhill – These bikes are designed to be reliable and strong. Look for this long travel bike when you want to ride steep downhills and gnarly terrain.
Fat bikes – Designed with ultra-wide tires so they can be ridden on snow, sand, and deep mud. Fat bikes can take you anywhere but are not as nimble as regular bikes.
---
Mountain Bike Suspension Travel Guide
80-100mm
Trail or XC bikes, generally hardtail.
Steep head tube and seat tube angles.
110-130mm

(Short Travel)
Climbs / descends. Hardtail and full-suspension bikes. Slack head tube for fast downhill riding, and steep seat tube for easier climbing
130-150mm

(Mid travel)
Climbs / descends. Full-suspension mountain bikes for rough terrains. A long wheelbase and slack head tube angles.
Best Full-Suspension Trail/All-Mountain Bikes
150-170mm

(Enduro/Long-travel)
Second most rugged bike for the most demanding terrains.
170-200mm+

(Gravity-Downhill)
High speeds and the toughest of terrains to ride down to.
---
Don't Cheap Out!
Pay Less & Upgrade Later vs Pay More Upfront?
Keep in mind that there are some places where you really don't want to cut corners. Here is a realistic example of how it could go wrong:
You buy a full-suspension mountain bike for $500 (which was discounted from $800). Excited, you take it to the trails. It holds up nicely riding relatively low demanding trails. However, after several weeks, you noticed that there is a slight creak. You think that it is normal and continue to ride the bike regularly.
Eventually, the creak gets really bad and you realize that the suspension doesn't seem to be working properly. You decide to take it to your local bike shop so that they can look at it. When you get a call from the shop, your fingers are crossed hoping the damage isn't too bad. As it turns out, the rear suspension is broken, the crankset is worn out, the derailleurs are worn out, the pedals bearings are seized, and finally, the front suspension works fine but thanks to cheap headset bearings, the headset is worn-out and can't be replaced.
The calculation for the repairs is as follows: Rear suspension – $200 (cheapest), crankset – $50, new pedals – $50, new derailleurs – $250, headset bearings & other components – $50. Oh boy – $600 for repairs on your new bike?! – No just wait, that isn't including labor costs.  
As you can see, that's pretty insane! Around $800 for repairs on a new bike because you cheaped out originally. If you just spent that in the first place, you would still be on your original bike and it would be a much better ride!
We don't want to scare you. However, most local bike shops have similar horror stories to tell. You can also find stories like this on bike forums. We say everything we say so that these bike horror stories are never about you! Our goal is to lead you to the right bike for you!
---
Pick The Right Size
15″ to 21″, let's make it clear.
There are two main sizes to take into consideration when choosing a bike – frame size and wheel size. The two sizes are often mixed up and can cause some confusion.
Here we will make everything clear. That is the purpose of this mountain bike buyer's guide after all!
A) Wheel size
Wheel size plays a huge role in the performance of mountain bikes. The reason behind this is pure physics – higher diameter wheels roll faster over obstacles, where wheels with a smaller diameter react faster. Here is where you get to decide what you care about!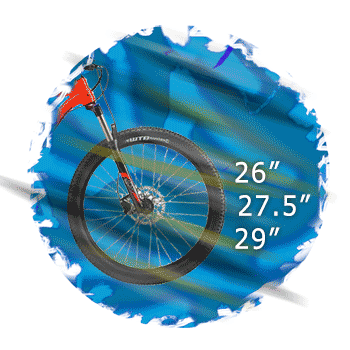 Let's give you a quick overview of bike wheel sizes:
26" was the wheel size standard for decades. When mountain bikes first rolled out, almost all of them featured 26" wheels. These wheels are getting quickly replaced by the other bigger sizes.
Consider 26" wheels if you are on the shorter size or buying a bike for dirt jumping.
27.5" wheels are the in-between size and the sweet spot for many riders. They were designed to roll better than 26" wheels but also feel more agile than 29" wheels.
This makes them great on all types of mountain bikes!
29" wheels are found on most XC bikes today, and are slowly making their way into other disciplines (even DH!). 29" wheels weigh more than the smaller sizes, but thanks to bigger diameter, obstacles are easier to handle.
29" wheels are for riders who care about a fast and efficient ride.
There are also plus-size tires. Plus-sized tires are extra-wide tires (3 or 4 inches wide). They feature superior grip over regular tires however lack the lively feeling that normal sized tires offer.
Fat bikes make use of extra-wide 26" wheels and tires (wider than plus tires).
B) Frame Size
Typically the main disadvantage of buying a bike online is that you can't try it out yourself. That's something that mountain bike buying guides don't mention.
However, every manufacturer (who wants to sell their bikes) makes correct and easy to read bike sizing graphs for each model that they offer. This makes up for not being able to try it out for yourself before you buy it.
The manufacturers also state geometry such as the head tube angle. With all of this information. It is quite easy to pick the correct size for you. To help you, even more, check out the chart below for a rough sizing guide.

Now you should have a good idea as to what size of bike you should order.
---
Bike Fit
To adjust your riding position, you may need to move the saddle, or even buy a different stem or handlebars. These are examples of typical adjustments that most experienced cyclists make. If you are just a beginner, try different set-ups until you find out what is comfortable for you.
If you can't decide between two sizes and are somewhere between on the sizing guides, we suggest that you choose the bigger frame. This is because it is easier to make a large bike feel smaller than it is to make a small bike feel larger.
---
Where To Buy MTBs?
Whether you are looking at bikes online, or in local bike shops, you want to look for a good, reliable brand. There are some brands that only sell online (Diamondback for example), and some that sell online and in bike shops. At the moment we don't know any brands that you can't find online somewhere. If you happen to know one, tell us!
As you just saw, there are plenty of manufacturers, and this was just a list of 23! There are many more! All of the brands on this list are 100% trusted by us. It is crucial to know which bikes are worth buying and which ones aren't
You can read more in-depth bike brands reviews here >
We already talked a bit about bike shops on this mountain bike buying guide, so now it's time to compare buying in a shop vs. buying online.
It is the 21st century. We order many different things online including food, everyday items, and even taxies.
Why do we do this? We do this because it is easy. When buying bikes online, there are some things you should know.
Where should you buy your next mountain bike? Take a look below!
Buying From Local Bike Shop (LBS)
Buying Online
Frame Materials
Here is where we get to tell you all about the different materials used to make mountain bike frames. Technology is always improving, but bike frame materials have stayed pretty consistent over the years.
This is the most popular mountain bike frame material. Alloy is relatively cheap, corrosion-resistant, and pretty lightweight (especially the widely spread 6061, 6063, or 7005 alloy). Most often a bike will be 6061 aluminum.
Steel
This material is much denser than aluminum. However, it is also more expensive to mass-produce. Steel frames can be made out of smaller-diameter, and thinner-walled tubes because of steel's strength. Firstly this means some frames might look slightly different than alloy ones, it also means the frames will probably be heavier.
Carbon
This is a composite material made out of layers of carbon weave. The biggest advantage of carbon is that the material is much lighter than alloy and steel. Carbon is also extremely strong. Its downside, however, is that it tends to crack rather than dent like aluminum. This means that once you crack your frame, it is no longer safe to ride. Most of the mountain bike buying guides will focus mainly on carbons.
Titanium
Titanium frames are not very popular thanks to their cost. The biggest advantage they offer is extra high durability. However, thanks to the other three materials listed above, not many frames today are made of titanium.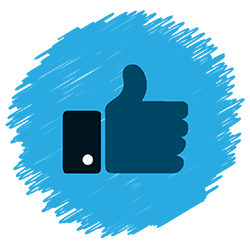 To wrap it up, a well-built alloy frame is a much better choice than a cheap carbon one. Only buy a carbon bike if it is very high quality.
Well known manufacturers have built their reputation by making good frames, so don't worry too much about the quality of the frame material when buying from them.
---
Components
If you already know a lot about bikes as a whole, this might be a good area for you to pay extra attention to. There are hundreds of components out there to choose from. The quality of an overall bike will be decided by the components that the frame is outfitted with.
Googled how many parts are there, and on the List of Bicycle parts Wikipedia article, I found 104!
Of course, you don't need to know all of those parts and we can't cover these in our mountain bike buying guide. However, what you should know is that there are many different levels of groupsets. Let's take a look!
The main manufacturers for components like derailleurs, chainrings, cassettes, cranks, and shifters are Shimano & SRAM.
Neither one is better than the other, but each company offers a range starting from entry-level all the way up to pro-level components.
Shimano Mountain Bike Components & Hierarchy
Regular mountain bike groupsets:
Tourney -> Altus -> Deore -> SLX (/ Zee – Downhill)-> XT (/ Saint – Downhill) -> XT Di2 -> XTR -> XTR Di2
What's the difference between these Shimano groupsets? Entry-level sets, like the Tourney set, for example, are meant for light use. Where high-end groupsets such as XTR sets are meant for racing or extreme purposes. The components are built better, the higher you go up the chain. Top-level components are usually lighter and more durable than lower-end ones.
---
SRAM Components & Hierarchy
SRAM mountain bike hierarchy from entry-level to the top level.
Regular mountain bike groupsets:
X3 -> X4 -> X5 -> X7 -> X9 -> X0 –> XX -> NX -> GX-> X1-> X01 -> X01 Eagle -> XX1 -> XX1 Eagle
Downhill groupsets:
X0 DH-> GX DH -> X01 DH
The difference in SRAM hierarchy is the same –
Related: Bicycle Groupset Hierarchy
---
Men's VS Women's MTBs
Men's vs women's mountain bikes
There are different mountain bikes for men and women. Let's dig deeper into this mountain bike buying guide.
The main difference isn't in color but in geometry. Women's mountain bikes are designed to be ergonomic with a woman's body. This means shorter top tubes etc.
This being said, a woman can quite happily ride a men's mountain bike with no issues.
One thing that is important to take into account is that the production costs are often higher when making a women's bike. This is because they are ordered in less bulk since there are fewer woman mountain bikers than men mountain bikers right now.
One thing that men and women should definitely buy differently is gear. This is for obvious reasons. Each gender has comfort needs that are tailored to them in gender-specific gear.
Some manufacturers, like Ghost bikes, make identical bikes for men and women. The price is even the same! The only difference between the two is the frame geometry.
---
Bottom Line
We hope this guide opened your eyes and answered a lot of your questions in this mountain bike buying guide. Keep in mind that cheaper solutions can sometimes be more expensive when you take into account the maintenance costs.
Figure out what your needs are, and then start looking for a bike. You'll find a great bike that suits your budget with the help of this website!
RELATED
Best Mountain Bikes under $1000