Does Your Gravel Bike Need a Dropper Post?
Dropper posts are adjustable seatposts that move up and down to change the saddle's height. They operate using a lever placed at the handlebars or integrated into the shift levers.
Dropping the saddle height allows riders to move their weight freely around the bike, providing greater control and stability when descending or taking corners at speed.
Although initially a mountain bike technology, gravel manufacturers have adopted droppers on their bikes to improve performance on off-road terrain. However, not all gravel riders agree with this adoption or see its value.
This article will discuss the advantages and disadvantages of using a dropper post gravel bike and finish with our selection of five gravel dropper posts to suit different needs and budgets.
Riding With a Dropper Post on a Gravel Bike
---
The gravel category has expanded hugely over the past decade. Each manufacturer has its own interpretation of what a gravel bike is, and each rider uses their gravel bike in a unique way.
Some models closely resemble rigid mountain bikes, while others are essentially endurance road bikes with a couple of minor modifications.
As mentioned, there is much debate about the actual value of a dropper post for a gravel bike. The truth is, it depends on your specific gravel bike and how you like to ride it. Not all bikes or riding styles justify adding one, but plenty of them do.
Advantages of Gravel Bike Dropper Posts
---
In the 2022 edition of Milan-San Remo, Matej Mohorič of Team Bahrain Victorious masterfully leveraged the benefits of a dropper post by attacking over the top of the Poggio di San Remo. He went on to win the race thanks to the time he gained while descending.
This high-profile cameo of a dropper post brought the component into the spotlight, further highlighting the potential performance gains for bikes other than MTBs.
With the freedom to quickly lower and raise the saddle's height, riders can, in turn, lower their center of gravity and shift their weight around the bike faster and with more freedom. Doing so gives you more control and stability when descending steep, rough terrain or taking corners at speed.
This enhanced control boosts confidence and makes riding more fun, especially on bumpier off-road terrain. In addition, you can ride faster by holding more speed through corners.
The undeniable performance benefits in mountain biking disciplines have led to the almost universal adoption of the technology, except in budget bikes and some weight-conscious XC racers. This adoption is well underway in the gravel industry.
The aerodynamic gains are also undeniable. For example, descending on a drop bar bike while sitting in the lower saddle position is more aerodynamic, allowing you to reach higher speeds without extra effort. The 'super-tuck' position (sitting on the top tube while descending) replicates this but was recently banned in pro racing by the UCI.
A final noteworthy benefit of gravel bike dropper posts is they give you the ability to put one or both feet down when coming to a stop. This ability is invaluable when riding a loaded bike for bikepacking or bicycle touring and for commuters who frequently stop at traffic lights.
Disadvantages of Gravel Bike Dropper Posts
---
An argument against gravel dropper posts is that even many of the best gravel bikes aren't capable of tackling off-road terrain difficult enough or reaching the speeds that justify using a dropper post.
However, this argument doesn't consider their benefits when riding on paved surfaces, which we outlined above. In addition, more extreme gravel rigs with slacker geometry, wider tires, and suspension would benefit from a dropper.
The most frequently mentioned downside to adding a dropper on a gravel bike is the weight penalty. Most standard 27.2mm seatposts weigh around 200 to 400g, while droppers weigh roughly 350 to 650g before you add the lever and cables. The approximately 300g extra weight won't be noticeable for most riders, especially given the aerodynamic gains.
At the end of this article, we've listed five gravel droppers in the $100 to $325 range, but they can go as high as $800. Additionally, maintenance of dropper seatposts costs time as well as money.
The cost of purchasing, installing, and maintaining a gravel dropper post isn't trivial, considering a standard aluminum seatpost is one of the cheapest and lowest-maintenance components on a bike.
Finally, before retrofitting a dropper post, it's essential to check for compatibility issues. For example, not all gravel bikes have internal cable routing for a dropper post, and 2x drivetrains aren't compatible with shifter-operated dropper posts.
Additionally, if you use your gravel bike for bikepacking, you'll have to ensure your dropper is compatible with a saddle bag or adjust your setup accordingly.
Who Should Use a Gravel Dropper Post?
---
Dropper seatposts offer more benefits the more advanced your skills and the more challenging the terrain you ride.
If you've got a bike with chunky gravel bike tires and slacker geometry for tackling steep off-road descents and fast, flowy trails, a dropper will undoubtedly improve your ride experience. Likewise, a dropper can give you more freedom if you enjoy attacking paved descents and cornering at speed.
The extra cost and complexity aren't worthwhile if your rides are mostly flat or with rolling hills. However, as mentioned, droppers can be a handy addition for bikepackers and commuters who appreciate being able to get a foot down for balance when coming to a stop.
If you're a road cyclist switching to gravel riding who doesn't know what it's like to ride with a dropper post, we'd recommend testing a bike with a dropper before committing.
Check out the best gravel bikes we recommend:
5 Best Gravel Dropper Posts
---
1. Enve – G-Series 40mm
The Enve G-Series gravel dropper post is a low-travel option, ideally suited to gravel and adventure riding.
This dropper post is mechanically actuated and compatible with most levers, including Shimano GRX and SRAM hydraulic actuated dropper levers. In addition, it works with a fully loaded bikepacking saddle bag attached.
A noteworthy feature of the G-Series is the inverted design, which allows it to shed mud easier and means you can cut off the end to save extra weight (up to 50g).
---
2. Crank Brothers – Highline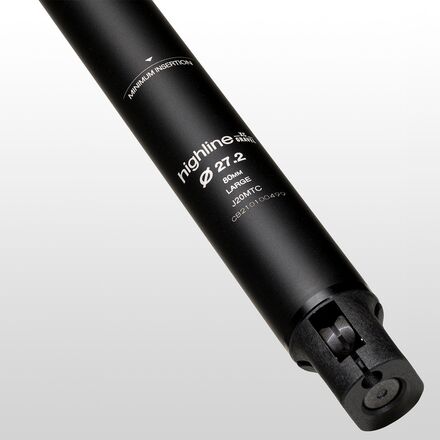 The Crank Brothers Highline gravel dropper post is a newer addition to the brand's line of versatile droppers.
This model comes in four sizes, from 60mm to 125mm of travel. The Highline has a self-contained IFP hydraulic cartridge that results in a smooth actuation, and the linear actuator ensures a fast return speed.
Crank Brothers designed this post with a short insertion length for broader compatibility and Jagwire cable and housing for easy installation. Choose the Highline if you want a buttery-smooth and easy-to-use gravel dropper post.
---
3. PNW Components – Pine Dropper
The PNW Components Pine dropper post is a more affordable option and has a unique Infinite Adjust feature that allows you to set the height at any point in the travel.
The Pine is suitable for bikes without internal cable routing for a dropper post, with tidy external cables that don't bunch during actuation.
Another great feature of the Pine is the weatherproof sealed coil-spring cartridge that extends the component's lifespan.
Consider this gravel bike dropper post if you want a highly-adjustable and reliable dropper with a reasonable price tag.
---
4. Easton – EA70 AX Dropper Seatpost
The Easton EA70 AX gravel dropper post is a lightweight option with a modest 50mm travel that will give you that extra control and confidence needed when taking on steep descents and sharp corners.
The EA70 AX is a cable-actuated post compatible with most standard levers or integrated with a drop-bar shifter such as Shimano's GRX, meaning you can drop the seatpost from the drops or hoods.
This gravel dropper post also has a cartridge design that improves durability by shutting out dirt and debris. You can purchase the EA70 AX in a 400mm or 350mm post length.
Add this gravel bike dropper post to your shortlist if you want a versatile and long-lasting option with just the right amount of travel.
---
5. KS Suspension – eTEN-R
The KS eTEN-R dropper post is an affordable choice for those who aren't overly concerned with weight and high performance. A sealed, air-spring hydraulic cartridge ensures reliable function over time.
The eTEN-R has external cable routing, is cable actuated, and is designed with a short insertion to travel ratio for wider compatibility.
This no-frill choice allows you to add dropper capabilities to your gravel bike without breaking the bank.