11 Best Kids' Bike Helmets in 2023 [Buyer's Guide]
When selecting the best kids' bike helmet, buyers need to make various considerations. Unlike adults who go for the safest option, for a child, it's prudent for the helmet to look attractive enough for them to like it. As much as you want the best, with children's helmets you need to remember that it's a temporary investment and they outgrow it in a few years.
With changing times and advancements in social media, youngsters have access to more information and are influenced by many external factors when making a choice, especially young online influencers.
Parents know how difficult it is for children to decide, so to help, we've selected 11 of the best bike helmets for kids. Get ready for an exciting review of the best toddler bike helmets in 2023.
---
1. Woom Kids' Helmet
MSRP:

$69.00

Sizes:

XS (46cm to 50cm), S (50cm to 53cm) and M (53cm to 56cm)

Specially designed for children's heads to protect the forehead, temple, and back of the neck.

A unique flexible visor covers the front of the head and has a soft padding.

Reflective logo and well ventilated.
Woom, a well-known bike manufacturer making some of the best kids' bike helmets, has come up with an interesting and attractive design available in six vibrant colors – according to our younger audience, it looks like you have a ladybug on your head.
This unique helmet is tough enough to take on harsh falls and the soft padding on the inside keeps kids safe while providing comfort. There's an adjustable magnetic clip chin strap that can be operated single-handed.
For extra protection, Woom has included a flexible visor that covers the front of the head, a cool feature according to many kids. Plus, it comes available in most kid's bike helmet sizes – XS to M.
The Woom helmet is very well ventilated with interchangeable internal padding and a small dial to adjust the size for a snug fit and the logo is reflective for riding safely in the dark.
---
2. Bell Nomad 2 Jr. MIPS Helmet
MSRP:

$64.95

Sizes:

Universal Youth (52cm to 57cm)

Ergo Fit is an easy-to-operate oversized rubber dial for adjustments and Tri-Glides fasteners keep straps laying flat.

Integrated MIPS technology reduces rotational forces during impact for a stress-free ride.

Comes with a Consumer Product Safety Commission (CPSC) mark of approval.
The Nomad 2 Jr. MIPS is one of the best kids' bike helmets from Bell, with a sporty design aimed at providing safety and durability.
One of its more notable and unique safety features is an extended back cover to protect the head in the event of a crash. In addition, the polycarbonate shell is bonded to the inner EPS foam via a fusion in-mold for a more durable and safe helmet.
Like all the best helmets these days, it includes Multi-Directional Impact Protection (MIPS) technology to lower the rotational forces that may be experienced in impacts, allowing riders to take on any trail without fear.
The comfortable straps stay flat at all times thanks to fasteners that are adjustable using just a single hand on the oversized and rubberized rear dial. It weighs in at just 335 grams and is available in a few limited sizes from 52cm to 57cm.
---
3. Thousand Jr. Kids Helmet
MSRP:

$60.00

Sizes:

XS (49cm to 53cm)

A very modern retro-looking design available in six colors including the classic Speedway Creme – our personal favorite.

Multipurpose and adjustable helmet, safe for use while roller skating, skateboarding, and cycling.

Eco-friendly vegan microfiber padded chin strap.
A modern helmet with a retro look, the Thousand Jr. boasts 110% carbon offsets, making it a great choice for eco-conscious parents and their kids.
All Thousand helmets come safety-certified for roller skating, skateboarding, and cycling, offering flexible protection for the most adventurous children.
A clever adjustable dial system allows users to adjust the size between a head circumference of 49cm to 53cm, ensuring kids can use the helmet for several years and pass it on to their younger siblings.
It also features an innovative and eco-friendly vegan 'leather' strap made from microfibre with a pinch-free magnetic fastener and padded chin pad for added comfort.
This is the best kids' bike helmet for artistic kids as it comes with funky, customizable stickers and benefits from six well-placed vents to ensure maximum airflow for staying cool on those hot summer days.
---
4. Bern Nino 2.0 MIPS Helmet
MSRP:

$80.00

Sizes: S and M

Reduced rotational motion to the brain in an impact using Mips that slides 10mm to 15mm in all directions.

A removable flip visor that youngsters can exchange with their BFFs.

Option to add on to the frame of the helmet for customization – Bern Quickmount Asteroid Light & Winter Knit Liner.
The Nino 2.0 MIPS is a new and improved Bern kids helmet that's safe enough for use during snow sports, and includes an adjustable and removable flip visor that they can exchange with their best friends.
You also get a convenient clip-on strap that's elasticated and fitted with lay-flat strap dividers, making it easily adjustable to the right size every time.
The lightweight build is constructed using Zipmold+ for extra protection and comfort and an impressive thirteen vents to keep your kids cool. Users can mount Berns's proprietary Quickmount Asteroid Light & Winter Knit Liner for use in winter and low lighting.
The only downside is the little rubber mountings on the inside that have a tendency to get stuck in hair. Colors include Matte Black, Matte Pink, Matte Yellow, Matte Light Blue, and Metallic Blue.
It's the best kids' bike helmet by Bern with full head coverage on the rear.
---
5. Nutcase Little Nutty Youth Helmets
MSRP: $70-$75 (

REI.com

)
Sizes:

Toddler (48cm to 52cm) and Youth (52cm to 56cm)

Available in 2 sizes and a whopping 15 designs.

Protective Crumple Zone EPS foam for extra safety on impacts.

Durable Injection molded shell with 10 vents.
The Nutcase kids helmet comes in a variety of shapes, colors, and sizes to suit every child's needs and style preference. The Little Nutty Youth Helmets are some of the best child bike helmets designed not only to look and feel good but keep your little ones safe and protected.
The variety of patterns ranges from fruity, patriotic, and futuristic, appealing to kids with all tastes and favorite superheroes. For added safety, there's a protective Crumple Zone EPS foam as part of the MIPS feature.
Every Little Nutty Youth helmet comes with a total of eleven vents, a no-pinch Fidlock Magnetic closure on the strap, and is available in two sizes with fifteen designs to select from.
Nutcase has also included their revised visor on every helmet and an option to purchase additional pads between 5mm and 9mm to customize the helmet's comfort.
---
6. Giro Tremor MIPS Kids' Helmet
MSRP: $70.00
Sizes:

Universal Youth (50cm to 57cm)

Universal Fit sizing for use straight out of the box.

Tough polycarbonate outer build with an impact-absorbing inner foam liner.

Roc Loc system for easy clipping with a 7cm adjustment range.
The Tremor Giro kids helmet is a well-designed aerodynamic helmet featuring the MIPS system for added safety during an impact.
Giro has built this beauty using a lot of DNA from the adult helmet line for lighter weight and durability. The outer shell is well ventilated, with 18 vents, and tough polycarbonate construction with a foam liner on the inside to absorb impact and shock.
The overall weight of the body comes in at between 260 grams and 290 grams, depending on spec, making it one of the lightest children's helmets on the market.
The padding is quick drying for all weather use and the decals are reflective to enhance the visibility of child riders in poor lighting conditions for added safety. It comes in a one-size-fits-all design with a Roc Loc system and quick-clip strap featuring 7 cm of adjustment for comfort and safety.
The Tremor is the best kids' bike helmet in terms of reliability and the ease of finding the right fit.
---
7. Troy Lee Designs A1 Youth Helmet Drone
MSRP:

$59.25

Sizes: One Size (Youth)

8 inlet and 8 exhaust vents for a fully pressurized and aerated cooling.

Triple position, fully adjustable retention system for eyewear and head shape.

US CPSC Safety Certified for children above 5 years old.
Another one of our best kid's bike helmets in 2023 is the Troy Lee Designs A1 Drone, available in a sporty red/white color and designed for aggressive young riders.
The top safety feature is a reinforced polycarbonate shell with an in-molded foam liner mounted to the inside, extending right to the back of the neck. There are a total of 8 air inlets and 8 exhaust vents for maximum pressurized ventilation over the head at any speed.
The A1 features a moto-inspired visor with anodized aluminum and a washable anti-microbial comfort liner on the inside. One key feature is the unique triple-position fully adjustable retention system that fits around most eyewear, accommodating various riding styles and head shapes.
The Troy Lee A1 Drone is US CPSC Safety certified for kids above 5 years of age to enjoy riding fearlessly on any terrain, leaving their parents with peace of mind that their child is safe.
This is by far the best kids' bike helmet for young mountain bikers who mean business.
---
8. Nutcase Baby Nutty Collection
MSRP: $60 (

REI.com

)
Sizes: Toddler – 48cm to 52cm

Built especially for toddlers with added safety features for their delicate heads and necks.

Very attractive designs and colors are picked for babies.

Very lightweight with a 3-piece pad set and 11 vents.
Nutcase is known to manufacture some of the best toddler bike helmets and the Baby Nutty Collection is one of their most vibrant ones yet.
Designed especially for babies, Nutcase has come up with the safest toddler bike helmet for utmost comfort and best fitting – while maintaining head support and posture.
The lightweight polycarbonate outer shell's made with the baby's neck strength in mind, while Nutcase has included their three-piece pad set and GROW Flex Fit System for extra comfort and fitting.
Toddlers usually make decisions based on color, so the Nutty Collection comes in a variety of attractive and bright colors that make it easier for kids to pick their favorite helmet.
This collection also comes with most of the features from the Little Nutty Youth Helmets including the updated Fidlock snap-and-go magnetic buckle and MIPS. Nutcase won't disappoint you as they manufacture some of the best kids' bike helmets.
---
9. Lazer Gekko MIPS Helmet
MSRP:

: $44.99

Sizes:

One Size – 50cm to 56cm

Added drop-down side and rear protection to reduce injury during a fall.

Attractive Dark Green Camo color that many of our young testers like.

Designed to perform on and off-road.
The Lazer Gekko MIPS Helmet is made with laser precision for a comfortable fit using an in-house Autofit Retention System that molds to the shape of the rider's head.
Lazer has designed the Gekko for trail grinding and use on asphalt while maintaining high safety standards as per the CPSC guidelines. Accidents happen, so a decent helmet is critical to ensure children are fully protected at all times.
The Gekko is fitted with the MIPS system to protect against rotational impact and comes with multiple vents to keep kids cool during hot summer days and intense rides.
In addition, Lazer has included additional drop-down side and rear protection pads for extra safety and to reduce the chances of injury during a fall. The Dark Green Camo color on offer is perfect for kids that have a passion for the muddy outdoors.
---
10. Giro Dime MIPS Helmet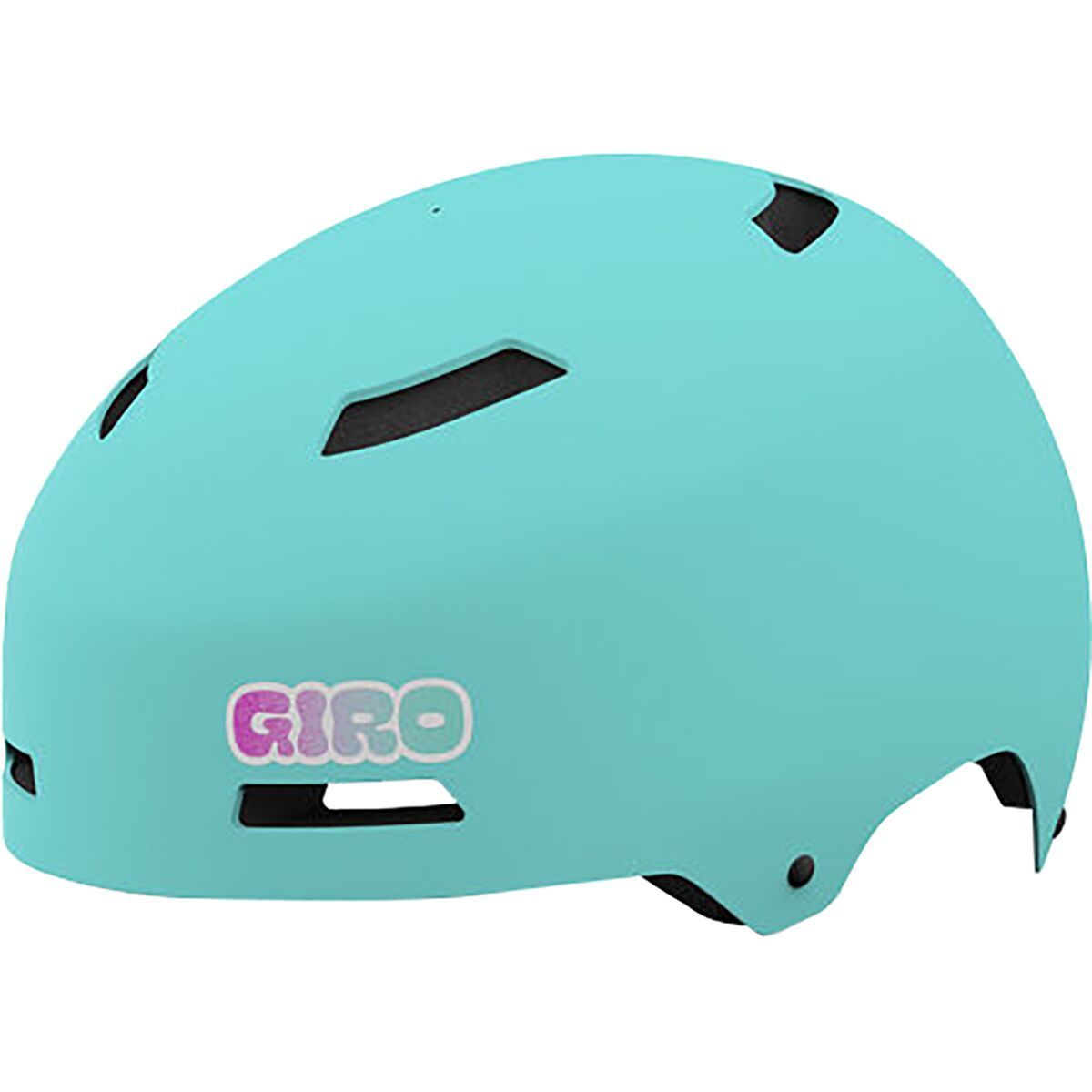 MSRP:

$69.95

Sizes:

XS and S

Kids learn from their elder's example so this helmet is similar to the Adult Quarter MIPS.

Removable Fit Kit inner foam layer and polyurethane reinforcement.

Impact absorbing

outer ABS plastic layer EPS foam layer

on the inside.
The Giro Dime MIPS is an egg-shaped toddler helmet designed to keep fragile little heads safe while they learn how to ride their first bike.
The helmet absorbs impact well thanks to the ABS plastic outer layer with deep coverage on the rear, surrounded by a comfortable EPS inner foam layer. For increased safety, you have the option of a removable Fit Kit foam layer on the inside which is further enforced with polyurethane.
The Giro Dime benefits from the revolutionary MIPS system for maximum safety and includes a total of eight vents to keep your toddler's little head cool as they get the hang of cycling.
Styled on the adult Giro Quarter MIPS, the Dime is safe enough for use on light trails and asphalt and is the perfect first helmet for toddlers as young as twelve months.
---
11. Specialized Mio MIPS Helmet
MSRP: $59.99
Sizes:

Toddlers up to age 3

Reflective webbing for riding in areas with poor visibility.

Mesh on the front vent to keep bugs out of the helmet.

100% satisfaction guarantee from Specialized
When looking for a top-quality bike helmet for kids, look no further than the Specialized Mio MIPS Helmet. With a 100% satisfaction guarantee included, the Mio comes in a unique Cast Blue color that looks space age and will be loved by fans of Sci-fi movies and comics.
The helmet comes with multiple safety and comfort benefits, including a pinch-free magnetic buckle, a Tri-Fix web splitter, and an in-molded lightweight shell.
For a trouble-free fitting out of the box, Specialized has used their Headset SC fit system with sizing designed to fit toddlers up to three years old. There's a special reflective webbing for low lighting, a sun visor, and a mesh on the front vent to keep bugs out of the helmet – no pests mean happy toddlers!
The Mio doesn't limit riders to bikes only but is also one of the best toddler helmets for scooter riding.
A Quick Best Kids' Bike Helmets Buying Guide
---
When it comes to picking the best children's bike helmets, there are various considerations one needs to make.
Whenever possible, it's better to invest in one that ticks all the boxes without paying too much attention to the cost – as you can't put a price on your children's safety!
What features should the best kids' bike helmet have?
Some of the most important features to look for in the best kids' bike helmets include:
A good children's helmet needs to be highly adjustable to fit the head properly and snugly, preferably with easily adjustable dials on the strap and an adjustable visor for protection from the sun.

Comfort and weight are prudent when it comes to a child's helmet, as they will only wear one if it's comfortable on their heads and light on the neck.

The whole idea of having a helmet is safety, so we highly recommend checking the certifications and ideally choosing one with MIPS protection.

To convince a child to wear a helmet, it must appeal to them, so it's best to let them select their design and color scheme so they're excited to wear it. If they can't relate to it don't expect them to go near it.
How to get the right kids' helmet size?
To get the right kids' helmet size, you need to know the circumference of your child's head. If you can't get it and want to surprise them with a gift, you can use a general size guideline as per their age. Remember, it's prudent to have a right-sized helmet for it to protect them well.
To get the size, take a soft tape and measure just above the child's eyebrows to the nearest centimeter as most helmets use this as a unit. The other option is to get a helmet already owned by the child and use that as a sample, or use the manufacturer's age guide according to the size.
How to achieve the right kids' helmet fit?
A helmet that doesn't fit right is not only uncomfortable but also very unsafe. To do its job properly, it must fit snugly, stay in place, and not wiggle around.
Place it about two fingers above the eyebrows not to obstruct their view and secure it with the dial adjuster on the back or use the straps to fasten it. To know it's the right fit, the helmet should not move when the child wiggles their head around with it unbuckled.
When to replace a kids' bike helmet?
It's inevitable for kids' to outgrow their treasured helmets and as much as they make a fuss about it, there comes a time when they must transition to a new one.
In the event of a crash, you must closely examine the helmet to make sure there is no physical damage to it – if you are unsure, have a professional look at it. The other time it is important to replace a helmet is when it no longer fits them properly.
Does your kids' bike helmet need MIPS?
All the best kid's bike helmets come with Multi-Directional Impact Protection (MIPS) safety system for extra protection for children's fragile and developing brains.
During an angled impact, the system reduces rotational forces that are transferred to the brain. In simple terms, the helmet can move around in the event of a crash and absorbs the impact that would otherwise be taken into the skull.
It's always best that your kids' bike helmets include MIPS to prevent tissue damage, and it's well worth the extra money. Statistically, the chances of serious harm are reduced by up to 30% thanks to MIPS, which was developed by top biomechanics and neuroscience professionals.