7 Best Kids Full Suspension Mountain Bikes
The best kids' MTB bikes with full suspension open up the world of mountain biking for your children, making trail riding more accessible, enjoyable, and safer.
With a kids' full-suspension mountain bike, handling, comfort, and control are improved on trails when compared to a hardtail MTB or non-suspension mountain bike because the geometry and components are for a child's body shape and ability.
Finally, like with an adult's bike, try to find the lightest model within your budget, as this will be easier and more fun to use. Keep reading to learn more about buying the perfect kids' full-suspension MTB.
---
XS-size frame vs. kids' specific frames
An XS full suspension mountain bike is for short adults.
This difference is vital to understand because adults have considerably different proportions and build compared to a child of equal or similar height, such as hand size, shoulder width, and grip strength. In addition, a child-specific saddle and standover height are essential aspects of a kids' bike.
Should you buy a size bigger so your child can grow into their bike?
No.
When purchasing a bike for your kid, you want to buy one that fits their current height and inseam length. Additionally, you want them to sit on the saddle and be able to touch a foot on the ground.
Buying a bike that your child will grow into is a mistake and can negatively affect your child's experience. In addition, a poorly fit bike can cause injuries or be unsafe to ride.
Wheel Size Recommendations
According to Prevelo (A kids' bike-specific brand)
Wheel size | Age | Inseam
12″ | 1.5+ | n/a
14″ | 3-5 | 13-16.5″
16″ | 4-6 | 15.5-22″
20″ | 5-9 | 18-23″
24″ | 7-11 |23-28″
26″ | 10+ | 25″ +
Note that these measurements are averages, and you should measure your child's inseam to ensure you have the right fit.
---
Commencal Clash Jr
Available in III quarter 2022
Fork – Fox 36 Performance 160mm
Frame – Fox Float X Performance 160mm
11-sp Shimano Deore
26×2.4″
KS Rage'i
Weight: approx 35lbs
The Clash Jr kids' trail bike is a stylish and high-end option for those kids with lofty ambitions in mountain biking.
This full-suspension bicycle has large 26″ wheels that make it perfect for kids aged 10+. The geometry design optimizes for comfort and control, which is boosted by the lightweight AL-6061 alloy.
Premium FOX Performance suspension with 160mm travel in the front and 145mm in the rear deliver an exceptionally smooth ride no matter what the trail throws up.
Other noteworthy features on this 26-inch full suspension mountain bike include the fast-stopping Shimano hydraulic disc brakes with 203/180mm rotors, 2.4″ Schwalbe Big Betty tires for maximal traction, and child-specific SDG Fly Jr. saddle.
Finally, a telescopic seat post and Shimano Deore 11-speed drivetrain open up the trail for exciting enduro rides.
Fits riders – 4'5″ – 4'11"
---
Marin Rift Zone Jr 24
The frame is also compatible with 26″ wheels and a dropper-seat post
MSRP: $1,899
Fork – X-Fusion Velvet RLC 120mm
Shock – X-Fusion O2 Pro R 120mm
Brakes – Shimano MT201 hydraulic 180/160mm rotors
Groupset – 11-speed Shimano Deore
Tires – Vee Tire 24×2.4."
Wheels – TLR

Dropper seat post 100mm travel
Marin's Rift Zone 24″ is a kids' full-suspension bike designed to make your child feel confident all over the mountain. With this bike, Marin aims to give the parents of young mountain bikers an affordable MTB choice that doesn't sacrifice performance.
To fill this goal, Marin uses a proprietary Multi-Trac suspension system that optimizes suspension performance through a balance of small bump compliance, pedal efficiency, and excellent bottom-out control.
A light aluminum frame provides a stable and responsive base without sacrificing durability. On this frame, you have a 120mm X-Fusion Velvet fork and X-Fusion O2 Pro rear shock.
Powerful hydraulic disc brakes and grippy 2.4″ TLR Vee Tire Flow Snap tires ensure confident handling at all times, and finally, this frame is also compatible with 26″ wheels so you can increase the wheel size as your child grows.
---
Norco Fluid 2.2 20″
MSRP: $1,799
Alex DP17 Aluminum wheels
Tektro HD-M286 Hydraulic Disc Brakes
20 x 2.0″
10-Speed Shimano Deore / 60mm travel f / r / Tektro Hydraulic Disc Brakes
Recommended Height Range: 3'8″ – 4'3″
Norco's Fluid 2.2 20″ is a boys mountain bike designed for XC riding thanks to full suspension and a progressive trail geometry.
A low standover height, child-specific SDG Fly Jr saddle, and premium Norco Gator grips ensure your child can mount and dismount quickly whenever necessary.
Moderate 60mm travel comes from a RockShox Monarch rear shock and an RST First fork, delivering plenty of shock absorption and handling to allow for confidence while riding fast.
Norco chose a reliable Shimano Deore 10-speed drivetrain with a wide 11-42T cassette to provide plenty of options for climbing hills. Additionally, for technical descents, your child can rely on powerful Tektro hydraulic disc brakes.
Finally, Alex DP17 durable double-wall rims and Maxxis MaxxDaddy 2″ tires provide excellent roll-over properties and high traction.
---
Rocky Mountain Reaper
Kids' full suspension MTB
MSRP: $2,819
11-speed Shimano Deore 11-51T
Fork – RockShox Recon Gold RL 150mm
Shock – RockShox Deluxe Select+
Brakes – Shimano MT400 hydraulic
Tires – 27.5×2.5″ & 2.4″, TLR Rims & Tires
Dropper seat post – 125mm travel
Rocky Mountain's Reaper is one of the best youth mountain bikes with full suspension that we've seen.
The high-end trail-riding components begin with a RockShox Recon Gold RL 150mm fork and a RockShox Deluxe Select+ rear shock, perfect for tearing up singletrack and technical descents.
The Form Alloy frame on this bike has innovative RIDE-9 adjustable geometry and internal cable routing, making for a sleek look and high-performance feel.
Other notable components on the Reaper include the Shimano Deore 1×11-speed drivetrain with a wide-ranging 11-51T cassette that optimizes climbing ability.
Shimano hydraulic disc brakes, WTB ST Light i23 TCS 2.0 rims, and 2.4″ Maxxis Minion DHF/DHR II tires ensure excellent traction and durability on all surfaces so your kid can ride with confidence.
Finally, a Rocky Mountain Toonie Dropper Post allows quick lifting and lowering of the saddle so they can change their center of gravity for better handling.
---
Early Rider Hellion X24
MSRP: $1,999
Fork – RST FIRST AIR 15 120mm travel
Rear shock – DNM AO-38RC, 4″ – 5″ travel
11-speed Shimano SLX
24×2.25″
Weight – 25.5lbs
The Hellion X24 boys full suspension mountain bike by Early Rider is a high-quality enduro machine built for the most extreme downhill riding.
This lightweight kids' bike uses a 6061/6066 aluminum frame with progressive geometry and an excellent stiffness-to-weight ratio.
This bike has impressive suspension with a single pivot system featuring 165x38mm DNM AO-38RC rear suspension, which you can adjust between 4″ or 5″ travel. In addition, the Hellion X24 has a 120mm travel RST First Air fork which further boosts the ability to go downhill with confidence.
The drivetrain on the X24 is an 11-speed Shimano SLX with a wide gear range for climbing efficiency.
The wheelset consists of tubeless-ready, double-walled rims and Vee Crown Gem Skinwall 2.25″ tires, providing plenty of traction and durability. In addition, the Shimano Deore hydraulic disc brakes ensure effective stopping.
---
Scott Ransom 600
MSRP: $1,999
Ransom 24″/26″ Alloy 6061
Fork – X-Fusion Slant RC 26 / 140mm
X-Fusion R / Kids' Bike Tune dropper post
Shimano Deore 11 Speed
26×2.4″
Weight: 31lbs
The Scott Ransom 600 full suspension kids bike is an innovative and versatile choice with excellent performance all over the mountain.
This bike has the unique ability to grow or shrink depending on your kid. With the push of a convenient flip-chip, you can set this bike up with 24″ or 26″ wheels. This feature allows the Ransom to keep a similar bottom bracket height when you switch wheel sizes, so the handling is consistent.
The ransom suspension is very high travel and child-specific. This combo includes the 140mm X-Fusion Slant fork and an X-Fusion 02Pro 130mm travel rear shock.
Scott has chosen a Shimano Deore 11-speed with a massive 11-51 cassette for climbing for the drivetrain. Other notable features include powerful Shimano hydraulic disc brakes and an 80mm Syncros Ducan dropper post. Finally, your kid can ride with confidence using wide Kenda Hellkat 2.4″ tires.
Size Recommendations
24″ – 8-11yo / 125-135cm
26″ – 11+ / 135-150cm
---
Kona Process 24″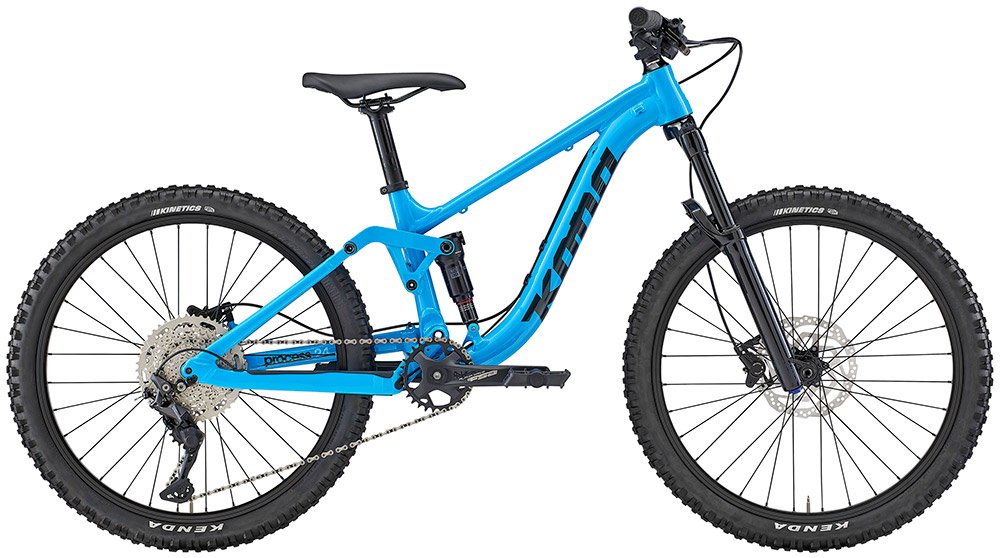 MSRP: $2,099
6061 aluminum frame
120mm Manitou Machete J-Unit fork
RockShox Deluxe 100mm Rear Shock
10-speed Shimano Deore
Kona's Process 24″ youth full suspension mountain bike will be turning heads on the mountain thanks to a stylish design and wicked ability.
The Process takes adult mountain bike technology and makes a child's specific so that your kid will be prepared to tackle challenging singletrack trails.
To ensure control and comfort going downhill, this 24-inch full suspension mountain bike has an air-sprung 120mm travel Manitou Machete J-Unit fork and a 100mm travel RockShox Deluxe rear shock.
A Shimano Deore 11-46t 10-speed drivetrain provides reliable and precise shifting with plenty of gears to tackle steep hills. In addition, hydraulic disc brakes ensure powerful braking.
Finally, the Process has a Kona Thumb OB 31.6mm dropper post and high-traction Kenda Kinetics 2.35″ tires on the front and back.
---
Schwinn Protocol 1.0
MSRP: $550
Aluminum frame
Fork & rear shock – Schwinn?
26″ tires
Mechanical disc brakes
21-speeds
Not one of the best, but definitely the cheapest option available. Best suited for recreational or light trail riding, the Schwinn Protocol 1.0 offers a ton comfort on the trails. Schwinn is a popular brand indeed, and if you need to get a bike for the kid to comfortably around the block and on some lighter trails – this might be the option for you.
Fits riders 5'3″ – 5'8″
---
Conclusion
Kids' MTB bikes allow your young ones to take on mountains with confidence and control. This heightened ability translates directly to fun and enjoyment long term.
Because manufacturers make these bikes to fit a child's proportions, highlight their strengths, and supplement their weaknesses, they are much more effective than choosing a small-sized adults bike.
When choosing a full-suspension mountain bicycle for your kid, ensure it is a good fit when you make the purchase, that it's light enough, and designed for how your child would like to use it. By doing this, you set them up to succeed wherever the mountain takes them.