These are the Best 20″ Boys Bikes For 5 to 9 Year-olds
Children grow up quickly, which means they may need a new bike every 2 or 3 years. Just like with adults, it's important to fit the right bike size for kids so they avoid strain or injury and get the most enjoyment out of bike riding. The correct 20-inch bike age is usually somewhere between 5 to 9 years old, and once children reach 5 years of age, they have usually learned to pedal and balance on their own. At this point, you can upgrade from a 16-inch training bike to their first real 20-inch bike.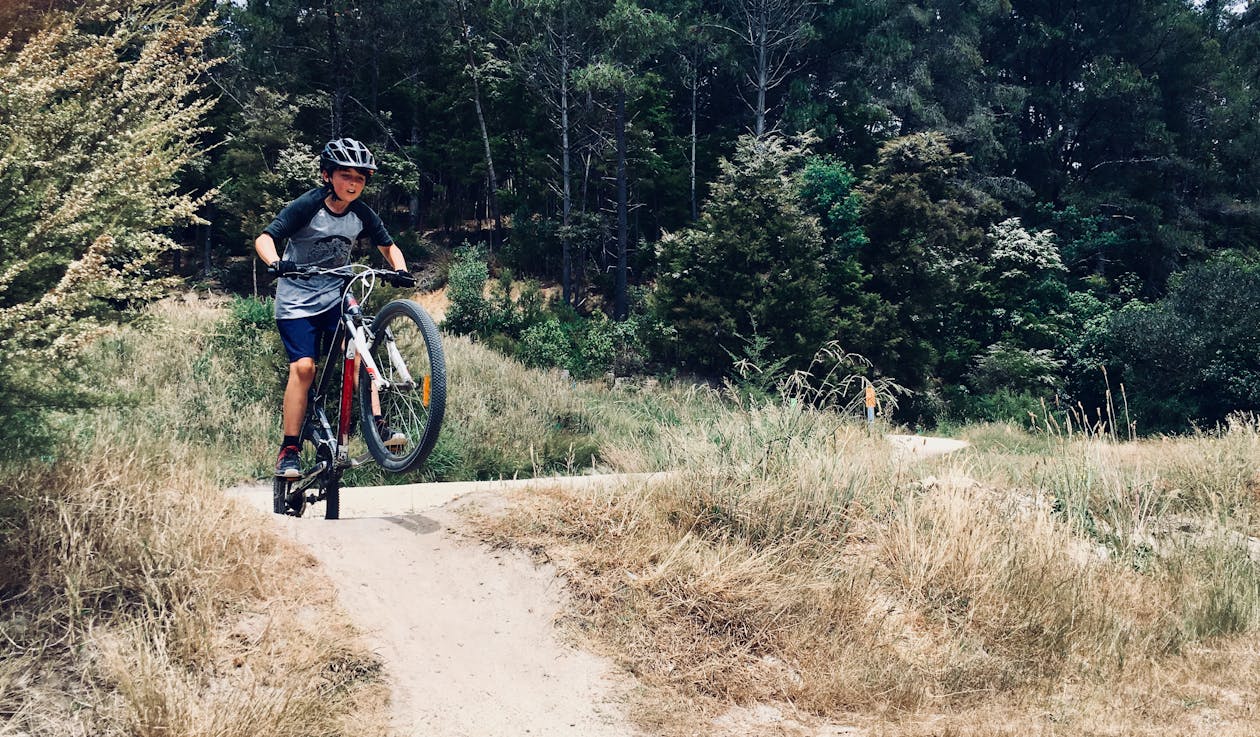 Anyways, if you are looking for the best 20-inch bike for a boy, take a look at the sections down below to find you the most suitable deal out there
---
JUMP TO
*Related – 7 Best Kids Full-Suspension Mountain Bikes
---
Why To Get A
Mountain Bike

For Boys?

Boys tend to be rough with their toys and they like getting dirty, so a mountain bike is a perfect answer. Boy's mountain bikes are built tough to handle abuse and have thicker tires for better shock absorption, so they'll want to ride more often. Statistics show that kids who ride bikes have a far less chance of developing obesity in adulthood.
BMX

vs

Urban

vs

Mountain

Bike

BMX bikes are designed specifically for use in parks to do tricks and jump on ramps and half-pipes. Although they can be ridden elsewhere on streets and in nature, they usually aren't as comfortable as mountain bikes over long distances. BMX bikes usually only have one gear so it can be difficult to ride up long hills with them.

You won't be able to do the same tricks and jumps on mountain bikes, but you can tackle varied terrain, explore the mountains and charge downhill with front suspension.

Urban bikes have lighter frames and thinner, smoother tires than mountain bikes, so they're easier to ride on pavement. However, they are weaker and rarely have any suspension, so they aren't as fun for off-road riding.
---
Quick Round-Up:
Best 20″ Mountain bikes:
Best

Full-Suspension MTB

: Norco – Fluid
Best Equipped

Hardtail MTB

: Prevelo – Zulu Three / woom
Most

Popular

: Cannondale Trail 4
Best

Value

: Co-op Cycles – REV
Editor's Recommendation 🏆
For best quality, you can't beat the Norco Fluid. It has the best selection of parts and will provide the most fun ride. However, it is the most expensive.
For the best value for money, I'd choose either the woom – OFFAIR or the Prevelo Zulu Three. Both these bikes, while relatively expensive, provide a host of excellent components that will last a long time and provide top performance.
Best 20″ BMX bike:
---
BEST 20″ BOYS

MOUNTAIN

BIKES
---
Prevelo – Zulu Three (+Three Heir)
Best in overall parts & performance
MSRP: $949 – $1,249
Prevelo
This high-quality 20-inch bike from Prevelo Bikes is quite pricey for a kids' hardtail and best suited to boys who are serious about their riding. The 10-speed Shimano Deore drivetrain has Rapidfire shifters and features a Shadow rear derailleur with an 11-36T cassette and a 30T alloy sprocket on an HEIR crank. Sadly, the groupset doesn't expand to the brakes, featuring only Tektro rather than Shimano hydraulic discs. 
Up front, you get an impressive SR Suntour XMC air-sprung fork with 80mm of travel, decent enough for some big jumps or serious downhill charging. The wheelset is fairly basic, featuring standard alloy rims and Kenda Small Block 20×2.1″ tires.
If you want to upgrade your Zulu Three you can go for the slightly more price Zulu Three HEIR at $1,249. This benefits from some significant upgrades, including an HEIR 20 80mm carbon/alloy fork with adjustable rebound, Shimano SLX drivetrain with HG500 cassette, and VEE Crown Gem tires on Stan's Crest tubeless-ready rims. It's basically a professional-level MTB for small people!
Optional extras include a dropper post, custom color grips, bicycle bell, personalization, rechargeable USB lights, and an official Prevelo team jersey.
80mm travel / 10-speed Shimano Zee / Hydraulic Disc Brakes
Recommended Age Range: 5½ to 9 years
Prevelobikes.com/
---
Co-op Cycles – REV 20″
Best Value!
MSRP: $339
REI Co-op
The Co-op REV 20 is a mid-range REI kids bike that would make a great introductory MTB or an upgrade from a 16″. It's light, simple, and affordable without coming across as cheap and has everything a kid needs in his first MTB.
The 6061 aluminum frame hosts a basic 6-speed Shimano Tourney gearset with Logan mechanical disc brakes and simple Revo twist shifters. There's no suspension so clearly, this is not intended for downhill or park riding but will provide hours of entertainment riding around local parks and trails.
6-Speed Shimano Tourney / Mechanical Disc Brakes / 2.6″ extra-wide tires
Maximum weight limit: 80lbs 
REI.com/
---
Cannondale – Trail 20″
MSRP: $450
REI Co-op
This 20″ mountain bike from Cannondale is an excellent introductory MTB from a well-known and trusted brand. It features a quality C2 alloy frame and Suntour suspension fork with 40mm of travel. This is great for kids wanting to hit ough trails and experiment with some basic downhill riding.
Kickstand
20 x 1.95″
V-Brakes
The drivetrain is fairly simple – a 7-speed Shimano Tourney with a single Revo twist-shifter which is more than enough for a kids' bike. However, the use of alloy V-brakes rather than disc brakes is a bit disappointing, especially on a mountain bike.
7-speed Shimano Tourney Revo / 40mm travel / 3 different designs
Recommended Age Range: 5-9
REI.com/
---
woom – OFF AIR 4
MSRP: $869
woom
Woom's OFF AIR may be the best 20-inch bike on our list, with a lightweight aluminum frame and impressive carbon fork. The top-quality 9-speed SRAM X5 drivetrain is a standout feature and not something you usually find on a kids' bike!
Keeping up with the quality you also get fat 2.25″ Schwalbe Rocket Ron tires on superlight Woom rims, paired with Promax hydraulic disc brakes. Sure, it's not the cheapest but even at $869, this bike offers excellent value for money.
9-speed SRAM X5 / Hydraulic Disc Brakes
Recommended age range: 6- 8 yo / 46″ – 51″
woombikes.com/
---
Early Rider – Limited Seeker
MSRP: $829
REI Co-op
This boy's 20-inch mountain bike from Easy Rider looks very professional with its brushed aluminum finish and extra-fat 2.25″ tires. It doesn't mess around with cheap parts either, featuring a killer 10-speed Prime 8 drivetrain from Californian gear manufacturer Box Components.
20 x 2.25″ tires
Box 4 P8 Clutch Equipped Derailleur
6061 Aluminum Frame
This is complemented by Promax hydraulic disc brakes set on Easy Rider alloy rims with Vee Crown Gem tires. Finished off with some Ritchey and Samox components, this is a unique bike with a high-quality feel.
10-speed / Mechanical Disc Brakes / 160mm disc rotors
Recommended Age Range: 5.5 – 8
REI.com/
---
Quietkat – Ripper

MSRP: $2,499
Quietkat
QuietKat wanted to be able to equip the whole family with quality E-MTBs.
The ripper is a children's E-Bike that's no less capable than their adult models. Designed with extra fat 20"x4" tires, the Ripper works well as a kids electric hunting bike because of it's ability to take down different riding surfaces. A 100mm fork softens things up and helps younger riders manage difficult terrain. With a maximum range of 42 miles, it's a great ride for young adventurers getting out onto their first expeditions.
The Ripper is a perfect introductory E-MTB for riders up to 5'6" looking for fast paced fun.
Quietkat.com/
---
Norco – Fluid 2.2 FS '2021
MSRP: $1,599
Jenson USA
The Fluid is a full-suspension 20-inch mountain bike from leading MTB brand Norco. It's a great way to introduce young boys to the benefits of full suspension in parks or on downhills. The lightweight aluminum frame is kitted out with a RockShox Monarch rear shock and a 60mm RST First 24 fork.
Alex DP17 Aluminum wheels
Tektro HD-M286 Hydraulic Disc Brakes
20 x 2.0″
At the price, you'd expect quality and you won't be disappointed. A top-range 10-speed Shimano Deore drivetrain is complemented by Tektro hydraulic disc brakes on Alex DP17 rims with Maxxis MaxxDaddy 2 inch tires. That's a lot of bike for a little kid, hopefully, they deserve it!
10-Speed Shimano Deore / 60mm travel f / r / Tektro Hydraulic Disc Brakes
Recommended Height Range: 3'8″ – 4'3″
JensonUSA.com/
---
Mongoose – Argus
Mongoose has long been a leader in BMX and MTB bikes and now they're breaking into the popular fat bike scene. This new boy 20-inch fat tire bike is perfect for cycling on any terrain, from snow to sand. 
The Argus features a steel frame with a 7-speed Shimano Tourney gearset and mechanical disc brakes. You don't get any suspension but the fat 4-inch tires will provide more than enough padding on bumpy trails. The Fat Bike scene is getting more popular every day because it's a great way to explore the new territory where normal MTB bikes can't go – get involved!
20 x 4″ / 7-Speed Shimano Tourney
Recommended height range: 4′ – 5′ (6 years and up)
---
Trek – Roscoe 20
Not available online, order in-store
MSRP: $450
Trekbikes (Available in-store only)
The Roscoe is a 20″ Trek bike with 2.8″ mid-fat tires that are wide but not too heavy, making it ideal for exploring some wild terrain without sacrificing pedal power. Fat tire bikes can be notoriously heavy to pedal so this makes for a nice middle-ground introduction to bigger tires for smaller riders. 
It has a lightweight Alpha Aluminum frame with a rigid fork and Shimano Tourney 8-speed drivetrain. The Tektro mechanical disc brakes aren't the best but they get the job done, and the wheelset includes basic alloy rims with Chen-Shin tires.
8-Speed Shimano Tourney / 20 x 2.8″ / Mechanical disc brakes
Recommended height range: 3'8″ – 4'4″
Trekbikes.com/
---
Scott – Scale 20
This kids 20-inch mountain bike from legendary manufacturer Scott would make an excellent upgrade for a budding rider. The alloy frame includes an SR Suntour fork with 40mm of travel and a 7-speed Shimano drivetrain.
We would've liked to see disc brakes rather than alloy V-brakes which are quickly becoming redundant but they do the job. The Kenda 2.2″ Booster tires are decent quality and overall it's a nice bike although it lacks any outstanding features.
7-Speed Shimano Tourney / V-brakes / 40mm travel
Scott-Sports.com/
---
BEST of 20″ BOYS

BMX

BIKES
---
Haro – Annexi SI 20″
MSRP: $270
Jenson USA
Available in green and black, the Annexi SI is built on a lightweight yet durable 6061 aluminum frame and steel fork. Haro bikes is known for making dirt jump and bmx bikes so there more than enough to rely on the brand.
The bike has got a 1-piece 165mm crank with USA loose ball bottom bracket for a more agressive street-style riding. If you think your kid really wants to evolve in cycling, this could be the right tool to get him to the next level!
JensonUSA.com/
---
Mongoose – Legion Freestyle
Park / Street / Dirt
This kids' BMX bike from Mongoose looks cool with army-brown tires and grips on a black, steel frame. The 25T alloy chainring drives a 9T rear cog on aluminum rims with 2.3″ tires. 
Related: Best BMX Bikes (+ Dirt Jump Bikes)
20×2.3″
V-brake on the rear
Hi-Tensile steel frame
25x9t gearing
A single rear U-brake provides precision stopping and speed control and the 50mm stem and threadless headset gives maximum steering performance. All you need to do is bring the style!
Suggested rider height: 5'0″ – 5'6″
---
Elite – 20" & 16″ BMX Bicycle The Stealth Freestyle Bike
This boys' 20 inch BMX bike looks awesome, with a gunmetal black paint job and eye-catching blue tires. It's made from hi-tensile steel which is a bit heavy but super strong. It'll handle anything the park or dirt jumps can throw at it.
Steel frame
Includes 1 set of pegs
The single-speed drivetrain has a 25T sprocket matched with a 9T rear cog, giving you quick and instant power. On the wheels are fat 2.5″ tires and with only a rear caliper brake you won't accidentally go over the handlebars.
---
BEST 20″ BOYS

HYBRID / CITY

BIKES
---
Maintenance-free belt-drive gearing 🏆
Priority – Start 20″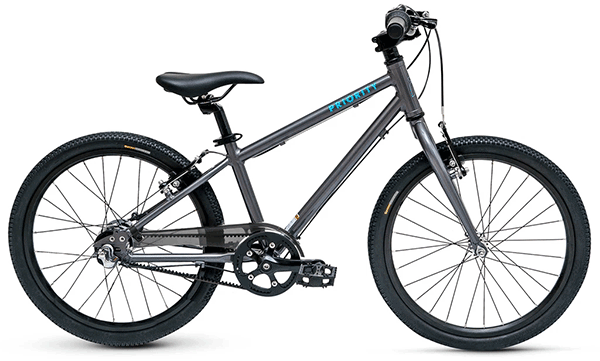 MSRP: $369
Priority Bicycles
Priority Bicycles are a no-nonsense brand of high-quality, belt drive bikes from New York City. This top-of-the-range kids belt drive bike is the perfect hassle-free 3-speed hybrid bike for your young one to get out and get exploring.
3-speed internal gearing
Kickstand
Dual hand-brakes
It has thick tires for urban and gravel terrain plus front and rear V-brakes and an awesome Gates Carbon drivetrain which is super easy to clean and maintain. Lightweight, rust-proof, and comfortable, it's the perfect bike for adventurous city kids.
Fits riders with inseam: 22″ – 28.5″
PriorityBicycles.com/
---
Cannondale – Quick 20 Kids' Bike
MSRP: $380
REI Co-op
This bike for 6-year-olds is the perfect upgrade from training wheels and introduction to gears. The simple 1×7 drivetrain is easily controlled by Shimano's REVO twist shifter, with easy braking from Promax V-brakes.
Shimano Tourney 7-speed derailleur
Kickstand
Fast 20 x 1.5″ tires
V-brakes
The KT Alloy freehub allows you to coast along, absorbing bumps with the 1.5″ Kenda Small Block tires and light Cannondale 20″ rims. An impressive first hybrid bike for kids that should provide them many years of fun cycling.
REI.com/
---
Co-op Cycles – REV 20 Kids' Bike
MSRP: $209
REI Co-op
This Co-op kids city bike is a great introductory bike for getting around town, enjoying the parks, and visiting friends. It's lightweight aluminum frame and steel fork are tough enough for urban streets, while the 1.75″ Kenda Kontact tires keep you safe from punctures.
Chainguard
Single-speed
Steel frame
Reflective tires
Kickstand
V-brakes
Single-speed pedal power is provided by a 36T alloy crank and 16T KT coaster hub with a Tektro rear caliper brake. It's a decent introductory bike for simple trips around the neighborhood.
Max weight limit: 80 lbs
REI.com/
---
Schwinn – Stingray
This iconic cruiser-style Schwinn kids bike will have heads turning as your son rolls down the road on it. The super-cool, extra-long handlebars, and chrome-finish make it look like an old skool prop from a 90's MTV music video.
Chainguard
Steel frame
Single-Speed
The steel frame rolls on fat 2.1″ tires and uses a single-speed drivetrain with a simple coaster brake for stopping. It sticks to the classics, using genuine vintage parts for a real nostalgic look and feel.
Age recommendation: 6+ / Height range: 4'0″ – 5'0″
---
Electra – Sprocket 20 Kids' Bike
MSRP: $320
REI Co-op
This Electa kids 20-inch bike has a funky beach-cruiser style, great for slow and comfortable rolling around town. The hi-tensile frame has a single-speed freewheel hub running 18T off a 32T crank, with both front and rear rim brakes on alloy rims.
Single-speed
Aluminum frame & steel fork
20 x 2.15″ tires
The 2.15″ tires are puncture-resistant, saving you effort and money on repairs and giving you more time for fun. All you need to do is head out and explore the world!
Recommended Age Range: 5 – 8 (3'8″ – 4'5″)
REI.com/
---
Electra – Firetail 1
MSRP: $340
REI Co-op
Oh wow, look at this funky machine! Your son will be the talk of the town on this stylish. 20″ boys cruiser bike in eye-catching metallic red with dragon decals.
Steel frame
20 x 2.15″
Kickstand
The steel frame has a comfortable, low-slung geometry and extra-wide 2.15″ tires, making it the coolest, smoothest bike in town. With only one 1-speed, it's best suited to slow, easy rides along flat town roads. Includes a coaster and rim brake, plus a comfy sprung-saddle and a noisy bell to wake the neighborhood.
REI.com/
---
Huffy – Stone
4.1 / 5 out of 1,000+ ratings on Amazon
This Huffy kids bike comes with a 6-speed Shimano drivetrain so your young cyclist can tackle hills and pick up speed on the flats. The strong steel frame will handle all sorts of terrain and the 1.95″ tires eat up vibration for extra comfort.
20 x 1.95″
Steel frame
6-speed
The adjustable handlebars and seat make it easy to fit kids from 5 to 9 years old, meaning it'll provide you many years of service. An excellent bike for school commutes, play dates, or recreational weekend rides.
Recommended age range: 5-9 / 44-56″ in length
---
Strider – 20″ Sport Balanace Bike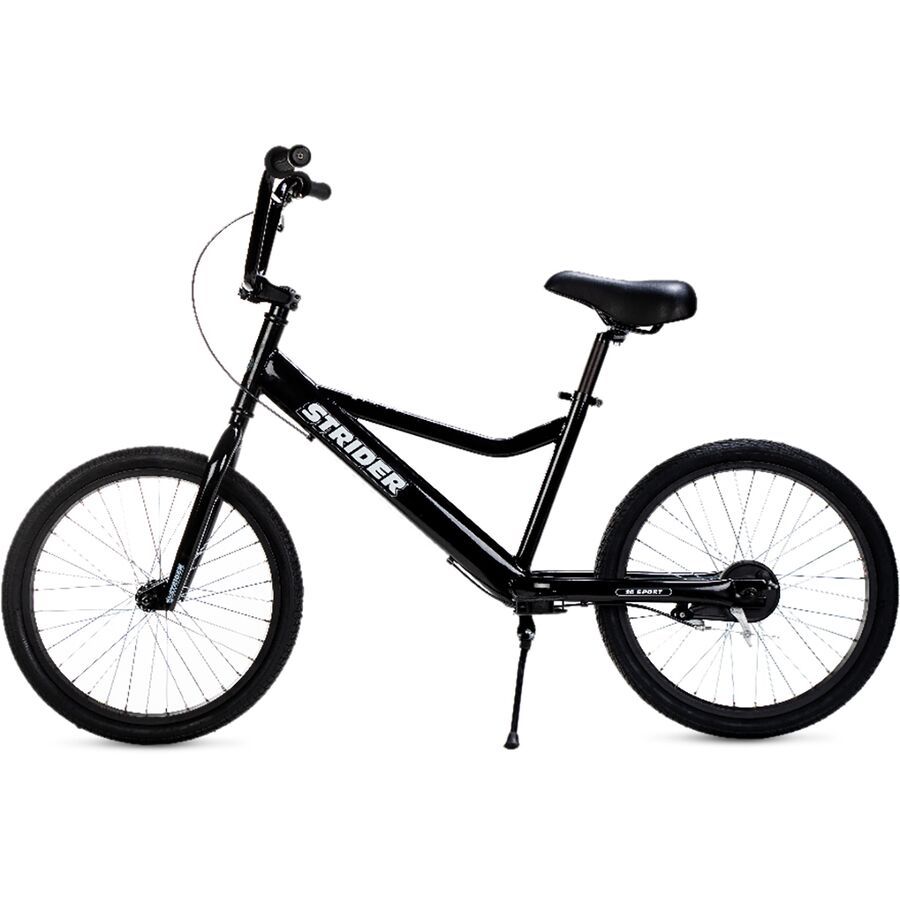 MSRP: $219
Backcountry
The Strider is a 20″ balance bike that makes a fun upgrade from a kids' bike with training wheels. You get all the fun of a full-size bike without having to worry about pedaling and you can learn to balance at the same time.
Available in black and white
Steel frame & fork
20 x 1.75″
Kids can push along using their feet to accelerate and then balance on the foot platforms while they zoom down the street. It's the most fun you can have on two wheels while learning a new skill!
Backcountry.com/
---
RELATED