Best Kids' Bike Seats of 2023 – Seatpost, frame and handlebar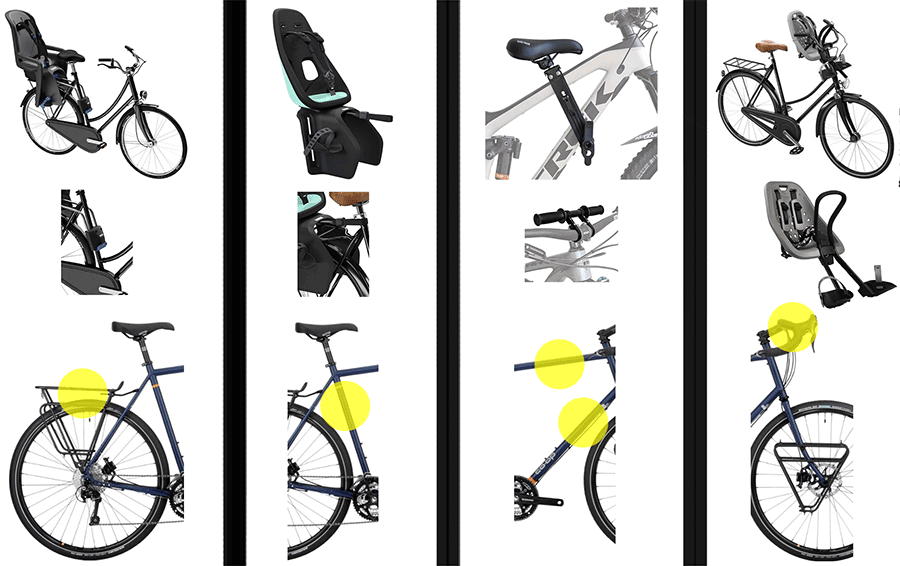 Biking with kids has never been as fun, convenient, and easy as it is today.
There are numerous ways to go biking with kids; you could simply get a bicycle for kids, but if you'd like to travel longer distances with better speeds you can choose to get a bike trailer or look into the kids' bike seats.
In this post, we'll overview the most-used ways for kids bike seats, and look into the best models to buy online. Obviously, there are pros and cons to each type, but you can rest assured as the quality and engineering of each of these models have been proved to be reliable and safe!
A Quick Buying Guide
---

Why get a kids' bike seat?
There is quite a good selection of seats to choose from depending on your bike type.
With a proper bike seat, the kids would never get bored as well, and they have a higher view sight. Also, with a kids bike seat, you don't have to sacrifice the width of the bike when passing through some tight tracks.
Cycling with a kid on a bike makes the rider also more focused on the riding, which can something fun to learn.
Which bicycle type is best for kids' bike seat?
Any bicycle except one that's made of carbon is suitable to attach the kids' bike seat. Depending on the attachment style, there are numerous ways to prefer one over the other.
Hybrid bike – Seat post, rear rack, handlebar, frame.
Mountain bike – Seat post, rear rack, frame, handlebar.
Gravel bike – Handlebar, seat post.
City bike – Rear rack, seat post.
The best road bike child seat location is most likely a handlebar if that's been made of either steel or aluminum. The frame or any of the attaching points shouldn't be made of carbon though as carbon fiber doesn't like direct pressure in a way the bike seat opposes.
Front Mounted child bike seat vs Rear mounted
Front-mounted kids seat makes the steering heavier, while it is easy to manage the weight of the bike as the weight is between your arms. The same goes for the frame-mounted bike seats!
Rear-mounted kids' bike seats on the other hand are widely preferred by most recreational cyclists due to ease of installing and getting on and off the bike.
How did we choose?
We looked up the best-rated and most searched kids' bike seats online, and one of our reviewers has been working for Thule for years which gives us a great insight to the importance and many aspects of the trailers that might come.
---
Table of Contents
1. Rear Rack
2. Seat Post
3. Frame
4. Handlebar
---
1. Best Rear Rack Kids' Bike Seats
The rear mounted child bike seat is perfectly suited for parents with pannier racks already installed. These seats slide easily onto the pannier rack and lock in place, with extra security straps to fasten the seat to your bike's seat tube or seat post. There is a large weight capacity range of the rear rack child bike seat up to 50 lbs (Topeak) with the low end being 33 lbs (WeeRide model).
The quick install of this seat offers added convenience to users who need to remove the seat regularly. Another reason to opt for the rear rack mounted seat is that many bike frames cannot support a frame-mounted seat.
However, the drawback of this style seat is that they do not have the same degree of suspension common in rear frame-mounted seats, and the low position of the seat over the back wheel may add difficulty to handling.
---
WeeRide Kangaroo Child Bike Seat
Number one in this list for no particular reason, but the WeeRide seat has gathered a ton of positive feedback on Amazon and it resides at a great price point. Compared to most other racks it obviously stands out due to its soft padding which is a concern for most parents, right?
The build quality seems to be sturdy enough, while the design is rather bulky compared to most other racks in this list. It should fit most rear racks on bicycles out there but bear in mind that the max weight capacity is 1/3 lower than most other kids' seats in the list. The 5-point harness and adjustable foot-pegs is right about enough for most of us so feel free to check it out and consider it freely as it has a nice rating!
A 5-point safety harness with padded shoulder straps
Weight capacity: 33lbs
---
Bobike
Also available with a seat post attachment, the Bobike rear rack seat looks sleek and seems to be ideal for kids to use. Compared to most other child seats in this review this one has a LED light for improved visibility which compensates the full-black look. Another great thing about is that it is rated as E-bike ready, and the double-walled construction adds extra durability to the build.
You don't need any tools to install it and all the instructions are obviously included.
Fits carriers 120-175mm (4,72-6,89″), outside tubes need to be round with a diameter between 10-16mm (0,39-0,63″)
---
Burley Dash RM Child Bike Seat
Highest rating on REI
MSRP $150
This rear-mounted child bike seat by Burley is currently REI's best-selling model and looking at the price and value you get, that rating seems justified. The Dash RM is swift and easy to attach, this rear rack seat is both lightweight and comfortable, and easily adapts to almost all rack setups.
The Dash RM is so highly regarded due to its durability, being built to last, and easy to manage with removable, hand-washable seat cushions. The seat features a secure 5 point harness system, footrests that can be set in 4 positions, and optional reclining, optimizing comfort and safety for any size child up to 40 lbs in weight.
One added benefit of the Dash RM is its higher positioning compared to other rear rack mounted alternatives, allowing better, unobstructed views.
Weight: 6.5lbs
Weight capacity: 40lbs
Suggested minimum age: 12 months
Mounts on rack tubing 10-16mm
Requires a rack length of 120-175mm
---
Schwinn Deluxe
The Schwinn child bike seat is one of Amazon's best-selling models for an existing rear rack. This is a rather old-school version that has proved to be durable to carry kids behind the bike. Despite its older design, the Schwinn Deluxe child carrier is surprisingly lightweight allowing for a comfortable ride for parent and child.
Although one of the lowest-priced options in rear-mounted bike seats, the reputable Schwinn Deluxe doesn't sacrifice on quality or functionality. This model comes with its own rack for parents who do not have one and can be easily installed with the help of a screwdriver. Children of up to 40lbs will be very comfortable with its padded tall back, removable headrest to complement the ample safety features.
Weight capacity: 40lbs
Quick-release 3-point harness, leg strains, padded crossbar
---
Topeak BABYSEAT™ II
The Topeak bike seat is a quality product at an affordable price. The seat can be purchased with or without a rack as well as in a version compatible with disk brakes making Topeak a one-stop-shop for your child seat setup.
The Topeak BABY SEAT II features an innovative suspension system that dampens any bumps and vibrations from the road, uncommon among competing models. Superior comfort is delivered without sacrificing any safety, as the wrap-around seat design, unique roll bar, and shoulder harness provide a secure shell to protect your child.
If you need a child seat for your cruiser bike or any bike for that matter, look no further than this affordable, quality product by Topeak.
Weight: 14 lbs
Capacity: 48.5 lbs
---
2. Best Seat Post Kids' Bike Seats
Rear-mounted seat post child bike seat is also referred to as "cantilevered" and comes with a child bike seat attachment to fix the seat to your bike's seat post. It does so by using a bracket with two holes into which two-pronged rack slots, supporting the seat.
This type of child carrier has a good level of suspension naturally due to the movement possible in the way it is fixed to the bike.
The high-end seat pot models such as the Thule and Hamax below are durable and comfortable due to the better quality attachment bracket; cheaper versions can be uncomfortable after long use or with heavier children as they can flex quite substantially.
Although priced slightly higher than other models, these seats are more convenient to install, and comfortable than rack-mounted or front-mounted child bike seats making the seat post child carriers an excellent choice for parent and child alike.
---
Thule Ridealong Child Bike Seat
Lockable, reclining, and fully adjustable
MSRP $250
The Ridealong has been a hit ever since it was first released as it is literally the most convenient and easy-to-use child seat that's suited on most bikes out there. Thule specializes in transportation solutions for active families, and the Ridealong is one of their flagships of kids' bike seats.
This model can be easily locked and there's a possibility to buy an extra adapter for a different bike without having to uninstall the adapter every time. The safety and adjustments are all spot-on, the seat itself is also made of shock-absorbing foam, and the non-slip cover can be removed for washing. The two metal rods add plenty of comfort and 'swing' that works wonders on uneven roads.
Suitable for 9months to 6 years
Weight capacity: 48.5 pounds
Weight: 10lbs 3oz
---
Hamax – Caress
MSRP $210
The Hamax Caress child bike seat is deservedly their leading model due to the quality construction, range of features, and attention to detail. The Hamax bike seat's defining characteristic is its unique ability to recline up to 20°, providing a comfortable and relaxed position.
The Caress is designed for ease of use; all attachments can be used with just one hand, which allows you to stabilize the bike and keep your child secure before you set off. While on the move a secure three-point harness system keeps children safe.
Easy to install, to use, and also to clean, this incredibly durable bike seat is the perfect option for any family, and more than justifies the premium price tag.
Suitable for 9months onwards
Reclinable

Weight capacity: 40 lbs
---
Thule – Yepp Maxi
MSRP $230
Coming in 5 different color options, the Thule Yepp Maxi bike seat is a well-built and durable bike seat with a simple yet sophisticated design. The Yepp Maxi can be easily mounted to the seat post of almost any bike. Water repellent material means it is also easy to clean and keep dry, saving many possible headaches for its users.
Thule's 5-point harness system, soft, shock-absorbing seat design, and adjustable features will keep your child safe and comfortable up until 6 years of age, and you can be sure it will last that long. Extra safety features include reflectors and safety light attachment points. Parents with infants below 9 months should note the availability of the Thule Yepp Nexxt Mini Child bike seat.
Weight: 12lbs
Capacity: 48 lbs
Lockable
---
Bell Shell
The Bell child bike seat is a no-frills, convenient option in rear-mounted child carriers. In just 3 easy steps, you can install or remove your child carrier. Bell's "click" safety system means you can easily hear when the seat is installed correctly.
The Bell Shell child carrier features a standard 3-point harness system, and adjustable foot position to keep your child secure as they grow. The seat's foam cushion is designed for easy cleaning, and there is ample ventilation for comfort on those hot summer rides.
Suitable for Ages 1-4

Weight Capacity: 40 lbs
---
3. Best Kids' Frame Mounted Bike Seats
Front frame-mounted bike seats are less common but equally functional bike chairs for children. You can fit almost any adult bike with a child seat for the frame, as they generally require fewer attachments than rear-mounted models.
Frame-mounted options are designed to fit children up to 60lbs in weight, slightly more than is possible in rear-mounted models, without sacrificing stability. On average, the front frame-mounted models are also lighter and cheaper.
Parents enjoy using these seats as they can easily talk with their children without the added risk of looking back, and without the need to shout. Journeys with these bike chairs are also more interactive for the child, with improved views and the ability to get involved with directions.
Depending on the parents' height and bike dimensions, these types of seats can be difficult to ride with. There is also more exposure for the child to wind chill. Most notably, however, if you must brake suddenly, these seats offer less protection to the child than rear-mounted versions.
---
Shotgun
Best mountain bike child seat
MSRP $185
The Shotgun child bike seat and handlebar combo is one of the best ways for a kid to get really involved in cycling, first hand! There are all the essentials needed for a fun and safe ride through light trails or any other exploration trip. Also, this seat has a 5/5 star rating REI which is something to really rely on.
If you are looking for the best kids bike seat for mountain biking exclusively – you don't have to look any further as the weight distribution is sort of 'logically' divided. There's a quick-release function for easy install, rubber molds
Also available without the handlebar extension.
Not suitable for Hybrid, Road, or Electric bikes
Fits top tubes from 30 to 68mm / Down tubes: 30 to 100mm in diameter
Weight: 4lbs
Weight Capacity: 48 pounds
Feedback
"Awesome quality!!"
"Nothing can separate us now!"
"Fantastic product!"
---
UrRider
The UrRider child bike seat is an ultralight, simple, and comfortable frame-mounted option. This seat comes with a carry bag that it can be folded into. Quick-release handles mean installation and removal are fast and easy to help you save time and space. These useful features mean the UrRider is especially suitable for travel and commuting.
The child handrail and saddle are made of soft, anti-slip material for safety. Although not uncomfortable, lack of cushioning and backrest mean it is not as comfortable as other models. It should be noted that this bicycle child seat is designed for mountain bikes, hybrids, and fitness bikes, not cruisers or folding bikes.
Recommended age range: 2-6
Weight capacity: 110lbs
Height limit: 4'1″
Weight: 3lbs
---
Mac Ride
MSRP $219
The Mac-Ride child bike seat is designed for confident parents and children who want a fun, engaging experience without the extras. The award-winning design distributes vibrations and shocks evenly through the connecting points for a surprisingly comfortable ride. While the Mac-Ride bike seat is built for mountain biking, it works just as well for other types of rides.
The durable yet comfortable saddle can be adjusted and supports children from 2-5 years old. The saddle's innovative u-shape saddle design combined with non-slip plastic stop your child from slipping and sliding during rides.
Mac-Ride boasts a rapid 30-second installation once the front mount spacer is installed, an industry best. High compatibility means it fits any size bike, along with carbon frame, droppers, and e-bikes.
E-Bike compatible
Max capacity: 60lb
---
4. Best Handlebar Bike Seats
Handlebar-mounted child bike seat carriers are a great option for families with younger children and infants, aged 9 months to 3 years, who enjoy the interactive experience of a front ride, without sacrificing comfort like with front frame-mounted alternatives (often regarded as a mountain bike child seat).
Another advantage of these seats is that it is easier to balance compared to rear-mounted alternatives making it easier to get on and off the bike and ride slowly. Like with the front frame-mounted seats, children will be more exposed in the event of sudden braking, and also to wind. Some manufacturers offer a windshield bike attachment for kids which can be fixed to your child's bike seat.
Lastly, riders must consider the size of their own bike, and the type of headset used, as some versions will not be compatible with handlebar-mounted seats. Larger bikes that use a threaded headset generally work best, but always check with the manufacturers' specifications before purchase.
---
Thule Yepp Mini Child Bike Seat
Thule has clearly taken the lead in the kids' handlebar bike seat league by joining with the Dutch Yepp bike seats a few years ago. Thule Ridealong was Thule's first seat that proved to be a hit, and now you can see many variations to choose from. While the Ridealong is based on an ABS plastic core, the Yepp series have a shock-absorbing foam-type material that comes in two different styles.
Another selling point is obviously the number of accessories that can be fitted such as a windscreen, or handlebar padding which help a ton towards comfort. The Thule Yepp baby bike seat has unparalleled security features including a childproof magnetic safety buckle and a five-point adjustable harness. The harness is made with soft padding, allowing your child maximum comfort even as they grow bigger.
The seat itself is water-repellent, meaning it is easy to clean and keep dry. To add to that convenience, setup is also easy and is compatible with most bikes (except some threadless headsets).
The Nexxt Mini is very similar to the Thule Yepp Mini but weighs less than half at 3.6lbs. The weight savings mean the Nexxt Mini is slightly more expensive, but the kids' bike seat does not sacrifice any durability or functionality.
5-point harness
Shock absorbing seat
Weight capacity: 33lbs
Weight: 3.6 – 7.7 lbs
---
Child Bike Seat Guide – Safety & Precautions
Can you use a kids' seat on an electric bicycle?
Many models down below allow the use of seats on electric bikes.
From what age is it safe to carry a kid on a bike seat?
baby needs to have sufficient neck strength to hold up their head while wearing a helmet
Manufacturers recommend the use of bike seats from 9-12 months up to 6 years of age before the weight capacity limits the possibilities.
Why to get a kids' bike trailer instead of a bike seat?
Cycling with a bike trailer is great for open and wide tracks, and there's plenty of storage to pack away almost everything needed for longer bike trips. Also, handling a trailer is somewhat easier for some due to the weight distribution which can take some time to get used to.