Santa Cruz Hightower Review: A Lively All-Rounder Trail Mountain Bike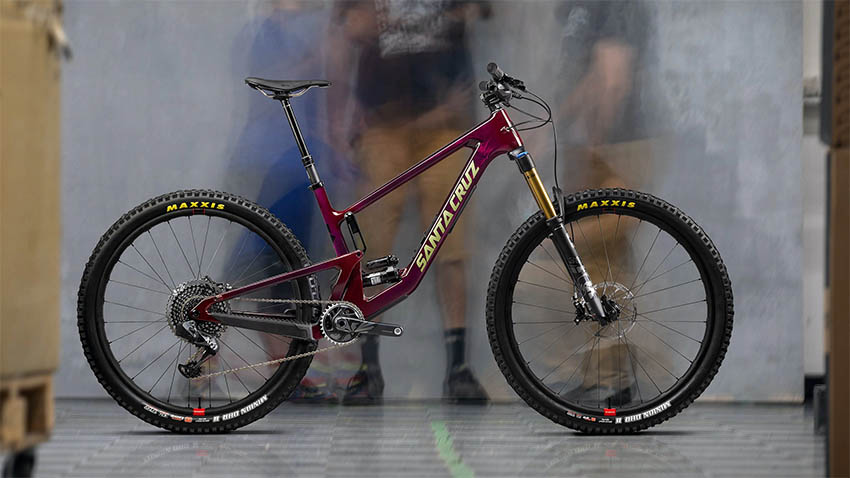 The Santa Cruz Hightower hit the market in 2016, making it one of the newer models on the lineup.
This 29″ mountain bike sits between the 165mm Megatower and 120mm Tallboy in their lineup, filling the gap between XC and Enduro. The Hightower is a lively, all-rounder trail MTB that you can confidently take on any ride.
For 2023, the famous mountain bike brand Santa Cruz Bicycles has released the third generation of the bike, intending to 'refine, not redefine' the already popular Hightower 2. The result is a more versatile and responsive bike.
Our Santa Cruz Hightower review will cover the main specs, highlight the updates and main features, discuss the trail performance, and finish with our verdict on who should choose it.
MSRP $5,499 to $10,699
Santa Cruz's do-it-all trail 29er with updated geometry and suspension kinematics.
PROS
True all-around performance
Balanced geometry
Suitable for varied riding styles
Playful and agile for 29er
Frame storage
Composed at speed
CONS
Brake rotors are too small
Weak tire casing
Rear shock climb switch hard to reach
Santa Cruz Hightower 3 Main Specs
Frame: Carbon C or CC (Aluminum in 2023)
Wheel size: 29″
Tires: Maxxis Minion DHR II EXO 2.4″
Front and rear travel: 150mm, 145mm
Drivetrain: SRAM 12-speed
Brake rotors: 180mm
Seatpost: 125 to 200mm dropper
Weight: 32.02 to 30.88lbs
The Santa Cruz Hightower 3 is the type of bike that allows you to forget about it and focus on enjoying the trail instead. Of course, as an all-mountain/trail 29er, you'd expect the Hightower to handle most terrain you encounter, but it goes further than that.
This all-mountain beast can descend rough, techy terrain with the confidence and agility of a light enduro machine and take on fast, flowy trails with the panache reminiscent of some 27.5″ bikes.
True, it doesn't specialize in one domain. Instead, you can take the Hightower anywhere—from easy trails to aggressive downhills—making it a favorite for riders who don't stick to a specific style and have a diverse variety of trails in their area.
As of early 2023, Santa Cruz is offering this bike in five carbon-based builds, with aluminum models to arrive around the Spring of 2023.
Santa Cruz Hightower 3 Review
---
The new Santa Cruz Hightower 2023 is described as 'the mountain bike.' Although simplistic, it perfectly captures the model's essence.
The Hightower 3 is 'the mountain bike' because it can be whatever you want it to be. Riders won't feel completely over-biked on easy trails nor entirely under-biked on double black diamond downhills (if you don't go too wild).
This capability makes the Hightower the ideal daily grinder, and although it doesn't come cheap, you can't argue with the value it brings.
What's New for the 2023 Santa Cruz Hightower 3
As mentioned, Santa Cruz's tagline for this bike is 'refined, not redefined.' To achieve this, they made a handful of minor changes that refined the performance but preserved the broad personality of the bike.
Firstly, and most consequentially, the Virtual Pivot Point (VPP) suspension has had an overhaul in all of the brand's new releases, with different modifications made to each bike.
The Hightower's VPP was tuned to reduce anti-squat in the first 40% of travel. Less chain influence on the suspension means improved sensitivity and overall suppleness in the early part of the stroke.
The leverage rate is also more linear, with extra progression at the end of the travel. This linearity means more consistency through most of the stroke with a ramp-up at the end for extra bottom-out resistance compared to the latest Santa Cruz Hightower.
Another significant update was the geometry, which is now slacker and longer. Santa Cruz also included size-specific chainstays that range from 432 to 444 (+3mm with each size up), ensuring a more consistent ride across the five sizes.
Other notable updates include the downtube glovebox for storing tools, gear, or food and a 'sag window' to make it easier to read and set the sag. This window addresses the issue with earlier models that made it difficult to see the O-ring and the percentage markings.
Advanced Carbon Frame with a Lifetime Warranty
Santa Cruz's Carbon C and CC frames are among the most advanced in the industry, providing incredible ride characteristics and durability.
Years of design expertise mean the engineering team can incorporate practical function with a stylish, refined finish. Both grades have the same stiffness and performance, but the CC is around 0.6 lbs lighter.
The new sag window makes life easier without sacrificing frame strength. Likewise, the large glovebox and organization bags allow you to divide your tools, gear, food, and valuables (waterproof pocket included).
Another unique feature of the carbon Santa Cruz Hightower frame is the size-specific carbon layup. This means the larger sizes are stiffer to handle the extra weight and the smaller ones more compliant, creating a more consistent ride quality across the size range.
The commitment to excellence is evident through the brand's stringent design, testing, and quality control. They back this up by offering a lifetime warranty on all their frames and free ball-bearing replacements.
Geometry
As previously discussed, the third-generation Hightower has notably different geometry, which, combined with the changes to suspension, has a distinct impact on how the bike rides.
The main changes include a 0.7-degree slacker head tube angle (64.8-64.5º), a 5 to 15mm increase in stack height, and a 2mm lower bottom bracket. These changes give a more 'in-the-bike' feel to riding.
The Hightower has distinctly moderate geometry for a 145mm trail bike. The conservative and centered position of a steep (but not excessively steep) seat tube angle helps when climbing and creates a more efficient pedaling position. This balances with a slightly steeper headtube than you see on comparable bikes. Despite this, the Hightower feels perfectly capable on steep downhills.
The centered feel also makes taking tight corners easier, a delightful characteristic for a 145mm 29er. Overall, you can expect a well-rounded ride quality that suits the jack-of-all-trades personality of the Hightower. It's easy to pick up and move around tight corners, confident on downhills, and efficient and planted on climbs.
Lower-Link VPP Suspension
Santa Cruz's lower-link VPP suspension system is among the best on the market, distinguished for tunability and the design's robustness, resulting in a stiff and durable system.
VPP can be adjusted to express characteristics that suit a specific type of bike. So, for example, the Hightower 3 is tuned to balance pedaling efficiency and support equally due to its all-rounder personality.
Overall, this bike has a firm and supportive suspension feel the whole way through the stroke with plenty of bottom-out resistance to finish. In contrast, the previous generation was slightly plusher but at the cost of efficiency.
How Does the Santa Cruz Hightower 3 Perform on the Trail?
---
The Hightower 3 is a bike that leaves you smiling as much on fast, flowy trails as on steep, techy downhills; it's a true jack-of-all-trades on the mountain.
Santa Cruz managed to make it surprisingly playful and agile for an all-mountain 29er. It's easy to pump to generate speed, whip it around corners, and get it into the air.
The large wheels and supportive suspension allow you to float over rough terrain, only getting hung up on the lumpiest stuff. Despite the 29″ wheels, the Hightower gets up to speed quickly, thanks to the stiff frame and efficient pedaling platform. Add some Reserve carbon rims, and you have a pretty snappy trail bike.
Cornering and Descending
The Hightower adapts well to varied cornering styles by hitting the sweet spot between stability and agility.
Again, the centered position makes it easy to take tight corners, and the handling is surefooted and capable, thanks to the refined suspension and well-balanced geometry. In addition, the MaxxGrip compound in the front tire gives you extra peace of mind when throwing the bike into corners.
You'll be comfortable and confident in all but the most extreme downhill scenarios riding the Hightower. Its lightweight feel makes it easy to float over rocky sections and jumps, and the 29er wheels and modern geometry provide a fast and predictable ride quality.
Compared to the previous generation, which sat deeper into the travel, the Hightower 3 sits higher up, meaning slightly less traction but a more lively and responsive ride.
Another point worth noting is a trade-off of having a relatively high anti-squat and excellent pedaling efficiency is a slight loss of performance in high-speed situations with many consecutive hits. However, Santa Cruz does a good job at mitigating this, and the overall performance downhill is excellent.
One final issue riders may notice on long descents is the small rotor size. 180mm rotors overheat pretty quickly, leaving you applying more and more pressure to the brakes over the course of a long descent.
Climbing
Like all Santa Cruz bikes, the Hightower 3 climbs better than you would expect for the category it fits into, and the new generation is more efficient than the older one. The second generation model sat farther into the travel while climbing, providing more traction.
Efficiency and traction are more balanced in the newest model, but it still has plenty of grip for technical climbs. The new model's firmer, more linear compression makes it a better climber, with minimal pedal bob, but you're still not going to snag any KOMs. Unfortunately, the climb switch on the rear shock is hard to reach and turn.
Another point worth reiterating is that the centered position and the relatively steep seat tube angle lend to more efficient seated pedaling on the climbs. With this geometry design, you also don't need to concentrate on weighting the front wheel.
Overall, this bike climbs impressively for the category, reinforcing its character as a do-it-all choice for mountain bikers.
What Can be Better?
There isn't much we'd change about the Santa Cruz Hightower 3. However, they made two questionable component choices which we assume were justified to save weight.
Firstly, the Maxxis Minion DHR II 2.4″ tires found on all six builds use a lightweight EXO casing for cut and abrasion reinforcement. For a bike of the Hightower's capability, we would expect at least EXO+, with some riders potentially using a gravity-ready DoubleDown tire. Using EXO+ or DoubleDown allows you to run lower tire pressures to enhance grip and dampening without increasing the chance of rim damage.
The other strange inclusion is the 180mm rotors front and back, which don't provide enough heat dissipation for a bike like this. We'd expect at least a 200mm rotor in the front, ideally with one in the rear too. These two minor changes would add a negligible amount of weight for significant performance gains.
Santa Cruz Hightower 3 Builds
---
As of early 2023, the Santa Cruz Hightower 3 is available in six builds, with aluminum builds coming in 2023. The carbon models cost between $5,499 and $10,699, each using a SRAM groupset. Of the six, four use the lower grade Carbon C, and two use Carbon CC.
The four Carbon C builds include the Hightower R (SRAM NX Eagle), the S with GX Eagle, the GX AXS, and GX AXS RSV. AXS refers to SRAM's electronic groupset, and RSV refers to Reserve carbon rims. The R model uses a Fox Float Performance DPS shock and RockShox Lyric Base fork, and the other three have Fox 36 Float Performance forks and RockShox Super Deluxe Select+ in the rear.
The Santa Cruz Hightower CC models include the XO1 with mechanical gearing and alloy rims and the X01 AXS RSV with a carbon wheelset and electronic gearing. Otherwise, the two are the same, each using Fox's higher-end 36 Float Factory forks and Super Deluxe Ultimate shocks.
Santa Cruz Hightower 3 Sizing
---
The Santa Cruz Hightower 3 comes in five sizes, from Small to XXL, fitting heights from 5'1″ to 6'7″.
S – 5'1″ to 5'5″
M – 5'5″ to 5'9″
L – 5'9″ to 6'1″
XL – 6'1″ to 6'4″
XXL – 6'4″ to 6'7″
Many people fall between two sizes, which makes choosing a little trickier. A rider's limb length affects which fits best, so we recommend visiting a Santa Cruz dealer in your area to test-ride the two sizes. If not, you can compare the geometry to a bike you're already familiar with riding.
FAQs
What is a Santa Cruz Hightower used for?
A Santa Cruz Hightower is used for trail and all-mountain riding. The 150mm travel, clever geometry, and high-end VPP suspension mean you can use this bike on almost any trail, and it will perform well, yet it won't excel in a specific domain.
Which is better Tallboy or Hightower?
Choosing which is better, a Santa Cruz Hightower vs. Tallboy, depends on the trails you ride and your riding style. The Tallboy has 120mm/130mm of travel, putting it on the edge of the XC category, making it faster and more responsive than the Hightower but less capable on the downhills.
Can you put 27.5 wheels on a Santa Cruz Hightower?
No, you can not put 27.5 wheels on a Santa Cruz Hightower. The Hightower is built for 29er wheels in the front and rear, so the geometry is set up specifically for 29″ wheels. This means using smaller ones would negatively impact handling and overall ride quality.
Should I get Hightower or Megatower?
You should get a Hightower if you want a bike that performs in all environments, from fast, flowy trails to technical downhills. Get the Megatower if you prefer mainly riding downhills, taking on the most extreme descents, and spinning to the top to do it all again.
Does Santa Cruz Hightower climb well?
Yes, the Santa Cruz Hightower climbs well for the high-travel trail mountain bike category. The VPP suspension and well-rounded geometry make for efficient climbing with minimal pedal bob, plenty of traction to handle technical sections, and a comfortable, centered position.
Can you mullet a Hightower?
No, you can not mullet a Hightower. Santa Cruz designed the geometry specifically for 29″ wheels, so using a 27.5″ rear wheel would negatively affect the handling and control. Instead, consider the Santa Cruz 5010 (130mm) or the Bronson (150mm) bikes if you want a mullet MTB.
Bottom Line: Should You Buy a Santa Cruz Hightower?
---
The new Santa Cruz Hightower 2023 showcases the brand's relentless commitment to improvement and excellence. Each change adds something valuable without detracting from the model's overall personality.
The Hightower 3 epitomizes the do-it-all mountain bike, balanced in every aspect of its performance and capability, helping riders forget about the bike and focus on the trail.
No, this bike isn't going to set any records going up or downhill. However, you can rely on it on all of your daily rides, never doubting the ability to get you out of a tight spot.
If you're a rider who loves versatility and excellence and has a big budget to match, you'll love what the Santa Cruz Hightower has to offer.
Where to Buy Santa Cruz Hightower?