Santa Cruz Tallboy — A Versatile Low-Travel Trail 29er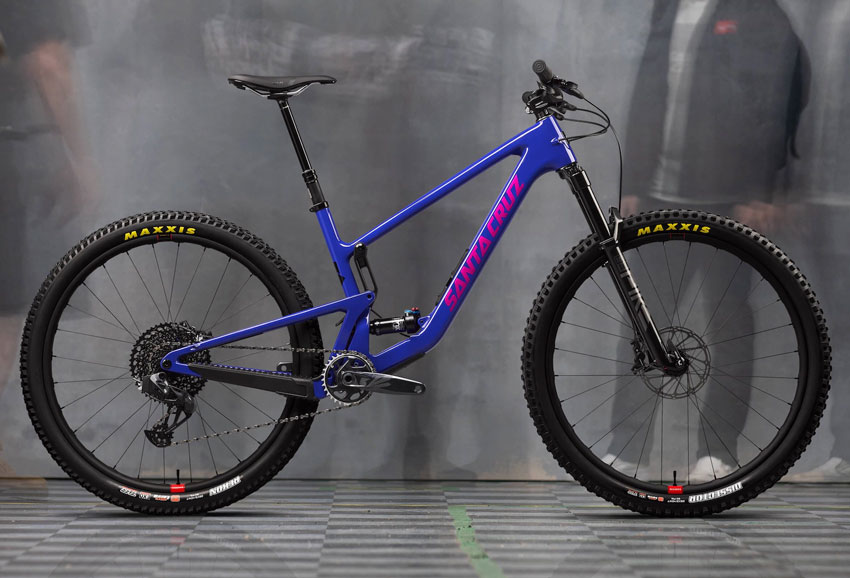 In 2009, Santa Cruz released the Tallboy as its first 29″ mountain bike, and the fifth generation arrived in September of 2022.
Since its release, the Tallboy has established itself as Santa Cruz Bikes' most popular all-purpose mountain bike. The 29er wheels, snappy mid-travel suspension, and balanced geometry make for a well-rounded ride quality that emphasizes speed.
The latest generation preserves the incredibly popular characteristics of the Santa Cruz Tallboy by refining the suspension and geometry, adding a glovebox, and introducing proportional geometry and frame stiffness.
This Santa Cruz Tallboy review will highlight the main specs and features, discuss its performance, and give our verdict on who should buy it.
MSRP $5,299 to $10,399
An lightening-fast 29er all-rounder that balances XC speed and downhill capabilities.
PROS
Efficient and responsive on climbs and flats
Confident in moderate downhill situations
Consistent ride quality across sizes
Frame-integrated storage
Fun and versatile
CONS
Not very forgiving
Big reach to turn the rear lockout
Santa Cruz Tallboy 2023 Main Specs
Frame: Carbon C or CC
Wheel size: 29″
Tires: Maxxis Dissector 2.4″ / Rekon 2.4″ 3C, EXO, MaxxTerra
Front and rear travel: 130mm, 120mm
Drivetrain: 12-speed
Brake rotors: 180mm
Seatpost: Dropper post
Weight: 30.83 to 28.89 lbs
Santa Cruz Tallboy Review
---
Santa Cruz calls the Tallboy 'the downhiller's XC bike,' which, in our opinion, is precisely the rider who would enjoy this bike the most.
Enduro-style geometry is balanced with efficient trail/XC suspension to create a do-it-all personality. With a long, low, and slack design, the handling is more predictable and stable at speed than similar bikes, making the Tallboy more versatile.
Experienced mountain bikers with well-rounded skills will appreciate the Tallboy's ability to thunder up climbs and along fast cross-country singletrack all day while never being entirely out of depth on chunky, technical descents.
Of course, the Tallboy won't be as forgiving as the higher-travel Santa Cruz Hightower, but skilled riders will be confident taking on any terrain they encounter.
What's New for the 2023 Santa Cruz Tallboy 5
The common theme across Santa Cruz's 2023 updates has been to 'refine, not redefine' its much-loved range of mountain bikes.
To preserve the Tallboy's versatile capabilities, Santa Cruz made minor changes to refine and standardize performance and add some useful features to the frame.
Firstly, the new Tallboy 5's leverage curve is less progressive, meaning it rides higher in the stroke but has increased sensitivity farther into the travel, creating a more snappy and efficient feel with tons of bump absorption on rougher terrain. In addition, this version has lower anti-squat and anti-rise, improving small bump sensitivity, square-edge absorption, and braking traction.
Santa Cruz made minor geometry changes, slightly increasing reach, rear center, and stack. These changes don't provide a noticeable difference from the 2023 Santa Cruz Tallboy but technically increase stability through the added length.
The Tallboy also gets progressive geometry and stiffness from size-specific chainstays and a size-specific carbon layup. So now, in theory, all six sizes of this bike will perform the same.
Finally, the new Tallboy frame gets a downtube storage glovebox and a 'sag window' for more easily reading and setting the rear shock's sag.
Advanced Carbon Frame with a Lifetime Warranty
For the fifth generation, the Santa Cruz Tallboy aluminum has been removed, with the brand now focusing solely on its Carbon C and CC frames.
The sleek, refined look of Santa Cruz's frames is matched only by the premium ride characteristics and unbeatable durability. Both carbon grades have the same overall stiffness and performance, but the cheaper C-grade is 0.6 lbs heavier.
Their commitment to excellence is shown in the high prices ($3,999 for a Carbon CC Santa Cruz Tallboy frame) but is backed up by a lifetime warranty and free bearing replacements.
Geometry
As we've mentioned, Santa Cruz preserved the Tallboy's geometry, sticking to the old wisdom of 'if it ain't broke, don't fix it.
The Tallboy has a long reach, low BB, and slack head tube angle uncharacteristic of bikes in the 120mm-travel category. This geometry creates a stable and predictable ride quality. In addition, a steep seat tube angle provides a more efficient pedaling position, combining perfectly with the efficient VPP suspension.
Finally, this bike also has slightly shorter chainstays than you'd expect, which makes for agile, snappy cornering. This enduro-style design makes this bike much more versatile than your typical low-travel trail bike.
How Does the Santa Cruz Tallboy Perform on the Trail?
---
TheTallboy 5 is a pure mountain bike designed for riders who enjoy all aspects of the trail, from steep, technical climbs to chunky downhills.
This bike doesn't excel in one area; instead, it performs well in almost any situation you throw at it. In addition, it's particularly well suited to riders who like to ride fast and spend long days in the saddle, thanks to the suspension's efficiency.
Climbing
With just 120mm in the rear, the Tallboy sits right at the upper limit of cross-country travel, making it a solid climber, capable of hanging on with most pure XC bikes.
The VPP suspension is tuned to be extra responsive and snappy in the upper part of the stroke, meaning it will eat up the climbs and maybe even help you set some PRs. In addition, the steeper seat tube puts you in an optimal pedaling position.
As it rides slightly higher in the travel, traction takes a slight hit on the steep, techy climbs, but this is a welcome trade-off for the exceptional efficiency.
Cornering and Descending
Again, the geometry of this bike gives its capability on the descents. The long, low, and slack setup provides a stable and predictable feel that inspires confidence in most downhill scenarios.
The Tallboy responds exceptionally well to hard riding. It eats up bumps and makes it easy to hold a line, thanks to the plush rear end and burly 29er wheels.
Riders who primarily ride in bike parks and enjoy gnarly enduro-style trails will feel slightly under-biked, but this bike will easily handle more moderate trail riding.
The Tallboy also corners surprisingly well for a long-ish 29er, increasing the bike's fun factor. As mentioned, the short chainstays and supportive suspension platform make it possible to rip through corners and pump out the other side.
What Can be Better?
Santa Cruz has nailed the spec and updates for the new model. However, one slight complaint is that the Santa Cruz Tallboy weight is too high for pure cross-country riding.
However, the geometry design isn't appropriate for pure XC rides either; it's better suited to more aggressive trail rides. Likewise, if you're considering buying the Tallboy to perform as a proper all-mountain option, you'll quickly learn that it isn't as forgiving as you want.
Santa Cruz Tallboy 5 Builds and Sizing
---
This bike is available in six builds, all with carbon fiber frames, four Carbon C, and two Carbon CC and six sizes, fitting riders 4'8″ to 6'7″. The Santa Cruz Tallboy price starts at $5,299 and goes up to $10,399.
XS – 4'8″ to 5'1″
S – 5'1″ to 5'5″
M – 5'5″ to 5'9″
L – 5'9″ to 6'1″
XL – 6'1″ to 6'4″
XXL – 6'4″ to 6'7″
FAQs
What is the difference between a Santa Cruz Hightower and a Tallboy?
The difference between a Santa Cruz Hightower vs Tallboy is the travel. The Hightower has 150mm in the front and 145mm in the rear. The Tallboy has 130mm up front and 120mm in the back, making the Hightower more capable on downhill terrain but less efficient going uphill.
Is the Santa Cruz Tallboy an XC bike?
Yes, the Tallboy is an XC bike. With 120mm of rear travel, it sits on the upper limit of cross-country MTB travel. However, the downhill performance is closer to that of a high-travel trail bike, balanced with the efficiency of an XC bike.
How much is a Santa Cruz Tallboy?
A Santa Cruz Tallboy costs anywhere from $5,299 to $10,399. The cheaper R build is $150 more than the equivalent 2023 Santa Cruz Tallboy, but the X01 model remains the same. In addition, there are no aluminum builds for the fifth generation.
What is the Santa Cruz Tallboy used for?
The Santa Cruz Tallboy is used for cross-country and all-mountain style riding. The enduro-style geometry enhances the Tallboy's ability to take on more technical downhill rides, while the suspension's efficiency allows you to ride fast and hard on XC trails.
Can you put 27.5 wheels on a Santa Cruz Tallboy?
No, you can not put 27.5 wheels on a Santa Cruz Tallboy. The Tallboy 3 was compatible with 27.5″ wheels, but the subsequent models, the Tallboy 4 and 5, no longer support smaller wheels. Adding smaller wheels would negatively impact handling and control.
How heavy is the Santa Cruz Tallboy?
The Santa Cruz Tallboy weighs 30.83 lbs for the cheapest Carbon C R model to 28.89 lbs for the most expensive Carbon CC X01 build. This weight is typical of premium trail bikes but a little heavy for the XC category.
Bottom Line: Should You Buy a Santa Cruz Tallboy 5?
---
The new Santa Cruz Tallboy mountain bike is the brand's most versatile 29er option, balancing speed and bump-chomping prowess.
Purposeful geometry and carefully tuned VPP suspension ensure the Tallboy can handle almost anything you throw at it. It's fun, confidence-inspiring, and fast.
Of course, versatility means this bike doesn't truly excel in one area, but it can be the one mountain bike you grab for all your rides and never feel completely over or under-biked.
Choose the Santa Cruz Tallboy if you have a big budget and want the perfect do-it-all trail/XC mountain bike.
Where to Buy Santa Cruz Tallboy?