Santa Cruz Heckler Review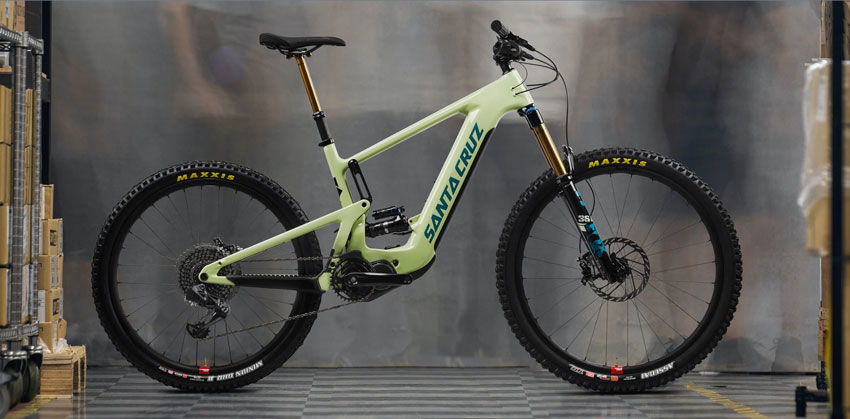 Are you ready for one of the most awesome electric mountain bikes available today? We present you with the new and improved Santa Cruz Heckler, one of the most desirable and meanest-looking e-bikes on the market.
This beauty is equipped with an all-new 720Wh battery for a longer range and a Shimano EP8 motor that churns out a whopping 85 Nm of torque.
Designed by visionary engineers at Santa Cruz Bicycles, using top-quality materials and futuristic space-age technology, the Santa Cruz Heckler is your answer to the road less taken.
Because of its agile design and VPP suspension developed and used since 2001, you have unlimited possibilities on different terrain types.
Why would you follow the trail when you can create your own with the Santa Cruz Heckler 2023—just add mud and watch the fun unfold!
MSRP $8,749 to $14,249
A powerful and high-end electric mountain bike capable of proper trail magic
PROS
Premium VPP Suspension
Plenty of build options
Efficient climber with a powerful motor
Capable on descents
Trail-worthy 160/150mm of travel
Santa Cruz Heckler Main Features
Frame:

Carbon C and CC

Wheel size:

MX, 29, and 27.5

Front tire size:

Maxxis Assegai 29″x2.5″, 3C, MaxxGrip, EXO+, TR (Size Small is 27.5")

Rear tire size:

Maxxis Minion DHR II 27.5″x2.4″, 3C MaxxTerra, EXO+, TR

Front travel:

160mm

Rear travel:

150mm

Drivetrain:

Shimano Drive Unit DU-EP800

Brake rotors:

Avid Centerline 200mm / Shimano XT Ice Tech Centerlock 203mm / SRAM HS2 Rotor 200mm

Seatpost:

SDG Tellis and Fox Transfer Performance Elite

Weight:

21.79Kg to 22.13Kg
The Heckler is designed to give you a little extra boost when you need to go up those treacherous hills while letting you fly down your favorite mountain trail without breaking a sweat.
Santa Cruz's precision engineering has made the geometry of the bike aerodynamic, allowing for optimum performance and an uncanny response from this beast.
The Santa Cruz Heckler Electric Bike is a state-of-the-art piece of machinery, built to go fast and travel long distances.
The Shimano DU-EP800 drivetrain combined with Shimano XT M8100 12spd rear derailleur makes it one of the best eMTBs on the market.
You are also open to these options: SRAM XG1275 Eagle, 12spd, 10-50t / PG1230, 12spd, 11-50t to 51t—depending on the kit you pick.
No matter what model you select to suit your ride, the Santa Cruz Heckler E-Bike will cater to your demands.
Santa Cruz Heckler Full Review
In this 2023 Santa Cruz Heckler review, we look at all the creative purpose-built components that make it one of the best e-mountain bikes.
Featuring a removable 720 Wh battery paired with a Shimano EP8 85Nm motor, this is a significant upgrade that poses strong competition to its rivals.
As any cyclist knows, running out of juice and having to recharge is what stresses riders the most when picking an electric bike.
The Santa Cruz Heckler's extra-large battery can either be plugged in to charge or you can simply remove it using a 4mm Allen key to swap with another.
Available in a mixed wheel (MX) design and a 29" wheel version, just like Santa Cruz Bronson, this is the best e-bike for agile cornering, maximum rollover, and traction. You can now heckle your way through any trail you have feared in the past.
What's New for 2023
This year is a game-changer for the mountain biking world with the much-anticipated release of the Santa Cruz Heckler 2023.
Featuring frames built from their famous C and CC carbon, we now have a wider range of build options. You can finally find an electric-mountain bike fit your needs with no height restrictions and the option to kit it up as per your spec.
We have also seen a significant improvement in the ride handling and the distance that can be covered on a single charge.
This is all thanks to an improved 720Watts per hour battery, compared to the 504Wh seen previously, with 10 levels of assist and three modes—Eco, Trail, or Boost.
You now have a 150mm travel and flip-chip to tailor the geometry to your riding and a bigger seat tube tunnel that can fit a coil shock.
Santa Cruz Heckler is your answer to stepping out of your comfort zone to conquer long and difficult mountain trails in record-breaking time.
Carbon Fiber Frame
We all know a frame is the main component of any bike, and the build determines the overall ride quality and safety. With this in mind, the Santa Cruz Heckler design is lightweight but robust—made entirely from their proprietary C or CC carbon.
The specialist engineers and designers at Santa Cruz spent countless hours in R&D and took no shortcuts to achieve this perfect e-Bike.
Both the design and manufacturing are very futuristic, resulting in much more than just two triangles tied together. All cabling is internally routed and you can even fit a full-size water bottle—an option rarely seen on full suspension ebikes.
It's available in 5 sizes (S to XXL) for the MX version and 4 sizes (M to XXL) for the 29" version, although keep in mind that the wheels are not cross-compatible and are specific to each kit.
Modern Geometry
The Santa Cruz Heckler has increased the reach numbers on the MX version by up to 10mm compared to previous models, with a hi and low setting that adds a 3mm drop.
The head tube angle is adjusted between 64.5 to 64.8 on both the MX and the 29" version. The reach on the MX at stock "Hi" begins at 430mm, 455mm – medium, 475mm – large , 495mm – extra-large, and 520mm – extra-extra large.
The chain stay remains unchanged on all models: 445mm on MX and 460 on the 29", at Hi. When you switch to low, it goes up by 1mm.
The lowest standover height achievable on the Santa Cruz Heckler MX versions is 716.2mm and the highest is 740.5mm, while on the 29" versions it's between 741.2mm and 740.5mm.
Lower-Link VPP Suspension
Whether you are a novice to the Santa Cruz brand or a regular user of the VPP since 2001, you will never get bored with it.
The Lower-Link Virtual Pivot Point (VPP) suspension on the Heckler is a complicated kinematic solution to the perfect harmony between you and the trail.
If you compare the Santa Cruz Heckler vs Bullitt you get 150mm of travel, which is less by 20mm respectively, and yet the Heckler still reaches a progression of around 26 percent on the leverage curve graph in the low setting—which is very impressive.
The space created by a larger seat-tube tunnel also gives you the freedom to add a coil shock to your frame, giving you a superior and comfortable ride quality.
How Does the Santa Cruz Heckler Perform on the Trail?
When it comes to high-performance ebikes, nothing comes close to the Santa Cruz Heckler.
With a bigger battery and a more powerful motor, you can enjoy endless hours of vigorous riding with the trail setting totally transforming the dynamics of your ride.
Who knew riding a mountain bike could be so effortless?
This beast will whoop any bike in its path, with rapid steering response around tight bends and a lot of downforce for extra traction.
It's designed to be put through the elements and loves to be airborne with killer VPP suspension that gives it crazy damping and ensures maximum traction.
The 12-speed drivetrain combined with a single shifter ensures a quick shift between gears when you need them the most.
Cornering
If you are someone who fears corners and tends to slow down before you take them, this is your time to speed up and lean right into it!
Quick cornering is made possible by the thick tread pattern on the Maxxis tires and 160mm travel up front. The constant shift of weight allows you to go around difficult bends with ease.
With rapid response from the solid 200mm brake rotors, you can slow down in split seconds, allowing you to corner with more confidence and safety.
Climbing
Summitting near-impossible trails has never been easier thanks to the powerful 85Nm eMTB motor on the Santa Cruz Heckler, helping you ride uphill at speeds of 20 km per hour.
The innovative design means you can climb steeper and longer trails with minimal effort, no matter the terrain type.
We can all agree that steep topography is occasionally too challenging and can take the fun out of a ride, so it's great to have a boost mode on the Shimano EP8 motor that gives you an extra kick with the flick of a button on the control pad.
Descending
Have you made it up an insane hill only to suddenly lose the confidence to come back down? Fear not—the Santa Cruz Heckler feels right at home here.
The combination of long travel, super-grippy tires, and quick braking power let you descend treacherous trails at high speeds.
The bike's clever design and geometry allow you to control yaw, pitch, and roll using the motion of your body. With an optimum center of gravity, you have a very smooth ride even on the most difficult terrains.
The active Lower-Link VPP Suspension really swallows up the impact of a hard landing even on the most uneven surfaces, ensuring you reach the bottom of the trail with the biggest smile on your face.
What Can Be Better?
The Santa Cruz Heckler is undoubtedly one of the best e-Bikes available in this day and age. However, after spending time on it you may spot a few concerns.
These are, of course, different with every rider and may not bother everyone.
The base model is priced at $8,749 and shoots up to $14,249 for the top model. A very pricey tag considering there was a recall due to a safety concern.

Slightly too much damping—future builds should have more options to control this to your preference.

The seat tube angle isn't for me, especially on more intense trails. I feel like this needs to be slightly steeper.
Santa Cruz Heckler Builds
The 2023 Heckler is sold in five builds, starting at $8,749 and going up to $14,249 for the top model. You can pick either the MX or 29".
Heckler R – Carbon C – $8,749
Heckler S – Carbon C – $10,399
Heckler XT – Carbon C – $11,149
Heckler GX AXS – Carbon C – $11,749
X01 AXS RSV – Carbon CC – $14,249
Depending on what kit you select, the customization is unique to it but there are some similarities across all builds—all frames are built from Santa Cruz's C carbon fiber (CC on the top model) with rear travel of 150mm and front travel of 160mm.
As much as the components change, each bike is put together to give you the best performance. The suspension used is their in-house design Virtual Pivot Point (VPP) for maximum agility and safety.
Santa Cruz has stuck with Maxxis tires that pair well with their e-bikes. These give you the grip, traction, and control needed to spear through the trail.
All builds are available in either Gloss Avocado Green or Maritime Grey.
Santa Cruz Heckler Sizing
We all reach a point in time where we start ordering all our shopping online, including bikes. Then we sit and wonder, what size do I need? And no it's not the same as the T-shirt you are wearing. There is more science involved in it, but we are here to make things easy for you.
The Santa Cruz Heckler Frame comes with a broad size range between 5'1″ and 6'7″.
S

– 5'1″ to 5'5″

M

– 5'5″ to 5'9″

L

– 5'9″ to 6'1″

XL

– 6'1″ to 6'4″

XXL

– 6'4″ to 6'7″
If you're between two bike sizes, you would ideally test-ride both bikes at a bike shop to see which one feels better.
Otherwise, you can measure the stack and reach of your current mountain bike and compare them to both sizes of the Heckler to see which one is the closest match.
People Also Ask
---
How heavy is the Santa Cruz Heckler?
Taking the power-to-weight ratio into consideration, the Santa Cruz Heckler is considerably more powerful compared to its competition. Weighing in at between 21.79 kg and 22.35 kg, with the battery taking up around 3.8 Kg, the bike is very light! We have seen normal mountain bikes that are much heavier and this is thanks to the lightweight carbon used to build the frame.
The boost from the powerful 85Nm motor makes it seem completely weightless. The recommended total maximum payload, including rider and gear, for optimum performance, is capped at 135 Kg. Exceeding this can cause stress and irreparable damage to the frame and components.
What motor is in a Santa Cruz Heckler?
The Santa Cruz Heckler is powered by the Shimano DU-EP800 (E8) motor which has three modes: Eco, Trail, and Boost. With a weight of 2.8kg, its one of the lightest on the market and a great choice. Producing a continuous power output of 250W peaking out at 500W, and 85Nm of torque, it's a magnificent piece of machinery.
For high RPM optimization, Shimano has installed a 6-speed, 3-stage gearing system controlled by a one-way clutch. This reduces internal drag, keeps the noise down and you get seamless engagement. The whole setup is easily controlled via a display system on the handlebar.
Is Santa Cruz bikes owned by Specialized?
While Specialized bikes may share some similarities with the awesome Santa Cruz bikes, they are owned by different companies and have no working relationship.
Santa Cruz was started in 1993 by a visionary group of youngsters with experience in skateboards and bicycle suspension. The team later developed the company into a very successful firm and sold it to Pon Holdings in 2005. Specialized bikes were founded in 1974 by Mike Sinyard and have grown into a very reputable name in the biking family.
How do you remove the battery from a Santa Cruz Heckler?
As much as the technology on the Santa Cruz Heckler has gone into the space age, we still enjoy some simplistic designs. All you need is a 4mm allen key to unscrew the casing and pop out the battery.
You can either swap it for another or charge it up. Remember that the charging system can be plugged-in directly to the bike. This removable battery makes it more convenient, especially if you are traveling and need a quick charge. You don't need a complicated dock to juice it up, just a plain old wall socket does the trick.
Can you mullet a heckler?
Santa Cruz offers the option of a mixed-wheel setup on the Heckler. The mullet design (MX), comes with a 27.5 rear wheel and a 29 on the front.
The hybrid design improves steering and maneuverability around tight and dangerous corners.
The right settings do make your ride more eventful and can improve handling but takes some getting used to as you constantly feel like you are leaning back—especially while cycling up a hill.
How much travel does a Santa Cruz Heckler have?
The Heckler comes with 150mm of travel on the rear with VPP suspension unit and 160mm upfront on top-quality forks. If you are new here, you need to understand that this is the maximum compression you get on your bike and is necessary to dampen trail shock and improve weight distribution.
Without this, you will feel everything from the little stones to the big jumps and can be thrown off the track. It is recommended to have a range of between 130mm to 160mm on a trail bike, depending on your setup. The Santa Cruz Heckler falls well within this bracket.
How much does a Santa Cruz Heckler cost?
Please sit down for this! A Santa Cruz Heckler ranges between
$8,749 for the base model and goes up to $14,249 for the top model. I know you are probably thinking that this is as expensive as a mid-range, pre-owned vehicle but trust me—it's well worth the investment.
Built using costly but lightweight carbon C or CC material, VPP suspension, a Shimano eMTB 85Nm Motor, and a long-range 720Wh battery, the components alone make it well worth the cost. Who said money can't buy happiness? Just get a Heckler and you will experience it.
Where to buy Santa Cruz Heckler?