Most people are willing to spend $500 for a mountain bike. With, or without any mountain-biking background, it should be the time to expect a decent-quality bike out of that amount, right?
Well, considering the fact that a mountain bike has to perform well on such demanding terrains – some large and top bike brands have the luxury to bring the prices as low by producing a large amount of entry-level, therefore cheap mountain bikes.
Is $500 enough for a new mountain bike?
For serious riders looking to get into mountain biking, we wouldn't recommend anything under $1,000 really. But then again, in recent years we've seen a bunch of cheap mountain bikes made by large bike brands that stand the test of time for recreational mountain bikers.

If you are planning to buy a cheap mountain bike for everyday commuting or on light trails – just make sure to know that $500 for a mountain bike is the lowest limit to go, and regular maintenance or even swapping out some components is quite likely in the long run.
What to Expect in a Good Yet Cheap Mountain Bike?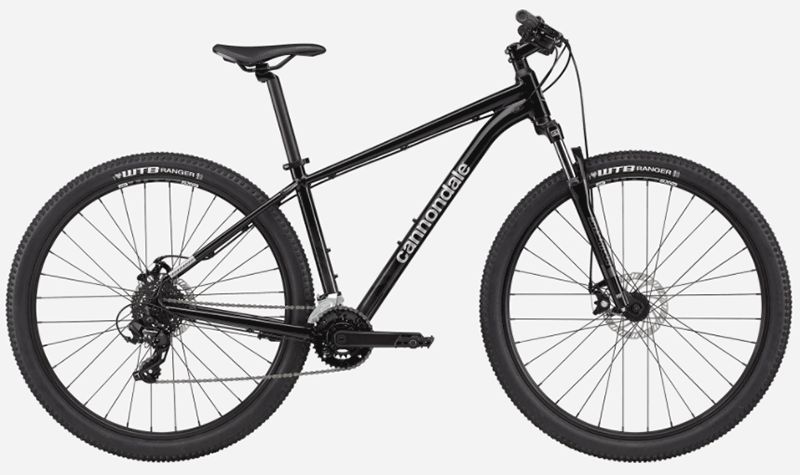 27.5″ / 29″ wheels: 26″ wheels are found on smaller frame sizes or older bikes.
Aluminum / Steel frame: 6061 alloy to be the most common.
Mechanical disc brakes: Instead of rim or V-brakes.
2-3x front chainrings: A cheaper alternative to 1x drivetrains.
Air-sprung coil suspension or a rigid fork with 80 to 100mm travel
Best Men's Mountain Bikes Under $500/$600
---
1. Schwinn Bonafide
Best hardtail mountain bike under $500
This 29er aluminum mountain bike features mechanical disc brakes, 24-speed gearing, basically all the basics you could expect from under $500.
Although Schwinn is an old name in the game – getting a mountain bike for that amount of money should only be used by beginner cyclists on light trails.
Also, when you are going to order a cheap mountain bike online, make sure to get the fitting properly right. Re-tuning the bike after a few hours of riding is mandatory!
---
2. Mongoose Impasse
MSRP: Check on Amazon

Mongoose Impasse is a great trail bike for beginners, or should we say 'cautious' riders who are not planning to go competing in downhill races anytime soon. You'll see simple 3×7 derailleurs and shifters with mechanical disc brakes that will safely get you down some moderate descents.
21-speeds
29″ wheels
Front suspension fork
Aluminum frame
Mechanical disc brakes
As this is an entry-level trail bike, it is equipped with internal cable routing and it is also front and rear fender ready. If you haven't ridden a modern mountain bike in a while – you'll be positively surprised by the 29″ wheels which are one of the greatest upgrades in the mountain biking world in the past decade. Bigger wheels simply roll better over obstacles with much less effort!
To sum up, get Mongoose Impasse if you're starting your mountain biking journey and you don't want to break the bank, but still wish to get some modern features such as the 29er wheels and mechanical disc brakes.
---
3. Marin Wildcat 2022

MSRP: $599
GovVelo.com
Here's a perfect example that you can get a decent-spec mountain bike at a very low cost. Yes, it is not under $500, but we wouldn't really recommend anything below the following specs:
Series 1 6061 Aluminum frame
27.5×2.25″ tires
Power 7 Mechanical Disc Brakes
Shimano Tourney 3×7-speed drivetrain
SR Suntour XCE 100mm travel fork
Frames from XS to L fit riders:
4'10" to 5'11"
---
4. Co-op Cycles DRT 1.1
Best value mountain bike with a unisex frame –
🏆 Score 4.5/5 out of 180+ ratings
MSRP: $599
REI.com
If you didn't know, Co-op Cycles is REI's factory brand, which is well-known for affordable bikes with great characteristics. This model is available in two attractive colors — aqua blue and pirate black. Under that paint is a lightweight Co-op Cycles' aluminum frame, so you'll be able to easily lift the bike up and carry it over obstacles if needed.
Comfortable trail geometry
Aluminum frame
100 mm of travel
Hydraulic disc brakes
21 gears
Shimano components
2.1″ wide tires
27.5″ wheels
To begin with, the SR Suntour XCM air-sprung fork is known to be lightweight, and with 100mm of travel, it's more than enough for a smooth ride even if you push its limits.
Next, you get 21 gears with this model and a great combination of Shimano components. The groupset fitted on this bike is Shimano Tourney, which is not fancy, to say the least, but if you are a beginner and ride recreationally, you don't need anything better than that for a start.
Another great thing about the bike is the good-quality hydraulic disc brakes which is usually unseen at this price range.
---
5. Cannondale Trail 8 '2021
Best budget mountain bike
MSRP: $600
REI.com
Cannondale is well known for its expensive, high-end mountain bikes ridden by the pros.
However, this brand does a great job when it comes to making entry-level trail bikes as well. Cannondale's Trail 8 is a great example and an excellent choice for most beginner riders out there. But, has Cannondale made any big compromises to make this cheap bike possible? Not at all.
The Trail 8 model is built around the recognizable Cannondale's frame made of SmartForm C3 alloy. The frame has an exaggerated bottom tube that seamlessly flows into the head tube to make the whole construction sturdy, durable, and attractive. But, that's not the only good thing, let's check out more.
SmartForm C3 Alloy frame
14-speed
75mm fork
XS – M 27.5″ wheels / L – XL 29″ wheels
2.25″ tires
Weight: 33lbs
The Trail 8 is available in Grey only to add to its intense riding nature.
You can choose to stay inconspicuous with the moody dark coloring or make yourself known by smashing down the trails in spectacular fashion. Even though this is a trail bike that costs slightly over $500, it does not come with no-brand components. Instead, you can shift up and down the 14 speeds with Shimano Altus front and Tourney rear derailleur, and Shimano Easy Fire shifters. This will not do a fantastic job when cycling and changing gears up some steep hills, but they work just fine on the flats and more moderate ascents.
A similar thing can be said for the SR Suntour fork with 75mm of travel. It's not ideal for aggressive trail rides, jumps, and high drops, but you will be quite happy with it as long as you stay on moderate trails and control yourself. But, don't worry about stability and comfort as the 2.25″ wide tires will provide you with plenty of both. Finally, this bike also has Tektro mechanical disc brakes with 160/160mm rotors on the front and the rear wheel, so you can safely go faster on the downhills and always stop in time. All in all, this is a great bike to satisfy your need for the trails and the outdoors and give you something fun and healthy to do on the weekends.
Frame sizes from XS to XL fit riders
4'6″ – 6'3″
---
6. Co-op Cycles DRT 1.0
Best beginner's mountain bike

MSRP: $599
REI.com
It's one of the best budget mountain bikes that you can get right now with an aluminum frame and a set of decent components for beginners. If you like the bike enough, you can always swap some components and upgrade them. However, I think that is not necessary, as the bike is perfect as is. You can abuse it and use it for what it is made without worrying too much.
Aluminum frame
Shimano Tourney
3×7 speeds
Hydraulic disc brakes
26″ wheels for XXS
The Co-op DRT 1.0 has a very high rating (4.5/5), as most comments are positive. It seems as if Co-op has really hit a bullseye with this model. Those who have made the good decision to buy this best mountain bike under $600 say they love how it handles and how unstoppable it feels on any terrain. When I rode it, the strong frame and decent tires gave me a feeling of stability, and I felt a surge of confidence to try new lines.
The DRT 1.0 comes with a lightweight aluminum frame and weighs around 31 lbs, but it does not feel sluggish.
The components on the bike are quite decent as well at this price range, especially the hydraulic disc brakes.
The rear derailleur is a Shimano Tourney, as well as the front derailleur, and there are 21 speeds in total. For beginners, this number of speeds and this setup will be more than enough. So, if you want to have loads of fun riding through mud and inaccessible terrain on a mountain bike, don't hesitate to buy the Co-op Cycles DRT 1.0. I guarantee you'll have a blast on it!
Frames Available – XXS
4'9″ to 5′
---
7. Diamondback Hatch 1
MSRP: $600
REI.com
Have you finally decided to buy a decent mountain bike and start pedaling and exploring the area around your home? If that's the case and you need a starter model, this Diamondback Hatch 1 is the real deal.
The Hatch is a hardtail XC bike with a durable and lightweight aluminum frame, 27.5″ (XS,S) or 29″ (M-XL) wheels make it stable around the bends and suitable both for short and tall riders. Check out the pros and cons below to get a better overview.
Aluminum frame
29″ wheels
Shimano components
2.25″ wide tires
80 mm suspension fork
The sizing chart can be found on Diamondback.com.
Frames from XS to XL fit riders
5'1″ to 6'4″
---
8. Schwinn High Timber
MSRP: Check on Amazon

Schwinn High Timber is a simple yet good-looking entry-level mountain bike that will make any MTB first-timer feel satisfied. The High Timber falls well under the $600 mark, which is not much to pay for this sturdy and good-looking hardtail bike.
Front suspension fork
Modern 29″ wheels
Rim brakes
21 gears
Most cheap mountain bikes come with only 27.5″ wheels. But that's not the case with this Schwinn model. It features modern 29″ wheels that offer higher speeds and roll over obstacles much more easily than smaller wheels.
A front suspension fork means that you can get more out of it on the trails, though the rim brakes are not great but get the job done. It's also a very comfortable bike to ride on bumpy tracks because of its wide knobby tires and steel frame with upright geometry.
Finally, Schwinn High Timber also offers 21 gears, which is an outdated gear range, but it's great for beginners who want to ride different types of terrains with ease.
---
9. Mongoose Malus
Best men's mountain bike under $500
You are looking at the best under $500 fat tire bike for adults.
The Malus by Mongoose has great reviews on Amazon. The bike features a 7-speed derailleur, the standard 26″ fat bike wheels, and a steel frame. The build of the bike is simple and obviously best suited for beginner/recreational cyclists looking for, so it is most likely worth checking out!
Related – Best Cheap Fat Bikes
The 26″inch wheel and rigid fork combination is among the most classical set-up one could find in the world of fat tire bikes, so there's no hesitation. Anyway, this mongoose is a good beginner mountain bike at the lowest possible budget.
---
10. Marin Bolinas Ridge
MSRP: from $599
Jenson USA
These are the new Marin's entry-level 29er 100mm travel mountain bikes that have been selling out quickly for obvious reasons. The 6061 aluminum frame is lightweight and durable, and the mechanical disc brakes are also suitable for this price category as well. The drivetrain Shimano Tourney 3×7 wit ha SunRace 11-34t cassette.
This is a bike for recreational/beginner mountain bikers only, especially suitable for taller riders from 5'10" upwards as the new 29er wheels work like a treat off the road. When purchasing this bike remember the fact that all new bikes need a tune-up after about 10miles of riding!
Frame sizes from XS to XL fit riders
Buy on JensonUSA.com Buy on GovVelo.com
Best Mountain Bikes Under $600 for Women
---
If you are looking for something female-specific – down below is a list of the best mountain bikes under $500 for women.These models have different saddles and a slightly shorter reach (stem and top tube length compared to unisex models).
11. Cannondale Trail 8
Best women's mountain bike for around $600
MSRP: $625
Gravitycoalition.com
Cannondale has taken action to make this happen, by making the Cannondale Trail 8 bike, specifically tailored to fit women's needs.
This is an entry-level hardtail bike with a beautiful turquoise paint job. Whoever said that riding trails and getting muddy is not feminine will change their mind when they see it. Apart from the great looks, are there any other good things about it? There definitely are. Cannondale Trail 8 has both looks and the brain, as we will show you below.
Women-specific geometry and parts
75mm travel
Tektro mechanical disc brakes
27.5″ wheelset
First of all, when talking about women's bicycles, it's important to mention the frame and its geometry.
Cannondale has made sure to make this aluminum frame suitable for women by making a shorter top tube that slants downwards and makes it easier to get on and off the bike. The frame is completed with an SR Suntour coil spring with 75mm of travel. It's just the right amount of travel for your needs as a beginner on the trail. You will start with some smoother gravel roads and moderate single tracks, which is what this fork is made for.
Like most bikes in this price range, the Cannondale Trail 8 has Tektro mechanical disc brakes. They have proven really well on the trails, so they're a great choice in our opinion. You need a bit more time to adjust and maintain them, but that won't be a big issue. If you're buying this bike to make multi-day tours, you're making a good choice since the frame features several mounts. You can fit it with racks and water bottles and hit the road. All of this makes Cannondale Trail 8 an excellent choice for all ladies who are interested in riding the trails. You will be happy with this model as your first bike for many years, with some care and maintenance.
---
12. Huffy Stone Women's Mountain Bike
MSRP: Check on Amazon
Huffy Stone is an entry-level mountain bike made for female riders on a tight budget, but still wanting to explore some light trails. The level of components is basic, to say the least, but if you are thinking of getting a bike to get you from A to B through thick and thin, there's enough to go around.
The best thing about the bike is the set of 26″ wheels on size small frame which is great to navigate technical areas more easily for shorter riders. Then there is also the suspension fork that adds weight to the bike but also greatly improves comfort.
The basic 3×7 drivetrain offers 21 speeds, which will be enough for all types of climbs you might encounter in your area. On top of that, the steel frame is comfortable and durable, but a major downside is the V-brakes, which is an outdated piece of equipment on modern mountain bikes. But then again, for less than $300, this is still a solid everyday beater.
Get the Huffy Stone female mountain bike if you're a beginner rider looking to have fun riding on gravel roads, light trails, and bike paths.
Best Under $500 Mountain Bikes For Kids
---
13. Priority Bicycles Start 20″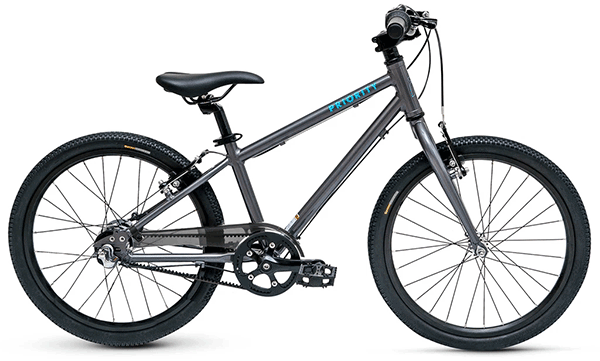 MSRP: $379
Priority Bicycles
The Priority Start 20 is a kids' bike, made by a brand that is well-known for its belt-drivetrains.
The bike has 3 gears that are internal, fits kids aged 6-11 years old. The bike comes with a kickstand that holds up this nice-looking aluminum-frame bike. If you are looking for a bike that requires less maintenance than the regular chain&derailleur system, the Priority bikes are silent, clean, and pretty much maintenance-free!
Get it from PriorityBicycles.com
---
14. Cannondale Quick 24
MSRP: $500
REI.com
The Quick 24 is an ideal mountain bike for kids aged 46″ – 57″. It is made by a giant bike brand, Cannondale. The bike features a 7-speed derailleur, front and rear V-brakes, a side stand, chainring protection, and a rigid fork in the front. The frame is made of lightweight aluminum.
The Quick series bikes are generally of the hybrid bikes category, but this is still an ideal bike for kids to use on and off the trails. If you have to choose between a cheap supermarket bike versus a bike made by a known brand, don't hesitate to trust the better value as brand bikes hold their value and quality way better in the long term once you are thinking of selling the bike!
---
What Do You Need to Know Before Buying?
As you can see, when it comes to cheap mountain bikes, cheap does not equal bad.
There are some amazing bikes in this price range, which will serve you well for years if you take good care of them. If you thought otherwise, I hope I changed your mind. Therefore, in case you're looking for an entry-level bicycle to get fit, stay fit, commute, workout, or just escape into nature, why not choose one of the best mountain bikes under $500? They're perfect for beginners and occasional riders, and I promise they are loads of fun!
What size mountain bike do I need?
It is crucial to get the right size frame in order to get the best comfort and performance out of a bike ride. There are some generalizations for bike size charts, but today, each bicycle manufacturer has their own size chart recommendations for each bicycle discpiline, whether it will be mountain, road or hybrid bike.
Where to buy under $500 mountain bikes online?
Many online retailers nowadays offer mountain bikes under or around the $500 mark. Some of the websites we recommend include:
However, keep in mind that the prices of bikes are going up, so a bike that used to cost $500 before will be around $600 today.
How to buy a mountain bike?
When buying a mountain bike, make sure you consider the following questions:
Field Of Use – are you going to use it for recreational cycling, or are you thinking of progressing?
Budget – 500/1,000/1,500 have very different quality of components
Size – Make sure to check out each bike brand's size recommendations to find you the most suitable model.
What is the best mountain bike brand?
Trek, Specialized, Scott, and Cannondale are one of the few bike brands that offer bicycles from $400 to $10,000 so even their lowest-end bikes can be trusted! However, most other brands you come across on popular online retailers will get the job done as well.