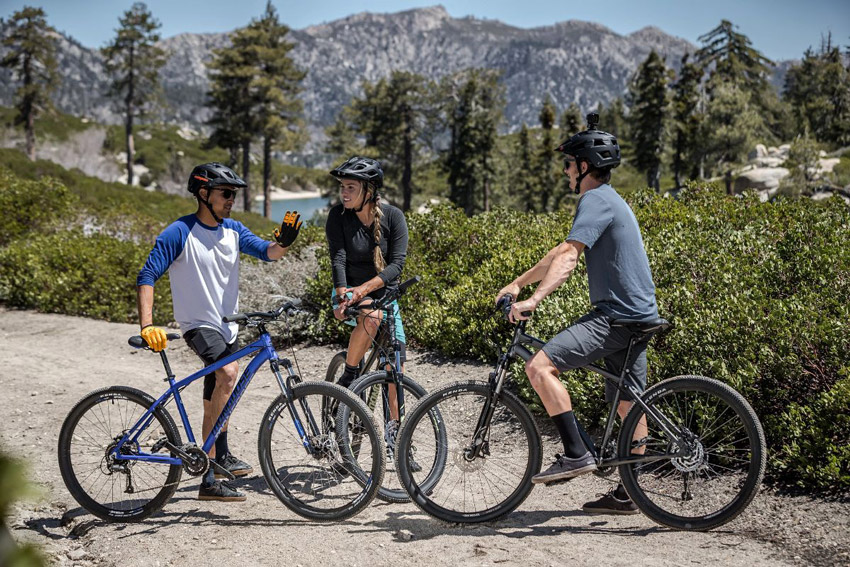 Mongoose is a California-based bike brand founded to serve the BMX industry. During its almost 50 years of operation, the brand has evolved slowly to become a manufacturer of entry-level bikes across disciplines like mountain biking, dirt jump, and BMX.
With bicycles gradually increasing in price year after year, Mongoose has continued to offer cheap alternatives to the big-name brands in cycling. Their products provide an entry point to owning a bike that's attainable for most people.
This Mongoose mountain bike review will discuss the brand and its history, provide an overview of the Mongoose MTB lineup for adults and kids, and finish with our verdict on whether or not you should buy one.
About Mongoose Mountain Bikes
---
Mongoose is a mountain bike brand that specializes in cheap BMXs and mountain bikes and has a deep history in the sport of BMX riding.
The Mongoose brand is owned by Pacific Cycles which also owns popular brands Schwinn and GT. Pacific Cycles is part of a larger conglomerate named Dorel Sports, which manages brands like Cannondale and Charge Bikes.
The Mongoose range is extensive, with dozens of bikes across different categories. Its adult mountain bikes cost from $500 for a basic hardtail to $2,000 for the brand's most advanced full-suspension trail bike; the kid MTBs cost between $200 and $900, which makes them widely accessible.
History of Mongoose
In 1974, California resident Skip Hess developed the wheel capable of withstanding the demands of BMX riding. Shortly after, in 1975, Hess founded BMX Products Inc. and produced the first Mongoose bicycle.
Over a decade later, and after great success in the recreational and competitive BMX scene, Mongoose moved to the trail with the release of the ATB and ATB Pro mountain bikes.
In 1992, the brand took its MTB offering to the next level with the introduction of the Amplifier, a full-suspension bike.
Over the years, Mongoose ownership has changed hands several times. As of 2023, 49 years after its founding, it is part of the Dorel Sports group, under which the brand continues to produce popular entry-level mountain bikes for beginners and recreational cyclists.
Where to Buy Mongoose Mountain Bikes?
The top retailers of Mongoose mountain bikes are Walmart and Amazon. Mongoose offers its full lineup at Amazon, with a dedicated brand page to browse and filter through potential models. In addition, their bikes regularly go on sale, so keep an eye out for discounts. You can also buy Mongoose bikes on the brand's official website.
Review of the Mongoose Mountain Bike Lineup
---
Mongoose has an extensive range of bikes, including BMXs, mountain bikes, dirt jump bikes, and kids' bikes. Examples of mountain bikes Mongoose offers for adults include 29ers, 27.5″, and 26″ fat bikes.
29-inch Mongoose Mountain Bikes
Mongoose's 29er MTB category currently consists of three models: Tyax, Salvo, and Impasse. The Tyax and the Impasse are both hardtails, and the Salvo is a full-suspension MTB.
Mongoose Tyax Comp, Sport, and Expert
Suitable for Riders: 5'2″ to 6'2″
The Tyax is a 100mm-travel cross-country hardtail designed for professional rider Greg Watts. This bike has three different builds, each with fast-rolling 2.20″ Kenda Kadre tires and 29″ wheels on Mongoose's Tectonic T2 aluminum frame with sleek internal cable routing. All models use Tektro or Shimano hydraulic disc brakes and either Shimano Acera 2×9, SLX 1×11, or SRAM SX 1×12 gearing.
---
Mongoose Impasse, Impasse HD
Suitable for Riders: 5'4″ to 6'2″
The Impasse Mongoose 29 mountain bike comes in a standard hardtail or full-suspension build. Both are built on a sturdy aluminum frame with 29″ double-wall rims and mechanical disc brakes. The dual-suspension model has 2.6″ tires and a 1x drivetrain, while the hardtail has 2.3″ tires and a 3×7-speed drivetrain.
---
Mongoose Salvo Comp, Sport, Trail
Suitable for Riders: 5'2″ to 6'2″
Mongoose's Salvo is the most advanced model in the lineup, with three different builds. The Salvo is a cross-country/trail mountain bike with 100mm of fork travel and 110mm travel in the rear using the brand's free-floating Horst-link suspension design. All three use 29″ wheels wrapped in 2.25″ tires. The high-end Salvo Comp has hydraulic disc brakes and 12-speed SRAM SX gearing.
---
27.5-inch Mongoose Mountain Bikes
Mongoose's 27.5″ category consists of two hardtails and a full-suspension model: the Tyax Women's, Switchback, and Status 2.4.
Mongoose Tyax 27.5″ Women's Comp, Sport, and Expert
Suitable for Riders: 5'2″ to 6'2″
The Tyax 27.5″ is a women's cross-country mountain bike with 100mm of fork travel. The 27.5″ bike is essentially a smaller version of the 29er, with three different builds, fast-rolling 2.20″ Kenda Kadre tires, and a Tectonic T2 aluminum frame.
---
Mongoose Switchback Comp, Sport, Expert, and Trail
Suitable for Riders: 5'2″ to 5'10" (mid-step) or 5'2″ to 6'2″ (high-step)
The Switchback is a cheaper hardtail mountain bike with 80mm of travel, capable of handling light mountain trails and gravel riding. This 27.5″ bike comes in a high-step or mid-step frame, with 2.1″ tires, a Tectonic T1 aluminum frame with internal cable routing, and mechanical disc brakes. Riders can choose between four builds.
---
Mongoose Status 2.4
Suitable for Riders: 5'4″ to 6'2″
The Status 2.4 is a 27.5″ Mongoose full-suspension mountain bike that's also available with 26″ wheels. This budget MTB has wide 2.3″ tires, a front mechanical disc brake and rear rim brake, and 3×7-speed gearing. In addition, you get Mongoose's Tectonic aluminum frame with integrated cable routing.
---
26″ Fat-Tire Mongoose Mountain Bikes
The 26-in Mongoose mountain bike category consists of several fat bikes, including the Argus, Dolomite, Juneau, Hitch, Aztec, and Malus.
Mongoose Argus ST, Trail, Sport
Suitable for Riders: 5'3″ to 6'2″ (depending on model)
The Mongoose Argus is a versatile fat-tire mountain bike. The premium Sport model has 4.8″ super fat tires and hydraulic disc brakes, while the ST and Trail models have 4″ tires and mechanical discs. Each model has Shimano gearing. The cheaper Argus ST is built on a hi-tens steel frame, while the others use lighter aluminum.
---
Mongoose Dolomite
Suitable for Riders: 5'4″ to 6′
Mongoose's Dolomite 26″ fat bike is another budget mountain bike with 4″ knobbly fat tires for handling soft terrains like snow, sand, and mud. This bike has simple 7-speed Shimano gearing, dual mechanical disc brakes, and a heavy yet durable steel frame.
---
Mongoose Juneau
Suitable for Riders: 5'4″ to 6'2″
Mongoose's Juneau is, along with the Argus Sport, the brand's most advanced fat tire mountain bike. It has a light and rigid Tectonic aluminum frame, 4″ tires, 2×8-speed Shimano gearing, and dual mechanical disc brakes. However, this model doesn't have internally routed cabling.
---
Mongoose Hitch, Malus, and Aztec

Mongoose has three more steel-framed 26″ mountain bikes, each with 4″ knobbly tires, 7-speed gearing, and mechanical disc brakes. These bikes perform well as sturdy beginner fat bikes and are priced similarly.
---
Mongoose Kids' Mountain Bikes
Mongoose has an extensive range of kids' mountain bikes in various sizes. They do offer balance bikes and other 12 to 14″ bikes, but the actual kids' MTBs use 20, 24, or 26″ wheels.
20″ Mongoose Mountain Bike
Mongoose currently has three 20″ kids' mountain bikes. These are designed to fit children 4′ to 5′ tall and roughly 7 to 9 years old.
All three models listed below have simple 7-speed drivetrains and wide tires, making them ideal for kids progressing from a standard 16″ or 18″ bike. In addition, these bikes are available in 24″ versions.
---
24-inch Mongoose Mountain Bikes
Mongoose currently has seven 24″ MTBs available, fitting children between 4'8″ and 5'6″ and roughly 9 to 12 years old.
The selection reflects the adult range, including full suspension, hardtail, and fat bike options. Each model is cheap and would make a great introductory bike for children who want to try mountain biking for the first time.
Who Should Buy a Mongoose Mountain Bike
---
Mongoose mountain bikes are some of the cheapest models on the market and should be used accordingly. Suppose you're a beginner or a casual mountain biker with a limited budget. In that case, a Mongoose MTB offers an affordable way to experience light trails and learn important mountain biking skills while doubling as a comfortable urban commuter.
All the componentry on these bikes is entry-level, meaning it's best for light use because it can't handle extreme trail demands and wears faster. However, the solid aluminum and steel frames will last a long time and are worth upgrading.
Mongoose mountain bikes are all relatively low travel, even the full-suspension models, so they perform best on light trails, gravel paths, and pavement. Intermediate or advanced mountain bikers will feel under-biked when riding rougher trails.
FAQs
---
Is Mongoose a good bike brand?
Yes, Mongoose is a good bike brand. It offers some of the cheapest mountain bikes on the market and allows those with limited budgets to start riding and experiencing light trails. Mountain biking is expensive, and Mongoose mountain bikes make it more accessible.
What is the most expensive Mongoose bike?
The most expensive Mongoose bike currently on the market is the Salvo Comp 29 full-suspension MTB. This bike costs around $2,000, almost double that of most other bikes on their lineup. The cheapest Mongoose mountain bike for adults costs around $500.
Are Mongoose mountain bikes good?
Yes, Mongoose mountain bikes are good for the price. Their bikes are not meant to compete with more expensive models but, instead, offer a cheap solution to riders who would like to experience light trail riding on a limited budget.
How much are Mongoose mountain bikes?
Mongoose mountain bikes are around $500 for the most basic adults hardtail and up to $2,000 for the brand's top model. The kids' MTBs cost between $200 and $900. Mongoose has an extensive selection of bikes, and you can frequently find them on sale.
What's the best Mongoose mountain bike?
The best Mongoose mountain bike is the Salvo Comp full-suspension MTB. This model has quality components such as an SRAM SX Eagle 12-speed drivetrain, Shimano hydraulic disc brakes, Kenda tires, and WTB rims. This bike is capable of handling XC trail riding.
Is a Mongoose bike good for mountain biking?
Yes, a Mongoose bike is good for mountain biking, so long as it involves light trails that aren't too technical or rough. The most amount of travel their bikes have is 100mm, which limits you to riding on smoother XC-style trails. Mongoose MTBs won't handle the demands of enduro/all-mountain trails.
How much does a 29-inch Mongoose mountain bike weigh?
A 29-inch Mongoose mountain bike weighs between 35 and 45lbs, depending on whether it is a full suspension or hardtail. For example, the Salvo full-sus MTB weighs 45lbs, and the Impasse hardtail weighs 35lbs. Mongoose bikes weigh more than average as they are cheaper.
Our Verdict: Should You Buy a Mongoose Mountain Bike?
---
Mongoose MTBs are worthy of consideration for those interested in mountain biking but limited by a tight budget. In addition, their broad selection of entry-level mountain bikes is varied enough that most riders will find something suitable.
If you plan on riding off-road on trails with jumps, big drops, and aggressive rocky terrain, we recommend saving up to buy a mountain bike with more travel and durable components.
Overall, we think Mongoose mountain bikes offer good value for money. Despite their limited capabilities, these bikes can be the perfect way for beginners to experience the mountain for the first time and practice technique before upgrading to a more capable MTB. Alternatively, the bikes in this article could act as cheap urban commuters or for recreational riding.