Best Handlebar Tape | 10 Bar Tapes for Comfort, Grip & Performance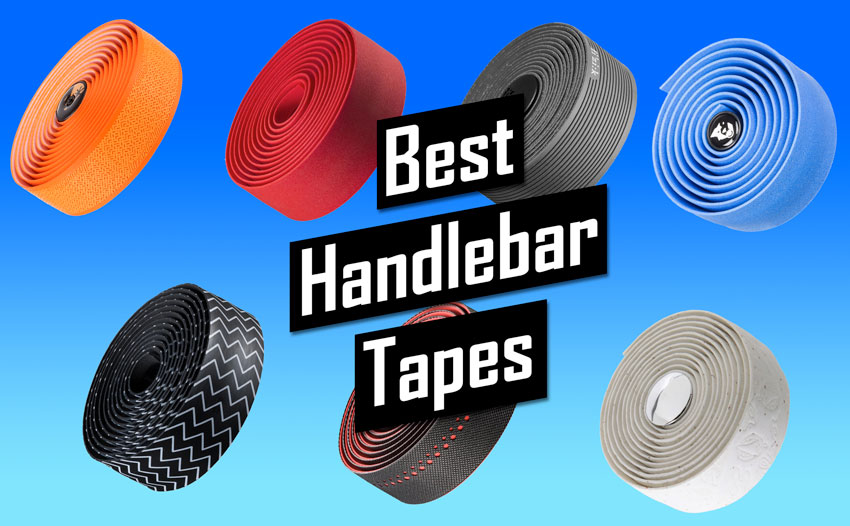 Bike handlebar tape is used on road bikes to add grip and comfort to otherwise hard and slippery metal drop bars. Without tape, it would be difficult to maintain a good grip in wet or sweaty conditions, and the bars would get very uncomfortable after only a short distance.
Down below, we'll explain the ins and outs of handlebar tapes, help you choose the best model for your needs, and recommend our favorite 10 tapes you can buy in 2023.
---
What Is the Best Bar Tape for Me?
To get the best performance, you need to choose handlebar tape that suits your riding style. Some factors to consider include thickness, material, and grip.
Road Biking
For average daily road biking, you can use the standard bike bar tape that comes with your bike but if you want something a bit lighter and more comfortable, it never hurts to upgrade. Most good road bike handlebar tapes are typically made from plastic, aluminum or fabric with a polyurethane coating.
Aim for something thin and tacky, with enough padding to stay comfortable for a few hours.
Gravel Riding
Gravel bikes are relatively new to the cycling scene but have already exploded in popularity. Their versatility makes them attractive to cyclists who like the speed of road bikes and the off-road nature of mountain bikes. However, this means they also require tougher, more absorbent bar tape than traditional road bikes.
Cork or plastic tape with a gel layer for cushioning and a polyurethane coating is a popular choice. Go up to 5mm in thickness to get the best comfort and vibration absorption.
Road Racing
For competitive road racing, you may want to upgrade your bar tape to something more professional, such as carbon or synthetic microfiber, which is lightweight and long-lasting. The thinner the tape, the better the responsiveness, which is important for decent handling at high speed.
Endurance Riding
For bike touring and bikepacking, you may need specific tape designed to endure the rigors of daily, long-distance riding. This is usually made from leather or a similarly tough fabric with a waterproof polyurethane coating.
Many cycle tourists customize their handlebars by adding extra comforting layers underneath and securing them with several layers of tape for minimal maintenance.
---
10 Best Handlebar Tapes
---
Bontrager Gel Cork Bike Handlebar Tape
Cork has long been a favorite of road cyclists the world over, and this new upgrade with added gel padding makes it ideal for gravel cyclists. The non-adhesive tape includes a small gel strip down the center and is extra stretchy, making it easier to install.
It comes in various solid or camo colors and at only 2.5 ounces and 2.7mm thick, is light enough for competitive and recreational cyclists alike. It's not the toughest wearing tape in the world but for the price, it's decent quality and includes finishing tape and bar end plugs.
---
Lizard Skins DSP Bar Tape 3.2 mm
The extra-thick padding in this 3.2mm Lizard Skin bike handlebar tape is great for gravel riding or off-road racing events like cyclocross. It's a bit heavy for road racing, but features excellent vibration absorption characteristics and ensures many hours of comfortable cycling in rough conditions.
Available in a variety of bright colors, the durable material is very tacky, providing excellent grip with a smooth and easy-to-clean surface. Admittedly, it's a fair bit pricier than most other bar tapes, but it certainly delivers the goods and you won't need to replace it any time soon.
---
Fi'zi:k Vento Microtex Tacky Bike Handlebar Tape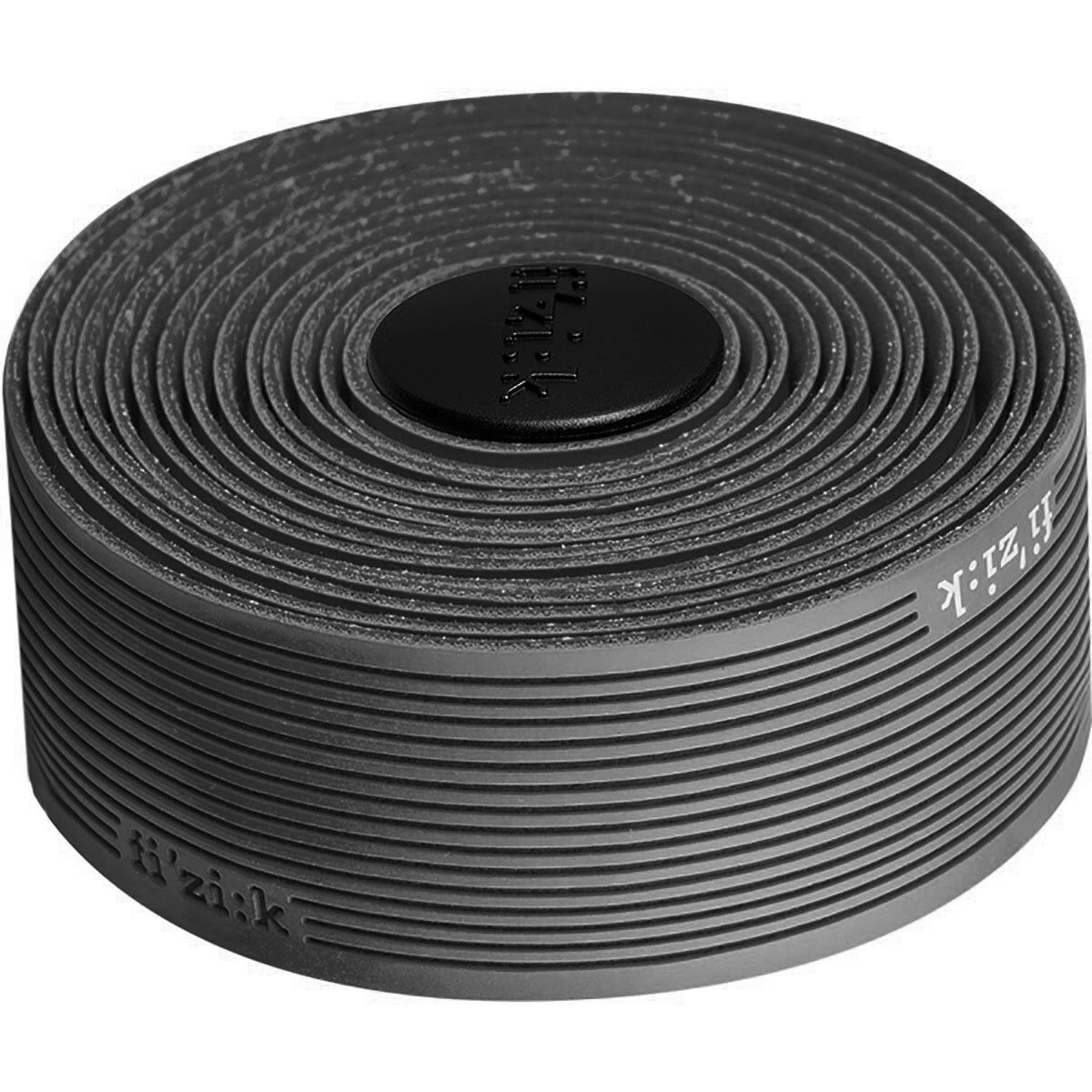 Vento Microtex Tacky from Fi'zi:k is one of the most popular road racing bar tapes available, due to its powerful grip and super thin, lightweight design. Competitive riders from around the world swear by Vento Microtex for the unbeatable handling and control that it provides, no matter the weather conditions.
However, this is a pure racing tape with no shock absorption, so gravel and endurance cyclists will find it quite hard on the hands. It also lacks durability and is difficult to install as the material is quite delicate and stiff, so be prepared to take some time wrapping it on.
---
Supacaz Super Sticky Kush
Super Sticky Kush handlebar wrap from Supacaz is a very popular, lightweight and tacky tape that receives consistently good reviews online. With average thickness, good sweat absorption and mild cushioning, it's the ideal tape for gravel or recreational road cycling.
The high quality, durable material is very tacky and comparable to more expensive tapes, delivering excellent value for money. Some cyclists might find it difficult to wrap because of the lack of stretch, but this also helps to get it nice and tight on the bars. A great all-round option if you want to upgrade your bike handlebar tape.
---
Salsa Gel Cork Bar Tape
For many cyclists, cork is king when it comes to bar tape, but some modern tapes are pushing aside tradition with fancy gel inners. Salsa meets us in the middle with this combination bar tape that provides the reliable feel of cork with the added comfort of a gel layer.
Cycle tourists and endurance riders will love the 3mm thick soft hand feel and sweat absorption that allows for long days in the saddle. It comes in a wide range of colors and includes a convenient adhesive backing, making it easier to install and less likely to become dislodged with heavy use.
---
Bontrager Gel Cork Graphic Bike Handlebar Tape
This gel cork combo tape from Bontrager comes in a black-only, no-nonsense Chevron design that defines its intentions as an off-road race tape. Unlike some bar strips with added gel, this tape is manufactured from a cork and gel infusion that provides both grip and comfort in one durable material.
At 3mm, this tape is certainly on the thick side, so road racers will probably want something a bit thinner and more responsive. Gravel riders, however, will appreciate the extra padding when smashing along dirt tracks at speed. This tape doesn't come with an adhesive backing but Bontrager has included bar end plugs and finishing strips to secure the tape.
---
PNW Components Coast Tape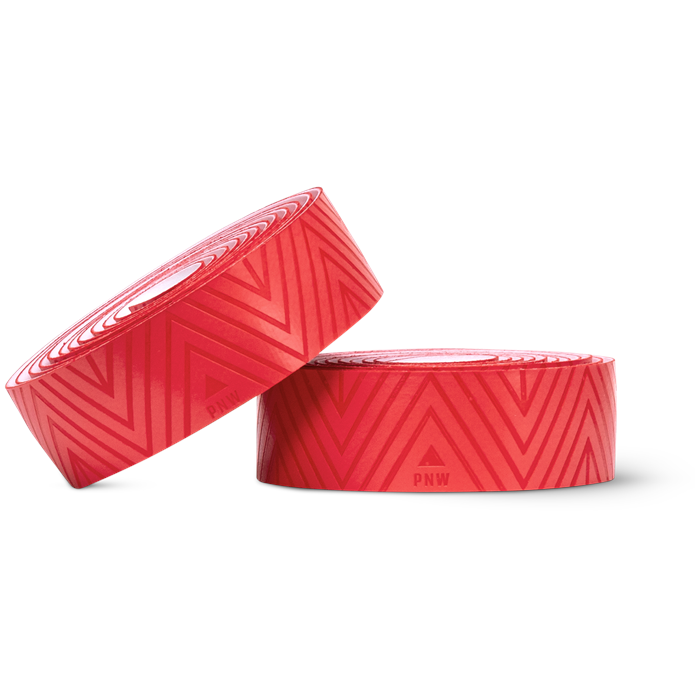 Gravel and endurance road cyclists can spend up to 16 hours on the bike in one sitting, so there's no limit to how comfortable their handlebars need to be. This thick and shock-absorbent PNW offering is perfect for endless hours of comfort.
The material is tacky for a firm grip in any conditions. It also comes with bar-end plugs included.

---
Fizik Performance Bicycle Bar Tape
This extremely thin 2mm version of this Fizik bar tape is made from Microtex fiber to allow for ultra-sharp handling and excellent grip. It makes a great companion to racing cyclists that appreciate a lightweight, tight and responsive bar tape with a traditional appearance and leather-like texture.
Available in a 'soft', 'tacky', or 'classic' version with variable thickness from 2-3mm, riders can choose the texture that best suits their riding style. Although Fizik Performance tape is best suited to racing, it's also available in Solocush or Bondcush styles for riders who want a bit more padding. This makes it a potential option for gravel or endurance riders too.
---
Pro Race Control
This black bar tape from Pro not only looks fancy, but it also delivers the goods! Made with a high-end and lightweight synthetic leather tape, it feels just as good as it looks.
The black oil-slick design is an eye-catching accompaniment to a steel-frame track bike or shiny aluminum road bike, and it's also perfect for serious racers.
The Pro Race Control bar tape is for that cyclist who likes to be sleek but also demands a high-quality ride.

---
Bontrager Grippytack Handlebar Tape
This ultra-thin but super-grippy bike handlebar tape is perfect for cyclists who prefer no gloves, as your hands remain stuck to the handlebars in all weather conditions. It's also tough and durable, providing lasting comfort over long distances with minimal sweat. This makes it a great all-rounder tape, with an appeal to both endurance and racing cyclists.
Despite the incredibly thin design, the microfiber material provides decent shock absorption and feels surprisingly soft to the touch. Although it comes with an adhesive backing for easier installation, the flat shape and single-sided perforations make it a bit of a job to get on with no wrinkles
---
Handlebar Tape Buyer's Guide — How to Choose the Best Bar Tape
Handlebar tape may not seem like a major concern but it makes a big difference to your cycling, especially since you spend more time touching your handlebars than any other part of your bike. Read the following tips to ensure you choose the best bar tape for your bike.
Bike Handlebar Tape Materials
Handlebar tape comes in a variety of materials, including fabric, cork, leather, carbon, or synthetics. The style of riding that you do combined with personal preference will determine what's the best bar tape for your bike.
If you want a durable and weatherproof option, go for synthetic or leather bar tape. If you want maximum cushioning, cork or synthetic bar tape with thick padding is best. Finally, if you're a road racer, we recommend leather, thin synthetic, or carbon bar tape for maximum tackiness and road feedback.
Bike Handlebar Tape Thickness
Bar tape ranges in thickness from extremely thin (1mm) to very thick (5mm), but most standard bar tapes are between 2 to 2.5mm thick. Thicker bar tape provides better vibration dampening but is heavier and can reduce handling and responsiveness. For these reasons, weight-sensitive road racers usually go for thin tape, while endurance or gravel riders will likely want something a bit thicker.
Tackiness
If you're likely to be cycling in conditions in which your hands might shake or slip off the handlebars, you'll want some tape with extra tackiness for grip. Most road cyclists wear gloves for grip, but gravel cyclists might need something a bit more tacky.
If you prefer to ride without cycling gloves, you'll definitely want handlebar tape that is extra tacky.
Finishing Tape
Bar tape manufacturers often provide small strips of finishing tape to seal off your wrap, but this alone may not hold the tape in place. It's best practice to use electrical tape to completely lock in the wrap before using the finishing tape to give it a clean appearance.
Extra Padding
If you prefer to use a thinner lightweight tape but still want a bit of padding for those long days, there are gel pads available that you can wrap under the bar tape. These come in various shapes and sizes, usually long thin strips that you wrap on the top and in the drop section of the bars where your hands rest.
---
People Also Ask
How to put handlebar tape on a road bike?
It's best to wrap handlebar tape from the plug section at the bottom of the drops inward toward the center where the stem attaches. You should pull back the brake lever covers and carefully wrap the tape around the clips and then finish it off near the stem with bar tape.
What kind of tape do you use for handlebars?
Any kind of tape will do, but it's best to use specific bicycle handlebar tape made from tough materials with good grip, soft padding and sweat absorption.
What is the most comfortable handlebar tape?
Cork and leather have long been considered the most comfortable materials to use on bicycle handlebar tapes. However, high-quality modern fabrics and gels are becoming increasingly popular, so it really comes down to personal taste
Why do people tape handlebars?
Your handlebars are the steering wheel of your bicycle, so it's critical that you maintain a good grip on them at all times. Without handlebar tape, your hands would slip off the bars whenever they got wet or sweaty, and it would be uncomfortable to cycle long distances.
How thick should handlebar tape be?
The thickness of your handlebar tape is usually determined by your riding style. Long-distance cycle tourists tend to go for thicker, more comfortable tape, while racing cyclists will want something thin, lightweight and highly responsive.
Does electrical tape work for handlebars?
Electrical tape is great for finishing off your wraps and sealing them tightly to the handlebars, but it's not ideal as bar tape in itself. The smooth surface lacks grip and it will wear down and tear fairly quickly with heavy use.
How often should you replace handlebar tape?
How often you replace your handlebar tape depends on how often you use your bike, but for most daily cyclists you'll probably want to replace your tape every 6-8 months. Badly worn handlebar tape can become a dangerous hazard in wet or humid conditions, so don't put off this important bit of maintenance.
Can handlebar tape be reused?
If your handlebar tape is still relatively new and doesn't have an adhesive backing, you can probably put it on a new bike, but don't go digging somebody's old tape out of the trash just to save $20. For safety reasons, it's important to always ride with well-attached handlebar tape that's in good condition.