Best Bikes with a Basket for Commutes and Grocery Hauls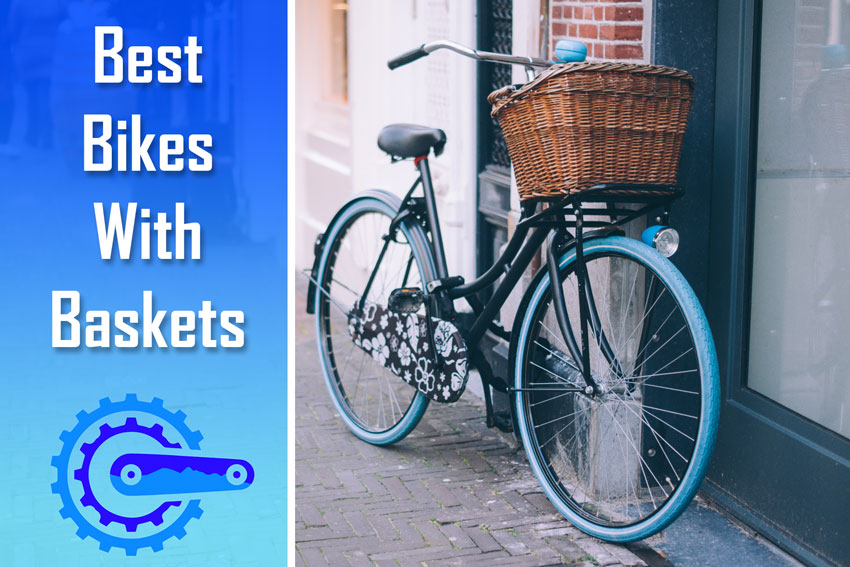 For many people around the world, bicycles are still a fundamental part of day-to-day life as a mode of transport and a means of carrying cargo over long distances.
Using a bike with a basket, you can easily carry groceries several miles or commute with anything you require for work.
Bikes with baskets are not very common anymore, but we've found six excellent models to consider if you're in the market for one.
Why Should You Consider a Bike with a Basket?
There are many potential uses for a bike with a basket. Let's face it, nobody enjoys cycling with a backpack on, as you can quickly end up with a wet back if it's a warm day. That's where bike baskets come in handy.
Cycling is one of the healthiest and most environmentally friendly ways to travel, but it comes with some ...
Bikes with baskets on the front or back can fit a couple of grocery bags or your gear for work. Additionally, you can use them to ride with a small dog.
Finally, a certain vintage aesthetic appeal is associated with bike baskets. Many of these bikes are in a classic relaxed cruiser design, making them perfect for comfortable commuting, leisurely rides, and cargo transportation.
---
Best Bikes with a Basket
---
Schwinn Destiny 26″ Step-Through
The Destiny is a stylish vintage cruiser bike by one of the oldest brands in cycling. Schwinn designed this to be highly functional and comfortable to ride.
Enjoy cruising on flat beach cycle paths with a single-speed drivetrain and rear coaster brake. Although they aren't high performance, these components significantly reduce the maintenance requirements of the Destiny.
The highlight of this bike is its comfortable design, coming from the balloon tires, a padded saddle with spring suspension, mustache handlebars, and an ergonomic upright position.
The Destiny is also fully-equipped, benefitting from a full rear rack, a stylish wooden basket, alloy fenders, and a chain guard, perfect for relaxed commutes or running errands.
Finally, the fact this is a step-through bike rounds out a complete build, making this one of the best value bikes with baskets for women.
---
Specialized Turbo Como SL 4.0
The Turbo Como SL 4.0 by the premium brand Specialized is an urban cruiser bike designed for pure convenience and comfort.
The SL model is designed with low weight as a priority. It comes with a basket, a convenient step-through frame, fenders, lights, and a kickstand.
The basket is the perfect size for a big bag of groceries or your equipment for work. With powerful Specialized custom electronics, including a Specialized SL 1.1 35Nm motor and 320Wh battery, you can easily pull a fully loaded basket over steep hills.
The Nimbus 2 Sport Reflect 2.3″ tires are wide and grippy enough to tackle gravel paths and light forest trails, especially when paired with reliable TRP Flow Set Control hydraulic disc brakes.
These plush tires, a Body Geometry Comfort Gel saddle, and an upright ride position ensure you'll be comfortable even on long-distance commutes or full days running errands.
Finally, Shimano's Nexus 5-speed internal hub provides plenty of a decent gearing range and unbeatable durability.
---
Huffy Airway Cruiser

The Huffy Airway women's cruiser bike with a basket. This cheap bike is perfect for leisurely city and beach rides or running errands, thanks to the fully-equipped setup.
The Airway has a front basket that's big enough to hold a big purse, a bag of groceries, or some loose items as cargo. Additionally, you have a rear rack that can hold pannier bags to boost your carrying capacity.
This bike is very comfortable to ride, even while loaded. It has long swept-back cruiser handlebars, plush tires, a sprung saddle, and spongy grips.
Other notable features of the Airway cruiser bike with a basket include the unique drink holder on the handlebars and the v-brakes, which are slightly outdated.
---
State Bicycle Co – The Azure Deluxe City Bike
State Bicycle Co. is known for making affordable and reliable bicycles with many customization options and stylish designs.
Upon purchasing the Azure Deluxe cruiser-style bike, you can choose between a front basket or a rear rack for carrying your cargo loads.
The upright ride position, cruiser handlebars, 35mm tires, and vibration-reducing steel frame contribute to a comfortable ride feel. In addition, the leatherette saddle takes the pain out of longer distances once it takes the shape of your body.
Other valuable features include the chain guard that prevents nasty grease stains and the full fenders, which stop any road splash biking in the rain. Unfortunately, this bike only has a coaster brake, which isn't ideal for riding with heavy cargo.
Finally, you can choose the Azure Deluxe in either single-speed or 3-speed Shimano Nexus internal hub, depending on your requirements and the terrain where you live.
---
Buzz Cerana
The Buzz Cerana is an affordable electric bike with a basket, perfect for long-distance commutes, days spent running errands, or leisurely rides.
This e-bike by Buzz has a premium mid-drive motor despite its low price. This motor provides buttery smooth power transfer of up to 350W and lasts for up to 40 miles per charge thanks to the lockable, frame-integrated battery. In addition, you have a 7-speed Shimano Tourney drivetrain with thumb shifting to support the battery.
The Cerana has an LCD control panel showing your ride metrics, battery, and assistance level. You can also operate the motor and LCD screen using the quick assist panel on the other side of the handlebars.
This electric cruiser bike also comes fully equipped for any urban job with a front basket, full fenders, a kickstand, and integrated LED lights. You can max out your payload and tackle hills with cargo thanks to the power of the motor assistance.
Finally, ride in confidence in varied conditions with the inclusion of disc brakes and 3″ plus-sized tires. These tires, a padded saddle with spring suspension, and the step-through frame make the Cerana a relaxing city companion.
---
Ecotric Peacedove Electric Bike for Adults
Ecotric's Peacedove 26″ electric girls' bike with a basket is another great option for those who want the help of a motor to do the hard work.
This cheap comfort bike has a 350W rear hub motor that supports you and your cargo on light to moderate hills using four pedal assistance modes. The 360Wh battery will last between 21 and 40 miles depending on external variables, and the 7-speed Shimano drivetrain can help you get the most from your battery.
Ecotric chose 1.95″ puncture-resistant balloon tires for the Peacedove. These soak up the road vibrations to ensure a comfortable ride. Additionally, they complement the comfy padded saddle with spring suspension, cruiser handlebars, and a step-through frame.
The front basket on this bike allows you to conveniently carry a purse or groceries, while the rear rack can be used for large cargo loads when combined with pannier bags. Finally, you can take confidence in the performance of a rear mechanical disc brake and front v-brake for some decent stopping power.