Biking in the Rain — Top Tips to Enjoy Wet Weather Rides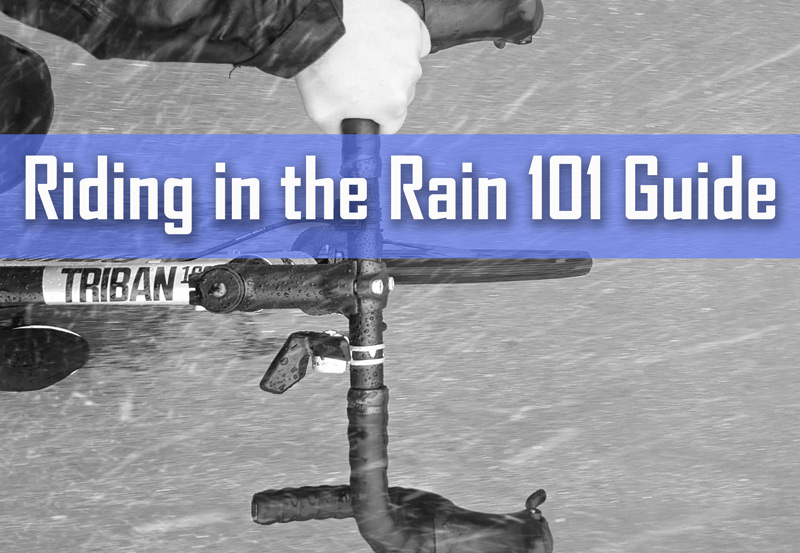 Biking in the rain is something all cyclists must face. Many of us live in wet climates or use our bikes as transport, so it's vital to be comfortable riding in the rain.
For road cyclists especially, riding in the rain is more dangerous, as the narrow road tires don't provide much traction. In addition, visibility is poorer for you and other road users, and you can become freezing very quickly when you're wet. Thankfully, there are ways to mitigate each of these risks.
Even if you don't look forward to rain riding, there are a few things you can do to make it bearable and safe. This article covers nine tips you can use to prepare for your next bike ride in the rain, relating to technique, awareness, clothing, bike modifications, and hydration.
Technique and Rider Awareness
---
1. Cornering
Cornering in wet weather is different from dry conditions as you have much less grip. On dry roads, you can take corners at high speeds, leaning your weight heavily to one side without losing traction; in wet weather, it's better to stay as upright as possible when cornering.
To do so, slow down more than usual, take a wider line, and keep the bike upright through the corner. By doing this, you will be sure to maintain traction even on your narrow road tires.
2. Braking
One of the most important aspects of cycling in the rain is understanding how to brake effectively. First of all, if you live in a wet climate and must ride regularly on wet roads or trails, consider switching to disc brakes as they perform the best in wet conditions.
First, you must be extra vigilant when riding on wet roads. Try to anticipate anything in the road ahead, as stopping distances are longer. Second, use your brakes softly because skidding is much easier. For these reasons, try to begin braking much earlier.
Although it sounds daunting, wet weather braking isn't tricky once you have appropriate tires and are familiar with the technique.
3. Ride Slower and Defensively
If you ride a couple of miles per hour slower than you usually would, you will be much better prepared to react to changes ahead by having extra time to brake or corner safely.
Likewise, be very defensive when biking in rain. Assume that drivers cannot see you, take your time at junctions, and give plenty of space to other road users.
4. Watch Out for Road Surfaces
There are various things to look out for on the road or trail when riding a bike in rain. Each of the following obstacles can cause you to lose traction in an otherwise normal area.
Road markings
Drain covers
Oil or grease
Leaves
Puddles
Additionally, try to avoid riding just after it has rained for the first time in a while. Right after a downpour is when the roads are most dangerous because oil, grease, and debris are drawn into the middle of the road.
Finally, it's helpful to know the road surfaces in your local area. Cities and states use different materials and finishes on their roads, each varying in the level of grip. If you live in a wet climate, the surfaces are likely grippier when wet.
Bike Modifications and Gear
---
5. Clothing
The clothing and accessories you choose for a bike ride in the rain can be the difference between a mildly unpleasant spin or a miserable slog. Here are a few items we recommend to have in your wardrobe for a rainy day.
Rain cape – a rain cape can help keep your upper body dry and warm in light showers, making for a much more comfortable ride. The benefit of these capes is that you can bring them along on any ride with the slightest chance of rain forecasted, as they are super light and fit in your pocket.
Waterproof jackets – these are essential when you're planning on riding in the rain, be it for a commute or training. Waterproof jackets do a better job at keeping you dry than a lightweight rain cape.
Cap – a thermal cap underneath your helmet can keep you warm in wet weather, as much of your heat dissipates through your head.
For many, the weather during each of the four seasons vary greatly depending on what climate you're living in, so ...
Visor – otherwise, in warmer weather, a light cap with an extended lip or a cycling visor can help keep the rain out of your eyes.
Full gloves – if it's cold and rainy, a pair of full-finger bike gloves is essential to keep your hands warm and fingers limber. Cold hands make it difficult to operate the brakes and gears effectively.
Layers – the last thing to do is to use several layers. Base layers, gilets, jerseys, and jackets, do your best to keep warm and dry when riding in the rain.
Finally, if you're a commuter, you can also try waterproof over-pants to keep your legs dry until you get to the office or back home.
6. Bike Modifications
You can make several changes to your bike in anticipation of the rainy season. These modifications will help keep you clean, safe, and riding smoothly.
Fenders – fenders are great for keeping road spray off your clothes when you bike in rain. There's plenty of nasty dirt and debris on the road that can stain your kit, so don't be afraid to add them to your bike during the wettest months of the year. But, of course, if you're riding a commuter bike, it's better to use them all year round.
Tire change – changing to all-season tires or a wider tire than your standard set can boost your traction in wet weather riding. For example, you could switch your 25mm road tires to 28mm or even 30mm if you have the clearance (the extra width also boosts comfort). Otherwise, all-season tires help provide grip in these conditions, and you don't need to switch between sets.
Wet lube – standard chain lube isn't designed to handle wet and muddy road/trail conditions. Large amounts of dirt and debris will get lodged in your chain and drivetrain, causing them to wear faster as well as lose efficiency. Wet lube repels much of the dirt that would otherwise stick to the chain, ideal for the rainy months of the year.
Credits: Jahangeer BM Cycling is an environmentally friendly and enjoyable activity that boosts your health and ...
Lights – Bright bike lights can mean the difference between whether you are seen or not. Rain obscures the vision of all road users, so give drivers and other cyclists the best chance of seeing you by using your lights.
Other Tips
---
7. Hydration
A pro-tip for staying warm on wet weather training rides is to prepare some hot tea and put it in one of your bottles before your rides. Sipping a hot beverage will help fight off the cold if you're wet.
No posts for this criteria.
Additionally, don't forget to stay hydrated on wet weather training rides. It's easy to forget that you're losing fluid when you are soaked from head to toe, but you'll stay fresher for longer when adequately hydrated.
8. Bike Cleaning
Bicycles are magnets for the muck and debris that comes off the road. For this reason, it's helpful to give your bike a quick wash after each bike ride in the rain. Doing this can help keep your components from getting clogged up with dirt and improve the longevity of your bike overall.
9. Quick Chain Care
As mentioned before, the drivetrain is the number one priority for post-ride cleaning, and you can clean your chain in a couple of minutes. Do this after a rainy ride to help keep your drivetrain in smooth working order.
Spray some degreaser onto the chain and wipe it thoroughly with an old rag. Once clean, put a few drops of wet lube on and run it through the drivetrain to prepare for your next rainy ride!
Shop Wet Weather Cycling Apparel
Shop on Jenson USA Shop on REI