11 Best Beach Cruiser Electric Bikes of 2023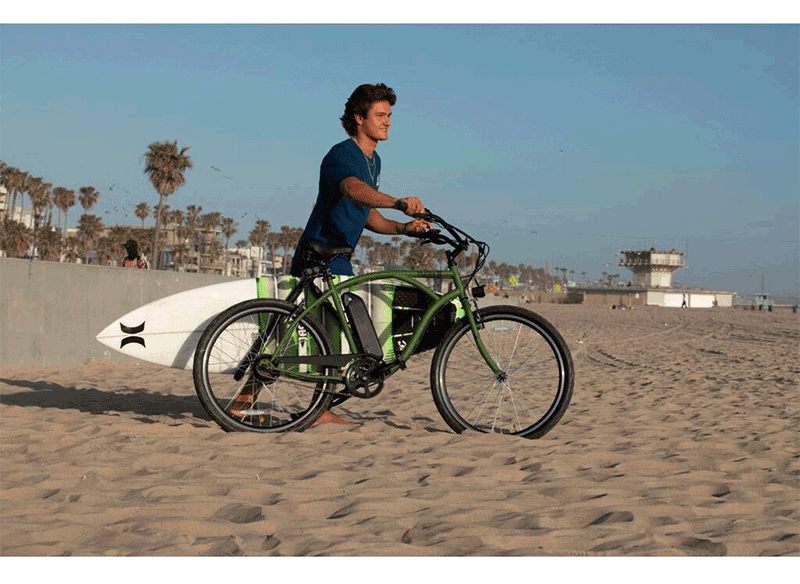 Electric bikes have exploded in popularity in recent years due to their versatility, affordability, maximum comfort, and sheer fun factor. Not only are they better for the environment than cars, but they also promote fit, healthy, and explorational lifestyles.
Luckily there's quite a good range of comfortable cruiser e-bikes, and the prices are relatively low compared to other electric bikes around. We didn't include the cheapest options, instead chose the ones that have shown great ratings and feedback.
If you're in the market for a powerful and affordable electric beach bicycle, then this list will hopefully help you make your decision.
Granted, some of these models are more suited to beach cruising than rapid, urban commuting, but all of these bikes make for a great option. Whilst some of them may oscillate in price, they're all fantastic e-bikes with their unique strengths.
If you fancy ditching the car for a snazzy new motorized beach cruiser or a powerful electric hybrid bike, then any one of the bikes featured here will get you on your way to a healthier, more efficient life.
---
Best electric cruiser bikes of 2023
---
1

. Ride1UP Cafe Cruiser
Top-Value Electric Beach Cruiser
Price: $1,595
750W hub motor – 60 Nm torque
48V 15Ah, 720 Wh battery
Range: 30-50 miles
Class 3 eBike
Tires – 26″ x 3″
The only thing you'll have to worry about when you're riding Ride1UP's Cafe Cruiser is which speed to cruise at.
This electric beach cruiser bike features a lightweight alloy frame that is built with your comfort and safety in mind. The powerful 750W geared hub motor will have you smoothly cruising the streets at speeds of up to 28 mph.
The Cafe Cruiser is part comfort and part performance. Its lightweight frame and the rapid engine will get you to your destination quickly whilst the plush, padded seat and swept-back handlebars will get you there in style.
Safety is another important part of the Cafe Cruiser. Complete with hydraulic brakes and powerful front and rear lights, riders can feel assured that the bike has got their back.
If Ride1Up had just one improvement to make, it would be the two-tone LCD display. While it's intuitive and easy to read, it would be great to see a color LCD display on future models.
In Conclusion – Ride1Up is on to a true winner with its Cafe Cruiser. For $1,595, this bike has all the features of a top-quality electric beach cruiser bicycle.
---
2

. Schwinn Mendocino
Electric hybrid cruiser bike
Price: Check on Amazon
There's an old-school charm about Schwinn's Mendocino electric bicycle. The stylish frame and retro-looking handlebars certainly give this bike a timeless look.
Equipped with pre-installed fenders and a rear bike rack, this 250w bike is capable of reaching a 20mph top speed. There are also five different pedal assist settings and a 6-speed Shimano twist shifter. Whilst it doesn't have an LCD screen, it does have LEDs on its front displaying battery life pedal assist settings.
It's no powerhouse, but it's a smooth, comfortable ride fitted with tires that are suitable for a variety of terrains. The range is also respectable for this price range – 45 miles maximum, but for a retail price of just $1,599, you get plenty of bang for your buck.
The Cons – The lack of suspension may be a turnoff for some. Whilst this may be part and parcel of the Mendocino very affordable price, it's still disappointing to note.
In Conclusion – Considering how affordable this Schwinn electric cruiser bike is, it possesses a surprising amount of cool features. The rear bike rack is a great touch, and the range of pedal-assist settings is a treat. It certainly feels enjoyable to ride and the tires will handle pretty much every terrain.
Range: 20-45mi
250W hub-drive motor
313Wh battery
6-Speed Shimano Tourney derailleur
Weight capacity: 250lb
Mechanical disc brakes
Fits Riders
26″ frame – 5'4″ – 6'2″
---
3

. Rad Power Bikes RadCity 5 Plus
City cruiser with a front suspension. Score: 4.7 / 5 out of 1,400 ratings!
Price: $1,999
Rad Power Bikes
The RadCity 5 Plus by Rad Power Bikes is a true powerhouse. Strong, sturdy, hefty, and reliable – it's ideal for those long commutes and meandering, explorational journeys.
The RadCity 5's puncture-resistant tires work just as well traversing through smooth, flat roads as they do on treacherous uphill ascents. The 750W motor provides the power and you'll expect to reach speeds of around 28mph on this bike.
If you're a taller, heavier rider, then you'll feel right at home on the RadCity 5 Plus. Larger folk really are the biggest benefactors of this bike as it can support riders who are 6'5″ tall and 275lbs.
The padded saddle and swept-back handlebars will keep you comfortable as you take advantage of its 50-mile max range.
The backlit LCD display is also top-quality, especially considering the RadCity 5 Plus' status as a more affordable electric bike. Complete with a speedometer, a battery indicator, and a wattmeter, this electric bike aims to cover all your bases.
The Cons – Not everybody will appreciate the bulk of the RadCity 5 Plus. Its 65lb frame can be formidable for smaller, more lightweight riders, and its sheer bulk can make carrying the bike an exhausting task.
In Conclusion – The RadCity 5 is a stallion of a commuting bike. For the price of $1,999, it is one of the best value urban eBikes on the market.
6061 aluminum frame
750W rear hub motor
672Wh battery
Range: 28-50mi
Max weight capacity: 275lbs
7-Speed Shimano Altus derailleur
Hydraulic disc brakes
27.5×2″ puncture-resistant tires
Weight. 65lbs
---
4. Norco Scene VLT
Price: $3,599
Jenson USA
Here's a perfect example of what to expect from a traditional cruiser bike, a low-step frame, double-spring saddle, and swept-back handlebars.
Norco's Scene VLT is a solid electric beach cruiser as it maximizes comfort without sacrificing versatility. It has solid electronics, including Shimano's STEPS E6100 mid-drive and huge 504Wh battery. This combination is great for long rides or multiple days of riding.
The drivetrain is a Shimano Alivio 9-speed and combines with Tektro hydraulic disc brakes. Finally, you have shock-absorbent 2.2″ Schwalbe Big Apple tires that keep you rolling without issue.
Aluminum frame & fork
27.5×2.2″ tires
7-speed
250W rear hub motor
504Wh
Fits Riders
5'1″ – 5'10"
---
5

. Electra Townie Go 8D EQ!

Best electric beach cruiser bike!
Price: $2,450
REI.com
Electra's beach cruiser electric bikes have one of the best values in terms of price-to-quality ratio.
Owned by Trek bicycles, Electra has put up a number of mid-and entry-level bikes at an affordable rate. The reason why they have managed to keep the prices low is the number of in-house components used. They produce a great variation of bikes for the whole family – from kids' to men's and women's bicycles. Electra Women's cruiser bikes are among the best-selling on REI.
Based on the Electra Cruiser 1 bike, the Townie Go! 8D EQ is a great choice for anyone who needs a bike for everyday commutes but prefers the ultimate comfort factor.
6061 T6 Aluminum frame, steel fork
250W Bosch Active Line mid-drive motor
Class 1 eBike: Pedal assistance up to 20mph
Battery: 400Wh Lithium-Ion
Weight: 50lbs
Range: 20-70mi
8-speed Shimano Acera derailleur
26×2.35″ tires
Tektro Mechanical disc brakes
Size Recommendations
M – 5'3″ – 6'3″
---
6

. Cannondale Treadwell Neo 2 EQ

Modern and fast cruiser electric bike
Price: $2,175
This electric beach cruiser may look innocuous, but it packs a lot of punch. Behind its fully-equipped setup lies a bike that is bound to be a head-turner.
Fitted with a 250W rear hub motor, riders can expect a 47-mile max range at speeds of 20mph. The 650b x 47mm tires also provide plenty of cushioning and comfort while cruising.
There's also a 250Wh Lithium-Ion battery. The 8-speed microSHIFT system gives riders tremendous versatility on roads, hills, beaches, and trails.
Larger riders may feel awkward riding this model as it is primarily built for people between 4'11"-6ft tall. So keep in mind that it can feel a little too small if you're of above-average height.
Cannondale Treadwell Neo 2 EQ appeals to the needs of its target market very well. Its small size may be a hangup for some, but it remains an impressive e-bike with a lot going for it. Retailing at the respectable price of $2,175, it makes for a great introduction to the world of electric bicycling.
250W rear hub motor
250Wh battery
650b x 47mm tires
8-Speed microSHIFT
Hydraulic disc brakes
---
7

. NAKTO Fat Tire Electric Bike

Best fat tire beach cruiser bike
This fat tire cruiser is ideal for smooth gliding across a range of differing terrains.
Whether you're cruising along a sandy beach or merely getting to the office, this electric bike has you covered. Its carbon steel frame is extremely sturdy and shock-resistant. Its 300lb max loading weight is a testament to its strength, as the bike itself only weighs 68lb.
A unique step-through frame helps riders keep a low center of gravity and is suitable for a variety of different body shapes and sizes.
This NAKTO cruiser comes equipped with a 300watt brushless motor that generates a top speed of 30mph. A 36V10Ah Lithium Battery gives this pedal-assist beach cruiser a range of around 30-40 miles with pedal assist.
Of course, the tires on this cruiser are certainly an area of discussion. These 26×4 wheels will help you get out of a variety of sticky situations and awkward terrains.
The Cons – There are a few areas of this e-bike that are very average – the pedals (which are a little generic) and the brakes (which are noisy and difficult to control at times). The cruiser also lacks good suspension and riders can often feel the impact of the terrain below on their backsides.
Aluminum frame
360Wh battery – 35V 10Ah Charge time: 4h
6-speed
---
8

. Gazelle Arroyo C8 HMB Elite
Urban comfort eBike
Price: $3,700
Mike's Bikes
This rapid, affordable cruiser is deceptively powerful. The Arroyo C8 has a 250W, 50Nm Bosch motor and a 500Wh battery located in the downtube, this battery is removable for charging. Riders can expect a 70-mile range out of this cruiser which is impressive considering its price.
The Arroyo has a 30mm headset-integrated suspension that boosts comfort by absorbing road vibrations and 1.75″ tires ensure plenty of grip and extra damping.
This fully-equipped urban comfort machine is a fantastic option for those brand new to the world of e-bikes. Not only is it a great mid-level option, but its decent speed and long-lasting battery are features that will appeal to even advanced riders.
250W Bosch motor
Range – 70mi
500Wh battery
Integrated kickstand, fenders, rack
---
9

. SixThreeZero EVRYjourney 500W
Best eBike cruiser under $2,000
Comfort and ease are the two cornerstones of the EVRYjourney 500W bike.
Its ergonomic design and swept-back handlebars are perfect for relaxed beach cruising and laid-back exploration. Built more for effortless riding than pure performance, this e-bike is ideal for the more casual market.
Powered by a 500watt rear hub motor, this eBike is a smooth ride under full motor power or pedal assistance. With a respectable range between 30-40 miles, the 26'' tires give riders tremendous coverage across a variety of terrains.
Expect top speeds of 15-20mph. The 62.4lb, 19'' frame includes both a rear rack mount and a rear fender mount. Its unique design keeps riders in a low position to the ground, providing a greater sense of control and engagement.
There's also a backlit LCD screen complete with a speedometer, power meter, and battery gauge.
The Cons – Those who are seeking pure performance with their e-bikes may find EVRYJourney's offering a little underwhelming. More suitable as a mellow electric beach cruiser than a high-speed transport tool, commuters may find this ebike cruiser a little on the slow side.
Users have noted slight quality control issues with the handlebar grips and rear fender installation too.
In Conclusion – For a low-moderately priced electric bike, EVRYJourney's 500w cruiser has a lot going for it. Perfect for those laid-back summer explorations, this e-bike will keep you comfortable and looking stylish for the duration of your journey.
250W hub motor
Max speeds: 15mph throttle assist / 24mph pedal-assist
26×2.1″ tires
250Wh battery
Fits Riders
5′ – 6'2″
---
10

. Ecotrcic Electric Cruiser

Best cruiser eBike below $800
Price: Check on Amazon
This budget-level electric cruiser bike is ideal for both new electric commuters and more casual street riders. A low retail price points out to an electric bike without many extras but the Ecotric Cruiser definitely delivers plenty.
Armed with a 350W geared hub motor and a 360Wh battery, the Ecoctric e-Cruiser has a 21-40 mile range and a top speed of 21mph on a charge time of seven hours average.
A pair of 26 x 1.95'' tires sit below a comfortable low-step frame. Complete with mixed brakes (front v-brake and rear disc brake) and bookending fenders, this 55lb electric cruiser has a lot going for, including a Shimano 7-Speed shifter.
The Cons – One slight drawback of the Ecotric Electric Cruiser is it doesn't have lights powered by the battery pack. Whilst this is by no means a dealbreaker, it does mean riders will have to purchase some for city riding.
In Conclusion – Despite a handful of minor annoyances, this bike is a sleek, stylish cruiser that is designed for smooth riding and user comfort. It achieves a great balance between comfort, versatility, and value and would be a great option for many new riders.
Motor: 350W hub motor
Battery:360Wh
Max load capacity: 198lbs
---
11

. Electra Cruiser Go!
Price: $1,550
REI
Electra's Cruiser Go! e-bike takes oceanside cruising to the next level. Equipped with 27.5 x 2.35″ comfortable balloon tires and a 250W motor, riders have plenty of punch to ride along at a top speed of 20mph.
Complete with a sleek cruiser frame with fully-integrated electronics, Electra values charm just as much as comfort. Comfort is, however, the cornerstone of this e-bike which you can see from the ergonomic saddle with shock-absorbing elastomers, relaxed ride position, and plush tires.
The Cruiser Go! has a one-size-fits frame and weighs 45lbs with the battery included. Expect a respectable 40-mile max range out of this bike. One notable feature that it boasts is the patented Flat Foot Technology which allows you to keep a foot on the ground while sitting.
---
Conclusion
The list of best electric beach cruiser bikes listed above is chosen according to the best feedback and ratings online. The electric beach cruiser industry is a seasonal trend where we'll be seeing an increasing trend of quality, selection, and more affordable price tags as time goes on. Do we recommend electric cruisers under $1,000? Probably not.
Best Electric Beach Cruiser Bikes
1. Norco Scene VLT
2. Electra Townie Go 8D EQ!
3. Firmstrong Urban Lady 26″ 350W
4. Ride1UP 700 Series
5. Rad Power Bikes RadCity 5 Plus
6. Schwinn – Medoncino
7. NAKTO Fat Tire Electric Bike
8. Gazelle Arroyo C8 HMB Elite
9. SixThreeZero EVRYjourney 500W
10. Ecotric E-Cruiser
11. Electra Cruiser Go!