Best Electric City Bikes
Electric city bikes are an excellent choice for many people because they are comfortable, versatile enough for many uses, and generally quite durable.
All good city e-bikes should allow you to carry cargo, ride in a relaxed, upright position, and enjoy a smooth ride. With the additional help of a motor and battery, you can easily tackle steep gradients, pull a fully loaded rack, and go for longer rides without hardly breaking a sweat.
In this article, we will cover what to look for in your next e-city bike, as well as nine of the best models available in 2023 for the price, quality, and user rating.
---
Best Electric City Bikes of 2023
1. CO-OP CYCLES – CTY e2.1
Best value mid-drive
2. RAD POWER BIKES – RadCity 5 Plus
Best rating & feedback eBike brand
3. AVENTON – Pace 500
Highest no. of ratings
4. GAZELLE – Ultimate T10
Premium components & range
5. RIDE1UP – Prodigy
Strong components – new release
6. VVOLT – Alpha
Cheapest mid-drive
7. CANNONDALE – Quick Neo SL 2
Great rating, lightweight
8. DIAMONDBACK – Union 1
Solid city touring bikes with powerful motors
9. PEDEGO – City Commuter
Powerful motor & large battery
10. PRIORITY BICYCLES – Priority Current
Clean & maintenance-free drivetrain
---
1. CO-OP CYCLES CTY e2.1
MSRP: $1,999
Co-op Cycles electric bikes have been around for only a year, but they have gathered positive feedback from those who want the best bang for their bike. The brand didn't start out making cheap e-bikes, instead, they went for mid-range e-bikes straight away.
The eCTY 2.1 is a cheaper version than the eCTY 2.2, an eBike with no shortcoming at this popular price range. Its got everything you'd want to aim for at this price range, and the feedback obviously speaks for itself. It is using the latest trends in both components and electrical parts.
250W mid-drive Shimano E5000, 40Nm torque
418Wh Shimano E8014 battery
75mm travel fork
9-speed Shimano Acera
Hydraulic disc brakes
27.5×1.95″
Weight: 51lbs
---
2. RAD POWER BIKES RadCity 5 Plus
MSRP: $1,799
The RadCity 5 Plus is indeed a rad city electric bike suitable for those who value comfort and convenience on top of everything that you need for a city commuter bike.
This bike has powerful, efficient electronics that give this bike a massive range of between 35 and 60 miles, more than pretty much all of the competition in this price range. These electronics include a powerful 750W rear hub motor and a 14Ah battery.
The choice between a step-thru or step-over model means this bike has a diverse appeal. In addition, cruiser geometry, comfortable touchpoints, and a 50mm travel urban suspension fork provide smooth riding on the roughest city roads and paths.
Standard city bike components like a rear rack, kickstand, LED lights, and fenders make the RadCity perfect for any urban ride. Finally, 2.0″ puncture-resistant tires and powerful 180mm rotor hydraulic brakes ensure comfort and control in all conditions.
Fits Riders
XR (Step-over) – 5'4″ to 6'5″
ST (Step-thru) – 4'8″ to 6'0″
---
3. AVENTON Pace 500
MSRP: $1,599
Aventon's Pace 500 city eBike is an excellent value choice evident from over 2,000 5/5 star reviews and recognition from Forbes, Bicycling.com, and USA Today.
This e-bike has a punchy 500W motor and 11.6Ah battery which delivers excellent ranges of 25 to 57 miles on pedal assistance, and max assisted speeds of 28mph. The light base weight of 49lbs helps these electronics overperform, and utilizing the 8-speed drivetrain will help you get the most from your battery.
Comfort is a standout characteristic of the Pace 500 and comes from the cushy comfort saddle, wide Kenda 27.5″ e-bike tires, and upright geometry. In addition, powerful hydraulic disc brakes provide excellent control and varied conditions.
Finally, this bike comes with a kickstand and a 300lb payload capacity but unfortunately doesn't have fenders, lights, or a rear rack as you buy it.
Motor – 500W (750W peak), 48V Brushless Geared Hub
Battery – 556.8Wh, 48V 11.6Ah
Estimated range – 25-57mi
6061 aluminum frame & fork
Weight: 49lbs
Brakes – Hydraulic, 180mm rotors
27.5″
Class 3 eBike, 20mph throttle & 28mph pedal-assist
Size Recommendations
Step-over
Small 5'1″ – 5'7″
Medium 5'7″ – 5'11"
Large 5'11" – 6'4″
Step-thru
Small 4'11" – 5'8″
Medium 5'8″ – 6'1″
---
4. GAZELLE Ultimate T10
A premium – powerful & long-range ebike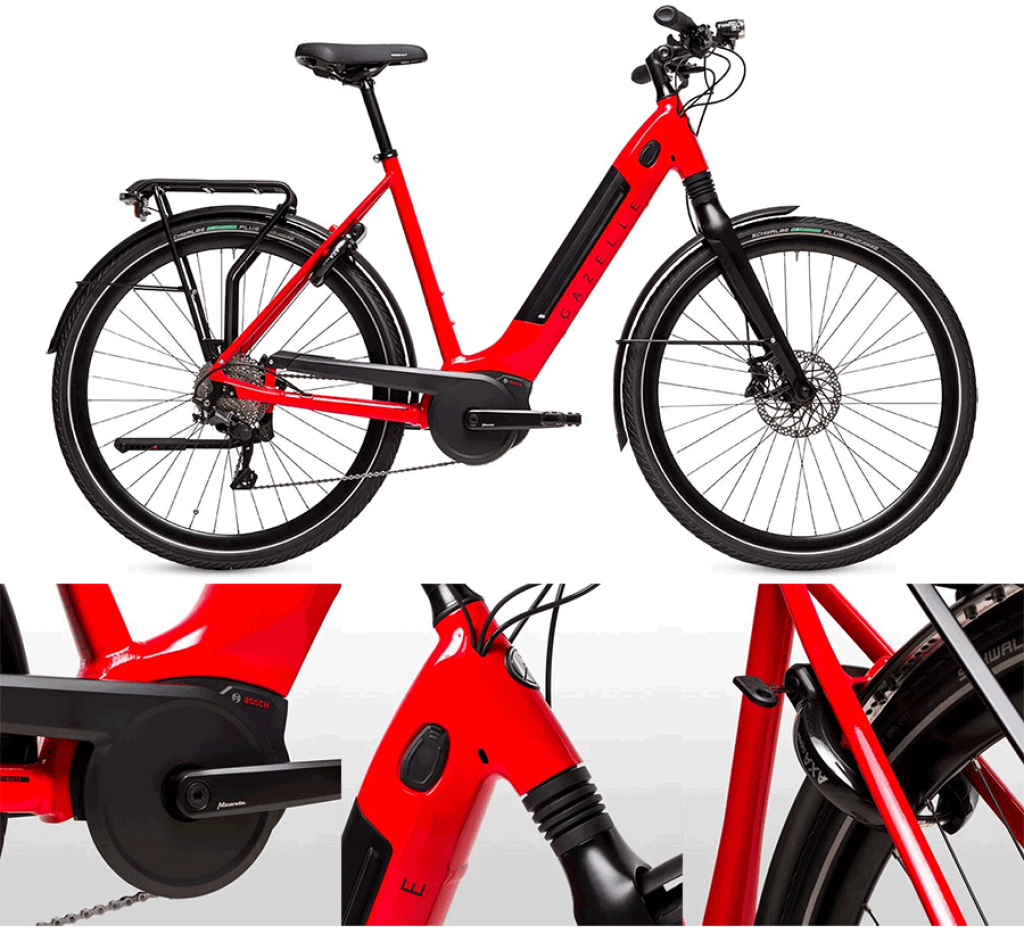 MSRP: $3,999
The Netherlands' Gazelle are premium city electric bike suppliers and their Ultimate T10 HMB is a mid-range city e-bike with a butter-smooth ride feel due to the innovative design and component choice.
Comfort and versatility are this bike's strong points as with any good city bike. This is provided by the integrated 40mm travel front fork, plush 28″ Schwalbe Energizer Plus Tires with GreenGuard puncture protection, rider-facing handlebars with soft grips, the comfy Selle Royal Loire saddle, and relaxed, upright geometry.
The electronics on this electric city bike are the highlight. A Bosch Performance Line 3.0 mid-drive motor with 65Nm torque delivers smooth power from refined torque-sensing while a stylishly integrated 500Wh Bosch battery powers you for long rides with top speeds of 20mph.
Lastly, a 10-speed Shimano Deore drivetrain provides plenty of gearing to get the most from your battery.
Suspension fork, 40mm travel – Suntour Mobie 45
Class 3 eBike
Motor – 500W mid-drive, Bosch Performance Line 3.0, 65Nm
Battery – 500Wh
Brakes – Hydraulic, 4 piston, 180/160mm rotors
Weight – Approx 51 lbs
---
5. RIDE1UP Prodigy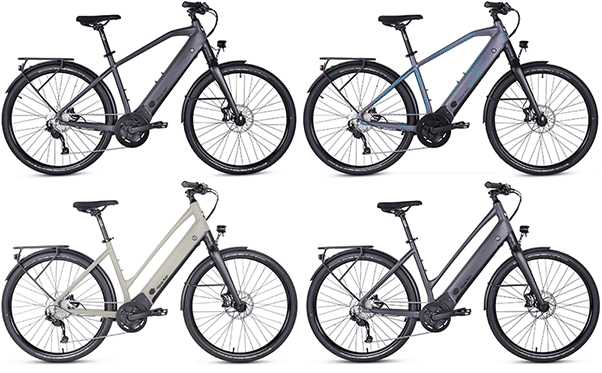 MSRP: $2,295
The Ride1UP Prodigy urban ST and XR models are mid-range city e-bikes with entry-level pricing. The Prodigy features the best components and technology from the direct-to-consumer brand and is also available in an off-road (XC) model.
Both urban models are the same except for the cruiser step-through frame or performance step-over design. Either way, the Prodigy is very comfortable thanks to the upright geometry, ergonomic contact points, plush puncture-resistant Schwalbe G-ONE 2″ balloon tires, and rider-facing handlebars.
Electronics
The Prodigy electric city bike comes with powerful electronics, including a large 14Ah (504Wh) battery which lasts between 30 and 50 miles and a smooth mid-drive motor with 250W of power and a whopping 90Nm of torque, allowing riders to tackle any hills with ease.
Finally, this bike also has Tektro hydraulic disc brakes and is fully equipped for any urban or commuter job.
Motor – 250W Brose TF Sprinter, 90Nm torque
Battery – 36V 14Ah, Phylion BN21, Samsung cells, Smart BMS
27.5 x 2.0″
Brakes – Tektro HD-M290, 180mm rotors
Range – 30-50mi
Weight – Under 50lbs
Fits Riders
XR (Cross-over) – 5'6″ – 6'4″
ST (Step-thru) – 5'1 – 6'3″
---
6. VVOLT Alpha / Alpha S
MSRP: $1,399
V Volt's Alpha and Alpha S are affordable, lightweight, and stylish city e-bikes with surprisingly high-quality features than similar price bikes. The only difference between the Alpha and the Alpha S is one has a step-through frame.
The standout feature of these bikes is the drivetrain, including a premium Gates CDN belt-drive system and internal hub gearing. This combination provides a whisper-quiet, smooth, efficient, clean, and maintenance-free ride makes city riding more enjoyable and convenient.
The Alpha's electronics are a motor with 350W of power and a 375Wh battery that lasts up to 60 miles, an awe-inspiring range for the price tag of $1400. Finally, other excellent components are the hydraulic disc brakes, rechargeable lights, USB charging, and a three-year warranty.
Aluminum frame & fork
350W motor – 375Wh battery
Belt-drive and Internal gearing
Weight – 44 to 46lbs
Hydraulic disc brakes
Fits Riders
Step-over
S/M – 5'6″ – 6′
M/L – 5'10" – 6'5″
Step-thru
S/M – 5'2″ – 5'8″
M/L – 5'7″ – 6'1″
---
7. CANNONDALE Quick Neo SL 2
MSRP: $2,550
Motor – 250W MAHLE X35 Ebikemotion | Class 1: 20mph, 40nm | Battery – 250Wh | Charge time: 3h
Cannondale's Quick Neo SL 2 is a lightweight e-bike built for speed and comfort on urban roads and city bike paths.
At just 33lbs, this bike is easy to maneuver, agile, and powerful enough for any job in the city. The electronics include a high-quality Ebikemotion X35 250W, the lightest in its class, and a 250Wh battery which ensures ranges up to 40 miles with max assisted speeds of 20 mph.
The Neo SL 2 has rapid 38c Schwalbe Energizer Plus tires with GreenGuard puncture protection, which are wide enough to absorb most of the road noise. In addition, a carbon fiber fork further improves this bike's comfort, responsiveness, and weight.
The aluminum frame balances upright geometry with a forward, performance-oriented position for comfort and visibility while frame-integrated SAVE micro-suspension absorbs bumps. Finally, hydraulic disc brakes and comfortable touch points round out this impressive bike.
Weight – 33lbs 8oz
Estimated range – 40mi
Frame – Aluminum
SAVE micro-suspension
Drivetrain – 9-speed Shimano Altus
Brakes – Shimano MT201
700x38c
---
8. DIAMONDBACK Union 1
Touring/Trekking
MSRP: $3,500
The Union 1 hybrid electric touring bike by Diamondback is a stylish mid-range choice with tons of features to complement the diverse range of riding styles.
A sleek and responsive aluminum frame with internal cable routing and fully integrated electronics set the stage for a premium ride feel and look.
Bicycle touring has been around for hundreds of years, with some of the earliest records dating back to the 1800s. ...
The electronics on the Union 1 are Bosch's 350W/85Nm Performance Line Speed smooth mid-drive motor and PowerTube 400Wh battery providing max speeds of 28mph for ranges between 35 and 55 miles. Although this range is slightly low for this price range, a reliable 10-speed Shimano Deore groupset helps you get the most from your battery.
Other notable features include powerful Tektro hydraulic disc brakes and durable 2.4″ Schwalbe Super Moto tires which help absorb road vibrations. In addition, the Union 1 is fully equipped with an integrated rack and fenders, kickstand, LED lights, and versatile Bosch Purion bike computer.
Motor – 350W mid-drive, 85Nm torque
Battery – 400Wh
Drivetrain – 10speed Shimano Deore
Frame – 6061-T6 aluminum frame & fork
Brakes – Tektro M735
Tires – 27.5 x 2.4″
Fits Riders
MD 5'7″ – 5'10"
LG 5'10" – 6'1″
XL 6'1″ – 6'4″
---
9. PEDEGO City Commuter – Mid Drive Motor
MSRP: $2,999
Pedego's City Commuter – Mid-Drive electric commuter bike takes their original model to the next level with the smooth and high torque motor.
This comprehensive electric bike has 500W of power and the choice of a 10Ah or 17.5Ah battery, the larger of which can deliver up to 60 miles of range with top speeds of 20mph.
Although slightly heavy at 55lbs, the City Commuter is very smooth to ride and has good handling. The upright frame geometry, Kevlar-belted 2″ balloon tires, and city-style handlebars contribute to this comfortable ride feel.
Finally, this bike lives up to its name by having everything you need for city riding, including a kickstand, a rear rack, fenders, integrated LED lights, and USB charging.
Motor – 500W mid-drive, 95Nm torque!
Battery – 48V 10A or 15A, 480Wh or 720Wh total
Class 2 eBike, 20mph top speed
Derailleur – 7-speed, Shimano Acera
Tires – 26×2″ / 28×2″
Weight – 53 to 55 lbs
Buy from PedegoElectricBikes.com
---
10. PRIORITY BICYCLES Priority Current
MSRP: $3,299
Priority Bicycles' Current electric city hybrid bike is a stylish, fully integrated bicycle designed to be the ultimate urban companion.
The highlight of this bike is the Gates Carbon belt-drive system and high-end Enviolo internally geared rear hub. This system runs completely silent, and it's spotless because it doesn't require external grease, needs little to no maintenance, and lasts significantly longer than a traditional drivetrain.
The electronics on the Priority Current include a 500W torque-sensing mid-drive motor with a massive 145Nm of torque and a 500Wh battery. This combination lasts between 30 and 60 miles, depending on usage.
Comfortable 650B tires, a plush gel saddle, and upright geometry contribute to an enjoyable ride feel on urban roads and city bike paths. Lastly, hydraulic disc brakes, automatic lights on the front and back, fenders, and a kickstand make this bike ready for almost any job.
Motor – 500W mid-drive, 145Nm torque
Battery – 48V 500Wh
Estimated range – 30-60mi
Gates belt-drive
Hydro disc brakes
Frame & fork – 6061 aluminum
Fits Riders
Inseam range
S 26″ – 29″
M – 29″ – 32″
L – 32″ – 35″
---
How to Choose a City Electric Bike
---
City Bike Wheel Sizes
26″ – Often found on conventional city bikes.
650b (27.5″) – Popular hybrid/commuter/city bike wheel size these days.
700c – Not as common, but known as the fastest of the bunch.
City e-bike Accessories
The number one goal of an electric city bike is to make city riding easy and convenient. Several key components are necessary to achieve this, including:
Fenders – prevent water from the road splashing from your tires onto your clothes which is essential for many people, especially commuters.
Lights – help keep you safe at night and during the day by letting other road users know you're there.
Rear Rack – vital for carrying any cargo that can fit in a backpack, such as groceries or extra work equipment
Kickstand – electric bikes need kickstands to stand up and keep them from falling and damaging delicate parts, and for balancing a fully loaded bike.
Motors – Hub vs Mid
Rear Hub motors are more affordable and widespread. They offer plenty of torque but are not as efficient or lightweight.
The average motor power for a hub motor e-bike is 500W-750W.
When electric bikes began being mass-produced, manufacturers used an electric motor placed in the hub of the rear ...
Mid-drive motors are slightly more advanced and efficient, therefore found on more expensive e-bikes.
The average motor power for a mid-drive motor is 250W. Anything above that is considered powerful!
What makes a city electric bike different from the rest?
More affordable
Easy to ride because of the upright riding position
A basic set of components
Fully equipped for commuting or urban rides
City bikes are optimized for urban riding, including their ability to maneuver narrow city streets and do all the jobs you need while going from A to B.
Because they have slightly more components, including a rear rack and fenders, city bikes are slightly heavier than other bikes. Their geometry is also more upright, often with rider-facing handlebars to improve comfort and visibility when riding in the city. Finally, they will also have more comfortable touchpoints, including a padded or leather seat.
City vs Hybrid bike
Hybrid bikes have a broad range of uses without optimization. They usually have a suspension fork, 650b (27.5″) wheels, and some have slightly wider wheels for offroading.
As a result, they tend to be lighter in weight and have an improved ability to go off-road than a city bike. In addition, hybrids are more comfortable over longer distances and generally have flat MTB handlebars with upright geometry.
City vs Fitness bike
Fitness bikes have 700c wheels and a slightly more performance-focused geometry & seating position compared to city bikes. In general, fitness bikes won't have any extra components like a rear rack your kickstand because they aren't usually for varied usage. Fitness bikes are also faster, and they weigh less but are less comfortable over short distances.
City vs Touring
Touring bikes can be very similar to city bikes in regarding the number of components they have. However, touring bikes are built for heavier usage; to sustain heavier loads and go farther in comfort. For this reason, touring bikes generally have high-strength steel frames, wide gearing options, endurance geometry with drop handlebars, and wider, knobby tires to tackle more varied terrain.
Most searched models
The two popular bikes that didn't make it to the list are the Ecotric Vortex electric city bike and Nakto Camel City Women's electric bike. We didn't adad those since we've highlighted a bunch of bikes we know hold a great value over time.